January, 3, 2013
1/03/13
2:00
PM ET
We noted earlier
that
Detroit Lions
general manager Martin Mayhew admitted he was wrong to count on tailback
Jahvid Best
to play this season. But that was just one of several acknowledgments and candid comments Mayhew made during an interview session with local reporters, and his most striking comments implied a major and immediate overhaul of the Lions' defense.
Much of the Lions' defensive nucleus is made up of pending free agents, and you wonder how many Mayhew wants to bring back after reading some of Mayhew's quotes. He admitted it's "quite possible" he misjudged the defense's talent level entering the season, and said it needs more playmakers.
[+] Enlarge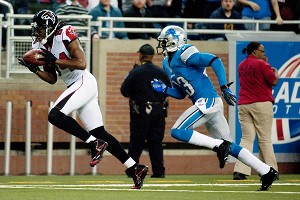 Tim Fuller/USA TODAY SportsCornerback Chris Houston, right, is among the pending free agents on a Detroit Lions defense that delivered few big plays this season.
"We need good players," Mayhew said, via
Dave Birkett of the Detroit Free Press
. "It doesn't really matter how we get them from my standpoint. But we need good players, and we need impact players, especially on the back end on the defense.
"We need guys that can impact the game," he added. "We've got a lot of guys that are good guys. They line up right, they know what their job is, but they don't impact the game. We need interceptors. We need guys that sack the quarterback. We need guys that cause fumbles, guys that make plays on third down. Those are the kind of guys that can change the game for us."
What's amazing is that even the most amateur observers have been questioning the Lions' secondary for years. It's true that safety
Louis Delmas
is a difference-maker when healthy, but for the most part it appears Mayhew went into the season counting on players to do things they had never or rarely done before.
Who did Mayhew expect to be his interceptors? Cornerback
Chris Houston
had five in 2011, but has never had more than two in any of his other five NFL seasons. Cornerback
Jacob Lacey
had five interceptions in three previous seasons with the
Indianapolis Colts
. Safety
Amari Spievey
had five in two previous seasons. Cornerback
Bill Bentley
was a rookie, and thus his production was impossible to project.
Mayhew said the only defensive player who improved from 2011 was defensive tackle
Ndamukong Suh
, a warning shot for everyone who is eligible for free agency and a few others as well. (I assume he skipped over defensive tackle
Nick Fairley
, because he was injured for most of last season.)
The free agent list includes defensive linemen
Cliff Avril
,
Corey Williams
,
Willie Young
and
Lawrence Jackson
. Linebackers
Justin Durant
and
DeAndre Levy
are on it, as are Houston, Delmas, Lacey and Spievey. Given Mayhew's comments, you would think that many of them will be looking for work elsewhere this spring.
Of course, Mayhew's search for "playmakers" is no different than what every other team is looking for. He won't find playmakers at every position, but in 2012, the Lions were pretty thin across the board. Most fans directed their ire at the Lions' inconsistent offense, but it rarely got help from the defense. The Lions recovered the NFL's sixth-fewest fumbles (six), had only 11 interceptions (No. 23) and ranked No. 22 in sacks per opposing dropback (5.6), according to ESPN Stats & Information.
Again, I appreciate Mayhew's honesty. There is not much to criticize here that he did not already acknowledge. The Lions stood pat last offseason and paid for it. That doesn't appear to be a possibility in 2013.
April, 29, 2009
4/29/09
2:00
PM ET
| | |
| --- | --- |
| | |
| | Getty Images |
| | Who has a better chance of being 2009 NFL Rookie of the Year: the Vikings' Percy Harvin or the Cardinals' Chris Wells? The bloggers debate. |
Posted by ESPN.com's Mike Sando and Kevin Seifert
Nothing gets the football juices flowing in April like drafting an exciting skill position player.
Fans in Minnesota are already envisioning receiver Percy Harvin dashing through the secondary on the way to a long touchdown. In Arizona, they're wondering how many defenders tailback Beanie Wells is going to run over on the way to a 1,000-yard season.
Who will be the NFL's 2009 Rookie of the Year? It's a little early to crown a winner, but Harvin and Wells are two strong candidates. Our NFC West and NFC North bloggers take an early stance:
| | |
| --- | --- |
| | |
| | AP Photo/Star Tribune, Carlos Gonzalez |
| | Minnesota first-round draft pick Percy Harvin will get a chance to put up big numbers for the Vikings. |
Kevin Seifert:
Well, Mike, we're three months from training camp and 4 1/2 months from the start of the regular season. There's no way to predict for sure where the voters will land. But I'll tell you this much: Harvin is going to get every opportunity to put up Rookie of the Year numbers.
Early on, I think the Vikings will ease him in as a punt and kickoff returner -- with selected packages for him on offense. But it might not take much. Harvin is the kind of playmaker who could have a pretty high ratio of touchdowns to touches.
There are veterans who likely will start ahead of him, but when Harvin gets in the game he'll be quick to make things happen. Think of him as the receiving version of New Orleans tailback Reggie Bush. He can make people miss once the ball gets in his hands.
Mike Sando: Once the ball gets in his hands? That's the hard part in Minnesota.
There's a reason Jeff George keeps saying he should be the Vikings' quarterback at age 41. There's a reason T.J. Houshmandzadeh decided to sign with the Seahawks about four seconds into his free-agent visit to Minnesota.
There's a reason no one on the Vikings caught more than 53 passes last season. Five rookies caught at least as many passes (Eddie Royal 91, Matt Forte 63, DeSean Jackson 62, John Carlson 55, Davone Bess 54 and Donnie Avery 53) in 2008.
I'm just not sure the Vikings can get the ball in Harvin's hands consistently enough.
Kevin Seifert: I'm not sure there is enough WD-40 in North America for Jeff George to do it, either, but that's for another debate.
Seriously, in some ways it doesn't matter whom the Vikings have at quarterback as long as he can throw a screen pass and a shallow cross. Harvin is at his best after the catch. Check out some of his highlights at Florida against some pretty fast SEC defenses. Trust me, the Vikings have plenty of three-yard pass plays in their playbook. The key will be finding simple ways to get the ball in Harvin's hands. Then let him do the rest.
In reality, the quarterback issue might be a bigger deal for Arizona. Nothing I saw last year leads me to believe Wells will get enough opportunities to put up Rookie of the Year numbers. Are you telling me Kurt Warner is going to hand the ball off all season and Larry Fitzgerald is going to become a downfield blocking specialist?