NFC North:

Christian Ballard
September, 2, 2013
9/02/13
3:33
PM ET
It has appeared for most of the offseason, ever since the Vikings drafted
Sharrif Floyd
, that they would be dealing from a position of strength in the middle of their defensive line. The Vikings planned to rotate Floyd and
Kevin Williams
at their three-technique tackle spot, and pair
Letroy Guion
with
Fred Evans
at the nose. They would be able to rotate four players, possibly mixing in
Christian Ballard
, and hand one of the inside spots to
Everson Griffen
on third downs to rush the passer from the inside.
Williams
That plan sounded nice in theory, but the details have been muddied by reality. Williams didn't practice on Monday, as the Vikings began their preparations for their season opener with the
Detroit Lions
. Floyd, who was back on the practice field, hasn't played since the Vikings' second preseason game, and could be thrust into a starting role in his first NFL game. Ballard is on the team's reserve/left squad list. Guion could wind up going back to the three-technique position, rotating with Floyd there and Evans at the nose if Williams can't play.
Chase Baker
, who hasn't played a NFL game, is the only other defensive tackle on the roster.
It's another reminder of how quickly the best-laid plans can get altered in the NFL, and as the Vikings head into Week 1 against Detroit, they suddenly have a reason to be concerned about what looked like a position of strength.
Frazier didn't offer much detail about injuries on Monday, probably because the Vikings aren't required to file an injury report until Wednesday, but the fact that Williams didn't practice probably means things aren't looking good for the Lions game. Williams is trying to come back from a hyperextended knee in two weeks' time, and rushing him back isn't in the Vikings' best interests.
But can Floyd handle a bigger role in his first game, after not having practiced in two weeks? That remains to be seen.
"I think we'll have to go through this week and determine that, but he's missed quite a bit of time and then (he's) coming off an injury," head coach Leslie Frazier said. "We'll have to gauge that as the week goes on."
Guion played the three-technique spot before shifting to nose tackle full-time last season, and the fact that he's not a typical wide-bodied nose tackle -- which might hurt him at his normal position -- could actually work in his favor here. But the Vikings are probably at their best at the nose when they have both Guion and Evans fresh, and they could be stretching their depth on Sunday if Floyd needs help on his side.
There might not be any perfect options for the Vikings in Week 1. There rarely are in the NFL. But it's striking to look at how quickly the defensive tackle position has become a worrisome spot for them.
August, 27, 2013
8/27/13
1:47
PM ET
The rancor over
Joe Looney
's low block on
Kevin Williams
was still strong on Tuesday morning, as the Vikings got back to work in preparation for their final preseason game. Coach Leslie Frazier said the Vikings have been in contact with the league about the hit, and linebackers
Chad Greenway
and
Desmond Bishop
didn't mince words when they were asked about it.
"It's really quite ridiculous," Greenway said. "It's something we talked about in our meetings with the refs before the preseason started. It's just unnecessary. He wasn't going to make the play. He wasn't going to be part of the play. I understand that guy [Looney]'s trying to earn a job, as well, but he could have easily just hit him high. You can say what you want about, you didn't mean to hurt him, but the reality is, you did that. And now we have a guy who's been one of the best at his position for a long time dealing with an injury he shouldn't have to deal with."
That will be the lasting effect of Looney's hit on Williams, once the Vikings' anger has cooled down. Williams, who sustained a hyperextended right knee, a posterior capsular strain and a bone contusion, could be back for the season opener on Sept. 8 in Detroit, but the concern over his injury is significant enough that
Sharrif Floyd
-- himself returning from a minor knee surgery after a low block in the Vikings' first preseason game -- probably won't play in the final preseason game on Thursday night. Floyd, who was expected to miss the rest of the preseason, might have been able to play a few snaps, Frazier said, but the Vikings determined it wasn't worth the risk.
"When you have a question mark regarding a potential Hall of Famer like Kevin Williams, that creates some concern," Frazier said. "He's one of the best to ever play the game at his position. We're all hoping he'll be ready to go, but it definitely creates some concern from a depth standpoint."
The Vikings expected to be deep at the position after drafting Floyd 23rd overall, but particularly at the three-technique tackle position, they're sweating things out before they start the season. Floyd will head into the opener with just 53 snaps of preseason experience, and if Williams isn't ready, the Vikings could be leaning on the rookie more than they'd planned to do. They would like to rotate Williams and Floyd, but that might not be an option in the first week of the season.
And defensive tackle
Christian Ballard
is still away from the team while he deals with personal issues. Frazier said "nothing has changed" with Ballard's situation, and it's becoming clearer the situation will take some time to get resolved. Ballard might be a better fit as a nose tackle than a three-technique, but he would help the Vikings' depth at the moment. With him gone, and with knee injuries complicating things for both Floyd and Williams, the Vikings won't start the season anywhere near as settled on the defensive line as they'd like to be.
"With Sharrif coming off an injury, with Kevin a little bit banged up, now you're into your depth quite a bit," Frazier said. "We have some other guys on our roster that we'll try to give an opportunity and see how they progress, but we're all hoping that Sharrif will play well and continue to improve and that we'll get Kevin on opening day."
August, 26, 2013
8/26/13
8:38
AM ET
Welcome to Around the Horns, our daily roundup of what's happening on the Vikings beat:
Vikings defensive tackle Kevin Williams will have a MRI on his knee today after being chop-blocked on Sunday night by 49ers offensive tackle Joe Looney. The hit from the second-year tackle caused Williams to leave the game in the third quarter, and afterward, the veteran
told
reporters
he wasn't too happy about how Looney played.
"I feel all right," Williams said. "Don't really know what's wrong, but I think I'm fine. I was just upset that I'm getting cut like that 11 years in from a guy I don't even know who the guy is. Between the pain and the fact that no one was looking it was terrible."
As we discussed Sunday night, the Vikings are thin at defensive tackle at the moment with Sharrif Floyd out until the start of the season and Christian Ballard away from the team. Williams wasn't likely to play in the preseason finale on Thursday night anyway, but with the Vikings' roster down to 75 players by then, they'll have to make sure they have enough depth to get through their game with Tennessee.
Continuing on:
November, 15, 2011
11/15/11
3:25
PM ET
After the Minnesota Vikings' 45-7 loss to the Green Bay Packers, here are three issues that merit further examination:
Kevin SeifertFollowing their loss to the Packers, the Vikings take a seat in the examination room.

The Vikings talked big last week about ending the Packers' run at an undefeated season. Instead, they produced their most lethargic performance of the year. Defensive end Jared Allen called it "disgusting" and fellow defensive end Brian Robison felt compelled to say via Twitter: "We have not quit." When a team lays that kind of egg on national television, public discussion naturally turns to the effectiveness of the head coach. I'm not ready to go there yet with Leslie Frazier. He took over a complicated situation and is trying to navigate a roster transition while still prodding the remaining veterans. As an organization, the Vikings are approaching their situation as a remodel rather than a rebuild. They might have underestimated the work ahead of them.

There is a line of thought in the NFL that you don't play rookies and/or backups just to play them, or in the blind hope that they will provide an upgrade over the status quo. But the Vikings have enough low-functioning players to justify it at several positions. I see no reason why rookie defensive tackle Christian Ballard shouldn't continue to start ahead of Remi Ayodele. It's worth seeing whether rookie safety Mistral Raymond is any better than Tyrell Johnson, Jamarca Sanford or Husain Abdullah. In basketball terms, at 2-7 and after displaying the kind of lethargy we saw Monday night, the Vikings need to empty the bench. If nothing else, it's a method for holding players accountable. No one has tenure in the NFL.

Amid it all, we should note that Allen continues to bring it hard on every play this season. He was in the face of Packers quarterback Aaron Rodgers all game, finishing with seven tackles, including three for a loss, and one sack to bring his season total to 13.5. I would imagine his NFL Defensive Player of the Year candidacy will be negatively impacted by the Vikings' poor team performance, but that's too bad. One of this generation's best pass-rushers is having the best season of his career. Allen's production and energy level have never been higher. He's setting an example that, quite frankly, isn't being noticed by enough of his teammates.
And here is one issue I still don't get:
What does the future hold for cornerback Antoine Winfield, whose season is probably over after fracturing his collarbone Monday night? He will be 35 when the 2012 season begins and has been limited by injuries in two of the past three seasons. The Vikings have uncertainty across the board at cornerback, from fellow starter Cedric Griffin to second-year player Chris Cook, who is inactive because of legal issues. And it's worth nothing that the Vikings negotiated a de-escalator into Winfield's most recent contract, one that would pay him $7 million if he is a starter but about $3 million if he is a nickelback. Winfield is part of an old guard of Vikings defenders who eventually will be phased out. Will it be this offseason?
November, 15, 2011
11/15/11
1:00
PM ET
»
NFC Stock Watch
:
East
|
West
|
North
|
South
»
AFC
:
East
|
West
|
North
|
South
FALLING
1. My ability to defend the Detroit Lions' aggression:
Nothing that happened Sunday at Soldier Field will change the emerging national narrative of the Lions as a dirty team. And in all fairness, it's getting harder and harder to split hairs in explaining the difference between tough and dirty as it relates to their play. Bears linebacker
Brian Urlacher
said the Lions play to the "echo" of the whistle, and that's a fair and accurate way to describe it from a technical standpoint. But visuals of defensive tackle
Ndamukong Suh
ripping off Bears quarterback
Jay Cutler
's helmet, and Lions quarterback
Matthew Stafford
slinging the Bears'
D.J. Moore
to the ground by his helmet, carry far more weight in the court of public opinion. Monday, coach Jim Schwartz asked why no one was calling the hit by Bears defensive end
Julius Peppers
on receiver
Calvin Johnson
dirty. It was a "clothesline right in the neck area," Schwartz said. Technically, Schwartz is right. But the volume of instances the Lions have produced this season, explainable or otherwise, is reaching critical mass.
2. Minnesota Vikings' competitiveness vs. Green Bay Packers:
The Packers are supposed to be the Vikings' top rivals, but the Vikings have produced a number of complete clunkers against them in recent years. They lost 45-7 Monday night, absorbed a 31-3 loss at home in 2010 and were embarrassed 34-0 at Lambeau Field in 2007. We should give the Packers some credit for their performances in those games, but on each occasion the Vikings seemed mentally disengaged from the start. Monday night's game seemed over as soon as the Packers'
Randall Cobb
returned a punt 80 yards for a touchdown -- with all of 1 minute, 18 seconds gone in the game. NFL teams have to show up 16 days a year. For some reason, the Vikings are habitually missing that train against a division rival.
3. Remi Ayodele, Minnesota Vikings defensive tackle:
Although he has not been seeing much playing time, Ayodele had started the Vikings' first eight games as the free-agent replacement for nose tackle
Pat Williams
. In those eight games, Ayodele was unofficially credited with two tackles. The Vikings finally replaced him in the starting lineup Monday night with rookie
Christian Ballard
, who is a better pass-rusher. Ayodele isn't the reason why the Vikings are 2-7, but he has to qualify as one of the least productive free-agent acquisitions in recent memory. He signed a three-year, $9 million deal that includes $4.25 million in 2011 compensation.
RISING
[+] Enlarge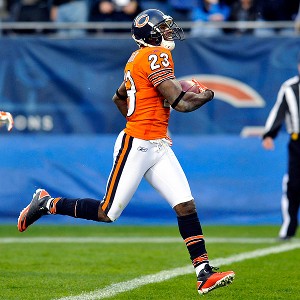 Mike DiNovo/US PresswireTeammate Brian Urlacher thinks Bears return man Devin Hester belongs in the Hall of Fame.
1. Canton credentials for Devin Hester, Chicago Bears returner:
Hester is one return away from tying the NFL record for touchdown returns of 19, set by
Deion Sanders
. He has reached that precipice in less than half the career games it took Sanders and, at 29, would seem to have a number of highly productive years remaining in his career. It's reasonable to believe he'll not just break Sanders' record but ultimately crush it. So if Hester's career arc rises so high above the best returners in NFL history, it would be hard for Hall of Fame voters to ignore him. Here's the way Urlacher put it Monday: "He's the greatest of all time at what he does, and in my opinion, when you're the greatest of all time at your position you should be in the Hall of Fame. He is a first-ballot Hall of Famer in my opinion."
2. Dom Capers, Packers defensive coordinator:
We don't have a recording of every word he spoke last week, but we can assume that Capers took cornerback
Charles Woodson
's blunt assessment of the Packers defense in stride. Capers started coaching four years before Woodson was born, but you're never too experienced to tune out constructive criticism. We'll never know what Capers would have done Monday night had Woodson not spoken out, but he certainly reinforced his reputation as a flexible manager by
turning loose his players on the blitz
. "That's the great thing about Dom," Woodson said. "You can talk to him. Tell him what's on your mind. Tell him what you think."
3. Bears competitiveness in the NFC North:
After watching the Packers' three-phase romp Monday night, it's hard to conceive them not winning the division. But of all the teams remaining on their schedule, the Bears might be the most formidable. One way to stop a high-flying offense is to hit it in the proverbial mouth and then capitalize on mistakes. One of the few things the Vikings did to the Packers was put pressure on quarterback
Aaron Rodgers
, who was sacked three times and was forced to scramble away from pressure on six other plays. The Bears can put the same kind of pressure on Rodgers and are better equipped to take advantage of that situation. We'll see if the teams' Week 16 matchup carries any postseason implications.
September, 2, 2011
9/02/11
4:46
PM ET
Minnesota Vikings
defensive tackle
Kevin Williams
fought for 2 1/2 years to reverse an NFL suspension he considered unjust and his attorneys said was illegal. His endurance pushed the final discipline into a new and more nuanced era of the NFL's policy on performance-enhancing substances, but it ultimately cost Williams more money than if he had accepted the original (and longer) discipline.
[+] Enlarge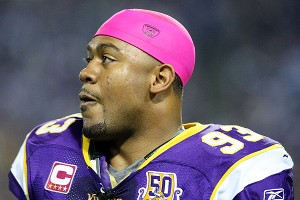 Brace Hemmelgarn/US PresswireDefensive tackle Kevin Williams will miss the Vikings' first two games this season.
So goes the upshot of Williams'
two-game suspension
to start the 2011 season, announced Friday by the league after Williams declined to continue pursuing his legal challenge. He was also fined an additional two game checks and will lose a total of $1.41 million as a result.
He will be eligible to return for the Vikings' Sept. 25 game against the Detroit Lions
.
As you recall, Kevin Williams and former teammate
Pat Williams
were originally suspended four games during the 2008 season after they tested positive for a banned diuretic known as bumetanide. Both players insisted they ingested it unknowingly while using the now-defunct StarCaps diet supplement, but at the time, the league handed out the same discipline for diuretics -- which can be used as masking agents -- as it did for performance-enhancing drugs themselves.
The NFL's new collective bargaining agreement (CBA) calls for a two-tier discipline system that calls for two-game suspensions in cases of positive diuretic tests, accounting for the reduced duration of Williams' suspension.
Brian Murphy of the St. Paul Pioneer Press
first reported that change.
Presumably to make up for that reduction, the NFL tacked on the additional fine to bring Williams' total discipline equivalent to 4/17ths of his 2011 base salary. (League payroll is based on a 17-week season, including the bye.)
Had Williams served the four-game suspension in 2008 or 2009, when his base salary was $1 million, he would have lost $235,294. In 2010, when his base salary was $2.274 million, Williams would have lost $535,058.
The Vikings, of course, will benefit from the extra games even if Williams is playing them essentially for free. And, frankly, Williams could probably use the additional two weeks off to rest the
plantar fasciitis condition
that emerged this summer in his left foot.
Letroy Guion
figures as the Vikings' likely replacement starter. Rookie defensive tackle
Christian Ballard
had an impressive training camp and could see some time as well.
In the end, Williams essentially will have paid more than $1 million, plus legal fees, to get back two games of eligibility. I suppose you can partially credit him (and the NFL Players Association) for creating a better discipline system, but it came at a high personal price.
August, 25, 2011
8/25/11
7:20
AM ET
We're Black and Blue All Over:
On Wednesday, we discussed in
several
installments
the future of Green Bay Packers tailback Ryan Grant. Let's consider the (presumable) final word on the topic.

Although Grant agreed to a $1 million reduction in his base salary, the remaining $2.5 million is fully guaranteed, according to
Bob McGinn of the Milwaukee Journal Sentinel
. That means the Packers would owe Grant the entire $2.5 million if they release him, and any team that acquires him in a trade would be inheriting the same $2.5 million guarantee.
That fact, on top of the previous knowledge that the Packers have already paid Grant a $1 million-plus roster bonus, makes it less likely from a financial perspective that the Packers will enter the season without him. There is nothing precluding them from doing so, but generally it's not good business to part ways with a player whose salary you've just guaranteed.
As we discussed Wednesday, it would still require a perfect storm of circumstances for this all to make sense. Moving on ...
Continuing around the NFC North:
July, 29, 2011
7/29/11
9:59
AM ET
We're quickly learning that the signing of draft picks is all but a formality under the new collective bargaining agreement. Either that or agents haven't yet identified enough loopholes to draw out negotiations. Regardless, the NFC North is humming along in that regard.
The
Detroit Lions
have completed negotiations. The
Chicago Bears
have one player remaining as of early Friday morning. The
Green Bay Packers
have made progress, according to the
Green Bay Press-Gazette
. The
Minnesota Vikings
haven't had any reported signings, but their rookies also don't need to report to training camp until Sunday.
Here's the tally as of this moment:
Chicago Bears
Unsigned
Green Bay Packers
Signed
Unsigned
Minnesota Vikings
Unsigned
July, 28, 2011
7/28/11
5:37
PM ET
The
Detroit Lions
will be the first NFC North team to get on the field for a training camp practice, and so it makes sense for them to have made signing their draft class a high priority. After a flurry of agreements Thursday afternoon, the Lions are down to one unsigned rookie: First-round pick
Nick Fairley
.
The Lions have a 10:15 a.m. practice scheduled for Friday morning.

Chicago Bears
Signed
Unsigned

Detroit Lions
Signed
Unsigned

Green Bay Packers
Unsigned

Minnesota Vikings
Unsigned
July, 27, 2011
7/27/11
1:43
PM ET
Amid the frenzied free-agent market, NFL teams are trying to get their draft classes signed in time for the training camps they want to open in the coming days. So lets resurrect our annual draft tracker to keep you abreast of who has signed and who is left.
To this point, the
Chicago Bears
are the only NFC North team with confirmed draft pick signings.
I'll post new versions of this bad boy regularly but not necessarily after every transaction.
Chicago Bears
Signed
Unsigned
Detroit Lions
Unsigned
Green Bay Packers
Unsigned
Minnesota Vikings
Unsigned
April, 30, 2011
4/30/11
1:19
PM ET
EDEN PRAIRIE, Minn. -- Based purely on his skills and production, you could make an argument that Iowa defensive tackle
Christian Ballard
had second-round value in the NFL draft. Scouts Inc., for example,
ranked him as the eighth-best defensive tackle
in a deep draft class and predicted he would be selected no later than the third round.
[+] Enlarge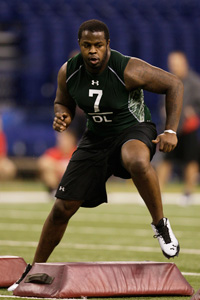 AP Photo/Darron CummingsChristian Ballard reportedly tested positive for marijuana at the scouting combine.
Ballard, however, was available Saturday when the
Minnesota Vikings
made the ninth pick of the fourth round (No. 106 overall). The most likely reason:
A recent FoxSports.com report
that he tested positive for marijuana at the February scouting combine.
Asked during a conference call if the report was accurate, Ballard paused for several moments before saying: "That's confidential. I'm just not willing to speak on that right now."
Ballard did admit to making "mistakes in the past." He added: "I'm only looking to the future. I'm a Viking now. Whatever happened in the past is behind me, and the only thing that's on my mind is making the Vikings a Super Bowl team."
Obviously Ballard has his reasons for not confirming the report. But I can't think of a reason to clam up if it was wrong. After all, it wouldn't be the first time the Vikings have drafted a player who reportedly failed a combine drug test; the same thing happened with receiver
Percy Harvin
in 2009.
I've always felt the most important red flag about a failed test at the combine is that the test is previously scheduled. Let's be realistic: Halting recreational drug use is just as important to combine preparation as is speed and weight work. Among many penalties, a player who tests positive at the combine opens his NFL career in the league's drug program, making him one step closer to a suspension than the rest of his class.
If he can stay clean, Ballard will provide important depth at a position the Vikings are re-tooling. Nose tackle
Pat Williams
has said he plans to sign elsewhere when free agency begins, and Pro Bowler
Kevin Williams
is subject to a four-game suspension to open the season.
April, 29, 2011
4/29/11
10:35
AM ET
We're Black and Blue All Over:
By now you know that the
Chicago Bears
' otherwise smart initial draft decision was
marred by the collapse of a trade
designed to ensure they were able to select Wisconsin offensive tackle
Gabe Carimi
. Bears general manager Jerry Angelo took the blame and apologized to the
Baltimore Ravens
, who missed their pick at No. 26 overall because they thought they had completed a trade with the Bears to move down to No. 29.

Is the case closed? Or do the Bears owe the Ravens additional compensation, namely the fourth-round pick that would have changed hands if the deal was consummated?
David Haugh of the Chicago Tribune
thinks the latter.
Haugh: "If Angelo's apology was sincere, and the only thing preventing the trade from being consummated was his sloppy neglect, then the Bears should go ahead and offer to forfeit rights to that selection to the Ravens. That's the right thing to do. Salvaging Angelo's reputation around the league by showing he's a man of his word might be worth whatever fringe roster player might be picked at that slot in the fourth round."
This situation is nearly unprecedented, so I guess it's possible the NFL will force the Bears to forfeit the pick.
Dan Pompei of the Tribune
reports that the Ravens have asked the league to look into the situation and that Ravens owner Steve Bisciotti has spoken with commissioner Roger Goodell about it. According to Pompei, Angelo instructed two staffers to report the trade to the NFL, but each thought the other was doing it.
But I would be surprised if the NFL took action. Remember, the
Minnesota Vikings
didn't receive the pick they would have received when the Ravens failed to report a similar trade in 2003.
For now, let's take a late-morning look at local coverage of the draft's first day: