NFC North:

Christian Jones
October, 8, 2014
Oct 8
4:28
PM ET
LAKE FOREST, Ill. – The
Chicago Bears
listed center
Roberto Garza
as participating fully in practice for the first time since the 14-year veteran suffered a high ankle sprain in Week 1, increasing the likelihood that Garza will return to the starting lineup Sunday in Atlanta.
"We're keeping our fingers crossed. Garza practiced today, and we'll see what kind of aftereffects he'll have after a full day of work," Bears coach Marc Trestman said.
Last week, Trestman announced that Garza will return to the starting lineup upon receiving the proper medical clearance, but added the club is pleased with veteran
Brian de la Puente
, who has replaced Garza at center for four straight games.
Seven players missed practice on Wednesday: running back
Matt Forte
(coaches' decision), left tackle
Jermon Bushrod
(knee/ankle), linebackers
Shea McClellin
(hand),
D.J. Williams
(neck),
Jon Bostic
(back),
Lance Briggs
(ribs) and safety
Ahmad Dixon
(hamstring).
With the top four linebackers out, the Bears took a look at the trio of
Khaseem Greene
,
Christian Jones
and
Darryl Sharpton
.
In other injury news, safety
Chris Conte
and defensive tackle
Jeremiah Ratliff
were limited because of concussions, and cornerback
Sherrick McManis
had limited participation because of a quadriceps injury. McManis is a candidate to be used at cornerback in the nickel subpackage Sunday given the release of
Isaiah Frey
on Tuesday.
August, 11, 2014
Aug 11
5:51
PM ET
BOURBONNAIS, Ill. -- Linebacker
Khaseem Greene
admittedly struggled to acclimate himself to the speed of the NFL game last season when a shoulder injury to
Lance Briggs
thrust the rookie into the starting lineup for four games.
Greene
But with a year of experience under his belt, Greene has quietly pieced together an impressive camp, and even spent Monday's practice next to
Jon Bostic
on first-team nickel with Briggs taking a veteran's day off.
"It's slowed down a lot for me this year," Greene said. "I'm seeing stuff quicker. I'm being able to just be a natural football player and just use my instincts to react. The game definitely has slowed down. It's fun now. I'm not overthinking it.
"The older guys always say that it will slow down once you get a grasp of the playbook and learn how to start studying opponents. Guys say those skills come with age and from the experience of doing it. I feel like from last year to this year, I've made a big jump as far as the game slowing down. I'm now able to read and react."
The jury is still out regarding the number of linebackers the Bears plan to keep on the 53-man roster. With Briggs and Bostic already locks to make the team, the remaining linebacker spots are between
D.J. Williams
,
Shea McClellin
,
Jordan Senn
,
Christian Jones
,
Jerry Franklin
and Greene.
It will be interesting to see which players are pushed out if the Bears decide to keep six at the position.
Williams and McClellin appear safe if they stay healthy, but the picture is cloudy after the top four.
Greene figures to be intriguing because he has value on special teams where he recorded two tackles last year, in addition to defense. Senn is a core special-teamer, but isn't considered much of a contributor at linebacker. The 6-foot-3 Jones, an undrafted rookie free agent out of Florida State, had a rough game versus the Eagles, but performed well the first couple weeks of camp. Perhaps the potential upside of Jones proves too irresistible to resist if the rookie can be trusted on special teams. And Franklin, who also received increased reps in Monday's practice, played in 13 games over two seasons with the Bears, recording eight tackles.
August, 1, 2014
Aug 1
3:25
PM ET
BOURBONNAIS, Ill. -- Undrafted out of Florida State, Chicago Bears rookie linebacker Christian Jones would seem to face long odds to make the roster.

But at this point, perhaps it would be a surprise if Jones doesn't make the team.

"He's a work in progress," Bears coach Marc Trestman said. "You can see what he looks like out there. He's a big, strong man who can run all day. He's in great condition. He continues to learn and grow, and he's certainly in the hunt each and every day to make the football team."

Jones thrust himself into that position by continuing to impress during workouts, going all the way back to the offseason, organized team activities and minicamps. In fact, by the time the Bears took the field for their last minicamp back in June, Jones had worked himself up the depth chart to the second team.

The question now is whether Jones can maintain the momentum. Through the first seven practices, Jones appears to be one of the most athletic linebackers on the team, and probably the only true strongside linebacker at the position.

"He's showing he deserves the opportunity to work and practice, and it's fun to see because he's coming from a long way to put himself in this position," Trestman said. "The athleticism is there. The explosiveness is there. The burst is there. The physicality is there. It's evident that he'll play that way. It's just the learning process; there's just so much for a young guy to know."
June, 17, 2014
Jun 17
5:56
PM ET
LAKE FOREST, Ill. --
Jordan Palmer
's return from a minor strain to his right throwing shoulder did little to clear up the Bears' fuzzy picture at the backup quarterback position.
Limited by the injury the last two weeks of organized team activities (OTAs), Palmer had full participation in the Bears' first of three mandatory minicamp workouts held on Tuesday, but he seemed to struggle with his accuracy at times, although Palmer reported no issues with his shoulder when he spoke with reporters after the practice.
"I felt great," Palmer said. "It was good to be back in the mix. I thought we had a pretty good practice today. [There wasn't] too much [rust]. It's still football. We're still wearing shorts and T-shirts, but it was good to be back out there with the guys."
[+] Enlarge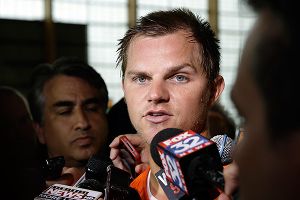 AP Photo/Nam Y. HuhWith the addition of Jimmy Clausen, the Bears now have quarterbacks under contract.
Meantime, newcomer
Jimmy Clausen
made the most of his limited reps, and even spent the end of practice occasionally working in with Palmer and starter
Jay Cutler
, while developmental quarterbacks
David Fales
and
Jerrod Johnson
took turns running the scout team offense on the other side of the field.
Clausen signed a one-year deal with the Bears on June 7.
"I watched Jimmy when he was at Notre Dame," Cutler said. "Liked him. He was in a tough situation out there in Carolina. Offensive line was pretty rough; he was getting hit a lot. The system turned over on him. He throws the ball well. I didn't have any input on bringing him here, though. Once he did get here, though, he was in the quarterback room over the weekend three straight days grinding way, trying to figure out this offense. He was peppering me and David Fales, [quarterbacks coach] Matt Cavanaugh, all questions. So he's been working hard. I think he likes the opportunity he has here. He's a little bit humbled going through the experience of being on the streets and getting picked up again. He's got a good attitude. Training camp and preseason, we'll see how it works out."
Clausen's first task is sticking on the roster long enough to report to training camp with the club on July 24. But the odds of that happening seem promising. However, with five quarterbacks currently under contract, the Bears are likely to jettison at least one reserve quarterback in the coming weeks.
"I don't know if that's ever happened [going to camp with five quarterbacks], not in the times I've coached the position," Bears head coach Marc Trestman said. "These next two days are certainly critical; we've got to continue to analyze the situation. It would be hard to, we need legs at camp, but we'll see. We'll make that decision, and we don't even have to make that decision this week, we'll make it before the start of training camp. I think we've got five viable guys. You take Jay out of it and we've got four guys that are really competing hard and all have the requisite skill set to play in the National Football League, we've just got to continue to watch it and see how it unfolds."
Here are other observations from the Bears' opening minicamp practice:
• The Bears rested starting right tackle
Jordan Mills
(foot) after the second-year offensive lineman returned from offseason surgery in May to participate in OTAs. Mills called his absence "precautionary," but wasn't sure if he'd practice on Wednesday or Thursday before the team breaks for the summer.
"It's just a little precaution, nothing major," Mills said. "I'm 100 percent. I was kind of mad I couldn't go out there and practice today with them but the trainers know best. They just wanted to rest my foot a little bit.
• Safety
Chris Conte
, linebacker
Khaseem Greene
and defensive tackle
Will Sutton
were all excused for "family reasons" according to Trestman.
Matt Slauson
(shoulder) was present but continued to sit out. Safety
Craig Steltz
took part in certain individual drills as he recovers from an offseason leg issue.
• Veteran
Kelvin Hayden
was the Bears' fourth cornerback when the team went to its dime package on defense.
• Trestman called D.J. Williams "the lead dog" at middle linebacker, but 2013 second-round pick
Jon Bostic
took reps with the first team at linebacker in the nickel package, and could definitely still challenge for the open outside linebacker spot if Williams manages to stay healthy and solidifies the middle in the club's base defense.
• Safety
Ryan Mundy
dropped an easy pick when a Cutler pass sailed off its mark close to the right hash.
• Linebackers
Jerry Franklin
and
Christian Jones
saw action with the No. 2 group. Jones, an undrafted rookie free agent out of Florida State, has opened some eyes in the offseason program.
• With Mills out,
Michael Ola
spent time at right tackle with the starters. Brian de la Puente continued to take reps at left guard.
• Converted running back
Jordan Lynch
ran a wheel route out of the backfield and caught a diving touchdown pass from Johnson late in the session.
• Rookie cornerback
Kyle Fuller
broke up a pair of passes in team drills.
•
Brandon Marshall
burned
Tim Jennings
for a long touchdown reception. On the play, the Bears had speedster
Chris Williams
lined up in the slot.
• The Bears invited numerous NFL player agents to Halas Hall on Tuesday to watch practice inside the Walter Payton Center. Agents are frequently spotted catching up with their clients at training camp, but rarely are large groups of agents permitted to observe a workout held at the team's facility.
May, 17, 2014
May 17
3:15
PM ET
LAKE FOREST, Ill. – Unable to find a linebacker in the draft that suited their needs, the Bears hope to have found a steal in Florida State undrafted rookie free agent Christian Jones, who moved well when he lined up on special teams and at strongside linebacker over the first two days of the club's annual rookie minicamp.
Many analysts pegged Jones, a three-year starter for the Seminoles, as a mid-to-late round pick until the outside linebacker reportedly submitted a diluted urine sample at the NFL combine in February.
"[I was] a little surprised [I didn't get drafted], but sometimes that stuff happens," Jones said. "Right now I've got a good opportunity. I still got on a team, so I'm just making the best out of it.
"You see guys getting drafted above you; everybody thinks they're better than somebody. But that's how it is. But it's going to help fuel me and I believe that things happen for a reason. I really feel like I belong here and I'm just making the best out of this opportunity."
Jones has a shot to earn a spot on the team depending on how many linebackers make the final 53-man roster. If the team again decides to break camp with six linebackers, Jones will be forced to beat an experienced player, such as 2013 fourth-round draft choice
Khaseem Greene
or special-teams standout
Jordan Senn
.
"I feel like I've got a lot of versatility and I feel like I can fit in a lot of different systems. I feel like I just need to focus on one spot," Jones said. "I've been moved around my whole career and I feel like people didn't really see what all I could do. They just saw a little glimpse of it. I think it's going to be a good opportunity to see me at one spot and see what I do.
"Right now I'm at the strongside linebacker spot, so we're going to see how that works out."
Bears head coach Marc Trestman added: "He's [Jones] definitely a player we are keeping a close eye on. He has athleticism."
May, 9, 2014
May 9
12:18
PM ET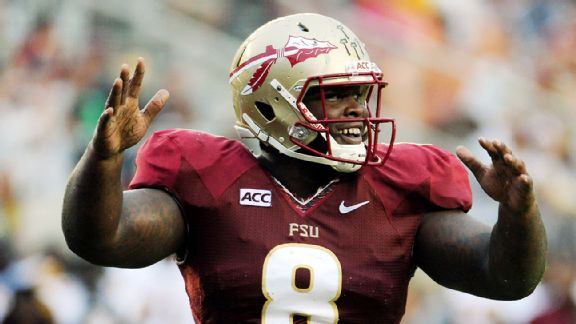 Melina Vastola/USA TODAY SportsFlorida State DT Timmy Jernigan was viewed as a first-round talent in early mock drafts.
LAKE FOREST, Ill. -- The
Chicago Bears
knocked out a need at cornerback on Thursday in Round 1 of the NFL draft with the selection of Virginia Tech's
Kyle Fuller
, and on Friday the team will stick to the plan of replenishing the defense in Rounds 2 and 3.
Despite perhaps more pressing needs at safety and linebacker, the Bears took a versatile cornerback in the first round. What's encouraging for the next two rounds is that this year's draft class is so deep, the Bears could still find players in need areas capable of contributing significantly as rookies.
[+] Enlarge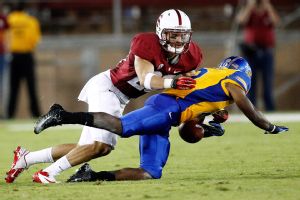 AP Photo/Tony AvelarStanford safety Ed Reynolds makes sense for the Bears in the third round.
The Bears pick 51st and 82nd overall in the next two rounds, and with options aplenty on Day 2, I'd use the second-round pick on the best defensive tackle available since that position represents the best value. I'm more partial to Florida State's
Timmy Jernigan
(I don't care about the alleged failed drug test) or Notre Dame's
Louis Nix
than a boom-or-bust prospect such as Minnesota's
Ra'Shede Hageman
.
Then, in the third round, I'd look to add competition safety with a long, rangy prospect such as Stanford's
Ed Reynolds
.
Looking at the players still on the board, the Bears have several options available at defensive tackle in Jernigan, Notre Dame's Nix and
Stephon Tuitt
, Hageman, and perhaps even later in the draft with players such as LSU's
Ego Ferguson
, South Carolina's
Kelcy Quarles
and Princeton's
Caraun Reid
.
At safety, the Bears should strongly consider Reynolds. He picked off seven passes over the past two years and has an NFL pedigree, from his father, Ed Sr., who played linebacker in the NFL for 10 years.
Dion Bailey
of Southern Cal could be another option for the Bears at safety, perhaps in the third round, and Wyoming's
Marqueston Huff
is a potential pick even later (six double-digit tackle games; 20 stops against Utah State).

Linebacker options are abundant, too. Brigham Young's
Kyle Van Noy
racked up 62 tackles for lost yardage over four years in college; he projects as a Sam linebacker in Chicago's scheme. Florida State's
Christian Jones
and
Telvin Smith
are also athletic possibilities for perhaps later in the draft.
Keep an eye out for Connecticut's
Yawin Smallwood
, who posted 332 career tackles and 9.5 sacks in college and met with the Bears at the NFL combine. New Bears defensive line coach Paul Pasqualoni is familiar with Smallwood, having served as head coach at Connecticut from 2011 to '13. Pasqualoni told the Hartford Courant, "[What] I really like about [Smallwood], which I think is a strength, is that he doesn't process what he sees. He just goes. Some guys look at it and they hesitate, then they go. He's not a process guy. He's a read-and-react guy, which is a big part of that position."
Perhaps Chicago general manager Phil Emery will pull one of his usual surprise picks and grab an offensive player. That wouldn't be too much of a stretch, because the benefit of a class this deep is that the Bears can legitimately find ways to address needs throughout all seven rounds.
Emery has been high on Texas Tech tight end
Jace Amaro
, who runs a 4.6-second 40-yard dash and made 106 catches last season.