NFC North:

Cincinnati Bengals
October, 20, 2013
Oct 20
10:00
AM ET
By
ESPN.com staff
| ESPN.com
Join our ESPN.com NFL experts as they break down the Cincinnati Bengals' visit to the Detroit. Contribute your thoughts and questions beginning at 1 p.m. ET. And, be sure to visit our
NFL Nation Blitz page
for commentary from every game, as well as fan photos and the latest buzz from Twitter. See you there.
October, 17, 2013
Oct 17
7:35
PM ET
ALLEN PARK, Mich. -- The last time
A.J. Green
played in Detroit was his first time wearing an NFL uniform in a game. His first preseason game. His rookie year.
Already down two touchdowns in the first quarter, Cincinnati quarterback
Andy Dalton
threw Green the ball on his very first play as a Bengal. It was intercepted by Detroit cornerback
Chris Houston
.
Not the start Green would have wanted.
"I had to make a tackle," Green said. "I hope I get off to a better start than that."
Since that point, not much has gone wrong for Green, who visits Detroit on Sunday with the Bengals.
[+] Enlarge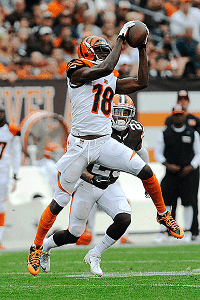 Ken Blaze/USA TODAY SportsBengals receiver A.J. Green has 37 catches for 464 yards and 4 touchdowns this season.
Over the past three seasons, stopping Green has been a major issue. He has 11 100-yard games in his first 37 games. In his career, he's only dropped 14 passes. Since entering the league as a first-round draft pick out of Georgia in 2011, he's seventh in the NFL in receiving yards (2,871) and of guys in the top 10 in that span, only
Vincent Jackson
,
Steve Smith
and
Dez Bryant
have fewer drops.
In the past three years, he's caught 22 touchdown passes, tied for 10th in the league during that span.
Part of what makes him good is he is incredibly tough to read as a receiver. He is a vertical threat, much like his offseason workout partner,
Detroit Lions
receiver
Calvin Johnson
, but his ability to run any route is what makes him completely dangerous.
"You can tell he works on every part of his game," Houston said. "Some guys, you can just know that they just run nines, jump balls, and they are not good in-and-out of breaks.
"Him, you've got to play everything because he's so precise in everything he does."
There is a rare fluidity there, something only a few receivers have and even less are able to excel with. But Detroit cornerback
Rashean Mathis
has been around a while.
He's covered a lot of receivers. As a former Pro Bowler, he's handled a lot of them well, too. Green, though, he's one of the best current NFL receivers Mathis has seen.
"I've seen a lot of guys," Mathis said. "But there's not a lot of guys that possess the smoothness of route running that he has, that capability. He can be an explosive guy as well.
"It's a good combination he has."
But the key to stopping Cincinnati's offense is to keep Green from taking those vertical routes too often. Force him to use those quick stops and fluid movements he has when he's making cuts to run hitches and slants instead of go routes, corners and posts.
This, Houston believes, is the way to frustrate Cincinnati's offense.
In some ways, Detroit's cornerbacks practice this every day because they have the older, perhaps more elite version of Green: Johnson.
Like any quarterback in the league, Dalton throws a lot of his passes within 10 yards of the line of scrimmage and Dalton likes to go outside of the hashmarks on those throws. When throwing to receivers, Dalton has been his most efficient throwing to the outside of the field. His highest completion percentage beyond the line of scrimmage is to the left side of the field between the line of scrimmage and 10 yards away, where he is completing 75 percent of his passes.
Three of Dalton's four highest QBR zones are on the left side from 10-to-20 yards away (94.3) and then deeper than 20 yards (86.7) along with over the middle more than 20 yards away (98.5).
"They want their quarterback not to make mistakes," Houston said. "A lot of quick three-step (drops), lot of quick five-step (drops).
"Then, once you start biting up on the quick three-and-five step, then they hit you deep."
A lot of that deeper success comes because of the route running fluidity Green possesses. When he makes it hard to read, he becomes that much more difficult to stop. And it has turned him into one of the best receivers in the NFL.
"You could put him up there," Mathis said. "I'm not the one to crown anyone too quick but he's made plays his first three years so to knock him, you can't do that. You have to give him his props.
"He's a very good young talent and if he keeps it up you definitely can put him in the top three or four receivers in the league easily."
ESPN Bengals reporter Coley Harvey contributed to this report. Information from ESPN Stats & Information was also used in this report.
October, 17, 2013
Oct 17
12:00
PM ET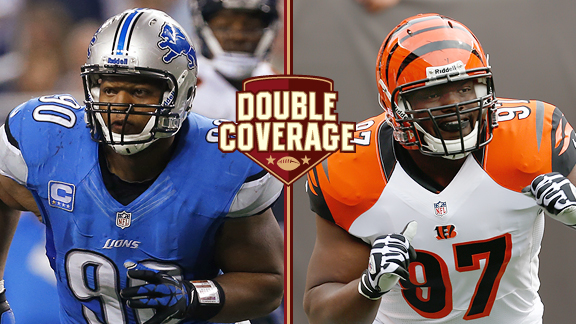 AP PhotoNdamukong Suh and Geno Atkins lead two of the league's best front fours.
The
Detroit Lions
have a chance to solidify themselves for a playoff push. So do the
Cincinnati Bengals
. They may be in different conferences, but this game should be a good test for both teams as to where they stand in the larger picture of the NFL.
Both teams lead their divisions, and both won on the road last week. And in the wacky world of the NFL, Detroit has beaten both teams Cincinnati has lost to (Chicago and Cleveland) while the Bengals have beaten one of the two teams the Lions lost to (Green Bay).
As for this week's game, Bengals reporter Coley Harvey and Lions reporter Michael Rothstein break down what should be an interesting matchup.
Rothstein:
Detroit's cornerbacks continue to either be banged up (starters
Chris Houston
and
Rashean Mathis
) or really young (rookie
Darius Slay
). How much of a problem is
A.J. Green
going to pose in this situation? Does he feast on these matchups?
Harvey:
Given the Lions' lack of experience and consistency at cornerback, that could be a problem for Detroit this weekend. Or maybe it will be a good thing. Here's what I mean: Green does well when he's going one-on-one against particular defensive backs, and he seems to relish having opportunities to expose both really good and really poor corners. Against Buffalo's
Leodis McKelvin
on Sunday, Green caught six passes for 103 yards and a touchdown. He was targeted 11 times as the Bengals went more to their receivers than they had the week before. As good as McKelvin is, though, he's no
Charles Tillman
, whom Green caught nine passes against in Week 1. He also isn't
Joe Haden
, who allowed Green to catch seven balls but held him to just 51 yards in Cleveland three weeks ago. So Detroit having a revolving door at corner could be problematic since Green has had his opportunities against some of the league's best this season.
As far as the inexperience and inconsistency at the position being a good thing for the Lions, I say that because that might prompt Detroit to double-team Green. As we've seen this season, Green struggles when safeties are able to come over the top and help out in coverage against him. If double coverage ends up being a cornerstone of the Lions' game plan, Green could have a tough day.
We'll stick with receivers, and I'll ask you, Michael, about
Calvin Johnson
. We know he's hobbled a bit with that knee injury, but how much do you think he's looking forward to squaring off with a guy like Green, who also is considered one of the game's best receivers?
Rothstein:
Johnson seems to enjoy seeing other top receivers on the field, but he gets more excited to see topflight opposing cornerbacks like
Patrick Peterson
. For instance, he and Peterson swapped jerseys after their Week 2 game.
His knee is a concern. He didn't quite look like himself against Cleveland on Sunday, dropping a couple of passes and not being his typical deep threat. But when he is out there, teams still have to pay extra attention to him because he is the top receiver in the game.
Johnson's presence changes a lot, even if he can't go deep. Detroit can still use him on underneath routes, and he's still likely to draw the double-team or added attention, especially in the red zone. As long as he can do some things and run some routes, Johnson will be out there and making a difference.
That leads me to this question -- how will Cincinnati's defense handle both the questionable health of Johnson combined with everything else Detroit's offense has to offer?
Harvey:
Cincinnati's top corner,
Leon Hall
, likely will draw the bulk of reps against Johnson, even though, at 5-foot-11, he stands some six inches shorter than his 6-5 counterpart. It'll be interesting to see how Hall and the other defensive backs handle the threat of the deep ball, assuming Johnson can run better and get underneath those passes this week. If he's forced to go underneath, the Bengals feel confident their cover linebackers --
Rey Maualuga
,
Vontaze Burfict
and
Michael Boley
-- and cover safety
Taylor Mays
can disrupt short- to intermediate-range passes.
When it comes to stopping
Reggie Bush
in the run game, the Bengals have the type of defensive front that will make such a matchup intriguing. Last week, against the No. 3 rushing offense in the NFL, they gave up 130 yards on the ground but limited
Fred Jackson
to just 35 yards on 10 carries. With fewer big-play threats in the Lions backfield, the Bengals have to be glad they're keying primarily on one running back this week. That said, it'll be interesting to see what they do with linebacker
James Harrison
. He factored heavily in the run defense last week, but with the passing threat Detroit possesses, he likely won't be on the field as much this week.
Speaking of defensive players,
Ndamukong Suh
continues to be a disruptive force in the Lions' interior. Statistically speaking, though, it seems he wasn't very productive last week. Any idea what happened there, Michael?
Rothstein:
That hasn't been unusual. His numbers have not been astronomical, but he picks up double-teams on almost every play, it seems. So just the attention he draws assists everyone. There have been hurries that have led to interceptions as well. He is playing extremely well and very consistent.
Has
Andy Dalton
said anything about Suh this week? They had a prior run-in, and a hit on
Brandon Weeden
last week is being looked at by the league.
Harvey:
Dalton was asked about the body slam Suh gave him during the 2011 preseason opener. But being the polite politician that he is, the quarterback didn't show any ill will toward Suh. Quite the contrary, actually. Like several of his offensive linemen, Dalton simply called Suh a good player and credited the way he passionately plays the game. Though few linemen wanted to make the Dalton-Suh incident a storyline this week, they will have that play in the back of their minds, rest assured.
Oh, and is there a week when the league isn't looking at one of his hits?
Final question for you, Michael. Why does Bush have only one rushing touchdown this year? Is that a function of being part of a good passing offense or something else?
Rothstein:
It's a misleading number, Coley. He would have had two rushing touchdowns in Week 1, but both were reviewed and taken away at the 1-yard line.
Joique Bell
rushed both of them in instead. And he has two receiving touchdowns, so he is finding the end zone. Detroit is more of a passing team that likes to employ screens with its running backs, so that could be why those numbers look strange. But Bush is having a good season, no doubt.
September, 20, 2013
Sep 20
12:00
PM ET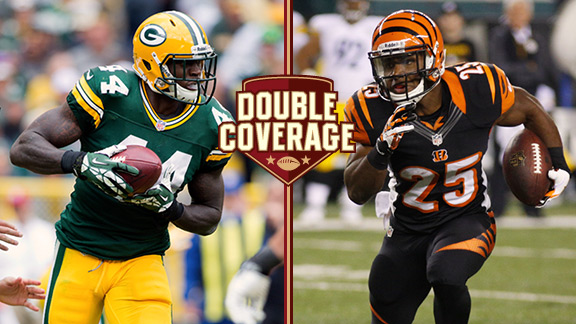 AP Photo Running backs James Starks and Giovani Bernard look to continue the success they had in Week 2.
As the
Green Bay Packers
and
Cincinnati Bengals
enter the third week of the season, both teams are looking to capitalize off Week 2 victories.
The Packers, buoyed by quarterback
Aaron Rodgers
' record-tying 480-yard passing performance, improved to 1-1 with a 38-20 win over Washington last Sunday. The Bengals also moved to 1-1 after being sparked Monday night by rookie running back
Giovani Bernard
's two-touchdown effort in a 20-10 win over the Steelers.
This week, ESPN NFL Nation's Coley Harvey and Rob Demovsky preview the Packers-Bengals game.
Coley Harvey:
Rob, we'll pose the first question to you. If Rodgers' impressive outing last week against Washington was foreshadowing, then defenses across the NFL better buckle up for a long season. I mean, 480 yards? That's special no matter who did it. Still, I have to ask since it seemed like Washington's defense threw in the towel a little early: Were Rodgers' yards simply a function of him being that in sync with his receivers, or was some of it a function of the Packers rightfully beating down a team that eventually didn't want to be there? If it was mostly Rodgers and his receivers, how much do you think they can sustain this high-octane offense?
Rob Demovsky:
I don't know if Washington threw in the towel as much as it's just not a very good pass defense. The Eagles shredded them the week before, too. And then losing safety
Brandon Meriweather
to a concussion in the second quarter against the Packers didn't help. One thing about Rodgers is he's great at taking what the defense gives him. If a defense is going to play tight press coverage, he will work the ball down the field. If the defense is going to play soft and give cushion, he'll use the underneath routes to get his guys the ball, which is what he did against Washington, and his receivers did the rest. He doesn't force very many throws. This year, he seems even more in tune with his receivers.
Randall Cobb
destroyed the 49ers and Redskins from the slot. Also, Rodgers has a lot of trust in tight end
Jermichael Finley
right now.
However, it looks to like the Bengals might have the best pass defense the Packers have faced so far this season. What makes them so effective?
Harvey:
I'd venture to say that it's a combination of things. For starters, the Bengals have gotten decent push from their defensive line in the first two games. The unit's two sacks, though, only tell part of the story. Against Pittsburgh's
Ben Roethlisberger
on Monday, the group was in the backfield often, making it difficult for Big Ben to get comfortable in the pocket. That lack of comfort, combined with the defensive backs' ability to stay with receivers, made it difficult for Roethlisberger to connect deep. Roethlisberger completed only four of his 15 attempts of 20 yards or more.
Stepping away from the passing game, I'm curious about Green Bay's rushing attack. What made
James Starks
go off last week? And how confident are the Packers in him in the event
Eddie Lacy
doesn't go this week?
Demovsky:
Starks has always been a powerful, decisive runner, so it wasn't a total shock to see him rush for 132 yards against the Redskins. After all, Starks was good enough to be their starter in Super Bowl XLV. In fact, he was their starter throughout that playoff run following the 2010 season and had a 100-yard game against the Eagles in the wild-card round. Starks' problem over the years is that he could never stay healthy over long periods of time, but he's been healthy since the beginning of training camp this year and waited for his turn. Packers coach Mike McCarthy was so satisfied with Starks' performance against Washington that he's going to start him against the Bengals regardless of Lacy's status.
Speaking of running games,
Giovani Bernard
sure looked effective against the Steelers on Monday. What dynamic does he add to the Bengals' offense?
Harvey:
Good points about Starks. That's the beauty of the NFL. When hot-shot youngsters come along, it's so easy to forget how good and dominant older players once were -- and in Starks' case, still can be.
I guess you could say the Bengals are going through a similar situation themselves right now with the rookie Bernard coming in and stealing attention from 28-year-old
BenJarvus Green-Ellis
. The elder running back had a rather sneaky-good evening Monday. While most attention was focused on Bernard's two-score night, Green-Ellis rushed for 75 yards, picking up virtually all of them while running between the tackles.
Whenever the Bengals need an explosive play, though, they turn to Bernard. Two Packers who could be important in slowing him are linebackers
A.J. Hawk
and
Clay Matthews
. Football fans in Ohio are probably curious to know how important Hawk, in particular, is to Green Bay's defense. What say you?
Demovsky:
Hawk has been a steady player but has never really lived up to where he was drafted -- fifth overall in 2005 out of Ohio State. He plays in the Packers' base and nickel packages but he comes off the field when they go to their dime package in obvious passing situations. But I'm sure he'll be charged up for the rare opportunity to play in his home state.
September, 8, 2013
Sep 8
12:45
PM ET
By
ESPN.com staff
| ESPN.com
Join our ESPN.com NFL experts as they break down the Cincinnati Bengals' visit to the Chicago Bears. Contribute your thoughts and questions beginning at (1 p.m. ET). See you there.
September, 5, 2013
Sep 5
1:00
PM ET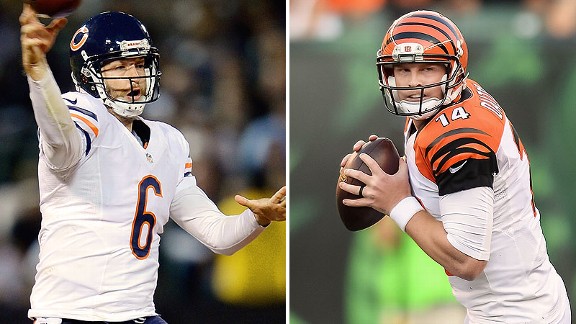 Getty ImagesChicago's Jay Cutler, left, and Cincinnati's Andy Dalton lead their respective offenses against very stingy defenses.
Two strong defensive teams led by highly scrutinized quarterbacks in
Jay Cutler
and
Andy Dalton
set the scene for what should be a hotly-contested matchup between what are expected to be ascending clubs.
Marc Trestman makes his debut as an NFL head coach at Soldier Field on Sunday, leading a Bears team with plenty of roster turnover on offense, including a totally revamped line expected to better protect Cutler as he operates the club's new scheme. That group will be tested by a Bengals defensive line, led by
Geno Atkins
, that accounted for 43 of the team's franchise-record 51 sacks in 2012, and also paved the way for the defense to finish the season ranked No. 6 for fewest yards allowed.
Chicago's defense in 2012 was even better, finishing fifth in net defense, third in scoring defense (17.3 points per game) and No. 2 in turnover differential while leading the NFL in interceptions (24) and total takeaways (44).
While home-field advantage can be key for teams, it's certainly been a factor in this series. The Bengals hold a 4-1 road record against the Bears and own a 6-3 series lead, which includes victories in their last outings (2005 and 2009).
Chicago hasn't beaten the Bengals since 2001.
ESPN.com's Matt Williamson and Bears team reporter Michael C. Wright discuss the matchup.
Wright:
The Bears hope they fixed the offensive line with a combination of scheme (shorter drops for Cutler), beefed up protection with
Jermon Bushrod
at left tackle and a pair of draft picks in
Kyle Long
(first round) and
Jordan Mills
(fifth) at right guard and right tackle, and another weapon for Cutler to find down the middle of the field when he's in trouble. But the inexperience of Long and Mills will be question marks against Cincinnati's active defensive line.
It seems Cincinnati's defense is built around Atkins, but how much of a factor are guys like
Carlos Dunlap
and
Michael Johnson
?
Williamson:
Atkins is the foundation of the defense for sure and everyone thrives off his presence, but the Bengals have a lot invested in the defensive line now in terms of finances and draft picks. This is an extremely deep and talented group that makes the entire defense go. Dunlap might be a little underrated and Johnson a little overrated, but they form an impressive pair of defensive end. These three players, along with the rest of Cincinnati's defensive front, will prove a very steep challenge for Chicago's rebuilt offensive line in Week 1.
What can the Bengals' defense expect from this new Trestman offense?
Wright:
The Bears will utilize zone blocking in the running game, which should allow
Matt Forte
to pick his own holes. That should open up the passing game, where the Bears will use West Coast philosophies such as shorter routes and drops for Cutler so he can get rid of the ball quickly. Look for the Bears to also try to use
Earl Bennett
down the seams to exploit potential matchup problems, especially on traditional running downs where the Bengals might be using base personnel.
Speaking of the Bengals, they've made the playoffs in three of the last four years, but really haven't made much noise. What are the expectations for this team now?
Williamson:
Expectations must go up. They had yet another high-quality offseason and this team has an exceptional young core of players on both sides of the ball. They clearly play in a tough division, but going one-and-done in the playoffs yet again will not be considered a successful season in Cincinnati. I fear they will only go as far as their quarterback will take them. But Bengals fans have a lot to be excited about.
Do you think this Bears defense can defend
A.J. Green
?
Wright:
They should be able to keep him from dominating the game. It's likely the Bears match
Charles Tillman
up against Green, but if the receiver winds up in front of
Tim Jennings
, the team is confident he can get the job done, too. The Bears typically don't double or shade coverage against players such as Detroit's
Calvin Johnson
, so don't count on seeing the Bears try that against Green. Cincinnati's tight ends could be an issue now that they've got two good ones in
Jermaine Gresham
and
Tyler Eifert
.
With such a talented supporting cast, do you see Dalton as just a guy surrounded by weapons, or a blossoming young quarterback?
Williamson:
He shows signs of blossoming into a solid young quarterback, and has been especially adept in the red zone, which is very noteworthy for a young quarterback. But I think he is more of the former. He is a limited passer who lacks great tools, and isn't as accurate or on time with his throws as you would like for someone with his limitations. The Bengals knew this and landed two very "Dalton-friendly" receivers for him in Eifert and
Giovani Bernard
. Eifert should develop into an exceptional target in the middle of the field as well as the red zone, while Bernard provides an easy dump-off option for Dalton. With all the Bengals' resources over the past two offseasons, it really surprises me that Cincinnati didn't do more to challenge Dalton or greatly improve its backup quarterback spot.
July, 14, 2009
7/14/09
12:00
PM ET
Posted by ESPN.com's Kevin Seifert
Division matchups rightly carry pre-eminent importance in every team's schedule. But never underestimate the importance of the interconference schedule -- those four common AFC opponents each NFC North team finds on its schedule every season.
Last year, Chicago would have earned a playoff spot had it won its final game against the AFC South. Instead, the Bears lost 31-24 to Houston and fell short in the wild-card race. In 2007, Green Bay's division-winning 13-3 record included a 4-0 record against the AFC West. (Second-place Minnesota finished 2-2.)
The Black and Blue has a tough task ahead in 2009, taking on the division that housed two of the NFL's best teams last season in Pittsburgh and Baltimore. So let's take an early look at some of the themes that should develop this season against the (supposedly) rough-and-tumble AFC North and how they might impact the division race in these parts.
1. Detroit was 0-16 last season, but its new coach went 4-0 against the AFC North in his previous job. As the defensive coordinator in Tennessee, Jim Schwartz helped the Titans defeat Pittsburgh, Baltimore, Cleveland and Cincinnati. Included in that run was a 31-14 late-December shellacking of the Steelers. Schwartz's new team is in a much different place than the Titans were last season, but it's a rare advantage to have seen all four interconference opponents the previous season. The Lions can use every edge they can find.
| | |
| --- | --- |
| | |
| | Rich Gabrielson/Icon SMI |
| | Minnesota's Adrian Peterson will have a bone to pick with Baltimore's Ray Lewis when they meet on Oct. 18. |
2. Who will have the last laugh
between Baltimore linebacker
Ray Lewis
and Minnesota tailback
Adrian Peterson
(Oct. 18)? As you might recall, Peterson said at the Pro Bowl that he wanted to gain 12 pounds during the offseason. "I don't think too many guys would be excited to see me at 230 two times a year," Peterson said. But his father
told USA Today
last month that a group of veterans -- including Lewis -- "set up" his son, hoping to convince him to make a change that ultimately would slow him down. Let's see if Peterson, who by all accounts will remain close to his playing weight of 217 pounds, returns the favor.
3. The AFC North boasts two of the game's best pass-rushing linebackers in Pittsburgh's James Harrison (16 sacks in 2008) and Baltimore's Terrell Suggs (eight). You never know exactly where outside linebackers will line up in a 3-4 defense, but I'm guessing they'll find their way toward the NFC North's host of young right tackles. Chicago (Chris Williams), Minnesota (Phil Loadholt) and Green Bay (Allen Barbre or T.J. Lang) are all expected to have new starters at the position -- and Detroit's Gosder Cherilus is entering his first full season as a starter. Defensive coordinators would be remiss not to test all four spots.
4. This season will be a referendum on whether Orlando Pace can still play left tackle in the NFL. During the free-agent period, Baltimore heavily courted Pace but wanted him to move to right tackle so that youngster Jared Gaither could continue his development on the left side. Pace, however, wanted to maintain his traditional position and ultimately signed with Chicago. The Ravens have installed rookie Michael Oher as their new right tackle and suddenly have a raw set of tackles. We'll soon find out if Pace can give the Bears a full year at left tackle, or whether the Ravens were right to hold firm on youth.
5. To the extent that practicing against a 3-4 defense helps in game preparation, Green Bay should have a clear advantage over its NFC North rivals. The Packers' offense spent all spring practicing against its 3-4 scheme and won't face that choppy in-season transition when preparing for the Steelers, Ravens and Browns. This is becoming less of an issue every year as more NFL teams return to the 3-4 -- the total is expected to be 13 in 2009 -- but familiarity can only help the Packers in this vein.
6. The Bears, Packers and Lions all are working hard
to improve their weak pass rush.
Two AFC North teams -- Cincinnati and Pittsburgh -- are hoping to shore up their pass protection. Which teams can make quicker enhancements? You might know that the Bengals gave up the NFL's third-most sacks last season (51). But it might have escaped you that the Steelers were right behind them with 49 sacks allowed. It almost goes without saying that the best way to stop the Bengals'
Carson Palmer
and the Steelers'
Ben Roethlisberger
is to keep them from throwing the ball.
7. AFC North teams like to think of themselves the same way we do here in the Black and Blue, as hard-nosed, bad-weather running teams. Minnesota defensive tackles Kevin Williams and Pat Williams are two of the best run-stoppers in the game, and there's a little stretch of the season where they would be particularly missed should their NFL suspensions kick in. (Such a scenario would require a prolonged but ultimately unsuccessful legal challenge to their NFL discipline.) The Vikings play Baltimore and Pittsburgh in consecutive October weeks (Oct. 18 against the Ravens and Oct. 25 at Pittsburgh). That makes for two old-fashioned football matchups -- if the Williams Wall is on the field.
Who benefits most?
In some ways, this schedule ensures that each NFC North team will be playing 10 divisional games this season. There are many similarities between the general styles of the Black and Blue and AFC North. Minnesota's defense should match the intensity of the physical offenses of Pittsburgh and Baltimore. Green Bay's offense shouldn't be surprised by the 3-4 defense, but its own defense won't have the advantage of surprise, either. It's too early to make specific predictions, but it's safe to say that whoever has the divisional advantage in the NFC North will also fare best against the AFC North.
March, 19, 2009
3/19/09
6:56
AM ET
Posted by ESPN.com's Kevin Seifert
Arguably the most important event of the draft season -- at least between the scouting combine and the draft itself -- will take place Thursday on the University of Georgia campus.

Quarterback Matthew Stafford will headline a Georgia Pro Day that is expected to be attended by every NFL team. Stafford, the top-rated quarterback in the draft and a leading candidate to be the No. 1 overall pick, will throw publicly for the first time since the end of the college season.
Stafford skipped the throwing portion of last month's combine, increasing the importance of Thursday's event. As you might expect, a number of Detroit officials are expected to be in attendance. But the Lions also plan a private workout with Stafford at a later date. He visited their practice facility last week.
We'll keep you updated on the Pro Day as best we can. But in the meantime, here is a link to the Atlanta Journal Constitution's Georgia blog, which reporter Chip Towers will be updating live from the event. Stafford is expected to throw at about 12:15 p.m. ET.
Continuing around the NFC North:
February, 16, 2009
2/16/09
9:21
PM ET
Posted by ESPN.com's Kevin Seifert
Detroit is a third of the way to its pre-market goal.
General manager Martin Mayhew said last week that he was working toward signing three of the Lions' pending free agents before the market opens Feb. 27: Placekicker Jason Hanson, fullback Moran Norris and guard Stephen Peterman. Monday, the Lions agreed to terms with Peterman on a five-year, $15 million contract that includes $5.5 million in guarantees.
Peterman, who became a full-time starter last season, presumably fits in as the Lions' right guard. His signing gives Detroit the beginnings of a foundation on the offense line; Peterman and right tackle Gosder Cherilus, a 2008 first-round draft choice, could man the right side for years to come.
Meanwhile, the Hanson negotiations might have been complicated a bit when Cincinnati applied its franchise tag to kicker Shayne Graham. A long-term agreement between the Bengals and Graham would have helped solidify the market for Hanson and given both he and the Lions a better idea of his value. Graham and the Bengals are continuing to negotiate, but they haven't yet set the market.
If Hanson doesn't agree to terms by Thursday, the Lions are expected to franchise him.
August, 31, 2008
8/31/08
10:33
PM ET
Posted by ESPN.com's Kevin Seifert
How serious are the Detroit Lions about improving their running game?
According to multiple reports in Detroit, the Lions are hosting former Cincinnati running back Rudi Johnson on a visit. Johnson arrived Sunday night in Detroit and is scheduled to take a physical and work out with the Lions on Monday.
It's not clear if Johnson has other options he intends to pursue as well. But as with free agency in the offseason, a player's first visit usually is pretty important. The Lions' original 53-man roster included only two tailbacks - Kevin Smith and Tatum Bell - but they were awarded rookie Marcus Thomas on waivers Sunday.
Johnson, who is entering his eighth season, was a 1,000-yard rusher as recently as 2006 but has since struggled with injury problems. A hamstring injury slowed him during training camp with the Bengals, and he was released Saturday.
He probably is past his prime as an everydown runner, but Johnson would represent an improvement over Bell as a backup to Smith. The Lions plan to run with frequency this season, and they'll need as many pairs of fresh -- and competent legs -- they can get.
August, 18, 2008
8/18/08
7:36
AM ET
Posted by ESPN.com's Kevin Seifert
We are working on a story that pegs Detroit Lions receiver Calvin Johnson as an emerging star in the NFC North, and Johnson keeps giving us more material.
Quite simply, he put on a show Sunday night in the Lions' 27-10 preseason victory at Cincinnati -- catching three passes for 76 yards and a touchdown in the first two series of the game. Here's a breakdown:
Lions' first play from scrimmage: 40-yard reception, leaping over Bengals cornerback Leon Hall.
Lions' fifth play from scrimmage: 9-yard reception.
Lions' sixth play from scrimmage: 27-yard touchdown. On the play, Bengals cornerback Johnathan Joseph was flagged for illegal contact at the line of scrimmage. It didn't matter. Johnson shoved Joseph aside and ran his route.
We are only midway through the preseason here. But if nothing else, Johnson appears unencumbered by the back injury that slowed him his rookie season. He is showing why he was the No. 2 overall pick of the 2007 draft, having caught seven passes for 154 yards in FOUR offensive series, and the Lions are giggling with excitement.
As are we ... as we head into another week covering the NFC North.