NFC North:

Clay Matthews Jr.
January, 26, 2010
1/26/10
1:00
PM ET
Pro Bowl Watch
:
AFC
»
East
|
West
|
North
|
South
NFC
»
East
|
West
|
North
|
South
We all know Green Bay linebacker
Clay Matthews
III comes from a deep lineage of football success. His father, Clay Jr., was a 19-year linebacker in the NFL. His uncle,
Bruce Matthews
, also played 19 seasons as an offensive lineman and is a member of the Pro Football Hall of Fame.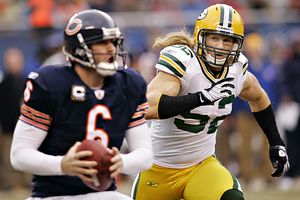 Rob Grabowski/US PresswireGreen Bay linebacker Clay Matthews added to his family's NFL history by making the Pro Bowl as a rookie.
But only one member of that trio managed a Pro Bowl berth as a rookie. Clay III was originally a first alternate and received an invitation to play after Chicago linebacker
Lance Briggs
bowed out.
"It means a great deal," Matthews said in a national conference call this week. "I'm very happy, fortunate and blessed to have made it in my rookie season. My dad and uncle were telling me, 'Man, it took me four and six years to make it, and you're already making it in your first year.' I definitely have big shoes to fill, but I'm looking forward to the opportunity and I think I'm off to a good start."
Indeed, Matthews set a Packers rookie record with 10 sacks this season after cracking the starting lineup in Week 4. His father played in a different era, including five seasons before sacks became an official NFL statistic, but it's worth noting that Clay Jr. only hit double digits in sacks for one season (12 in 1984). (For more, see
Mike Spofford's piece
over on Packers.com.)
"It's really about staying on top," Clay III said, "and that's what I look forward to doing -- just keeping it up and just trying to make plays from here on out."
Matthews will play a reserve role for the NFC in Sunday's game at Sun Life Stadium. I'll be there to chronicle his afternoon, along with that of the other 11 NFC North players expected to participate. Because of the recent rash of changes to the Pro Bowl roster, below is a list of NFC North players. As always, we're here to serve.
Update: This list is now nine players.
Chicago Bears
Kick returner
Johnny Knox
Green Bay Packers
Quarterback
Aaron Rodgers
Safety
Nick Collins
Linebacker Clay Matthews
Minnesota Vikings
Running back
Adrian Peterson
Wide receiver
Sidney Rice
Left guard
Steve Hutchinson
Left tackle
Bryant McKinnie
Defensive end
Jared Allen
Defensive tackle
Kevin Williams
Special teams cover man
Heath Farwell
Update: Rice and Williams declined their invitations Tuesday.
April, 1, 2009
4/01/09
5:51
PM ET
Posted by ESPN.com's Kevin Seifert
Three of the NFC North's top personnel men, two of its coaches and at least one offensive coordinator were in attendance Wednesday at USC's pro day, an event highlighted by the presence of quarterback Mark Sanchez.
According to this roll call from NFL.com, Detroit general manager Martin Mayhew, Packers general manager Ted Thompson and Minnesota vice president Rick Spielman were all there. So were Lions coach Jim Schwartz, Vikings coach Brad Childress and Lions offensive coordinator Scott Linehan.
While Sanchez was the headline performer, the event also included three linebackers who could be top-25 picks in the April 25-26 draft.
I'll focus on Sanchez here for two reasons. One, Schwartz said last week the Lions were hoping to get some extra work with him at the conclusion of the throwing session. Two, Childress has been known to frequent pro days in the past, but more often than not it's to see a big-time quarterback.
ESPN draft analyst Todd McShay was in attendance and shared his notes with the Black and Blue blog. According to McShay, Sanchez had a superb workout and threw harder than he ever has before. His accuracy was spot-on, even when required to move out of the pocket and re-set his feet before throwing.
You can expect to see McShay's full report Wednesday night on SportsCenter and later on ESPN.com.
It will be interesting to see how high Sanchez can push himself in this draft. I don't think he's a realistic possibility for the Lions' No. 1 overall pick, but he could certainly enter their picture if they trade down from No. 1.
But they might not want to move too far. According to multiple reports, Seattle (No. 4 overall) and Jacksonville (No. 8) have been all over Sanchez the past two days. The Seahawks had five members of their organization at Wednesday's workout.
At No. 22 overall, the Vikings have almost no chance of grabbing Sanchez unless they trade up. But there is a strong chance that at least one of the Trojans' linebacker trio will be sitting there. Maybe Spielman and Childress had linebackers on their minds.
March, 12, 2009
3/12/09
2:30
PM ET
Posted by ESPN.com's Kevin Seifert
I know. The headaches were coming on. A few of you were getting nosebleeds. Maybe the shakes, too. But rest easy. We are here to feed your NFL draft addiction and soothe those side effects.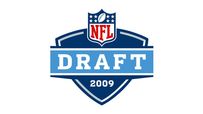 On Thursday, ESPN draft analysts Mel Kiper and Todd McShay released new, combined mock drafts based on their information through Wednesday's pro days. You'll need an Insider subscription to see their entire board, but I can bring you their choices for the NFC North teams at no charge to you. (Just don't tell anyone.)
And what the heck. I'll drop in a few pithy comments of my own as well.
No. 1
Kiper: Georgia quarterback Matthew Stafford
McShay: Stafford
From the peanut gallery: McShay has argued against Stafford, but as of now he believes the Lions are leaning in that direction. I agree with Don Banks (SI.com) and Pat Kirwan (NFL.com). Baylor offensive lineman Jason Smith is looking awfully tempting right now.
No. 20
Kiper: Tennessee defensive end Robert Ayers
McShay: Mississippi defensive tackle Peria Jerry
From the peanut gallery: All things equal, I like the idea of adding another interior defender. That's where the Lions were at their worst last season.
No. 9
Kiper: Texas defensive end/linebacker Brian Orakpo
McShay: Penn State defensive end Aaron Maybin
From the peanut gallery: Both Kiper and McShay passed on Alabama offensive lineman Andre Smith here. I think Smith would be worth a long, hard look.
No. 18
Kiper: Maryland receiver Darius Heyward-Bey
McShay: Heyward-Bey
From the peanut gallery: Hard to argue with the player or his position as it relates to the Bears. But take a look at Jerry Angelo's history in drafting receivers and get back to me.
No. 22
Kiper: North Carolina receiver Hakeem Nicks
McShay: Florida receiver Percy Harvin
From the peanut gallery: A receiver would definitely fall under the "best available player" category. Another option here, under the same guideline: USC linebacker Clay Matthews Jr.
In the video below, Kiper runs through his top 10 with Hannah Storm of SportsCenter:
March, 3, 2009
3/03/09
6:30
PM ET
Posted by ESPN.com's Kevin Seifert
I've caught up enough from last weekend's absence to bring you a Black and Blue version of the mock draft that ESPN.com's Todd McShay is updating around the clock.
You'll need an ESPN Insider subscription to view the entire story, but we have permission to bring you McShay's current choices for the NFC North. Because I can't keep my opinions to myself, I'll add a comment or two below each selection. Let's get to it:
Chicago Bears
No. 18 overall: Maryland receiver Darrius Heyward-Bey
My comment: The right position, as long as quarterback Mark Sanchez is off the board.

Detroit Lions
No. 1 overall: Georgia quarterback Matthew Stafford
My comment: I get the feeling Detroit isn't sold on Stafford yet. Maybe that's just me.
No. 20 overall: USC linebacker Clay Matthews Jr.
My comment: This is a good spot for a linebacker, and Matthews had a strong combine.

Green Bay Packers
No. 9 overall: Florida State linebacker/defensive end Everette Brown
My comment: Outside linebackers coach Kevin Greene would get some fresh meat to work with.

Minnesota Vikings
No. 22 overall: Mississippi defensive tackle Peria Jerry
My comment: He could make an immediate impact if starters Kevin Williams and Pat Williams are suspended.
NFC NORTH SCOREBOARD
Thursday, 9/4
Sunday, 9/7
Monday, 9/8