NFC North:

Clinton Portis
August, 25, 2011
8/25/11
4:25
PM ET
One of the first reactions I got to
Wednesday's brawl
on the future of tailback
Ryan Grant
was both informative and entertaining: Would he be a fit for the
Detroit Lions
?
We now know that Grant has a guaranteed contract for 2011, making it pretty unlikely (but not impossible) that he'll be changing teams anytime soon. Still, the Lions-centric reaction evoked an important question: Where are the Lions going with their running game and is it reasonable to trust
Jahvid Best
in the primary role?
[+] Enlarge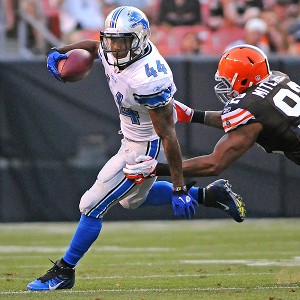 Eric P. Mull/US PresswireJahvid Best suffered a concussion against the Browns, raising fresh questions about his durability.
Best suffered a concussion in last week's preseason game against the
Cleveland Browns
and won't play Saturday night against the
New England Patriots
. All concussions are to be taken seriously, but with Best it's only fair
to note the one that ended his college career
in 2009.
When you combine the most recent concussion with his double turf toe injuries from a year ago, you realize there have been only a few windows in Best's pro career when he hasn't been limited by a significant injury. Obviously the Lions worked hard to fortify themselves by drafting Illinois running back Mikel LeShoure, but his ruptured Achilles tendon returned the Lions backfield to an unsettled state.
To me, the Lions have three questions they need to answer:
Is Best going to be healthy enough to take, say, 250 carries this season?

Does he have the kind of running style that makes sense for that kind of assignment?

Are there any reasonable alternatives?
From the top, there really is no way to know if Best will get hurt in the future. Fortune tellers, we're not. The Lions studied his concussion case thoroughly before the draft, so presumably they're not encountering any surprises in that regard.
On the second point, all we can say at this point is that Best didn't produce last season the way you would hope a feature back would. The toe injuries limited him to some extent, and the fact that he appeared in all 16 games at least speaks to his toughness.
But let's look a little beyond the numbers of a rookie season that saw him average 3.2 yards on 171 carries, courtesy of KC Joyner's
annual fantasy football draft guide
. (
Earlier:
The
Chicago Bears
'
short-range passing success
.)
Joyner tracks two metrics that, through film study, determine the extent to which running backs capitalize on good blocking and whether they can make up for bad blocking. Obviously, blocking success is a subjective measure, but Joyner loosely defines it as plays when no blockers allow a defense to disrupt the play.
Last season, Best had 98 carries where he received good blocking under that measure. In them, he produced the seventh-lowest ranking (5.6 yards per good blocking attempt) among running backs with at least 100 or more carries.
And on the 73 plays in which Joyner judged him to have received poor blocking, Best averaged a net total of 0.0 yards. Most runners average 1-2 yards in similar situations.
Again, this is but one way to evaluate running backs. And I'm not discounting the role the turf toe injuries played. But generally speaking, you want to see a feature back maximize well-blocked plays and at least occasionally get some yards on his own when his blockers get beat.
On the third point: The Lions signed veteran running backs
Jerome Harrison
and
Mike Bell
immediately after LeShoure's injury. They've gotten veteran
Maurice Morris
(hand) back on the practice field as well. Obviously they're not intrigued with any of the bigger-name running backs still on the market, a list that includes
Clinton Portis
and
Tiki Barber
, but I think it's fair to say they'll have their eyes on the waiver wire early next month when teams make final cuts to their 53-man rosters.
The Lions figure to be a pass-first team no matter who is in the backfield. Still, Best remains a key figure here. At the very least we can agree that no one knows for sure what he can do -- and what he can't -- over a long period of time.
August, 9, 2011
8/09/11
9:36
AM ET

ALLEN PARK, Mich. -- Greetings from
Detroit Lions
training camp, where I arrived to find the team has responded aggressively to running back
Mikel Leshoure
's season-ending injury. The Lions signed free agent running backs
Jerome Harrison
and
Mike Bell
, and I believe both of them will be at the facility Tuesday.
At 225 pounds, Bell fits the profile of the type of back the Lions hoped to get from Leshoure this season. He has played for four other NFL teams, most recently the
Cleveland Browns
last season. Harrison, meanwhile, is a Kalamazoo, Mich., native who spent parts of five seasons with the Browns before he was traded to the
Philadelphia Eagles
-- in return for Bell, as serendipity turns out.
Both players are 28 and have been looking for a job since the end of the lockout. Some of you might have hoped the Lions would seek out a higher-profile name, perhaps
Clinton Portis
or
Tiki Barber
. But I wouldn't necessarily think the Lions are done looking for replacements. It could be a month-long process before they find the player they want to pair with
Jahvid Best
.
And that, in all reality, is the key point to take from these moves. The Lions aren't prepared to move forward with Best as their sole running back, especially with
Maurice Morris
recovering from a fractured hand. This Lions built their offense around the idea of a 1-2 backfield punch, and I think they're going to spend at least some time this summer finding out if they can still do that. More in a bit.
July, 23, 2011
7/23/11
8:00
AM ET
In a way, I was right.
Last week did provide us the final dark weekend
of the NFL offseason. I realize we don't yet have labor peace and the lockout is still on. But players will soon vote on the new collective bargaining agreement (CBA), possibly this weekend. And even if the delay continues, U2 is playing a certain NFC North city Saturday night. Ah yes, it will be a beautiful day. See you there.
The heart is a bloom
Shoots up through the stony ground
There's no room
No space to rent in this town
You're out of luck
And the reason that you had to care
The traffic is stuck
And you're not moving anywhere
You thought you'd found a friend
To take you out of this place
Someone you could lend a hand
In return for grace
It's a beautiful day
Sky falls, you feel like
It's a beautiful day
Don't let it get away
Harass me through
the mailbag
,
Twitter
or
Facebook.
I've gotten a surprising number of missives similar to this one from John of Bremerton, Wash.:
Though I grew up in Wisconsin and am a Packers fan, I am now losing my interest in the NFL as a whole. In an economy as bad as it has ever been in my 54-year life, players and owners to me are just an illustration of greed. Throw in the agents, lawyers, used car salesman, Wall Street hedge fund guys, politicians -- GREED RULES and I am checking out. They all could care less about the fan. Well this fan no longer cares about any of them. I have enjoyed your column but will no longer be following the NFL.
Kevin Seifert:
My general sense throughout this dispute has been that fans would easily move past it provided no regular season games were canceled. After all, it's the games that count -- for everyone. To me, only the most hard-core fans would feel lasting effects of a delay in free agency or the cancellation of minicamps and organized team activities.
But as John points out, there is another segment of fans who are simply turned off by owners and employees of a successful industry brawling over how to divide a $9 billion pie, even if they do it during the offseason. Some of you also find it repugnant that the NFL draws a percentage of its revenues from taxpayer-funded stadiums and believe that fact should mitigate the extent of their capitalism.
I know financial people will note that NFL business growth has slowed in recent years, a classic warning sign for realigning costs. You could find any number of economists who understand why owners locked out players. But some of you don't want to hear about it. I'm guessing the NFL is willing to sacrifice your patronage, in the short-term at least, with the knowledge that a much larger segment will come racing back as soon as the doors open with few questions asked.
---
Dustin of Dell Rapids, S.D., writes:
With
James Jones
likely leaving via free agency, and
Donald Driver
growing older, will the Packers re-sign
Jermichael Finley
to a long term contract during/after this year? After Jones and Driver leave, if Finley is gone, our offense much less of an imposing force. Finley will likely be looking for some big money, but is he worth re-signing, even at a
Vernon Davis
size contract?
Kevin Seifert:
Once again, I'm surprised at how many people are worried about this issue. Finley's contract does expire after the 2011 season, and Finley's wife
tweeted this week
that family members are already asking where Finley will play in 2012.
Despite Finley's enormous talent, longtime Packers beat writer
Tom Silverstein of the Milwaukee Journal Sentinel
isn't convinced the Packers will re-sign him. A knee injury derailed Finley last season on the way to what appeared a breakout season, and the fact is he has yet to put together an elite-level 16-game season. The Packers have also invested heavily in a number of core players already, from quarterback
Aaron Rodgers
to receiver
Greg Jennings
to safety
Nick Collins
and cornerback
Tramon Williams
. Linebacker
Clay Matthews
will probably soon be up for an extension.
The 49ers signed Davis signed a six-year deal that included $23 million last September.
To me, Finley will answer this question himself by the type of 2011 season he produces. If he becomes the type of 16-game weapon many people believe he can be, it's going to be hard for the Packers to part ways with him.
---
Michael of Tallahassee, Fla., writes:
How does the exemption(s) work that I'm hearing about regarding the salary cap? Specifically is this something that will be a permanent part of the upcoming labor agreement or is it a temporary thing to benefit the teams who are currently over the proposed salary cap and will go away in a couple of years.?
Kevin Seifert:
For something like this, it's best to consult with former Packers contract negotiator Andrew Brandt, who is now an analyst for ESPN and the National Football Post. This year,
writes Brandt
, teams can reduce one player's cap charge by $3 million. So, in essence, the cap will be $120 million plus a $3 million exception, or $123 million. In 2012, the exception will be $1.5 million, but the exception is not built in to every year of the proposed CBA.
---
Zayne of Houston writes:
What do you think of the chances that
Clinton Portis
comes to the Vikings? He is widely known as the best blocking RB in the league and the Vikings could definitely use him on third down with a rookie QB for protection and a safety gauge much like they used to use
Chester Taylor
.
Kevin Seifert:
I suppose anything is possible, especially with a new coaching staff that surely has different ideas than its predecessor. And it's true, the Vikings first tried to sign
LaDainian Tomlinson
as a third-down back last season before drafting rookie
Toby Gerhart
.
But like Tomlinson, I don't think Portis would consider the Vikings his top option. As long as
Adrian Peterson
stays healthy, the No. 2 back in Minnesota won't play a lot. I'm not sure if the Vikings want a veteran backup for him, and I really don't think Portis would prefer to sign there if he had options.
---
Wayne of Lake Worth, Fla., writes:
Receiver
Derrick Williams
of the
Detroit Lions
...In or Out?
Kevin Seifert:
With
Stefan Logan
as a kickoff/punt returner, and rookie
Titus Young
expected to serve as the No. 3 receiver, the best Williams could do is the No. 4 receiver. He's had two years in that role. I wonder if the Lions' patience has run out.
---
Anton of Lowell, Ark., saw last week's discussion of the Bears' aging defense and wrote:
Can you detail the Bears' talent pool of up and coming players on defense? It seems like they have failed to develop new draft picks (ala
Lance Briggs
) lately, and I'm scared we'll be seriously hurting once the 2000-04 guys are out the door. Can you shed any positive light on recent draft picks? Is our player development seriously lacking? If so, what can we attribute our recent dry spell to? Why have our new guys on D not taken the next step (
Nick Roach
,
Corey Graham
,
Zack Bowman
)?
Kevin Seifert: T
he Bears don't have much patience with their cornerbacks. I will say that. We've seen some really good play from Graham and Bowman in the past two years, but both got pushed deep down the depth chart after a couple of poor games. I especially wouldn't rule out the possibility of Bowman re-emerging as a starting-quality player, but it'll take an exceptional training camp to win back the Bears' trust.
One young player I really like is nickel back
D.J. Moore
, who had four interceptions, eight pass breakups and one touchdown last season. He seems to have a knack for the ball and understands pass coverage. Of course, we were saying the same about Bowman last year at this time. But if you're looking for some hope among the Bears' younger veterans, Moore is a worthy candidate.
July, 19, 2011
7/19/11
1:30
PM ET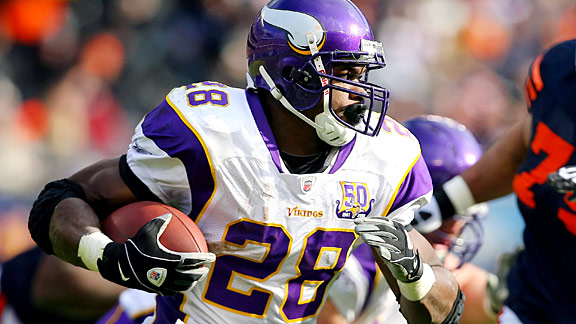 Dennis Wierzbicki/US PresswireAdrian Peterson's career is off to a hot start, but he still has work to do to become a Hall of Famer.
Last in a series on NFC North players whose career trajectories put them on a path to consideration for the Pro Football Hall of Fame:
Of the five players profiled in this project,
Minnesota Vikings
tailback
Adrian Peterson
might be the most accomplished relative to his career span. And yet his case exemplifies, more than any other, the difficulty of separating yourself as one of the all-time elites at your position.
Peterson has effected one of the most productive starts to a career for any running back in NFL history. And still, he'll probably need to repeat that output to land in the Pro Football Hall of Fame.
As the first two charts show, Peterson rushed for more yards (5,782) in his first four seasons than all but five running backs in NFL history and more touchdowns (52) than all but four. That measure quantifies what we already knew: Peterson has been the best back in the NFL over the past four years. It also gives us some perspective on how the start of his career compares to the best who ever played the game.
But four years of elite play doesn't necessarily qualify a running back for the Hall of Fame, not when players like
Emmitt Smith
endured for 15 years or
Marcus Allen
for 16 or Walter Payton for 13. The threshold for Hall of Fame running backs is the ability to sustain near-elite production beyond the short career arcs of most players at the position.
The next chart shows the 13 Hall of Fame running backs whose careers took place mostly in the post-merger era. Eleven eclipsed the 11,000-yard mark, and the two that didn't -- Larry Csonka and Earl Campbell -- were enshrined amid understandable mitigating factors. Csonka was the lead runner for the best team in NFL history, the 1972
Miami Dolphins
. Campbell's white-hot career was cut short after 115 games.
Let's say Peterson doubles his current rushing total to get to 11,564 career yards. Currently, there are 18 players who rushed for at least 11,000 yards. Of the seven who aren't in the Hall of Fame, only two are eligible.
Curtis Martin
(14,101) and
Jerome Bettis
(13,662 yards) missed out in their first year of eligibility in January, but both seem likely to be elected within a few years.
Of course, it will be no small feat for Peterson to double his total -- and it isn't likely to come in the four years it took him to get this far. Take another look at the first two charts, which illustrate the historical company Peterson has kept early in his career.
Quite simply, running back is a brutal position.
Terrell Davis
rushed for a stunning 6, 413 yards during his first four seasons with the
Denver Broncos
. Slowed dramatically by health issues, Davis managed only 1,194 yards during the final four seasons of his career.
Another former Broncos running back,
Clinton Portis
, rushed for 5,930 yards in his first four seasons and 3,993 in the five seasons since.
It's possible that history will grade Davis and Portis with a "Broncos curve," a reference to the annual success of running backs in the system of former coach Mike Shanahan. Regardless, both had more production in their first four years than Peterson but slipped off that Hall of Fame pace thereafter.
Since the moment he arrived in the NFL, Peterson has drawn comparisons to Campbell,
Eric Dickerson
and some of the NFL's other all-time great running backs. His production over that stretch, relative to their early career performances, has justified those associations.
But there is a reason why football people caution such early comparisons with Hall of Famers. Even the all-time greats slow down in the second half of their careers. But importantly, they still reel off a number of highly productive seasons after their early explosions.
Dickerson rushed for 6,291 yards over his final seven seasons after opening his career with 6,968 yards in his first four. Jumping ahead, the still-active
LaDainian Tomlinson
has rushed for 7,505 yards over six seasons after amassing 5,899 yards in his first four.
So let's arbitrarily say Peterson's cumulative production drops by 25 percent over the next four seasons. That means he averages 1,083 yards per season instead of his current 1,445. At that relatively optimistic rate, Peterson would need to play at least five more full seasons to eclipse 11,000 yards and demonstrate the kind of production over time that would give him the Hall of Fame spot he has positioned himself for.
Obviously, voters don't hold fast to the 11,000-yard barrier and have been known to consider mitigating circumstances. Campbell, for example, took a bruising 1,404 carries in his first four seasons. That's an average of 50 more per season than Peterson has taken, and it almost assuredly contributed to Campbell's short career.
It's easy to say that Adrian Peterson just needs to keep on running like Adrian Peterson in order to make the Hall of Fame. The history of running backs suggests he will slow down at some point in the next four years. The question is how much Peterson produces at a lower rate. To me, another five seasons of 75 percent Adrian Peterson should do the trick.
Earlier:
Green Bay Packers
quarterback
Aaron Rodgers
has
put himself on the path toward Canton
.
Chicago Bears
defensive end
Julius Peppers
and the Vikings'
Jared Allen
face stiff competition
. Vikings guard
Steve Hutchinson
has all the credentials
. Packers cornerback
Charles Woodson
is a lock.
March, 5, 2011
3/05/11
10:00
AM ET
As we continue awaiting word on the NFL's labor situation, we again dip into our bag of Vince Lombardi quotes:
People who work together will win, whether it be against complex football defenses, or the problems of modern society.
I'm reachable
through the mailbag
,
Facebook
and
Twitter
. Please, share your stories, your hopes and your dreams.
George of Madison, Wis., writes:
What are the chances
Nick Barnett
could move to OLB opposite
Clay Matthews
?
Kevin Seifert:
Pretty low. Pass rushing is the top priority for an outside linebacker in the 3-4 defense. Barnett turns 30 in May. Does he have the kind of top-end speed and technique to get to the quarterback from that position? I'm not sure, so I passed your question along to Matt Williamson of Scouts Inc.
"I don't think that's a fit," Williamson said. "He just isn't the edge pass-rusher needed for that position."
Barnett should have several productive years ahead of him at his natural middle or inside linebacker position. The Packers appear to have moved on to younger players there, having signed
A.J. Hawk
and
Desmond Bishop
to multi-year extensions. It would be a stretch to expect Barnett to make such a significant change this late in his career.
---
Nathan of Phoenix writes:
Interested to hear your thoughts on
Clinton Portis
and the
Detroit Lions
being a match. I think he would serve tremendously as a mentor and as a complementary/short yardage back to
Jahvid Best
. But perhaps more than anything, he would be an enormous upgrade in blitz-pickup and pass protection. Additionally, isn't he known for being a wonderful "team guy?"
Kevin Seifert:
We actually
had this discussion last offseason
when it appeared the
Washington Redskins
might trade defensive tackle
Albert Haynesworth
. I agree with most of your assessment of Portis, especially the part about pass protection and how well he could transition as a third-down type of back.
Of course, Best's open-field skills also make him an important weapon to have on the field in passing situations. I'm guessing offensive coordinator Scott Linehan could draw up some plays that called for both Portis and Best to be on the field at the same time.
The biggest challenge here would be managing Portis in a reduced role. Would he sign with the Lions knowing he would be the clear backup to Best? Would he hope for the same experience the
New York Jets
gave
LaDainian Tomlinson
last season, elevating him to a primary role based on competition?
Of all the big-play ability Best showed us last year, I didn't walk away from the season convinced that he can be a 20-carry running back on a weekly basis. Maybe it was just the unfortunate consequence of his toe injuries. Regardless, the decision to non-tender backup
Kevin Smith
means the Lions absolutely have a need for a relatively established back behind Best.
That person could be holdover
Maurice Morris
. Portis would also fit that mold, if he is willing to take it on.
---
Russell of Norwalk, Iowa, writes:
Let's just say a new CBA is agreed upon and we have football next year. I love
Joe Webb
as the
Minnesota Vikings
' potential starting QB for next year. I feel he would struggle a bit early on, but it would start to click later on in the second half of the season for him. However, if Leslie Frazier and Bill Musgrave feel they need to go elsewhere, why don't the Vikings take a look at
Carson Palmer
? He clearly wants to leave Cincinnati and the Vikings could low-ball an offer (4th round pick or 3rd rounder next year) and wait for Cincinnati to accept it with him not wanting to stay.
It would save the 12th pick and a second-round pick to improve in other areas where they need help.
Kevin Seifert:
Palmer fits the profile of someone who could help maximize the roster the Vikings currently have. He is 31 and relatively healthy at this point, but there are a couple obstacles to your scenario.
First, I'm not sure any established starting quarterback could be acquired for a fourth-round pick. I'm not sure what the price tag would ultimately be, but I'm guessing the Bengals would start the bidding with at least a first-round pick. All it would take was more than one interested party to make that value stick.
Second, Palmer reportedly is willing to retire rather than continue playing for the Bengals. Some might consider that sentiment an attractive sign of high intelligence, given the decades of incompetence in Cincinnati. But I would also want to make sure that Palmer is still passionate about the game, that he truly wants to play rather than simply being willing to if the situation is right.
If all of that checks out, Palmer is among the best-case scenarios the Vikings could encounter this offseason.
But here's another option, one that wouldn't require draft choice compensation:
Matt Hasselbeck
, who is poised to leave the
Seattle Seahawks
as a free agent. He has been brittle the past few seasons, but he might make sense as a bridge plan to a quarterback the Vikings could draft this spring.
---
Denfran66 of Denver writes:
Would you assess a signing of
Robert Gallery
to the Bears to work with Mike Tice. Could a good o-line coach make a difference for him and the Bears?
Kevin Seifert:
Certainly. From the outside, you look at a talented athlete like Gallery and wonder what he could have been if he had started his career in a, well, more stable environment. That doesn't mean Gallery shouldn't shoulder some of the blame for his career fizzling in Oakland, but he seems tailor-made for a fresh start.
There is no doubt the Bears could use a personnel influx at offensive line, at any and all of the five spots. Tice has had some success refining the mechanics of some veteran offensive linemen, most recently Bears center
Olin Kreutz
, and I think it would be fascinating to see if he could resurrect Gallery's career.
The big question will be whether the Bears are willing to drop some money into the free agent market for the second consecutive year, or if they'll seek to improve their line through the draft. I don't have an answer to that question.
---
Via Twitter, @OSUwizard asks:
Would
Stephen Paea
of Oregon State be too much of a reach based on Lions needs? Still amazed by his combine performance.
Kevin Seifert:
Yes, Paea set a combine record with 49 repetitions of a 225-pound bench press. He's a 303-pound defensive lineman who grew up playing rugby in Tonga. Based on Scouts Inc.'s evaluation, Paea is a classic run-stopping nose tackle.
The answer here applies to all draft questions: It depends on where the Lions were to draft him. I'm not sure I would rank nose tackle as one of the Lions' top needs, but if he is available in the middle-to-late rounds, he becomes a good value.
From a pure need standpoint, Paea fits the Vikings more than any other NFC North team. They haven't re-signed nose tackle
Pat Williams
, and they didn't tender
Fred Evans
. There is an absolute need for fresh legs at the position.
November, 29, 2010
11/29/10
2:45
PM ET
After the Minnesota Vikings' 17-13 victory against the Washington Redskins, here are three issues that merit further examination:
Kevin SeifertThe Minnesota Vikings take their turn in the examination room after beating Washington.

The secret is out. Interim coach Leslie Frazier wants to pull back on the passing game and re-emphasize the run. That approach was clearly evident during Sunday's game, as the Vikings ran a season-high 38 times, even giving rookie tailback Toby Gerhart 22 carries after Adrian Peterson departed with an ankle injury. Monday, Frazier said he wants to have a "dominant run defense" and a "dominant run offense," the original tenets of former coach Brad Childress. "We lost our identity along the way," Frazier said. In reality, the Vikings transformed themselves because of the remarkable success quarterback Brett Favre had as a passer last season. But this is a different year. And more than anything, I think Frazier recognized that he needed to limit Favre's impact after committing 22 turnovers in their first 11 games. This is a passing league, but the Vikings have proved this season that they couldn't be a passing team.

It sounds like the Vikings are still gathering information on Peterson's sprained ankle. Frazier said he wants to see what, if anything, Peterson can do in practice on Wednesday. But you're talking about a running back with an ankle injury significant enough that the Vikings' medical staff wouldn't let him back into the game Sunday. Peterson has missed only two games in his career, both in 2007 when he tore the lateral collateral ligament in his knee, and has an enormous pain threshold. But at the very least, you would think the Vikings will have more depth available to them Sunday against the Buffalo Bills. Backups Gerhart and Albert Young should both be on alert.

It didn't necessarily show up in the box score, but defensive tackle Kevin Williams had what Frazier termed his best game of the season. Williams knocked down three passes, but more importantly, he spearheaded a defense that limited the Redskins to 29 yards rushing on 13 carries, none that went for longer than four yards. I realize the Redskins were playing without Clinton Portis and Ryan Torain, but those are the types of numbers the Vikings put up during their consecutive NFC North titles runs. And it's obviously something Frazier wants to resurrect during his tenure.
And here is one issue I don't get:
When we watch the Vikings over this final stretch, how much of what they do will be emblematic of Frazier's long-term vision? And how much will just be his attempt to win games with the infrastructure he inherited? It's an important distinction. It was prudent to pull back on Favre this week. But is Frazier a conservative, run-first coach? Or does he just see it as the best path for this team? At some point, Vikings owner Zygi Wilf will make an evaluation of Frazier's performance and determine if it's worthy of the permanent job. Will he get what he sees? Or will he get a pragmatist? Either option is fine. It's just important to know.
June, 19, 2010
6/19/10
12:00
PM ET
I once listened to "
(I Can't Get No) Satisfaction
" for almost 24 consecutive hours. Long story. Not that interesting. But I think it pretty much describes what any football fan feels in the middle of June.
When I'm drivin' in my car

and a man comes on the radio

he's tellin' me more and more

about some useless information

supposed to fire my imagination.

I can't get no, oh no no no.

Hey hey hey, that's what I say.
I can't get no satisfaction,

I can't get no satisfaction.

'Cause I try and I try and I try and I try.

I can't get no, I can't get no.
Express your own dissatisfaction through the
mailbag portal
,
Facebook
or
Twitter
.
Onward...
Via Facebook, Donald writes:
I am curious about
Albert Haynesworth
. Do you think Jim Schwartz or Lions brass would have interest in either trading for him (at a reduced rate) or claiming/signing him after he is released? I think he and
Ndamukong Suh
would be two unstoppable forces upfront for the Lions.
Kevin Seifert:
Like many teams, I'm sure the Lions are conflicted about Haynesworth. When his head is right, Haynesworth can be a rare player. Schwartz built his scheme with Haynesworth playing defensive tackle at Tennessee, and I'm sure he could figure out a way for Haynesworth and Suh to play next to each other.
From a financial standpoint, many teams would jump at committing a relatively small total of $9 million guaranteed over the next two seasons. That bargain would come courtesy of the Redskins, who have already paid him $32 million.
Schwartz and the Lions would have to consider Haynesworth's well-deserved history of troublemaking and decide if he's worthy of insertion into their rebuilding process. After all of that, the hardest part of this decision is finding out how to pry Haynesworth away from the Redskins.
There is some thought that interested teams should wait for Haynesworth's eventual release, especially if the Redskins are successful in their efforts to capture part of his signing bonus. But if the Lions wanted to trade for him, and the Redskins just want to be done with this situation, it's worth revisiting a
possibility we first broached in April
.
Former Green Bay contract negotiator and current
National Football Post
columnist Andrew Brandt hatched a trade idea that would give the Redskins financial relief in another way. It calls for Haynesworth to keep all of the Redskins' money while the acquiring team takes on the expensive contract of another Redskins veteran -- namely, running back
Clinton Portis
.
Portis is due to make $7.2 million in 2010, of which $6.43 million is guaranteed. The Redskins would get some financial relief, and the new team would have to guarantee a total of $15.43 million for Haynesworth and Portis combined. The Redskins already have veteran running backs
Willie Parker
and
Larry Johnson
on their roster, while the Lions could surely use some backfield depth while
Kevin Smith
rehabilitates his knee injury.
You don't often see moves like this in the NFL. But you don't often see players demanding a trade from a team that has paid them $32 million over the past 15 months, either.
---
Neal of Eau Claire, Wis., writes:
Who do you think has the best 5-year plan in the NFCN? As a Packers fan, I constantly hear Ted Thompson discuss "building for the future," which is how I came to think about this topic. Having
Aaron Rodgers
alone I think (in my very biased opinion) puts the Pack at or near the top, but being one of the youngest teams in the NFL helps also (
Clay Matthews
,
B.J. Raji
,
Greg Jennings
, etc.).
I have to say that having
Matthew Stafford
on offense (who I believe showed great leadership and character in the win last year in which he dislocated his shoulder) and Suh (also seems to have great character) on defense bodes well for the Lions. I think even the Bears are in a better position than the Vikings given that the Vikings have no plan at QB and
Adrian Peterson
will be out of his prime in a couple years.
What do you think?? Obviously hard to say and maybe impossible to predict, but gives us something to talk about in the month of June.
Kevin Seifert:
I like your thinking, Neal. If the most important long-term position is quarterback, then the Packers are ahead of, well, the NFC North pack. The Bears could soon be in a comparable position with
Jay Cutler
if he settles down this season, and with Stafford, the Lions have their most important building block in place as well.
Aside from quarterback, I think the Vikings have done a solid job in flushing young talent into their offense. Receivers
Sidney Rice
and
Percy Harvin
are 23 and 22, respectively. Rookie tailback
Toby Gerhart
is 23. Two younger players, center
John Sullivan
and
Phil Loadholt
, assumed starting jobs on the offensive line last season.
Defensively, however, the Vikings' best players are aging. Nose tackle
Pat Williams
is 37. Cornerback
Antoine Winfield
will turn 33 next week. Linebacker
Ben Leber
is 30. Defensive tackle
Kevin Williams
turns 30 in August. They'll need to accelerate their replenishing process on that side of the ball.
On a relative scale, the Packers might well have the best five-year outlook among NFC North teams. But let's not equate average age with the total youth of a roster. There are key players on both sides of the ball who will need replacements soon, from receiver
Donald Driver
(35) to tackles
Chad Clifton
(34 next week) and
Mark Tauscher
(33) to cornerback
Al Harris
(35). That list includes some of the Packers' most reliable players over the past decade.
But overall I would agree with you, Neal, and put the Packers at the top of this list.
---
Jay of the Bay Area writes:
Is Brad Childress losing control of his team? Every week, there seems to be some story about a player doing something that Childress is either unhappy about or naive about or something. The issues with Adrian Peterson and
Chad Greenway
strike me as instances in which the players feel they're running the team ... and don't even get me started on the Favre situation and the precedent that set (and is setting).
Kevin Seifert
: Jay, I actually don't think the situation is quite that dramatic. I think it's a bit worrisome that an All-Pro tailback has been
disconnected for much of the offseason
. And my conspiracy radar went up when
Childress and Greenway provided conflicting explanations
for why he didn't practice during minicamp.
But I really don't think that Favre's special circumstances have bled into the rest of the locker room. I've not sensed that anyone else believes they are entitled to Favre's offseason vacation, and I would be surprised if Peterson ever cites that as a reason for his absence.
Childress does have a veteran locker room, and he needs to give them a certain amount of leeway. That's a long way from losing control of a team, and I don't think I've implied that in anything I've written. Unless you've read the blog like our next reader:
---
John of St. Paul writes:
You embody everything that is vile about the media. Stop being so doom and gloom over melodrama. It's freaking pathetic. Your hyperbolic description over the Vikings offseason is obviously an overcompensation to appear impartial. It comes off as forced. Just write, dude.
Kevin Seifert:
Funny, I was voted "Most Vile" in high school? It all makes sense now. Semi-seriously, John, you've introduced a concept I haven't even considered: The Jedi mind-trick of criticizing the Vikings to fool readers into thinking I'm not secretly their biggest fan. Brilliant! But as we all know, there is no try. You either
do or do not
. And I do not.
---
Monsterdfence76 of Shamokin, Pa., writes:
What is Chicago's offensive line looking like? Who is going where? I know it is early! But if you had to say, who's where?
Kevin Seifert:
I think we can all agree that
Chris Williams
will be at left tackle,
Frank Omiyale
at right tackle,
Olin Kreutz
at center and
Roberto Garza
at right guard. Kreutz hasn't practiced this spring after having foot surgery, but every indication is that he will be ready for training camp.
That leaves left guard, the position the Bears hoped to fill with Omiyale last year. As
ESPNChicago.com's Jeff Dickerson
pointed out last week, first-year player
Johan Asiata
has caught the Bears' eye and was working exclusively with the first team during organized team activities. But the Bears have been known to reconfigure their personnel between OTAs and training camp, so let's not hand Asiata the job yet. He's a New Zealand native who didn't play football in high school and spent part of last season on the practice squad.
The unanswered question is what the Bears will do with
Josh Beekman
, who has started 20 games at left guard over the past two seasons but has been working exclusively at center in Kreutz's absence this spring. When Kreutz returns, will the Bears shift Beekman back to left guard? Or will they leave him at center as a long-term heir apparent?
We might not know the answer to those questions until training camp. But I can tell you that offensive line coach Mike Tice likes big guards. He had success with another big New Zealand native in Minnesota (
David Dixon
). The Asiata option appears to be legitimate.
April, 8, 2010
4/08/10
9:00
AM ET
Here is some
important and relevant information
on a potential
Albert Haynesworth
trade from someone who would know. Former Green Bay contract negotiator Andrew Brandt, who now writes for and operates the National Football Post, notes the NFL would not allow a trade partner to re-pay any part of the $21 million roster bonus Haynesworth received last week from Washington.
Brandt: "The NFL player personnel handbook states that the sale or trade of player contract rights for any amount of money is prohibited as conduct detrimental to the league. Unlike the NBA or Major League Baseball, this is not allowed."
We
touched on
this issue briefly Wednesday when discussing the possibility of Detroit acquiring Haynesworth and reuniting him with coach Jim Schwartz. It actually makes the deal more palatable from the Lions' perspective -- essentially, Haynesworth would be under contract for two years at about $9 million -- but it's hard to imagine the Redskins eating the $21 million to make a deal.
Brandt does offer this suggestion: A team could indirectly help the Redskins' finances by also agreeing to take tailback
Clinton Portis
and his $7.2 million in 2010 salary, of which $6.43 million is guaranteed. The Lions do have a short-term need at running back while
Kevin Smith
continues his knee rehabilitation. Stay tuned.
December, 29, 2009
12/29/09
11:23
AM ET
CHICAGO -- Good (late) morning to everyone in the NFC North. I'm still processing the events and implications of the final "Monday Night Football" game of the year, one that secured the Black and Blue's status as the NFL's source of high drama. (Or is it "Air and Space? After all, I counted 594 passing yards and six touchdown passes.)
There were a number of angles I didn't hit fully Monday night, including what appeared to be serious injuries to Chicago cornerback Charles Tillman (ribs) and receiver Johnny Knox (ankle). I'll pass along updates on their statuses as I get them.
Also lost in the shuffle was Vikings tailback Adrian Peterson's sixth lost fumble of the season. Not all of them have impacted the outcome of games, but this one certainly did. Bears linebacker Hunter Hillenmeyer punched loose the ball after a 16-yard reception. Replays indicated that cornerback Zack Bowman grabbed Peterson's facemask during the play, but no penalty was called.
I missed Peterson's postgame interview, but here's what he said, according to the
Star Tribune
: "I'm sick right now. I'm very disappointed. I really feel like I lost this game. We were in position to win the game, and I gave it away."
Since he entered the NFL in 2007, Peterson has lost 13 fumbles -- by far the most of any non-quarterback in the league. The next player on that list is Washington tailback Clinton Portis. As we've discussed many times, the word is out that Peterson doesn't protect the ball as well as he should at the end of runs. It makes all the sense in the world to punch the ball rather than try to tackle him.
Continuing around the NFC North:
November, 26, 2008
11/26/08
3:38
PM ET
Posted by ESPN.com's Kevin Seifert
You could make an argument that Sunday night's showdown at the Metrodome will feature two of the NFL's three most important players to their respective teams.
Chicago tailback Matt Forte and Minnesota tailback Adrian Peterson rank No. 2 and No. 3 in an obscure but meaningful statistic, according to the Bears' public relations department. Forte has accounted for 34.73 percent of the Bears' total yards from scrimmage, while Peterson is close behind at 34.33 percent.
The only NFL player with a higher percentage of his team's offensive yards is Washington's Clinton Portis, who has 34.99 percent.
It's no secret that Forte and Peterson are critical players, but this ranking lets you know how much they've contributed relative to other prominent players. Here's a full ranking of the top five players in this category:
Players With Highest Share of Team's Total Yardage
Player
Team
Scrimmage Yards
Team Yards
Pct.
Clinton Portis
Washington
1,378
3,939
34.99
Matt Forte
Chicago
1,245
3,585
34.73
Adrian Peterson
Minnesota
1,275
3,714
34.33
Frank Gore
San Francisco
1,191
3,705
32.15
Chris Johnson
Tennessee
1,051
3,480
30.20
October, 24, 2008
10/24/08
4:00
PM ET
Posted by ESPN.com's Kevin Seifert
Detroit Lions (0-6) vs. Washington Redskins (5-2), 1 p.m. ET


During a news conference earlier this week, Detroit coach Rod Marinelli answered a question this way:
"We're looking. There's not a lot of options for us right now, OK? But that's something we're still looking at."
Marinelli was speaking about the possibility of swapping out his kick returners, but the answer spoke globally about the helpless position the Lions have put themselves in. They're winless, blacked out on local television and their limited roster leaves them nowhere to turn for in-season improvement.
At this point, the Lions seem a shocking upset away from 0-16. You have to imagine that someone will go belly-up against them this season, but it's not likely to be the Redskins.
All Washington coach Jim Zorn needs to do is hand it to tailback Clinton Portis a few dozen times. Portis leads the NFL with 818 yards. The Lions, among their many deficiencies, have the NFL's second-worst run defense. They are allowing 167.5 rushing yards per game and will have a hard time slowing down Portis.