August, 30, 2014
Aug 30
1:30
PM ET
The
Detroit Lions
have had a very tight wide receiver competition -- and the one player who might have ended up cut is somewhat of a surprise.
Durham
The Detroit Free Press has
reported the Lions are cutting
WR
Kris Durham
, who started 13 games last season after an injury to
Nate Burleson
.
Durham had appeared to be safe initially, starting preseason games in place of
Calvin Johnson
, who the team was resting.
The Lions had signed Durham after Seattle waived him prior to the 2012 season. Durham told me he would spend Saturday watching college football, waiting to see if he would be playing in Detroit for another season. Durham had 49 catches for 645 yards and three touchdowns from 2011 to 2013.
"You never know what's going to happen," Durham said earlier this week. "As far as the emotions go, you're sitting there by your phone. You try to see if you get a phone call, sometimes it's a phone call that says 'Hey, congratulations.' I've been on the other side of that saying, 'Hey, bring your playbook.'
"It's one of those things where you know what you signed up for. Mentally, you kind of prepare yourself as much as possible for the worst and hope for the best."
Durham's release might mean good things for the other three players he was competing with for roster spots:
Kevin Ogletree
,
Ryan Broyles
and
Corey Fuller
.
Here's a list of players who have been reported as waived or released by various outlets as of 1:15 p.m. ET: RB
George Winn
, RB
Mikel Leshoure
; WR Kris Durham; OL
Darren Keyton
; OL
Garrett Reynolds
; OL
Michael Williams
; DE
Darryl Tapp
; LB
Brandon Hepburn
; LB Shamari Benton; CB
Mohammed Seisay
; S Nate Ness.
The Lions must be down to 53 players by 4 p.m. ET.
August, 4, 2014
Aug 4
5:48
PM ET
In the NFL, there's a theory that if a player has talent, a coach and franchise will take a chance on him.

Baldwin
This has to be what the
Detroit Lions
were thinking by claiming former first-round pick
Jonathan Baldwin
off of waivers Monday afternoon. The Lions will be Baldwin's third team since being taken with the No. 26 pick in the 2011 draft by Kansas City.
Baldwin was mostly unproductive with the Chiefs, was traded to San Francisco and was ineffective there as well, catching three passes all of last season before being cut Sunday. The Lions saw him on the waiver wire and made the claim, clearly hoping to rehabilitate a career that had a lot of promise when he left Pittsburgh after the 2010 season to enter the draft.
He's an impressive looking athlete who hasn't been able to match the production he was drafted to provide.
The Lions are always on the search for tall wide receivers, hoping the work ethic and professionalism
Calvin Johnson
provides can potentially rub off on one of them. In Baldwin, they have a receiver who has a similar build to Johnson at 6-foot-4, 230 pounds.
His college career showed there was talent to match that frame. If the Lions are able to find the right way to motivate Baldwin, then he could end up being a steal who could sneak in and swipe a roster spot away from one of the players competing for those roles now:
Kevin Ogletree
,
Kris Durham
,
Corey Fuller
,
Ryan Broyles
and
Jeremy Ross
.
If not, then it might have still been worth a shot despite the data presented about his prior production in Kansas City and San Francisco. For a back end of the roster player, it can't hurt to take a peek and see if they can change the path of Baldwin's career.
As long as there is talent and someone who at least minimally believes, a player will get a chance in the NFL. Whether this is the spot where Baldwin flourishes or if it is another opportunity that eventually falls away will all depend on the next few weeks.
August, 1, 2014
Aug 1
8:00
PM ET
ALLEN PARK, Mich. -- A daily review of the hot topics coming out of
Detroit Lions
training camp:
Rough day for the first-team offense during a two-minute drill situation. Defensive ends George Johnson and Darryl Tapp -- neither of whom is expected to be a first-team defender this season -- had touch sacks of Matthew Stafford. Stafford and the offense also went three-and-out on one possession with the quarterback being forced to throw away multiple passes when no one was open. Not surprisingly, Ndamukong Suh was also causing havoc up the middle. The second team fared better, scoring a touchdown and having Giorgio Tavecchio also make a 41-yard field goal to close practice. Jim Caldwell didn't seem too concerned, though, with any of the issues the first-team offense was having.
Why not? Well, the first-team offense still has Calvin Johnson, who made two exceptional catches Friday to show why he is the top receiver in the game. He grabbed a touchdown in 7-on-7 after the play was whistled dead, but the way he plucked it was exceptional. There was another play in which a Stafford pass looked like it was headed nowhere, then Johnson came out of his break, dove perfectly on the low ball and caught the ball in front of Chris Greenwood in 11-on-11. It was one of those plays that no defensive back can do anything about. And that has nothing to do with Greenwood, as other cornerbacks will attest to.
This was perhaps the best day for Detroit's kicking competitors thus far. Combined, Nate Freese and Tavecchio went 11-for-11, including Tavecchio's 41-yarder to end practice in a two-minute situation. Both also made field goals from 53 yards during a special teams section of practice. Meanwhile, Sam Martin is having a great camp punting. He continually boots punts of more than 65 yards and appears stronger than his rookie season already.
Among the defenders who stood out was rangy cornerback Mohammed Seisay. The Nebraska product, whom I wrote about more in depth here, is still a longshot to make the roster. However, with uncertainty in the final one or two cornerback spots, a strong camp could make him a consideration. He read a pass to tight end Eric Ebron perfectly during one-on-ones and broke the play up well. He wasn't the only defensive back to grab attention, as Darius Slay continued to have a strong camp, including a good pass breakup in the one-on-one session.
Mentioned Kevin Ogletree on Thursday and he put together another good practice, but Corey Fuller is starting to catch some notice as well among wide receivers. He caught a long pass in the two-minute drill from Dan Orlovsky after easily beating Greenwood. He also had nice catches during the receiver-vs.-defensive back session on both Nevin Lawson and Cassius Vaughn. He is a much more confident player than he was a season ago and looks like a completely different one -– an assessment he said he agreed with following practice.
The Lions return to practice at 10:30 a.m. Saturday for their final day of the first week before taking Sunday off. Like Friday, Saturday is expected to be a fully-padded practice.
July, 31, 2014
Jul 31
6:23
PM ET
ALLEN PARK, Mich. –
Kevin Ogletree
wakes up mornings and heads to the practice facility. The
Detroit Lions
will be practicing later in the day, but Ogletree is in the midst of a fairly difficult competition for a spot at wide receiver on the 53-man roster.
So he knows his conditioning is critical, both in practices during training camp and late in games during the regular season. So he goes on a quick run, 10 minutes on the treadmill and trying to reach around a mile-and-a-half.
[+] Enlarge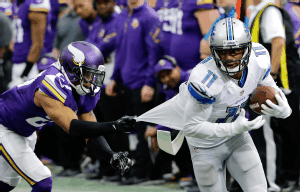 AP Photo/Ann HeisenfeltKevin Ogletree has impressed the Lions during camp with his route running and smarts.
Conditioning became his focus during the offseason. He didn't worry about his route running or his hands – both of which have been reliable in the past – before. He wanted to get his own heart rate up to keep his chances for making the team up as well.
"You can get really far if you're in better condition than the guy across from you on third down, you know," Ogletree said. "Two minute drive, late in the game, if you're feeling better, if your legs are fresher, blood vessels are opened up a little bit more, you train for that."
The training has worked early on. Ogletree has been one of the standouts of the first few days of training camp. He has consistently been with the first group along with
Golden Tate
and
Calvin Johnson
, potentially giving him the inside track to not only a spot on the roster, but a decent role in an offense that should have a lot of passes to go around.
Ogletree caught the attention of offensive coordinator Joe Lombardi early during spring workouts, but then the St. Albans, New York, native had an impacted wisdom tooth requiring surgery. The tooth was deep enough that Ogletree had all four wisdom teeth removed, forcing him to miss a week as he was starting to make an impact
Placing himself in position for a role was part of his decision to return to Detroit in the first place. He and re-signing running back
Joique Bell
were the only deals the Lions made on the first day of free agency, the day before the team signed wide receiver
Golden Tate
.
Coming back to the Lions, which picked him up after Tampa Bay released him in the middle of last season, was a priority.
"I knew that this was a place that a receiver would beg to be at with
Matthew (Stafford
) and the rest of the guys we have on offense," Ogletree said. "Just to have a role on this offense would be the best thing I could ask for."
Lions coach Jim Caldwell, who places an emphasis on sure-handed receivers, seems impressed with him early and confident enough to move the 6-foot-1 Ogletree both inside to the slot and outside. In his career, Ogletree has a decent drop rate, dropping only 4.3 percent of his targets. That career number is the same as the NFL average in 2013.
How he runs his routes has also caught the eye of coaches and Johnson, who specifically mentioned how smooth Ogletree's routes are.
"Really has a good understanding of the position," Caldwell said. "Works at it. Quiet. Hardly says a word, but I really like what we've seen from him thus far. He's been catching the ball consistently, so we anticipate that's going to carry over."
If it does carry over, that could put Ogletree in a good position in a tight position battle.
"There's no animosity toward one another. I'm encouraging
Corey (Fuller
)," said
Kris Durham
, one of the receivers he is competing with. "I'm trying to help him get right. Same with Kevin to me and Corey to Kevin. We all want to help each other because we want to become the best player we can to help this team win."
So how does Ogletree plan to beat the rest of the competition for a job? He won't let on. Just watch him, he says.
"I'll show you," Ogletree said. "I'll show you."
July, 29, 2014
Jul 29
8:50
PM ET
ALLEN PARK, Mich. -- A daily review of the hot topics coming out of
Detroit Lions
training camp:
One of the players making a big early impression in a position of competition is wide receiver Kevin Ogletree. Tucked in a tight battle with Kris Durham, Ryan Broyles, Jeremy Ross and Corey Fuller for receiving spots behind Calvin Johnson and Golden Tate, Ogletree has spent time with the top unit both days as the No. 3 receiver. This comes on top of offensive coordinator Joe Lombardi singling him out during the spring as someone who impressed him. Ogletree has speed as well as the ability to make catches both over the middle and the sideline. Johnson, meanwhile, called Ogletree "smooth" when discussing him Tuesday.
An interesting thing occurred during individual periods Tuesday. Instead of working on their own, the Lions split their tight ends up between the offensive line and with the pass-catching receivers and running backs catching passes. So Brandon Pettigrew, for instance, was working with the line blocking while Joseph Fauria and Eric Ebron were catching passes. This, Pettigrew said, was different than how the Lions operated under former coach Jim Schwartz."We rotate and go down there during periods," Pettigrew said. "We have five guys here, why not split it up and have some guys down there and some guys down here." Pettigrew sees this as not only helping his blocking fundamentals, but an aid to Ebron and Fauria as well.
It's early, but the kicking situation is going to be something to watch. Detroit hasn't done many pressure field-goal situations over the first two days, but the Lions did have both Nate Freese and Giorgio Tavecchio attempt a 49-yard field goal under pressure in the final moments of practice. It did not end well and went counter to their supposed strengths. Freese had the distance but missed wide left. Tavecchio was right on line -- but about a yard or so short. It's only one day, but this is going to be a major thing to pay attention to throughout the next few weeks.
It would appear the Lions are going to give both Corey Hilliard and LaAdrian Waddle an equal shot at right tackle. Hilliard worked with the first team during the first practice Monday and Waddle received the first-team snaps Tuesday. We'll have more on the offensive line Wednesday, but this appears to be the one true spot up for grabs on what is otherwise a fairly strong front five.
The Lions have managed to have fairly short practices the first two days, wrapping up in well under two hours. Some of it might come from the team still practicing without pads, but Lions safety Glover Quin explained the reason for the shorter practices is kind of simple: The team has plays they want to run through and things they need to accomplish. If they limit mistakes and run through the plays at a good pace, they finish quicker. It's a long way from the marathon practices of the past, although practices should get longer once the team goes into pads.
Ownership made its first public appearance at camp Tuesday as Martha Ford, the wife of the late William Clay Ford Sr., attended practice. Ford gained controlling interest in the team after her husband's death in the offseason. Also visiting practice Tuesday were some of Michigan State's football coaches, although head coach Mark Dantonio was not spotted, as he was in Chicago for Big Ten media days.
January, 23, 2014
Jan 23
4:00
PM ET
He was high on the
Detroit Lions
' 2013 NFL draft from the start, grading the team as a B in the days following the draft.
Now, with a season of evidence, ESPN draft analyst Mel Kiper Jr. had an even higher opinion of how the Lions did.
He gave them an A.
Kiper particularly praised what we have also praised in this space all season long -- general manager
Martin Mayhew
and senior personnel executive Brian Xanders' ability to find talent in the later rounds of the draft and also after the draft with undrafted free agents.
It was in the undrafted free agent pool, where the Lions picked up starting right tackle
LaAdrian Waddle
and starting tight end
Joseph Fauria
, that really made Detroit's rookie class even more impressive.
To read Kiper's whole evaluation,
click the link here

.
To give a quick recap, here's a look at Detroit's rookies and where they fit in with Detroit last year.
First round -- Ziggy Ansah, DE: Starter. Led rookies in sacks with eight.
Second round -- Darius Slay, CB: Contributor. Showed promise toward the end of the season.
Third round -- Larry Warford, RG: Started every game this season. Was one of the top guards in the league and perhaps the steal of the draft.
Fourth round -- Devin Taylor, DE: Contributor. Played more and also had more consistency toward the end of the season.
Fifth round -- Sam Martin, P: Starter. Was in the top 10 for punters for most of the year. Could be with the team longer than anyone else in the locker room right now.
Sixth round -- Corey Fuller, WR: Practice squad all year.
Sixth round -- Theo Riddick, HB: Mostly a special-teams player, but turned into a reliable contributor there throughout the season.
Seventh round -- Michael Williams, TE: On injured reserve all season.
Seventh round -- Brandon Hepburn, LB: Practice squad all year.
Undrafted -- LaAdrian Waddle, RT: Starter by midseason. Tackle of the future for Detroit.
Undrafted -- Joseph Fauria, TE: Contributor/starter. Became a legitimate red zone threat and should see a bigger role in 2014.
September, 1, 2013
9/01/13
3:11
PM ET
The
Detroit Lions
have assembled
their full practice squad,
and all eight members are players the team waived Saturday.

They include three former draft choices: receiver
Corey Fuller
, cornerback Chris Greenwood and linebacker Brandon Hepburn. Also among the group: running back/kick returner Steven Miller, fullback
Shaun Chapas
, offensive lineman Rodney Austin, and defensive tackles
Jimmy Saddler-McQueen
and Xavier Proctor.
The two most prized possessions of that group are probably Greenwood and Miller.
The Lions couldn't justify a roster spot for Greenwood, who missed all of last season and a good portion of training camp this summer because of injuries, but he is as physically gifted as any defensive back on their roster. Miller, meanwhile, made a big push to win the returner job that presumably has gone to veteran newcomer
Micheal Spurlock
.
Note:
The Lions claimed
former
Washington Redskins
safety
DeJon Gomes
on waivers, according to multiple reports. That means a corresponding move will have to take place at some point Sunday to create a spot on the roster.
August, 31, 2013
8/31/13
6:28
PM ET

Most significant move:
There were no surprises for the
Detroit Lions
and, really, there were few big decisions. We noted earlier that the team decided to preserve a roster spot for No. 3 quarterback
Kellen Moore
, so the most significant move they did make was placing rookie tight end
Michael Williams
on injured reserve. The Lions had substantial plans for Williams this season as the third tight end in the jumbo package that lineman
Riley Reiff
filled last season. They also hoped to develop his receiving skills as veterans
Brandon Pettigrew
and
Tony Scheffler
enter contract years. Williams had surgery last week to repair a hand injury, and though coach Jim Schwartz said the team had no long-term injuries, Williams is in fact lost for the season. (NFL teams can't start placing players on short-term injured reserve until next week.) As a result, rookie
Joseph Fauria
-- a much better receiver but less of a blocker than Williams -- is on the 53-man roster with Pettigrew and Scheffler.
The dominoes:
The Lions apparently chose veteran Michael Spurlock as their kick returner, necessitating the release of rookie
Steven Miller
, who could return on the practice squad. Spurlock is also a receiver, and for the now he is one of six on the roster, presumably because of
Ryan Broyles
' sore knees. The release of veteran
Matt Willis
means
Kris Durham
is the sixth receiver. You wonder if the Lions would change directions soon in that regard. The Lions sifted through their big group of veteran defensive backups by tapping
Rashean Mathis
as a swing cornerback/safety and
Rocky McIntosh
as a backup linebacker while releasing the rest.
John Wendling
and
Don Carey
are the backup safeties for now.
What's next:
According to multiple reports,
the Lions will place running back
Montell Owens
on short-term injured reserve. That can't happen until next week, so for now he is part of the 53-man roster. He must miss at least six weeks of the regular season. You would think the Lions will bring back a number of the players they cut Saturday for their practice squad, and it's worth remembering that they are No. 5 in priority for NFL waiver claims. Sunday could be a busy day.
List of players cut:
WR:
Corey Fuller
, Matt Willis. RB: Steven Miller,
Shaun Chapas
. OL:
Rodney Austin
,
Kevin Haslam
,
Darren Keyton
,
Jake Scott
. DL:
Andre Fluellen
,
Ogemdi Nwagbuo
,
Xavier Proctor
, Jimmy Sadler-McQueen. LB:
Brandon Hepburn
,
Jon Morgan
(waived/injured)
Chris White
. CB:
Ron Bartell
,
Chris Greenwood
. S:
Amari Spievey
,
Tyrell Johnson
,
Martavius Neloms
(waived/injured) P:
Blake Clingan
.
April, 27, 2013
4/27/13
6:25
PM ET
»
NFC draft analysis
:
East
|
West
|
North
|
South
»
AFC
:
East
|
West
|
North
|
South
How top-heavy was the 2013 draft in the NFC North? We welcomed more players in the first round (six) than in the second and third rounds combined (four), the result of two big trades.
With the 2013 affair basically in the books, let's take a closer look at its highs and lows. So much happened that we might not get to the relatively rare occurrence of
two punters
being drafted
.
Onward:
BEST MOVE
The
Green Bay Packers
have gone 43 games without a 100-yard rusher, the longest active streak in the NFL by more than twice. Their running backs have combined for 12 rushing touchdowns over the past three seasons, the fewest in the NFL, and their average of 3.8 yards per rush over that span is tied for last in the league.
After years of subordinating this segment of their roster, the Packers reacted aggressively in 2013. They drafted not one but two of the top running backs available. Alabama's
Eddie Lacy
came
in the second round
(No. 61 overall), and UCLA's
Johnathan Franklin
came
in the fourth round
(No. 125 overall).
The relative flurry came at a time when the rest of the league appeared to have devalued the position. It was the first time in the history of the modern draft that zero running backs were selected in the first round. Perhaps the timing was coincidence, but if general manager Ted Thompson intended to capitalize on depressed prices to load up, it was a brilliant thought.
Thompson and the Packers had been trying to patch together the position ever since
Ryan Grant
broke his ankle in Week 1 of the 2010 season. It was time to find a more permanent solution, and Lacy and Franklin give them the personnel infusion they needed.
Runner-up: Like the Packers, the
Chicago Bears
finally attacked an area of need. They used two of their first three selections in what was originally a five-pick draft on high-end linebackers who actually project as starters rather than special-teams contributors. Second-rounder
Jonathan Bostic
could be
the Bears' middle linebacker as early as this season
, and fourth-rounder
Khaseem Greene
was
one of the best defensive playmakers
in college football last season.
RISKIEST MOVE
The
Minnesota Vikings
used
four draft picks to move back into the first round
and select Tennessee receiver
Cordarrelle Patterson
, taking on risk in two forms.
First, Patterson is a boom-or-bust prospect who spent only one year playing at the Division I level. He has the physical tools to be an exceptional player but has more development ahead of him than most first-round picks. Here's how
ESPN analyst Todd McShay
put it before the draft: "He scares me coming out of Tennessee, but I see the talent. … Patterson, with the ball in his hands, is just freakish, and even though he disappears for 30-40 plays [per game], he'll show up with one or two big plays a game that just kind of blow your mind and leave you wanting more."
At the very least, Patterson will need to be guided through the early part of his career. The Vikings hope to start him off as a kickoff returner and work him into their offense slowly. Expecting him to jump into the starting lineup alongside
Greg Jennings
for a full 70 plays per game is probably unrealistic.
Second, the trade left the Vikings unable to fill one of their most pressing needs: middle linebacker. Giving up picks in the second and third rounds left them watching as more than a half-dozen middle linebackers were drafted. The Vikings gave up the opportunity to fill that job on a long-term basis by jumping to draft a receiver who generated plenty of divergent viewpoints during the pre-draft evaluation process.
Runner-up: The
Detroit Lions
used the No. 5 overall pick on a pass-rusher who had 4.5 sacks in his college career. BYU defensive end
Ezekiel Ansah
has all the physical tools to be a dominant pass-rusher, but his learning curve is steep and his potential for immediate impact is at least worth questioning.
MOST SURPRISING MOVE
[+] Enlarge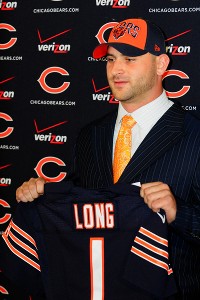 Reid Compton/USA TODAY SportsThe Bears were willing to overlook offensive lineman Kyle Long's inexperience because of his extraordinary athleticism for a man his size.
You would have been hard-pressed to find a mock draft that projected Oregon guard
Kyle Long
as a first-round pick. In
a recent seven-round mock
, Scouts Inc. suggested he would go No. 47 overall. And even that was based on Long's overwhelmingly positive athletic attributes rather than evaluation of his limited play at Oregon.
The Bears produced
arguably the surprise of the draft
by selecting Long at No. 20 overall, a time when even the most polished guards are rarely taken historically. But the Bears were blown away by Long's agility for his 6-foot-6 frame and were willing to overlook a one-season, four-start career at the Division I level.
There is no doubt the Bears needed help on their offensive line, but you could have a spirited philosophical argument over the draft value of a raw, inexperienced guard. Even if the Bears are right about Long -- that his athleticism will make him a long-term starter -- it's fair to question whether they needed to take him in the first round. Did another team covet the draft's third-best guard enough to take him between picks 21 and 50, where the Bears were situated in the second round? One explanation: The Bears, with only five total picks in the draft at that point, thought it would be too difficult to trade up in the second round assuming Long got out of the first. I'm not going to say it was the wrong choice, but it sure was surprising.
FILE IT AWAY
The Lions bolstered their pass defense at the expense of some other positions of need. You can't have it all, and the Lions made some clear decisions.
On the plus side, they used three of their first four choices on Ansah, cornerback
Darius Slay
and defensive end
Devin Taylor
. Ansah (6-foot-5 with 35 1/8-inch arms) and Taylor (6-7 with 36-inch arms) will provide incredible length and a new look to the Lions' outside pass rush. Slay, meanwhile, has elite speed (4.36 seconds in the 40-yard dash).
That focus left the Lions less able to surround quarterback
Matthew Stafford
with additional weapons and protection. The Lions didn't draft an offensive tackle after the departure of both 2012 starters, and they didn't get around to selecting a receiver until grabbing Virginia Tech's
Corey Fuller
with the third pick of the sixth round (No. 171 overall).
(The Lions did draft guard
Larry Warford
in the third round.)
From a roster-balance perspective, it made sense for the Lions to focus on pass defense -- long a weakness -- rather than their passing offense. But the Lions still finished the draft with less depth at receiver and offensive tackle than they would have liked. Life is a trade-off, after all.