December, 23, 2013
12/23/13
8:00
AM ET
KANSAS CITY, Mo. -- An examination of five topics from the
Indianapolis Colts
'
23-7 victory
over the
Kansas City Chiefs
.
[+] Enlarge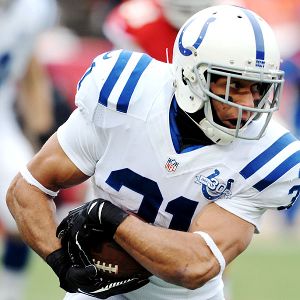 Denny Medley/USA TODAY SportsDonald Brown had 110 total yards and two scores against the Chiefs.
Charles causes pain:
Colts defensive lineman
Cory Redding
left the game in the fourth quarter with a shoulder injury. He said it happened while trying to tackle Chiefs running back
Jamaal Charles
. "I was trying to get a diving tackle on Jamaal and landed on my shoulder, and it just kind of popped out and came back in," Redding said. "I'm good to go. I'm from Texas where we're tough." Redding took part in the sack party that the Colts had on Chiefs quarterback
Alex Smith
. Redding had a sack and recovered a fumble.
What can Brown do for you?
Running back
Donald Brown
rushed for a team-high 79 yards on 10 carries with a touchdown. His 51-yard touchdown is the longest run of the season for the Colts. Brown also had two catches for 31 yards and a touchdown. The 110 total yards are a season high for Brown. He's averaging 5.6 yards a carry this season. That average is good enough for second-best in the NFL among running backs with at least 90 carries. That's the good. Here's the not-so-good part. The rest of the Colts are averaging 3.7 yards a carry this season, with quarterback
Andrew Luck
averaging 6.1 yards a carry.
Protecting the ball:
Protecting the football is part of the reason the Colts have a chance to match their win total of 11 from last season. They didn't commit a turnover against the Chiefs and have committed a league-low 14 turnovers this season.
Toler returns:
Cornerback
Greg Toler
returned to the lineup for the first time in seven weeks. He didn't start, but the fact that he was able to play after an extended absence because of a groin injury was a step in the right direction for him. Toler didn't have any tackles. "I was happy. I was able to get my foot in the ground when I wanted to," Toler said. "They had me on a couple of meds before the game, but I was happy to have a chance to get back out there. I've been past the stage of thinking about my groin."
Moving up the rankings:
Luck was 26-of-37 for 241 yards and two touchdowns. Luck is 7 yards shy of surpassing Carolina quarterback
Cam Newton
for the most passing yards in the first two seasons of a career. Luck shouldn't have a problem moving ahead of Newton because the Colts close the regular season against the
Jacksonville Jaguars
on Dec. 29. Luck threw for 257 yards against the Jaguars in the Week 4 meeting between the two teams.
November, 6, 2009
11/06/09
8:06
AM ET
Posted by ESPN.com's Kevin Seifert
Turning the dial Thursday night brought me to one of the coolest shows on the NFL Network: "Greatest 4th QTS." Maybe you saw it, too: This edition commemorated Chicago's wild 2006 comeback at Arizona.

The NFL world remembers it as the game that spurred Cardinals coach Dennis Green to declare the Bears "are who we thought they were!" The Bears, of course, recall it as the game in which they overcame a 20-point deficit in the second half during their march to the Super Bowl.
As they prepare to host the Cardinals this Sunday, more than a few players have recalled that game, according to
Jeff Dickerson of ESPN Chicago
.
"It was a long time ago," linebacker Lance Briggs said. "It was one of those defining moments. That, to me, will always be one of the best games I ever played in."
It was definitely one of the most dramatic.
Continuing around the NFC North:
July, 14, 2009
7/14/09
2:00
PM ET
Posted by ESPN.com's Kevin Seifert
Those of you with ESPN Insider subscriptions can view this comprehensive Football Outsiders analysis of the NFC North's salary cap situations.
Individual cap numbers have grown less significant to the general public in recent years as the salary cap ceiling has grown exponentially. Most NFL teams can fit every player they want under their cap limit. Some have resorted to artificially inflating cap numbers to consume excess space, a polar reversal from the frenzied cap years of the late 1990's -- when teams were forced to release players or renegotiate their contracts in order to make the cap work.
With all that said, I thought I'd give you a snippet of FO's analysis. You might have heard of the term "dead money." It refers to the amount of cap space devoted to players who no longer are on the roster. Some degree is unavoidable, as teams release players all the time when they are in the midst of multi-year contracts. The player no longer receives the cash, but by NFL rule he still counts partially against the team's cap allotment.
Careful planning and reasonable contracts can limit dead money, leaving more cap space to use for players who are on the roster. Below, you'll see the player on each NFC North team that consumes the most amount of "dead money." This year, Minnesota has done the best job of limiting its excesses. Here you go:
Tailback Cedric Benson ($2.509 million)


Defensive tackle Cory Redding ($7.333 million)


Defensive end Kabeer Gbaja-Biamila ($1.571 million)


Tailback Maurice Hicks ($300,000)

March, 18, 2009
3/18/09
11:00
AM ET
Posted by ESPN.com's Mike Sando and Kevin Seifert
The Detroit Lions, St. Louis Rams and Seattle Seahawks combined for six victories last season. That included two Seahawks victories over the Rams.
The draft won't fix these wayward teams overnight -- unless, of course, they follow the advice of NFC West blogger Mike Sando and NFC North blogger Kevin Seifert.
Kevin Seifert: Well, Mike, first off I'd like to thank the Seahawks and Lions for making our jobs a bit easier for the next six weeks. Before last weekend's trade that sent defensive tackle Cory Redding to Seattle for linebacker Julian Peterson, we were weighing the candidacies of too many players for the No. 1 overall pick in the April 25-26 draft.
| | |
| --- | --- |
| | |
| | AP Photo/Darron Cummings |
| | Baylor tackle Jason Smith would help solidify the Lions' offensive line. |
Would the Lions take Georgia quarterback Matthew Stafford? Would they capitalize on the strong tackle class and swoop up Baylor's Jason Smith? Or would they make a compromise selection and take the player considered the safest pick in the draft, Wake Forest linebacker Aaron Curry?
Seems to me this trade has eliminated Curry from the Lions' mix. Don't you agree? I mean, would you draft Curry after giving up a promising defensive tackle (and also a fifth-round pick) for someone who plays the same position? I don't think I would. They say Curry could project as a middle linebacker in the NFL, but it would be awfully hard to justify drafting a middle linebacker with the No. 1 overall pick.
So that pretty much settles it, right? Wouldn't you agree that Curry is much more likely to wind up with one of your NFC West teams, whether it's St. Louis at No. 2 or Seattle at No. 4? If it were up to me, the Lions would take the best left tackle in the draft, and that would be Smith.
Mike Sando: I tend to see Curry landing with Kansas City in that third slot. The Rams could use him, sure, but they pretty much have to emerge from this draft with a starting offensive tackle. Can they find one after the first round? Probably, but 'probably' might not be good enough for a team that has invested so much in Marc Bulger and Steven Jackson. Upgrading the offensive line was the No. 1 priority this offseason. Signing Jason Brown solved the problem at center, but Alex Barron is the starting left tackle now that Orlando Pace is out. They're talking about having Jacob Bell move from left guard to right tackle. That doesn't sound promising.
As much as Steve Spagnuolo wants to build that defense, I'm not sure the Rams can resist taking a tackle. Once Curry makes it past the Rams, the Chiefs would seemingly be a good fit -- which would put Seattle in an interesting position. They've got Matt Hasselbeck, but should they consider Stafford under our scenario?
March, 14, 2009
3/14/09
3:50
PM ET
Posted by ESPN.com's Kevin Seifert
Barring a significant change over the next six weeks, Detroit has greatly diminished the possibility that it will select Wake Forest linebacker Aaron Curry with the No. 1 overall pick of next month's draft.
That's a primary upshot of the trade that sent Lions defensive tackle Cory Redding to Seattle in exchange for linebacker Julian Peterson on Saturday. Peterson will pair with Ernie Sims, the Lions' top returning defensive player, to give the Lions veteran bookends at the linebacker position. Curry primarily played outside linebacker during his college career, meaning someone would have to change positions -- or Sims would have to be the next to move on -- for Curry to fit into the 2009 starting lineup in what is expected to be a 4-3 defense.
Peterson will turn 31 this summer and has seen his sack total fall in each of the past two seasons after notching 10.5 for the Seahawks in 2006. But he is still enough of a pass-rushing threat that teams will have to account for his presence, a modest obstacle the Lions have rarely benefited from in recent years.
The cost was relatively significant -- Redding and a fifth-round draft choice -- but Redding didn't fit the mold of the bigger, stronger defense new coach Jim Schwartz plans to implement. At 295 pounds, Redding in essence was a defensive end playing tackle for the Lions over the past two years. Moving him back outside wasn't as simple as it sounds; players tend to lose speed over time, and counting on him to return to form as a pass-rushing defensive end would have been risky.
Ironically, Curry was scheduled to visit the Lions' practice facility on Sunday. We're assuming that meeting will occur as planned, and it's still conceivable the Lions could draft him if they determine he is the best player in the draft. But if nothing else, Saturday's trade eliminated the "need factor" from their thought process.
Depending on that evaluation, we could be down to a two-man race for the No. 1 overall pick: Georgia quarterback Matthew Stafford and Baylor offensive lineman Jason Smith.
December, 13, 2008
12/13/08
10:32
AM ET
Posted by ESPN.com's Kevin Seifert
Green Bay defensive tackle Justin Harrell is approaching bust territory.
The Packers' 2007 first-round draft pick revealed Friday that he has not completely recovered from an offseason back injury that required two surgeries. The injury is now affecting his legs and hip. Doctors are not totally sure what the problem is, but Harrell admitted that pain has been shooting down his legs and that he has "never been 100 percent" since the first surgery.
Harrell has 13 tackles in six games this season, and Bob McGinn of the Milwaukee Journal Sentinel suggests there is "speculation" Harrell won't play for the rest of the season. Harrell is officially listed as questionable for Sunday's game at Jacksonville.
"Just talking to the doctors, you really can't pinpoint what's actually going on," Harrell said. "It could be a variety of things. We've been dealing with my hip in the whole rehab process ... I still really haven't got on the field. Ever since the first surgery, I've never been 100%, really. Just covered over it."
Unfortunately for the Packers, Harrell's situation is sitting on a silver platter for those who questioned the wisdom of drafting him after a long history of injuries in college. The Packers are going to have to get something substantial from him next season or it's going to be difficult to avoid entrance into bust territory.
Continuing our weekend jaunt around the NFC North:
December, 12, 2008
12/12/08
6:00
PM ET
Posted by ESPN.com's Kevin Seifert
A look at important injuries for the three NFC North teams with games this weekend:
Detroit


The Lions placed defensive tackle Cory Redding on season-ending injured reserve. Langston Moore re-joined the team as his replacement. Receiver Shaun McDonald (ankle) also won't play Sunday at Indianapolis. Defensive end DeWayne White (calf) is expected to play, according to defensive coordinator Joe Barry. Cornerbacks Leigh Bodden (groin) and Keith Smith (groin) will have their status determined Sunday morning.
Green Bay


Safety Atari Bigby (ankle) is out, leaving Charles Woodson to start his third consecutive game at safety. Fullback Korey Hall (knee) is doubtful and not expected to play Sunday at Jacksonville. Defensive tackle Justin Harrell returned to practice Friday but is questionable because of a sore hip. His status might not be clear until Sunday morning. Linebacker Brandon Chillar (groin) is probable and expected to play.
Minnesota


Quarterback Gus Frerotte (back) and right tackle Artis Hicks (elbow) are doubtful and aren't expected to play Sunday at Arizona. Tarvaris Jackson and Ryan Cook, respectively, will replace them. Rookie kick returner Darius Reynaud (toe) has been ruled out as well. Defensive end Jared Allen (knee) returned to practice Friday and should start.
September, 20, 2008
9/20/08
7:50
AM ET
Posted by ESPN.com's Kevin Seifert
Nearly two months later, tailback Ryan Grant's training camp holdout is still impacting the Green Bay Packers.
The Packers are heading into their third game of limiting Grant's playing time and carries because of a sore hamstring he developed shortly after reporting to camp. Grant has carried 27 times for a team-leading 112 yards, but 76 of those yards came on two runs in the season opener against Minnesota -- meaning he averaging 1.4 yards per carry on his other 25.
Part of the problem, as Jason Wilde of the Wisconsin State Journal points out, is that defenses have rightly guessed that Grant is getting the ball when he is in the game. According to Wilde, Grant carried on 15 of the 21 snaps he played on Sunday against at Detroit. His final line: 15 carries for 20 yards.
On the other hand, backups Brandon Jackson and Kregg Lumpkin combined for 80 yards on eight carries against the Lions.
Coach Mike McCarthy said the team is "conscious" of predictability issues when Grant is in the game but added "I'm not as concerned about it" as Sunday night's game against Dallas approaches. Whether that means Grant has turned a corner in his rehabilitation -- or if coaches have determined Jackson and/or Lumpkin are ready for more consistent work -- remains to be seen.
Elsewhere around the NFC North this morning:
August, 6, 2008
8/06/08
2:33
PM ET
Posted by ESPN.com's Kevin Seifert
Linebacker Ernie Sims (knee) won't participate in the Detroit Lions' preseason opener Thursday against the N.Y. Giants.
Sims suffered a bone bruise in his right knee July 27 and returned to practice Monday. Coach Rod Marinelli said Wednesday that most starters will get in for only about 10 plays. Other players scheduled to sit out include: Defensive tackle Cory Redding (groin), guard Edwin Mulitalo (elbow) and defensive tackle Langston Moore (shoulder).
Quarterback Dan Orlovsky will be the first quarterback off the bench, followed by Drew Stanton.