NFC North:

Cowboys-Vikings 011710
January, 17, 2010
1/17/10
8:39
PM ET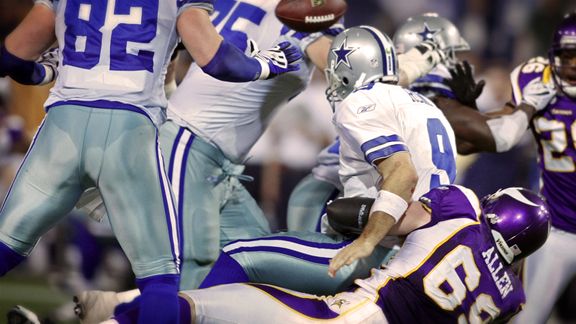 Bruce Kluckhohn/US PresswireJared Allen and the Vikings defensive line accounted for five of six sacks on Tony Romo.
MINNEAPOLIS -- I know, I know. We spent much of last week discussing Minnesota's
shaky pass protection
and its hit-or-miss
home-field advantage
. So let's be clear from the top:
Brett Favre
had enough time to throw four touchdown passes Sunday, and the Metrodome has never been louder.
From my vantage point, however, neither dynamic told the story of the Vikings'
34-3
victory. To me, it was this: Minnesota battered Cowboys quarterback
Tony Romo
, resurrecting its pass rush just in time to face the NFL's most explosive passing game for the right to play in Super Bowl XLIV.
The Vikings held Dallas' offense to a season-low in total yardage (248) and first downs (16), in the process sacking Romo six times and unofficially hitting him on 10 other occasions.
"He was wide-eyed a lot," defensive tackle
Kevin Williams
said. "We were getting after him from the start, and that's what it's going to take next week, too."
Indeed, the Vikings will take on New Orleans' top-ranked passing offense next Sunday at the Superdome. "If we do next week what we did today," said cornerback
Antoine Winfield
, "we'll be good."
And what exactly did the Vikings do Sunday?
They harassed Romo into three turnovers; on a fourth opportunity, he recovered his own fumble.
Left end
Ray Edwards
beat right tackle
Marc Colombo
for three sacks before leaving with a sprained knee.
Right end
Jared Allen
, capitalizing on an injury to Cowboys left tackle
Flozell Adams
, finished with a sack, a forced fumble and another tackle behind the line of scrimmage.
In all, the Vikings' defensive line totaled five of the Vikings' six sacks against a Cowboys group that seemed content to single block them for most of the game.
"They were trying to," nose tackle
Pat Williams
said. "But we've got the best defensive line in the league. Doesn't matter to us what anyone else says. We go into every game thinking that."
The Vikings led the NFL with 48 sacks this season, but like the entire team, their pass rush slipped over the final five games. During that stretch, they managed eight sacks.
Sunday, Allen traced that downturn in production to a significant adjustment from opposing offenses.
"I know everyone thinks you should get three sacks a game," he said. "but that's just not reality. … [In that stretch], we saw a lot of mass protection, a lot of three-step [drops]. You're getting chips from the tight end, chips from the back. When we're rushing four and they're blocking seven, you're just not going to get there."
The Cowboys, however, had different ideas. As he watched film during the Vikings' recent bye week, defensive coordinator Leslie Frazier noted how rarely the Cowboys kept tight end
Jason Witten
in the backfield to block. With Adams and two Pro Bowl players on their offensive line (center
Andre Gurode
and right guard
Leonard Davis
), the Cowboys didn't seem to be likely candidates for double-teaming the Vikings' defensive line.
"We liked our matchup from Day 1," Allen said. "We thought there were some things we could take advantage of and we knew that because they had so much confidence in their offensive line, that we were going to get some opportunities. That's exactly what happened."
And it was clearly a mistake. Anyone who watched Sunday's game can attest to how quickly Romo turned jittery. A quick recap:
Edwards ended the Cowboys' first drive with a strip sack of Romo.
On Dallas' second series, Romo recovered his own fumble on a 2nd-and-6 play, losing three yards. The Cowboys fell 1 yard short of converting the ensuing third down, and Shaun Suisham's 48-yard field goal was wide left.
Should I go on? Edwards sacked Romo on 2nd-and-goal from the Vikings' 8-yard line on the Cowboys' third series. Romo still looked stunned when he threw incomplete on 3rd-and-15.
On the second play of his fourth possession, Romo lost a fumble on Allen's sack.
"This game is not rocket science," Romo said. "If they have the ability to get pressure from the front four, it allows you to play a pretty sound game defensively."
How confident were the Vikings in their defense Sunday? Leading 17-3 at halftime, their offense went into a modified four-minute drill. In other words, they started trying to run out the clock. In their 13 third-quarter plays, Minnesota threw only four times.
Keep in mind, this was against a Cowboys offense that had scored 58 points in its past two games.
"They overlooked us," Pat Williams said, "and that's fine. Basically, that's how they ride down there. I don't blame them, I guess. They're young. They can be cocky. They've got a cocky owner, so that's how they ride. But they came into this dome, and it was hostile for them. "
They'll need a similar effort next Sunday in New Orleans, a topic I'm sure we'll revisit once or twice this week.
"We skidded a little bit toward the end of the season," Kevin Williams said. "And so all we heard last week was about Dallas. I'm sure all we'll hear about this week is New Orleans. All that matters to us is that we played the way we are capable of. We just need a chance to get after them."
That's the story -- and we're sticking to it.
January, 17, 2010
1/17/10
6:13
PM ET

Vikings quarterback Brett Favre talks about Minnesota's win over Dallas.
January, 17, 2010
1/17/10
4:05
PM ET
MINNEAPOLIS -- The NFC's season-long dream matchup is now a reality.
New Orleans and Minnesota will square off next Sunday in the NFC Championship Game, thanks to
Minnesota's thorough dismantling of Dallas
at the Metrodome. Receiver
Sidney Rice
(three touchdowns) and a dominating pass rush (six sacks, three turnovers) simply overwhelmed what had been a red-hot Cowboys team.


It will be Minnesota's first appearance in the NFC Championship Game since the 2000 season.
The Vikings were a confident team all year at the Metrodome, where they finished 9-0 and scored at least 27 points in every game. They are 4-4 on the road and will need every bit of the pass rush they displayed Sunday to slow down New Orleans' explosive offense.
There have been some wild Vikings-Saints games at the Superdome recently,
as we discussed Saturday
. But let's slow down here. We have plenty of time to talk about the delicious pending matchup. For now, let's agree that the Vikings just dismantled a popular recent pick to win the Super Bowl.
I wasn't a big fan of the Vikings' decision to leave their starters in the game and throw into the end zone on fourth down with 1:55 remaining. But with the Saints looming, it's clear that coach Brad Childress wasn't about to let his foot off the gas.
More in a few hours.
January, 17, 2010
1/17/10
3:44
PM ET

Rice
MINNEAPOLIS -- Minnesota receiver
Sidney Rice
just tied an NFL postseason record with his third touchdown reception, sealing this divisional playoff game for the Vikings.
Rice has caught six passes for 141 yards -- including scores of 47, 16 and 45 yards. I'll let my NFC East colleague Matt Mosley explain whether the Cowboys watched any film of Rice before deciding to match up with him in one-on-one coverage for much of this game.
I'll be back with you shortly after the game.
January, 17, 2010
1/17/10
3:34
PM ET

Edwards
MINNEAPOLIS -- Minnesota defensive end
Ray Edwards
is having a career game here Sunday, but right now he's on the Vikings bench having his right knee looked at for the second time.
Edwards has three sacks and is a big reason Dallas quarterback
Tony Romo
has seemed so uncomfortable in the pocket. But he now has an ice wrap on the knee and doesn't seem likely to return.
The Vikings have set a new team playoff record with six sacks Sunday. I think I know what I'll be writing postgame.
January, 17, 2010
1/17/10
3:15
PM ET
MINNEAPOLIS -- My immediate reaction when Minnesota eschewed a 53-yard field goal attempt to punt here in the latter stages of the third quarter: Mistake.

Longwell
Ryan Longwell
has been on target all season long and was a first alternate for the Pro Bowl. The Vikings had a chance to make this a three-score game, and punter
Chris Kluwe
isn't always the most reliable directional kicker.
But like everything else the Vikings have tried Sunday, the decision caused no immediate damage. Kluwe's punt went out of bounds at the 2-yard line. The Vikings' defense overwhelmed the Cowboys, forcing a punt. And after about a minute of game time, the Vikings have the ball back near midfield.
It's still 17-3 here with 3:57 left in the third quarter. The Vikings' offense has bogged down, perhaps fearful of a mistake that could get the Cowboys back in the game, but they remain two scores ahead.
January, 17, 2010
1/17/10
2:33
PM ET
MINNEAPOLIS -- Some halftime thoughts
from the Metrodome
, where my ears are ringing from the game-long din of the crowd:
[+] Enlarge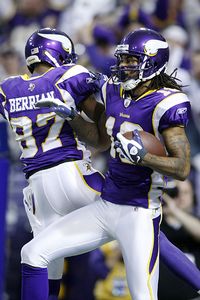 Bruce Kluckhohn/US PresswireSidney Rice (18) and Bernard Berrian (87) celebrate after Rice's first-quarter touchdown reception.
The amazing thing is that Dallas' offense was moving up and down the field in the first quarter and the start of the second. The Cowboys' plan to run directly at Vikings pass-rusher Jared Allen seemed smart, and they possessed the ball for 14:54 of the first 17:49 of the game. And yet they had only a 33-yard field goal to show for it. A missed 47-yard field goal and some well-timed pass rushes from the Vikings defense kept Minnesota in the game during that surge.

In his first career playoff appearance, Vikings defensive end Ray Edwards is having the game of his life. He has three sacks and three other hits of Cowboys quarterback Tony Romo. I'm wondering if the Cowboys would have replaced right tackle Marc Colombo -- if his likely replacement wasn't needed on the other side.

That's right. Cowboys offensive lineman Doug Free ended up replacing an injured Flozell Adams at left tackle in the second quarter. Almost immediately, Allen sprang to life. After Adams departed, Allen had three tackles and a strip-sack of Romo.

Vikings tailback Adrian Peterson has 25 yards on nine carries, but it should be noted that both of Brett Favre's touchdown passes to Sidney Rice came on play-action passes. Peterson also converted an important first down with a 19-yard reception.

The Frisbee dogs are performing at halftime, and they are awesome.

I was surprised the Vikings didn't look for Rice or tight end Visanthe Shiancoe on their second-to-last possession of the half. They ended up settling for a 23-yard field goal from Ryan Longwell.

Remember earlier this week, when we called the Vikings' home-field advantage a 50-50 proposition come playoff time? I think it's leaning toward the positive 50 percent to this point. I've never heard a Metrodome crowd sustain its energy through an entire half as it has Sunday. The Cowboys are trailing by only two scores and have a high-powered offense, but they seemed pretty demoralized walking off the field at halftime.
January, 17, 2010
1/17/10
1:48
PM ET
MINNEAPOLIS -- Dallas' offense has held the ball for 14:54 of the first 17:49 of this game. Should Minnesota feel fortunate
to lead 7-3
here early in the second quarter? Or should they be worried about the second-half repercussions of that statistic on their defense?
Or, is it a warning sign about their offense?
Discuss.
January, 17, 2010
1/17/10
1:35
PM ET
MINNEAPOLIS -- I believe it was Dallas safety
Gerald Sensabaugh
who said last week that the Cowboys would have to beat themselves in order to lose Sunday at the Metrodome.

Sensabaugh
Sensabaugh, however, just got smoked by Minnesota receiver
Sidney Rice
on a 47-yard touchdown pass from
Brett Favre
. Sensabaugh got so turned around that he never saw the ball delivered, caught or even returned to the official after the score.
Seriously, though, the Cowboys are probably still wondering how their strong safety got locked up one-on-one with the Vikings' Pro Bowl receiver. I'm guessing it was a blown coverage. Quarterback Brett Favre immediately identified the mismatch and laid a perfect pass down the right sideline.
Vikings
lead 7-0
here as the first quarter is winding down.
January, 17, 2010
1/17/10
12:50
PM ET
MINNEAPOLIS -- Just took a stroll on the Metrodome field, where I would say the mood is mostly festive with a bit of anxiety mixed in. To ensure its home-field advantage, Minnesota is going to need some early success in his game.

If you're into omens, interpret this as you wish: A little while ago, a water pipe burst over part of the press box. The ensuing sewer flood is being cleaned up now. I personally think the Vikings arrange for such events at high-profile games to remind us how urgent it is devote $700 million in taxpayer money toward a new stadium.

Finally, it was interesting to see former NFL coach -- and University of Minnesota star -- Tony Dungy on the field visiting with Vikings defensive coordinator Leslie Frazier, his former assistant in Indianapolis. Dungy was outspoken last week about Frazier's role in the interview process Seattle used to ultimately hire Pete Carroll as its head coach.
January, 17, 2010
1/17/10
11:39
AM ET
MINNEAPOLIS -- There were no surprises from either Dallas or Minnesota on Sunday morning's inactive lists.
Cowboys tailback
Marion Barber
(knee) is in uniform and will play. So will the Vikings' two hobbled nose tackles,
Pat Williams
(elbow) and
Jimmy Kennedy
(thumb).
January, 17, 2010
1/17/10
10:41
AM ET
MINNEAPOLIS -- Greetings from the Metrodome, where we're all getting settled for the premier game of the NFL's divisional playoff weekend.
I want to invite all of you to join me during the game over on ESPN Dallas, where I'll be wading into their in-game chat to represent Minnesota and the NFC North. ESPN Dallas boasts a hefty roster of characters, and I'll need your help to even out the sides.
Just follow
this link
. The fun starts at kickoff. More in a bit.