August, 3, 2013
8/03/13
11:51
PM ET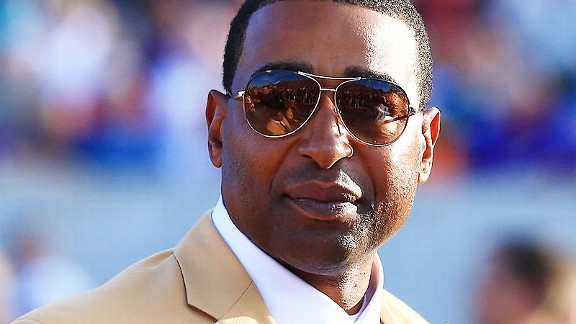 Andrew Weber/USA TODAY SportsCris Carter is fourth on the all-time reception list with 1,101 catches.
CANTON, Ohio -- Cris Carter's emotional football journey started in Ohio about four decades ago and ended in Ohio on Saturday night.
Carter, 47, grew up in Troy, which is three hours away from Canton, home of the Hall of Fame, where Carter was honored this weekend. He also starred at Ohio State in Columbus before his stellar 16-year NFL career.
On Saturday, Carter -- emotional and reflective -- came full circle, returning to the Buckeye State as a member of the 2013 Hall of Fame class. He didn't prepare notes for his speech. Carter spoke strictly from the heart in front of many of his fellow Ohioans and football peers.
"We have the greatest Hall of all the Halls," Carter said emphatically. "And to be able to join these men, on this stage, in football heaven is the greatest day of my life."
Carter's journey wasn't easy. He signed with an agent and lost his eligibility his senior year at Ohio State. Carter said his only football-related regret was leaving school early and being forced to enter the supplemental draft.
"To all the Buckeye fans, from the bottom of my heart, I sincerely apologize," Carter said.
Carter also battled drug and alcohol problems that nearly derailed his career. Carter described Sept. 19, 1990, as a landmark date in his life. That's when he was asked in rehab to change his life. He's been clean ever since.
On the field, Carter's first NFL catch was a touchdown reception in 1987 against the
St. Louis Rams
. He had just five catches his rookie year with the Philadelphia Eagles, which included two touchdowns. Former Eagles coach Buddy Ryan later coined the famous phrase that "All he does is catch touchdown passes." That stuck with Carter the rest of his career. He finished with 131 career touchdowns, which ranks eighth all time.
In Minnesota, Carter's career flourished. That's where he made eight straight Pro Bowls, had two seasons of 122 receptions, and five straight seasons of double-digit touchdowns. It's also where Carter got his life together.
Carter also can make a strong case for having the best hands in NFL history. His highlight tape displays some of the most difficult and spectacular catches ever seen. Those strong hands made Carter fourth on the all-time reception list with 1,101.
"When he came in from Philadelphia, we knew he was a great ballplayer and we knew he could play," former Vikings teammate and fellow Hall of Famer Chris Doleman said. "We wanted to just give him a clean slate to work from and let him do what he do. He's never done anything but honored the Vikings and the Vikings colors."
Consider Carter's
enshrinement speech, which was about 16 minutes long
, one final touchdown reception. He was the final speaker in the 2013 Hall of Fame class, and Carter had several tough acts to follow. Jonathan Ogden and Curley Culp were classy. Dave Robinson and Larry Allen were funny. Bill Parcells and Warren Sapp, as expected, were straight shooters.
But Carter was able to put a bow on this entire Hall of Fame. He began by playing to the hometown crowd with a chant of "O-H-I-O." Then he got more personal.
Carter's son, Duron, introduced him. Carter also made sure to thank his mother, Joyce, and asked her to stand up in front of a national audience.
"Mama, I got to tell you, I didn't have to wait to get a call from the Hall for them to tell me I was a Hall of Famer -- you've been telling me that since I was little," Carter said. "You told me everything that's ever happened in my life that's happened. But Mom, I got to tell you. I have to apologize. I'm so sorry for the bumpy flight and the bumpy ride.
"But I got to tell you, Mama, it's a smooth landing."
Carter's résumé is still growing. He is the author of a new book and an insightful NFL analyst at ESPN.
After five years as a finalist who came up just short, Carter can add one more deserving label on a historic night in Canton: Hall of Famer.
"Buckeye born and bred," Carter said in conclusion. "Now an H-O-F-er -- even after I'm dead."
February, 4, 2013
2/04/13
7:45
AM ET
We're Black and Blue All Over:
The NFL's 2012 season concluded Sunday night with Super Bowl XLVII, although we in the NFC North have been on hiatus for a month already. Now, we all enter into the offseason mode of the kind of player movement that Chicago Bears kick returner Devin Hester hinted at over the weekend.

In an interview with
Vaughn McClure of the Chicago Tribune
, Hester said he wants to continue playing -- backing down from
last month's threat to retire
-- but suggested he might benefit from a fresh start with a new team.
Because he is under contract for 2013, Hester would need to convince the Bears to trade or release him in order to move on. It's not clear yet how new coach Marc Trestman would use him, but at 30, you would think Hester has several productive years ahead of him.
Hester is the best return man in the history of the NFL, and that fact alone should force the Bears to exhaust every effort to keep him. On the other hand, sitting on prominent players who want out is never a good team-building policy.
We also shouldn't disregard the financial side of this situation. Hester has only one year remaining on his contract. I'm guessing he wouldn't be looking for a fresh start anymore if the Bears offer him a market-level contract extension.
Continuing around the NFC North:
February, 2, 2013
2/02/13
6:11
PM ET
As you might have heard, three of the four Pro Football Hall of Fame finalists with NFC North ties
were elected Saturday to the class of 2013
.
Minnesota Vikings
receiver Cris Carter and senior nominees Dave Robinson (
Green Bay Packers
) and Curley Culp (
Detroit Lions
) are among the seven-man class.
I'll have more on the blog as the evening continues. I think we all know it has been a matter of when, not if, Carter would be enshrined. In his career, he caught 1,101 passes for 13,899 yards and 130 touchdowns. According to ESPN Stats & Information, the only other player in NFL history with those totals is Jerry Rice.
Meanwhile, Hall voters have made a habit of electing senior nominees, as I discussed this week. Over the past 20 years, 25 of 30 senior nominees have made it. We figured that would bode well for Robinson and Culp.
More in a bit.
January, 31, 2013
1/31/13
1:00
PM ET
The Pro Football Hall of Fame selection committee has included a player with NFC North ties in every class dating back to the inception of this blog.
We had
Minnesota Vikings
guard Randall McDaniel in 2009. In 2010, Vikings defensive lineman John Randle and
Detroit Lions
defensive back Dick LeBeau were enshrined.
Chicago Bears
defensive end Richard Dent was elected in 2011 and Vikings defensive end Chris Doleman got in last year.
Will the streak continue in 2013?
As
we noted earlier this month
, four of the 15 finalists have ties to one of our teams. Former Vikings receiver Cris Carter and current
Green Bay Packers
outside linebackers coach Kevin Greene find themselves in familiar situations. Carter, as
we discussed in detail last year
, remains ensconced in a three-way logjam of receivers along with Tim Brown and Andre Reed. Greene, meanwhile, still has more career sacks (160) than any player not in the Hall of Fame. (
My thoughts on Greene from last year's exclusion.
) A newly eligible pass-rusher is on this year's ballot; Michael Strahan had 141.5 sacks in his career.
My AFC West colleague Bill Williamson
spoke with defensive lineman Curley Culp
earlier this week; Culp played his final two seasons with the Lions in 1980 and '81. So that leaves us to discuss former Packers linebacker Dave Robinson.
Like Culp, Robinson was nominated by the Hall's senior committee, and that status alone gives him a pretty decent chance to win election. The class' five-man limit doesn't include senior nominees, so they don't get caught in a numbers game. Over the past 19 years,
82 percent of senior nominees
have been elected (23 of 28). The success rate remained high even after the Hall began allowing two senior nominees per year in 2004. Since then, all but four of the 18 nominees have been elected.
The procedure allows voters to correct perceived wrongs from previous generations, and Robinson is generally considered one of the best defensive players from his era. He was the Packers' first-round draft choice in 1963, started in three consecutive NFL championship victories, intercepted 27 passes in 12 seasons and was named to the league's all-decade team for the 1960's.
Voters will gather early Saturday morning, and the nominees will be announced during an NFL Network broadcast scheduled to start at 5:30 p.m. ET. I'll be here to blog whatever needs to be blogged.
January, 11, 2013
1/11/13
10:40
AM ET
There are four NFC North connections among the
15 finalists for the 2013 class of the Pro Football Hall of Fame
, announced Friday morning, including both nominations from the Senior Committee. A quick glance:
Receiver Cris Carter
NFC North connection:
Played for
Minnesota Vikings
, 1990-2001
Comment:
Carter remains part of a log-jam of receivers that includes Tim Brown and Andre Reed, both of whom are once again finalists as well.
Linebacker Kevin Greene
NFC North connection:
Currently the
Green Bay Packers
' outside linebacker coach
Comment:
Greene has more career sacks (160) than any player not in the Hall of Fame.
Defensive tackle Curley Culp
NFC North connection:
Played for
Detroit Lions
from 1980-81
Comment:
One of two senior nominations. Played 15 games for Lions at end of his career.
Linebacker Dave Robinson
NFC North connection:
Played for Packers from 1963-72
Comment:
Was the Packers' first-round draft pick in 1963, and started three consecutive NFL championship victories.