April, 27, 2013
4/27/13
12:05
PM ET
EDEN PRAIRIE, Minn. -- In their final mock drafts of 2013, ESPN analysts
Mel Kiper Jr.
and
Todd McShay
each projected Florida defensive tackle
Sharrif Floyd
to go No. 3 overall to the
Oakland Raiders
. Kiper and McShay were not alone. Floyd was roundly expected to be a top-5 pick and almost certainly the first defensive tackle selected.
Instead, as we all know, Floyd was still available at No. 23, when the
Minnesota Vikings
scooped him up with a mixture of glee and disbelief. General manager Rick Spielman said he ran through 1,000 first-round scenarios before the draft, and Floyd was gone by No. 23 in all of them.
So what happened? Why did the league draft two other defensive tackles ahead of him? Let's consider a few explanations.
[+] Enlarge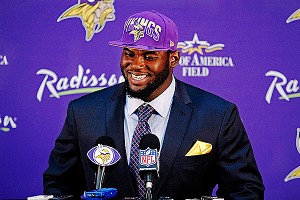 Bruce Kluckhohn/USA TODAY SportsGM Rick Spielman said the Vikings were all smiles when Sharrif Floyd was available with the No. 23 overall pick in the NFL draft.
Spielman suggested the early run on offensive linemen and edge pass-rushers pushed down interior players like Floyd. Indeed, 12 of the first 22 picks fell into one of those categories. That thought, of course, doesn't explain why the
New York Jets
chose defensive tackle
Sheldon Richardson
at No. 13 and the
Carolina Panthers
grabbed
Star Lotulelei
at No. 14.
We could note that the Raiders, Floyd's presumptive destination at No. 3, traded out of the pick and landed at No. 12. But even there, the Raiders passed on Floyd to select cornerback
D.J. Hayden
.
If there were a previously-unknown character flaw or failed drug test, it hasn't been reported. Spielman, in fact, said Vikings representatives met before the draft with Floyd "numerous times" and that he "fell very clean."
Here are two more likely explanations, one of which has incredibly been part of our post-draft discussion for several years now. First, for an interior disruptor, Floyd wasn't productive from a statistical standpoint last season at Florida. Second --
and yes
, I'm going
there again
-- Floyd's arms measured below average at the NFL scouting combine in March.
We'll start with his production first. Floyd had
only one regular-season sack last season before notching two more
in the All State Sugar Bowl.
As we've noted
in the case of
Green Bay Packers
linebacker
Clay Matthews
, relying on college production is a tricky business.
Here is some additional context: According to ESPN Stats & Information, two of those three sacks came against double-teams when the Gators were rushing only four men. That suggests Floyd drew plenty of attention from opposing offenses. As a result, nine other players on Florida's defense had at least two sacks, tied for the third-most in the FBS.
Meanwhile, Floyd's arms
measured 31 3/4-inches in February
. Hard-core NFL personnel men consider that short, and it's a presumed deficiency when facing longer-armed offensive linemen because of the leverage issues it creates.
I suppose if you're drafting a player in the top 5, you want him to be as close as perfect as possible from a physical and résumé standpoint. Floyd, in retrospect, was not. But I don't think anyone in Minnesota is worried. A disruptor can do his work in many ways while falling short in sack totals (and arm length).
April, 23, 2013
4/23/13
2:35
PM ET
Our 2013 #bloggermock took an early twist and left me only partially satisfied as the protector of NFC North interests. Of note: Not a single quarterback was drafted in the first round, something that hasn't happened in the real draft since 1996. We also passed up the running back position in the first round, which that hasn't happened since the common draft began in 1967.
Below are the players I would up picking for the NFC North and my reasoning in each instance.

Johnson
5. Detroit Lions
My pick:
Oklahoma left tackle
Lane Johnson
Final decision:
Between Johnson, Alabama cornerback
Dee Milliner
and BYU defensive end
Ezekiel Ansah
Process and reasoning:
The Lions' true intentions are tough to read at left tackle. When they drafted
Riley Reiff
at No. 23 overall last year, we all assumed he was the heir apparent at the position. Since the retirement of incumbent
Jeff Backus
, however, the Lions have emphasized Reiff's versatility and suggested he could play right guard or right tackle. To me, versatility is irrelevant if you have a true long-term answer at left tackle.
It's possible the Lions are deliberately clouding Reiff's future to hide their draft intentions. In the end, I thought the No. 5 pick was a great place to find a blue-chip left tackle and further strengthen the Lions' line by allowing Reiff to start at right guard or right tackle.
Johnson might be the third-best left tackle in the draft, but
draft analysts
have suggested that's a
matter of experience more than aptitude
. I had a brief pre-draft trade discussion with AFC East blogger James Walker, who wanted to use the
Miami Dolphins
' No. 12 overall pick to move up and draft a left tackle. But there was no way Johnson would be available at No. 12, so I needed much more than what Walker was offering (a second-round pick) to pass up getting him.
I know I've pushed the Lions to draft a cornerback like Milliner for years, but finding a left tackle can be even more difficult. I was tempted by Ansah, but decided to gamble that some decent defensive ends would make it to the top of the second round. In this mock, three of Mel Kiper's top five defensive ends would be available after the first: UCLA's
Datone Jones
, Auburn's
Corey Lemonier
and Florida State's
Tank Carradine
.
Ogletree
20. Chicago Bears
My pick:
Georgia linebacker
Alec Ogletree
Final decision:
There wasn't much debate.
Process and reasoning:
I did not expect Ogletree to be available at No. 20 and knew it would be difficult for the Bears to move up. But once he made it past the
New Orleans Saints
at No. 15, I thought I had a chance. The
New York Giants
have been speculated as a possible landing spot, but the Giants haven't selected a linebacker in the first round since 1984 (Carl Banks).
I'm still not sure Ogletree will be available at No. 20 in the real draft Thursday night, but in this case -- with Notre Dame tight end
Tyler Eifert
already off the board -- I couldn't justify passing him up as a long-term replacement for
Brian Urlacher
.

Williams

Hayden
23 and 25. Minnesota Vikings
My picks:
North Carolina defensive tackle
Sylvester Williams
, Houston cornerback
D.J. Hayden
Final decision:
Between Williams, Hayden, Cal receiver
Keenan Allen
, Notre Dame linebacker
Manti Te'o
Process and reasoning:
I really do think that Vikings general manager Rick Spielman has genuine interest in Te'o and wants to draft him. In looking back on this mock, I just got too greedy and sneaky for my own good.
I had enough ammunition to move up, but for whom? Tennessee receiver
Cordarrelle Patterson
went way too high (No. 8 to the
Buffalo Bills
), and West Virginia's
Tavon Austin
was gone at No. 13. Is Austin worth even an extra second-round pick to the Vikings? I couldn't do it.
Ogletree plays a position of need, but I felt sketchy about giving up extra draft choices for a player with multiple off-field flags in the past year.
So my plan was to grab two really good non-middle linebackers and then cross my fingers that someone, perhaps even Te'o, would be available in the second round, where Spielman could work some trade magic and grab one. It almost worked. Te'o made it to No. 32, where the
Baltimore Ravens
drafted him just after learning that
Rolando McClain
had been arrested once again.
Media analysis is split on whether Te'o is significantly better than the next tier of middle linebackers, and most people think the Vikings are most interested in him. So if the Vikings passed, I thought there was a chance he would tumble. In the end, that's why I passed him over even though I'm not sure Spielman will.
As for receiver, I had my eyes on Tennessee's
Justin Hunter
, but he went one slot ahead at No. 22. So I went with Williams, who could be a long-term replacement for
Kevin Williams
, and Hayden. I had a small chance to trade down, but the best offer I got to move from No. 25 to the top of the second round at No. 35 was an additional fifth-round pick. Not good enough. The cornerback class drops off after the first round, and Washington's
Desmond Trufant
was already off the board. In this scenario, the Vikings would be in position to maneuver in the second round for a receiver. Among those who are left is Clemson's
DeAndre Hopkins
.

Jenkins
26. Green Bay Packers
My pick:
Georgia defensive tackle
John Jenkins
Final decision:
Between Jenkins, Syracuse offensive lineman
Justin Pugh
, Florida State offensive tackle
Menelik Watson
Process and reasoning:
The honest truth of the matter is that I was just guessing here. Congratulations to the Packers. No one ever knows for sure who a team is going to draft, but this year, no one really has anything more than a guess on the Packers. They appear to be interested in improving their defensive line, at least based on their limited activity in free agency, and Jenkins seemed the best of what was still remaining on the board. I don't mind saying he was even more of a guess than usual.
April, 22, 2013
4/22/13
11:15
AM ET
This is about the time during NFL draft season when long-held assumptions start to be challenged. Sometimes new information becomes available. On other occasions, gamesmanship has been taken to a new level. Sometimes, people just get tired of talking and writing about the same thing.
With that said, I feel we need to at least ask the following questions about Alabama cornerback
Dee Milliner
:
Should we back away from near-certainty that he will be among the top five picks in Thursday night's first round?
It is possible Milliner won't be the first cornerback taken?
These are relevant questions for the
Detroit Lions
, who own the No. 5 pick and have a need at cornerback, as well as the
Minnesota Vikings
, who would surely like to see a top corner make his way to the No. 23 overall pick if possible. Here's what we can pass along:
In an interview with the
Philadelphia Inquirer,
Milliner admitted he is behind on his rehabilitation from March surgery to repair a torn labrum in his shoulder. It's possible he won't be ready for training camp.
In a mock draft released Monday,
ESPN's Todd McShay

dropped Milliner to No. 10 overall. Meanwhile,
NFL Network draft analyst Mike Mayock
said last week he considers Houston's
D.J. Hayden
as his top cornerback in the draft. As
Kevin Wiedl of Scouts Inc.
explains, positive chatter on Hayden has risen significantly since doctors cleared him to play following a life-threatening injury to his heart during a practice collision last year.
Lions general manager
Martin Mayhew
said last week that truly elite cornerbacks, presumably worthy of a No. 5 overall pick, are difficult to find. "There's like five of them in the history of the NFL," said Mayhew, who then went out of his way to tout the three cornerbacks the Lions drafted last season:
Bill Bentley
,
Jonte Green
and
Chris Greenwood
.
"All three of those guys are good players and we expect them to be around for a long time," Mayhew said. From my vantage point while watching on the Lions' website, I couldn't tell if Mayhew's fingers were crossed or not.
We went through a similar exercise last year when Vikings general manager "Crazy Rick" Spielman began encouraging us to challenge the likelihood that he would draft USC left tackle
Matt Kalil
at No. 3 overall. I felt pretty strongly they would stick to the script, despite needs at the positions played by LSU cornerback
Morris Claiborne
and Oklahoma State receiver
Justin Blackmon
. This year, I'm not as certain. Stay tuned.
April, 19, 2013
4/19/13
12:00
PM ET
»
NFC Eight in the Box
:
East
|
West
|
North
|
South
»
AFC
:
East
|
West
|
North
|
South
What's the ideal first-round scenario for each team?

Chicago Bears:
There are a number of hopeful scenarios for the Bears, but we've got to keep it reasonable. The Bears would no doubt be thrilled if one of the draft's top guards, Alabama's
Chance Warmack
or North Carolina's
Jonathan Cooper
, fell to them at No. 20. That doesn't seem likely, however, based on the current thinking of media analysts. Others might like to see Alabama right tackle
D.J. Fluker
available, but the Bears aren't desperate at the tackle position. The most ideal but reasonable scenario is Georgia middle linebacker
Alec Ogletree
falling to No. 20 because of off-field issues. Ogletree could be an immediate and long-term replacement for the departed
Brian Urlacher
, allowing the Bears to use
D.J. Williams
perhaps at the strong-side position.

Detroit Lions:
We've discussed a scenario in which the draft's top two left tackles (Texas A&M's
Luke Joeckel
and Central Michigan's
Eric Fisher
), its top cornerback (Alabama's
Dee Milliner
) and arguably its most intriguing defensive end (BYU's
Ezekiel Ansah
) are all off the board at No. 5. So if the draft gods are looking kindly upon the Lions, they'll give them a choice of two of those players. There's no telling whom the Lions would pick, but Milliner or either of the left tackles would give them a good shot at having a really good anchor player for the next decade.

Green Bay Packers:
I don't know how likely it is, but the Packers would no doubt love to see one of the draft's top defensive tackles make his way to their spot at No. 26 overall. Could that be Missouri's
Sheldon Richardson
? North Carolina's
Sylvester Williams
? Both players are natural interior disruptors, although Richardson might be on the smaller side for a 3-4 defense and could fit best as a 4-3 under tackle. There is little doubt that the Packers want to enhance their defensive line in this draft.

Minnesota Vikings:
There are plenty of options for a team with two first-round picks, including trading up to get a coveted player or trading back to pile up second-round options. But here's an ideal scenario if the Vikings stay put: They draft a receiver with one pick, perhaps Tennessee's
Cordarrelle Patterson
or Cal's
Keenan Allen
, and a cornerback with the other. Houston cornerback
D.J. Hayden
has gotten a lot of publicity lately, but his value in the first round remains publicly uncertain. The Vikings have need at defensive tackle and middle linebacker as well, but those positions might be more heavily stocked later in the draft.
April, 18, 2013
4/18/13
8:10
AM ET
We're Black and Blue All Over:
Wednesday was a busy day for the Green Bay Packers, and not just because they made linebacker Clay Matthews one of the
most highly-paid defensive players in the NFL
. They also took the rare step of hosting a restricted free agent, Pittsburgh Steelers nose tackle Steve McLendon, on a visit at Lambeau Field.

(A number of media outlets reported the news, including
the Milwaukee Journal Sentinel
.)
The deadline for signing restricted free agents to an offer sheet is Friday, and the Steelers put McLendon in a favorable position to depart. First, they issued him a low tender that would not require any draft-choice compensation for another team to sign. Also, as
AFC North colleague Jamison Hensley
notes, the Steelers are down to $800,000 in salary-cap space and would have to make some changes to match any offer the Packers might make.
McLendon has started only one game in his three-year career but apparently was set to take over for veteran Casey Hampton this season. The Packers have a well-known desire and need to beef up their defensive line this offseason. We'll let you know if the Packers ultimately make him an offer.
Continuing around the NFC North: