October, 20, 2010
10/20/10
7:10
AM ET
We're Black and Blue All Over:
The NFL's trading deadline came and went Tuesday with no NFC North team making a move. Anyone who thought otherwise hasn't been paying attention.
No, the Green Bay Packers did not trade for the Dallas Cowboys' Marion Barber or any other tailback. The Chicago Bears didn't acquire New England Patriots guard Logan Mankins. There were never any indications that either team was pursuing such deals.
The
Bears did release
veteran defensive end Charles Grant after two inactive weeks and promoted defensive end Barry Turner from the practice squad, one of two minor roster moves Tuesday in this division. The other was the Detroit Lions'
decision to release
defensive back Dante Wesley and activate cornerback Jack Williams from the physically unable to perform (PUP) list.
There have been plenty of trades, major and minor, in the NFC North this season. But as expected, Tuesday was quiet.
Continuing around the NFC North:
October, 1, 2010
10/01/10
7:15
AM ET
We're Black and Blue All Over:
If it's up to him, Detroit Lions tailback Jahvid Best will play Sunday against the Green Bay Packers. Best has a grade 2 turf toe injury and missed practice Wednesday and Thursday, but
he told reporters
that he plans to practice Friday and that "it's looking like I'll be ready to go this week."

Sometimes rookies are slow to understand the NFL mantra about keeping game-day availability a secret, so I'm not sure if Best spoke out of turn or doesn't realize that ultimately the team's medical staff will have to clear him first. But
as we discussed Thursday
, Best's open-field running ability is a key antidote to the deep zone defenses the Lions have faced this season.
We'll update you on his status Friday afternoon.
Continuing around the NFC North:
August, 18, 2010
8/18/10
7:40
AM ET
We're Black and Blue All Over:
Thanks to everyone for their patience during what was a wild Tuesday afternoon in the NFC North. Brett Favre's return to Minnesota forced us to cancel our weekly SportsNation chat, which I promise to make up later this week, and veered us from our division-wide mission for one day.
I'll be at the Vikings' Winter Park practice facility Wednesday afternoon, having taken the team's statement that "media availability with QB Brett Favre is to be determined" as quasi-confirmation that he has in fact been reinstated to the roster. But we'll also resume coverage of the entire division, beginning with our morning spin.
Suamico72
-- who, like me, never sleeps but unlike me is counting consecutive FavreWatch posts -- will be so disappointed.
July, 23, 2010
7/23/10
11:45
AM ET
Hopefully all of you got a chance to read John Clayton's take on the NFC North in his
training camp preview
. Included in the post was this analysis of the Detroit Lions' safety situation:
Safety Louis Delmas, a second-round pick in 2009, seems to be a good piece to build around. Lions coach Jim Schwartz must sort out whether Ko Simpson, Marquand Manuel or C.C. Brown is the strong safety to pair with Delmas.
I would be surprised if the Lions don't add one or two names to that list of candidates before the start of the regular season. It might not be their top organizational priority, as evidenced by their
cool pursuit
of free agent Oshiomogho Atogwe, but my understanding is that they were less than satisfied with their options as minicamp concluded last month.
Tim Twentyman of the Detroit News
suggests the Lions could have interest in Kansas City Chiefs safety Jarrad Page, who has asked for a trade. Another option is veteran defensive back Dante Wesley, whom the Lions
signed as a reserve cornerback in April
mostly for special teams purposes. Wesley has some experience as a safety, however, and the Lions likely will give him a chance to compete for the strong-side position in training camp.
We'll get into a more formal discussion of training camp battles next week, but at this point, the Lions' safety situation is among the most fluid in the division.
July, 7, 2010
7/07/10
12:00
PM ET
By
Scouts Inc.'s Matt Williamson
| ESPN.com
»
NFC North Weaknesses
:
Bears (7/6)
|
Lions (7/7)
|
Packers (7/8)
| Vikings (7/9)
The Lions' second-year staff is in the midst of a massive rebuilding project. It has done excellent work in this regard, but more time is needed. Even with a wealth of early draft picks and some free-agency money to spend, the Lions just couldn't address every need on a team that failed to win a single game before Jim Schwartz & Co. took over.
[+] Enlarge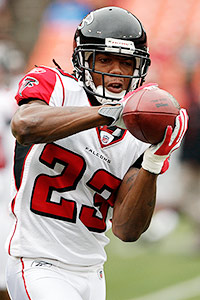 AP Photo/Ben MargotChris Houston looks to be Detroit's de facto No. 1 cornerback.
The area that is still in the most need of help is cornerback. Of course, when you add a supreme talent like
Ndamukong Suh
at defensive tackle, a lot of defensive deficiencies tend to improve. It is too early to speculate on such things, but in the first round of the 2011 draft, my money is on Detroit adding a corner.
As it stands today,
Chris Houston
(acquired from Atlanta) is probably the Lions' No. 1 cornerback. That isn't to say that Houston is a terrible player, but he was far from spectacular last season and was more of a detriment rather than asset in the Falcons' poor pass defense.
The Lions did add 33-year-old
Dre' Bly
on July 2 and used a very early third-round selection on
Amari Spievey
. Bly is probably the No. 2 corner for now and Spievey is a solid enough prospect who could contribute right away, specifically in sub packages, but his ceiling is probably that of a No. 2 corner. Spievey is not the player you want matched up against
Greg Jennings
or
Sidney Rice
for the foreseeable future.
Jonathan Wade
,
Eric King
and
Dante Wesley
also will compete for the starting spot opposite Houston, but ideally, Detroit will want Spievey to win this job. Wade, King and Wesley are far from exciting and none has much upside at this stage of their respective careers. Spivey brings more physicality and ability to the position.
This secondary was horrific in 2009. It might be improved this year and the defensive line enhancement will help, but the cornerback position as a whole still needs a lot of work. Actually, besides
Louis Delmas
, this whole secondary is flat-out poor.
Brett Favre
,
Jay Cutler
and
Aaron Rodgers
may feast again.
April, 27, 2010
4/27/10
7:18
AM ET
It was a bit of a comedown after the intensity of the NFL draft, but we did have a few minor roster moves Monday in the NFC North.
According to ESPN's John Clayton, Detroit released four players: receiver Michael Ray Garvin, running back Cedric Peerman, cornerback DeAngelo Smith and defensive tackle Terrance Taylor.
Meanwhile, in Green Bay, the Packers re-signed safety Charlie Peprah and released tight end Devin Frischknecht. Jason Wilde has more at
ESPNMilwaukee.com
.
Continuing around the NFC North:
April, 5, 2010
4/05/10
11:00
AM ET
Unfortunately, I'm going to be out of pocket for most of Monday. We'll resume full-scale blogging Tuesday, but for now I'd like to touch on a few points percolating in my head.
[+] Enlarge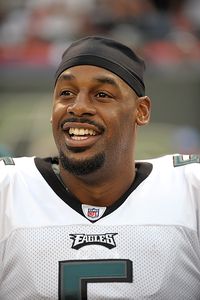 Drew Hallowell/Getty ImagesDid the Eagles learn something from the Packers-Favre feud in trading Donovan McNabb to division rival Washington?
Reports that Philadelphia sent Donovan McNabb to Washington
as a professional courtesy are thought-provoking, especially from an NFC North perspective. Coach Andy Reid
hasn't denied
the suggestion: The Eagles didn't want to send McNabb into what he perceived as bad situations in Oakland or Buffalo.
My first reaction: Pure fantasy. No NFC team would turn down a competitive offer from two AFC teams, and instead make a trade within a division, as a favor to the player being traded. The easy conclusion is that the Raiders and Bills fell short, if they even made an offer at all, and that the Redskins were the most serious suitor.
But I wonder if the Eagles didn't learn something from Green Bay and the
Brett Favre
debacle. The Packers were so focused on shipping Favre out of the division -- and really, out of the NFC -- that they might have inadvertently contributed to Favre's arrival in Minnesota.
As you might remember, the Packers weighed offers from Tampa Bay and the
New York Jets
. With the Buccaneers, Favre would have been reunited with coach Jon Gruden. Had the Packers accepted that offer, Favre (and Gruden) might still be with the Buccaneers.
Instead, Favre went to a team he had no connections with and no real incentive to stay with. The random destination almost certainly contributed to his motivation to find a way to sign with the Vikings.
You don't have to buy that theory, but trust me when I tell you there are some knowledgeable football people I trust who believe it.
The Eagles know McNabb's contract could expire after this season, and he could refuse an extension with his new team and become a free agent in 2011 if he wanted. By trading him to a mutually agreeable location, the Eagles have minimized the chances of that happening. You would think McNabb will sign an extension with the Redskins, meaning the Eagles will have directed his future more than the Packers did with Favre.
So while McNabb will now be in position to impact the Eagles' future in the NFC East, he will have to do it with the division's least competitive team. The Eagles are confident in their replacement,
Kevin Kolb
, and didn't see the necessity to banish McNabb to Siberia to protect themselves. It's a novel concept. Was it the right one? We'll soon see.
There have inevitably arisen comparisons
between Kolb and
Aaron Rodgers
, who near-seamlessly took over for Favre in Green Bay. These suggestions are based primarily on the fact that both players spent multiple seasons backing up a Pro Bowl quarterback.
But let's be careful about assuming everything else will fall into place the same way. What Rodgers has done is exceptional, above-the-curve work. Let's not diminish it by suggesting the primary ingredient is having a few years of incubation on the bench.
Detroit should announce the acquisition
of cornerback
Dante Wesley
sometime early this week. But as teams start to batten down for the draft, the Lions still have at least one important order of business remaining: Cornerback Adam "Pacman" Jones.
There is clearly no rush to get Jones under contract, and it's possible the Lions will wait to see how they fare in the draft. But it's not out of the question that something could develop over the next week or two.