NFC North:

Darnell Dockett
September, 25, 2012
9/25/12
2:05
AM ET
Talk is cheap. But if you add up a whole bunch of small coins, do you have something valuable?
That's what we'll find out in the wake of the
Green Bay Packers
' 14-12 loss to the
Seattle Seahawks
on Monday night. Via Twitter, at least, NFL players are talking a pretty good game in expressing outrage over the call that gave the Seahawks'
Golden Tate
a 24-yard game-winning touchdown reception.
I'm not going to link to the tweets because many contain profanity, but you'll get the picture. Players are angry, embarrassed and incredulous that the situation has come to this.
We've already noted
what Packers guard
T.J. Lang
has said. Let's look at some other player reactions:
Packers guard Josh Sitton:
"That was [expletive]. This is getting ridiculous! The NFL needs to get the refs back bfr we strike and they make no money! … The nfl needs to come to gb and apologize ..."
Packers tight end Jermichael Finley:
"Come on @NFL this [expletive] is getting out of Control. Caused us a DAMN game. Horrible!"
Injured Packers linebacker Desmond Bishop:
"Accountability: The moment a player does something to embarrass the shield, swift & immediate action takes place! WHY not now?! Jussayin … Honestly, It's not about winning or losing here, it's the integrity of this game we love to play/watch. Hate 2 question it! Pack still good!"
Arizona Cardinals defensive tackle Darnell Dockett:
"This is what the NFL has come down to, &yet they tell you to respect the shield! Lol. But they'll try to fine us for everything thing we do."
Atlanta Falcons tight end Tony Gonzalez:
"I've been saying give the refs a break but that TD call was ridicules. How do you miss that? Pop Warner refs would have gotten that right."
New Orleans Saints quarterback Drew Brees:
"I love this league and love the game of football, but tonight's debacle hurts me greatly. This is NOT the league we're supposed to represent."
August, 20, 2011
8/20/11
7:42
AM ET
Reviewing Friday's action at Lambeau Field:
Green Bay Packers 28, Arizona Cardinals 20
Preseason record:
1-1

Of interest:
The first-team offense went three-and-out in its first series, punted after two first downs on its next possession but looked sharp in its third, which ended on
Aaron Rodgers
' 20-yard back-shoulder touchdown pass to receiver
Greg Jennings
. Not coincidentally, the Packers took a pre-planned no-huddle approach in that third series. Rodgers completed all five of his passes on the drive, including three consecutive to tight end
Jermichael Finley
. ... Overall, Finley was targeted on five passes in his preseason debut, catching four for 33 yards. ... Rodgers took three significant hits that I saw, one after Cardinals defensive lineman
Calais Campbell
ran right past rookie left guard
Derek Sherrod
. Cardinals lineman
Darnell Dockett
also split a double team against right guard
Josh Sitton
and right tackle
Bryan Bulaga
for a hit. ... I thought the defense created some havoc for Cardinals quarterback
Kevin Kolb
, limiting the Cardinals offense to a pair of field goals before coordinator Dom Capers began substituting. ... The defense's new (occasional) look of
Ryan Pickett
at nose tackle and
B.J. Raji
at end is interesting and worth further discussion next week. ... Safety
Morgan Burnett
continues to look aggressive in his return and made a nice play to break up a late Kolb pass to receiver
Larry Fitzgerald
. ... Fitzgerald later made one of the most incredible one-handed catches you'll ever see as he fell to the ground, setting up a field goal. ... The first look at running back/kick returner
Alex Green
was positive, most notably on a 25-yard screen reception. ... I don't know if
Chastin West
's 97-yard catch-and-run down the right sideline will help him make the team, but it sure was fun to watch. Perfect throw from quarterback
Matt Flynn
. ... Two injuries to keep an eye on: Receiver
Randall Cobb
(bruised knee) and defensive end
C.J. Wilson
(possible concussion).
Local coverage:
Finley wanted to continue playing with the second-team offense, writes
Jason Wilde of ESPNMilwaukee.com
. Finley: "I felt like the old '88.' I started getting revved up and heated and I was really close to telling them to keep me in. I'd have played the whole game. I'd have played with Flynn if I had to. It was just one of those things I had to get past me, and I got it past me." Tailback
Ryan Grant
doesn't appear to have lost a step, writes
Bob McGinn of the Milwaukee Journal Sentinel
. Packers.com has
posted video
of West's touchdown reception. It's also in the video that will accompany this post for a few days.
Rob Demovsky of the Green Bay Press-Gazette
on Green's night: "If Green shows he can pass protect, he could be a valuable weapon as a third-down back. He's a better receiver than
Brandon Jackson
, who had the job last season. But if he can't pass protect -- he gave up a quarterback hit by linebacker
O'Brien Schofield
on Matt Flynn in the third quarter -- then he won't win that job." Sherrod probably lost any chance he has of beating out
T.J. Lang
for the starting job, notes
Tom Silverstein of the Journal Sentinel
.
Up next:
Friday at
Indianapolis Colts
January, 24, 2011
1/24/11
10:00
AM ET
CHICAGO -- It's not surprising that
Chicago Bears
fans
are lashing out
over the knee injury that prevented quarterback
Jay Cutler
from returning to Sunday's NFC Championship Game. As would be expected, fans are angry and frustrated and found an easy target. It happens.
What has been stunning to me, however, is the volume of NFL players who joined the chorus. This might not have happened even two years ago, but the advent of Twitter has given players a voice at a time when they used to be out of the public eye and, like us, are caught up in the emotion of watching a game on television.
[+] Enlarge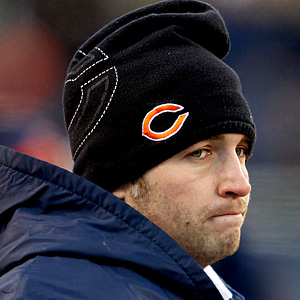 Jonathan Daniel/Getty ImagesJay Cutler spent the majority of the second half Sunday on the sideline.
As we noted Sunday
, Jacksonville Jaguars running back
Maurice Jones-Drew
said he thought Cutler should have finished the game. Colleague Mike Sando put together an item just of
NFC West players
who ripped him, from
Arizona Cardinals
defensive tackle
Darnell Dockett
to
Seattle Seahawks
linebacker
Aaron Curry
to Seahawks defensive end
Raheem Brock
-- who called him a "sissy."
Philadelphia Eagles
cornerback
Asante Samuel
wrote
Bears players should look at Cutler "sideways
." Jaguars linebacker
Kirk Morrison
wrote
: "If my knee was hurt or acl/mcl/pcl sprain, I would not be standing up on the sideline."
The criticism aimed at Cutler wasn't limited to current players. Former Tampa Bay linebacker
Derrick Brooks tweeted
:
BEARS fans I am so SORRY, I have to be crawling and cant get up to come off field,Josh Freeman would not come out, MEDS ARE AVAILABLE
Brooks followed-up that tweet with
the following
:
HEY there is no medicine for a guy with no guts and heart
Future Hall of Famer
Deion Sanders echoed
Brooks' remarks.
Folks i never question a players injury but i do question a players heart. Truth
It should be noted that no NFC North players have jumped into the fray; they have played Cutler more often than any other group. And Bears players were ruthless in defending him. We noted the angry responses from center
Olin Kreutz
and linebacker
Brian Urlacher
on Sunday.
Via Twitter
, safety
Chris Harris
wrote:
I will defend my QB all day. He was injured and he couldn't go. No one on our team questions his toughness POINT BLANK! He's a tough SOB

To all of u assaulting Jay's toughness. Are we 11-5 and NFC North Div Champs without him? No I think not. Please think before tweeting!
Thanks to social media, this really is an unprecedented situation. To have a wide swath of players criticizing another in real time, without the benefit of first-hand knowledge of the situation, is both dangerous and fascinating. What did Jones-Drew or Dockett or Brock base their opinions on? I'm guessing it was the mentality that players share of playing through injuries when at all possible.
So what do we make of the conclusions so many of them drew? Did they observe some kind of sideline activity that suggested Cutler wasn't injured enough to leave the game? Did the circumstances of the game mandate a different set of injury standards? Would Cutler have been better off flopping to the turf and then being been helped off the field?
If there were simply one or two players speaking out, maybe you could write them off as extremists. But the cross-section that we've already heard from suggests Cutler's departure struck a true nerve not just among fans but among his peers as well. Part of me wonders if it was more an indictment of Cutler's standing with his peers than it was a serious questioning of his toughness. If you don't like someone, you're going to be much less likely to give him the benefit of the doubt.
As we
discussed Sunday
, I'm not sure it's fair to Cutler. But this thing has gotten too big for rational thought and cooler heads to prevail. Time will tell whether the sting fades or if Cutler's reputation will take a permanent hit.