January, 30, 2013
1/30/13
7:55
AM ET
We're Black and Blue All Over:
One of the staples of Super Bowl media day is press gatherings with national television analysts. Most of them are former players who come armed with strong opinions on the league and its trends, and their job is to share them in exchange for publicizing their network.

One of their primary topics Tuesday, it seems, was the Detroit Lions. NFL Network analyst Warren Sapp continued his assault on defensive tackle Ndamukong Suh, calling him a "blind dog in a meat house" because of the way Sapp thinks Suh ignores run defense in search of the quarterback. Sapp said he watched Suh all season and said: "I never saw this dominant player that you guys are selling." He added that Suh hadn't reached out to him properly for advice. (More from
Chris McCosky of the Detroit News
.)
Meanwhile, Sapp merely laughed at the Lions' decision to add defensive line guru Jim Washburn to their staff, saying only that Washburn "leaves something to be desired" as a coach but refusing to elaborate. (More from
Anwar S. Richardson of Mlive.com
.)
And finally, CBS analyst Boomer Esiason said the Lions have done a poor job of surrounding quarterback Matthew Stafford with weapons and balance. Esiason, via
Dave Birkett of the Detroit Free Press
: "He's got no running game, he's got Ndamukong Suh running all over the place up there, they bring in convicts. ..."
Yikes. The Lions were 4-12 last season amid some dramatic headlines, making them easy targets for national criticism. Some of the language used Tuesday was inflammatory, of course, and none of the sentiments were new. But the substance of most of the criticism has merit, and it goes along with a high-profile collapse from a playoff season.
Continuing around the NFC North:
May, 15, 2012
5/15/12
12:30
PM ET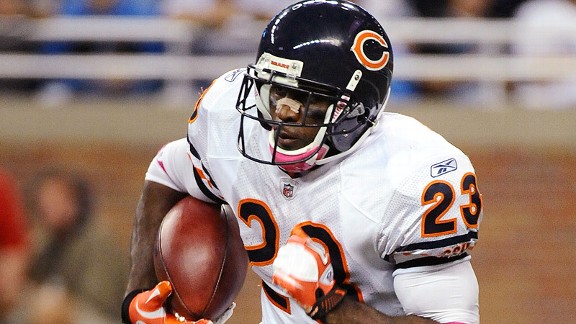 Tim Fuller/US PresswireChicago Bears fans will likely see more of the 'Devin Hester Package' in the 2012 season.
Over the past few months, the
Chicago Bears
have transformed their receiving corps from one of the NFL's shortest to arguably the tallest. They've reunited the key players from the
Denver Broncos
' dynamic 2008 offense and they've fended off questions -- including some from their quarterback -- about their offensive line. But to me, the most intriguing thing happening in Chicago at the moment is the development of a mysterious package of plays for receiver/kick returner
Devin Hester
, the latest in a long line of attempts to harness Hester's Hall of Fame speed and skills for their offense.
General manager Phil Emery hinted at the new approach shortly after the draft. Offensive coordinator Mike Tice and receivers coach Darryl Drake offered some morsels to reporters during last weekend's rookie minicamp, and all that's left now is to see if it actually works.
Part of me wants to roll my eyes and cringe,
as we did recently on the blog
, as the Bears once again refuse to accept what Hester is and isn't -- at least what he hasn't been yet. They remain unsatisfied with him simply being the best kick returner in NFL history. And another part thinks this attempt could prove to be the most productive balance the Bears have tried yet.
Drake
might have best explained the plan last weekend
by suggesting the "Hester Package" will limit snaps but elevate targets to make more efficient use of Hester's time on offense.
"The talent has always been there," Drake told reporters. "It's just a matter of not having him play 70 plays and throw to him twice. Play him 15 [plays], let him touch it 13 [times.] In order for him to be effective, we don't need to have him out there playing that many plays. If he's out there, put the ball in his hands. We need to have that package, and Mike Tice -- I promise you -- he's going to do it."
On the surface, it makes sense. Hester's combination of speed and open-field running ability is rare and awfully tempting to expand on. And when you look at the chart, you see what happens when a team doesn't have or utilize the speed to stretch a defense vertically. The 2011 Bears, for instance, had one of the least efficient short passing games in the NFL last season.
But running a full game's worth of pass routes probably takes the edge off Hester's energy in the return game. There is reason to think he could have a similar impact in 15 plays designed to involve him than he could in 70 plays that spread the ball around the field.
That appears to be the starting point for a tweak that appears to have emanated from, or at least endorsed by, Emery himself.
"I want to make sure that we have a special plan for Devin," Emery said last month. "We have the 'Devin Package' -- packages of plays as a receiver. You never know where he's going to line up. I don't want to get too far ahead of that in terms of letting other people know what we're going to do with him, but he will have a package of plays that we feel can bring out his dynamic ability to the forefront and if not only as carrying or catching the ball, but sometimes that's a decoy.
"Devin's speed vertically is something that has to be accounted for. So if that pulls people from coverage, to handle that vertical ball, you've got other people; we've got some awfully big targets to hit."
On the other hand, of course, it's not as easy as it sounds. You better believe that opposing defenses will notice when Hester is on the field, especially now that the Bears have announced they want to get him the ball often in the relatively brief period of time he plays offense. I don't think it will make teams leave, say,
Brandon Marshall
wide open to account for Hester, but his appearance isn't going to surprise anyone, either.
The "Hester Package" has already conjured comparisons to the "Randy Ratio" that Tice used after taking over the
Minnesota Vikings
' head coaching job in 2002. As you might recall, a study of the Vikings' 2001 season showed they won every game they targeted receiver
Randy Moss
on at least 40 percent of their throws. Tice announced he would make that goal a centerpiece of his offense.
The "Randy Ratio" wasn't a schematic adjustment as much as it was Tice's attempt to cajole the notoriously anti-authoritarian receiver to buy in as a team leader. It backfired on a number of fronts, and
Tice himself acknowledged over the weekend
that it "came back to bite me in the [rear end]."
Turning serious, Tice said: "Devin is going to be on the field. If he's not on the field, then they should fire me."
That final line speaks to the extent the Bears have prioritized Hester's potential contribution. You know the old saying: If at first you don't succeed, try try again.
April, 4, 2012
4/04/12
7:05
AM ET
We're Black and Blue All Over:
On Tuesday,
we downplayed
the individual impact of three incidents Detroit Lions players have had with marijuana in the past three months. They are mostly misdemeanors and aren't likely to have lasting consequences from a legal perspective. If anything, they seem more significant when bunched together as a reflection of the organization.

Drew Sharp of the Detroit Free Press
takes a different tack, writing the Lions should release defensive tackle Nick Fairley and running back Mikel Leshoure. They don't need "another ticking time bomb," Sharp writes. He adds: "Just because marijuana usage is perceived as more casual than other drugs doesn't mean the punitive measures should be equally nonchalant."
The timing of these incidents, which also include offensive lineman Johnny Culbreath, suggests the Lions will have to create a more effective internal deterrent. But parting ways with these players would be an awfully harsh, and probably unrealistic, punishment. I think Sharp was trying to snap people out of downplaying the significance of NFL players using marijuana, and the message was heard.
Continuing around the NFC North:
March, 21, 2012
3/21/12
5:42
PM ET
Amid the two huge stories Wednesday in the NFL, most league officials are continuing their draft preparations. Among other things, that took
Chicago Bears
coach Lovie Smith and receivers coach Darryl Drake to Baylor's pro day, presumably to watch receiver
Kendall Wright
take another shot at the 40-yard dash.
Michael C. Wright of ESPNChicago.com
has the details.
Kendall Wright has been considered one of the fastest receivers available in the draft and a likely first-round pick. He ran a relatively slow 4.61 at the NFL scouting combine in February, but on Wednesday he improved that time to 4.43 seconds.
The Bears' need for receiver help seems less acute after the acquisition of
Brandon Marshall
, but it's doubtful the Bears would send their receivers coach to Waco, Texas, if they weren't genuinely interested in learning more about Wright. They have the No. 19 overall pick in the first round, which might be high for Wright, but that doesn't mean they won't have an opportunity to trade into a later position to draft him.
September, 23, 2011
9/23/11
7:25
AM ET
We're Black and Blue All Over:
Here's something that might catch you by surprise: Green Bay Packers receiver Jordy Nelson is on an extraordinarily productive run dating back to Week 16 of last season.

As
Tyler Dunne of the Milwaukee Journal Sentinel
notes, Nelson has caught 34 passes for 610 yards and five touchdowns over the Packers' past eight games, including the playoffs. Greg Jennings is the only receiver who has caught more passes for more yards over that span, but Nelson has him beat by a touchdown.
Consider this development another example of where the Packers' purported starting lineup doesn't necessarily correlate to playing time or production. Already, backup tailback James Starks is getting substantially more playing time than starter Ryan Grant. And by the numbers, at least, Nelson is the Packers' No. 2 receiver next to Jennings.
Nelson isn't getting more playing time than other receivers; according to Dunne, he was on the field for 33 of 58 plays last Sunday against the Carolina Panthers. But he is capitalizing on the opportunities he does get, and opposing defenses would be well advised to catch on.
Continuing around the NFC North:
August, 25, 2011
8/25/11
7:20
AM ET
We're Black and Blue All Over:
On Wednesday, we discussed in
several
installments
the future of Green Bay Packers tailback Ryan Grant. Let's consider the (presumable) final word on the topic.

Although Grant agreed to a $1 million reduction in his base salary, the remaining $2.5 million is fully guaranteed, according to
Bob McGinn of the Milwaukee Journal Sentinel
. That means the Packers would owe Grant the entire $2.5 million if they release him, and any team that acquires him in a trade would be inheriting the same $2.5 million guarantee.
That fact, on top of the previous knowledge that the Packers have already paid Grant a $1 million-plus roster bonus, makes it less likely from a financial perspective that the Packers will enter the season without him. There is nothing precluding them from doing so, but generally it's not good business to part ways with a player whose salary you've just guaranteed.
As we discussed Wednesday, it would still require a perfect storm of circumstances for this all to make sense. Moving on ...
Continuing around the NFC North:
August, 24, 2011
8/24/11
7:15
AM ET
We're Black and Blue All Over:
Rookie receiver/kick returner Randall Cobb has been the talk of Green Bay Packers training camp. But will he disappear from the public spotlight during the walk-up to the regular season? An unusual injury has called his immediate availability into question, notes
Tom Silverstein of the Milwaukee Journal Sentinel
.

Cobb apparently suffered contusions on both knees during a kickoff return during last weekend's preseason game against the Arizona Cardinals. He has not practiced since, is walking somewhat gingerly and can't say for sure that he will play in the Sept. 8 season opener against the New Orleans Saints.
These types of injuries are why teams build depth, and the Packers at this point are more than prepared to absorb it. Rookie Alex Green could return kickoffs while Jordy Nelson and Chastin West are candidates to return punts. And if anything, they have a surplus of receivers to use on offense at this point.
Obviously everyone wants to see a dynamic playmaker on the field right away. But it's not yet clear if that will happen for Cobb.
Continuing around the NFC North:
December, 17, 2009
12/17/09
6:37
PM ET
Chicago Bears:
Receiver Devin Hester (calf) missed another day of practice. Receivers coach Darryl Drake, meanwhile, tried to clarify Hester's comments about the team's upcoming offseason in this post from
ESPN Chicago's Jeff Dickerson
. … Linebacker Jamar Williams (ankle) did not practice.
Detroit Lions:
Long-snapper Don Muhlbach's concussion forced the Lions to sign free agent long snapper Nathan Hodel. The Lions also claimed guard Roy Schuening off waivers from Oakland. They released fullback Terrelle Smith and tight end Dan Gronkowski to make room on the roster. Safety Louis Delmas (ankle), receiver Calvin Johnson (knee) and quarterback Matthew Stafford (shoulder) were among those who did not practice.
Green Bay Packers:
Linebacker Nick Barnett (knee) returned to practice. Cornerback Brandon Underwood (hip) missed practice for the second consecutive day.
Minnesota Vikings:
Receiver Percy Harvin (migraines) missed another day of practice, making it more difficult to imagine he will be available for Sunday night's game against Carolina. Receiver Sidney Rice (illness) did not practice because of an illness.
October, 4, 2009
10/04/09
8:02
AM ET

Posted by ESPN.com's Kevin Seifert
CHICAGO -- Yes. You read that dateline correctly. I've arrived in the (mildly, at least today) Windy City to kick off our Week 4 FourFecta of NFC North coverage.
I'll be heading down to Soldier Field in a few hours to take in Bears-Lions, and then I'll be in Minnesota on Monday night for Packers-Vikings. I don't know about you, but I'm pumped. What a great weekend for anyone in Black or Blue.
Forecasters are expecting a nice fall day by Lake Michigan, where we will have partly sunny skies and a high near 60 degrees. For now, let's take our morning spin around the NFC North:
April, 8, 2009
4/08/09
6:50
AM ET
Posted by ESPN.com's Kevin Seifert
Chicago remains abuzz about the Bears' prospects for adding a veteran receiver to go along with new quarterback Jay Cutler.

Coach Lovie Smith didn't rule out the possibility of pursuing Torry Holt or Plaxico Burress, although the agent for Holt recently told Brad Biggs of the Chicago Sun-Times that he doubted Holt will visit the Bears. Holt played for St. Louis when Smith was the Rams' defensive coordinator, and Smith told reporters Tuesday that Holt is a "great player, great guy." His comments on Burress were less expansive, according to Vaughn McClure of the Chicago Tribune.
Smith: "Would we like to get another receiver? Possibly. As for how we'll get it, free agency or the draft, we really don't know."
The Tribune's David Haugh suggests the Bears back off any interest in Burress: "Burress coming to town would be bad for everybody around here, except possibly bail bondsmen."
The Bears continue to seem more likely to pursue a receiver in the draft. According to the Sun-Times, receivers coach Darryl Drake put Oklahoma receiver Juaquin Iglesias through a private workout Tuesday. Drake is scheduled to work out Georgia receiver Mohamed Massaquoi on Wednesday. Both players are candidates for the Bears' second-round selection.
Continuing around the NFC North: