NFC North:

Dashon Goldson
March, 11, 2013
3/11/13
11:30
PM ET
On the eve of free agency, the
Detroit Lions
are being linked relatively credibly to a number of significant free agents.
ESPN's Adam Schefter
reported they are one of two front-runners for safety
Dashon Goldson
,
NFL.com
reports "strong buzz" between the Lions and safety
Glover Quin
and
everyone thinks
the Lions are in on running back
Reggie Bush
.
Many of you are asking via Twitter how the Lions could afford more than one of those players from a salary cap perspective, especially if they eat up a few million dollars' worth of cap space to extend restricted free agent tender offers. Frankly, I don't know the answer to that yet.
Perhaps they have restructured the contracts of some other players. Perhaps quarterback
Matthew Stafford
is closer to a contract extension than he appears. Maybe the Lions will do something with the contract of defensive tackle
Ndamukong Suh
, which is projected to count $18.2 million against their cap.
Free agency opens Tuesday at 4 p.m. ET, and I'll of course be blogging all day and perhaps all night as well on NFC North events. For now, let's all get some sleep.
March, 8, 2013
3/08/13
12:00
PM ET
»
NFC Eight in the Box
:
East
|
West
|
North
|
South
»
AFC
:
East
|
West
|
North
|
South
Welcome to Eight in the Box, an NFL Nation feature that will appear each Friday during the offseason. This week's topic: Who should be the primary target (including trades) for each team when free agency begins?

Chicago Bears:
It's unclear how much interest the Bears would have, but a tight end like
Jared Cook
would make sense. General manager Phil Emery is on record saying that he wants better production in the passing game from the tight-end position, and Cook is a smooth receiver. He would be a big upgrade from
Kellen Davis
in that regard, and new coach Marc Trestman could find plenty of different ways to line Cook up and move him around.

Detroit Lions:
I'm all for the Lions pursuing running back
Reggie Bush
, who would provide a speedy alternative to
Mikel Leshoure
and also re-open a level of the passing game that has been missing without
Jahvid Best
. But the Lions' lack of reliable depth at safety is no less important, especially when you remember that general manager Martin Mayhew wants more playmakers in the back end. The Lions might not have the salary-cap space to sign
Dashon Goldson
, but fellow free agents
William Moore
and
Glover Quin
would help matters.

Green Bay Packers:
Running back
Steven Jackson
has plenty of wear on his 29-year-old body -- nearly 2,800 touches. But a move to Green Bay would set up a satisfying conclusion to his career. The Packers will never move too far away from their pass-first philosophy, but part of that approach is the result of never having a big running back like Jackson. He could capitalize on defenses focused on
Aaron Rodgers
and the passing game and provide a new level of physicality to this offense.

Minnesota Vikings:
There is plenty of clamor for the Vikings to make a run at speedster
Mike Wallace
. That's one option. From a bigger-picture perspective, a more inclusive approach would have the Vikings targeting a second-tier free agent -- such as
Brandon Gibson
-- re-signing
Percy Harvin
to a multi-year contract and focusing on a top-end speedster in the draft. Gibson has outside skills and wouldn't threaten the Vikings' salary-cap structure at the position.
September, 23, 2012
9/23/12
8:29
PM ET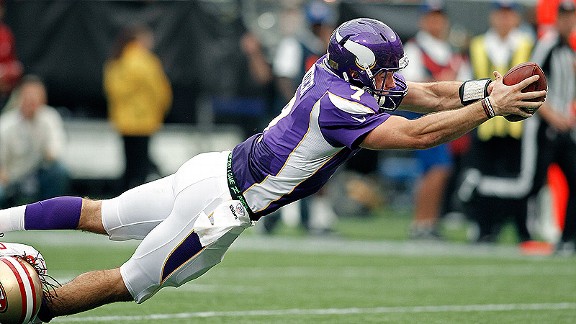 Bruce Kluckhohn/US PresswireChristian Ponder threw two touchdown passes and ran for another score in Minnesota's victory.
MINNEAPOLIS -- When
Christian Ponder
put together an efficient game against the
Jacksonville Jaguars
, it was only fair to withhold judgment.
It was the Jaguars, after all. They're 1-2 this season and going nowhere.
When Ponder produced similarly competent statistics in a loss last week to the
Indianapolis Colts
, it was tough to get excited.
It was the rebuilding Colts, of course. They're also 1-2 after losing Sunday to those same Jaguars.
But after Ponder took it to the
San Francisco 49ers
on Sunday,
slicing through a defense
that stymied
Matthew Stafford
last week and
Aaron Rodgers
the week before, it was difficult to escape some big(ger)-picture conclusions. The
Minnesota Vikings
didn't defeat the 49ers solely because of Ponder, of course, but their play unmistakably reflected a confidence that comes only when a team trusts its quarterback to do his job well.
Ponder accounted for three touchdowns, completed 11 of his first 15 passes in staking the Vikings to a 14-point halftime lead and made a series of smart plays down the stretch in a 24-13 victory. Three games into his crucial second season as the Vikings' starter, Ponder has completed 70.1 percent of his passes without an interception and compiled a 104.9 passer rating.
You guys and gals get all fired up when I "overreact" to an apparent trend. So let's put it this way: Ponder has done as much as possible through three games to suggest he is the Vikings' long-term answer at the position.
"We know with him back there, he's going to be accurate and we're going to pick up first downs," center
John Sullivan
said. "We're never going to be out of a football game, and I feel like we have incredible stability at that position now. We've kind of been in flux for a couple of years. Christian is answering all the questions. Hats off to him.
"I knew it was there," Sullivan added. "But at the same time, it has to work out on Sundays. We're 2-1, and we don't want to overstate that. But this is a really good football team here that we beat here today, and [Ponder] was a huge reason why we won this game. It's an enormous step in the right direction."
If the Vikings didn't trust Ponder, do you think they would have put the ball in his hands on fourth-and-goal at their 1-yard line in the first quarter? Offensive coordinator
Bill Musgrave
called a naked bootleg pass requiring Ponder to roll to his left. Ponder calmly avoided safety
Dashon Goldson
, who diagnosed the play and charged his way, and found tight end
Kyle Rudolph
for a game-defining touchdown.
If a team was concerned about how a young quarterback would respond to pressure, would it have let him pass on third-and-goal at the 2-yard line early in the fourth quarter? I'm sure there were many among the 57,288 at the Metrodome who hoped tailback
Adrian Peterson
would get the ball. Instead, the Vikings passed against a "Cover-0" defense, meaning the 49ers were blitzing and leaving their receivers in single coverage in the end zone.
Ponder didn't panic with pressure in his face, instead identifying the best one-on-one matchup the Vikings had: Rudolph against safety
Donte Whitner
. (He missed a wide-open Peterson, but we'll note the heavy pressure and move on.)
Rudolph made a spectacular catch with his right hand while holding off Whitner with his left, a connection that occurred only because two players trusted each other to do their jobs.
To be clear, Ponder didn't gash the 49ers for big downfield passes. Of his 35 throws, 26 traveled 10 or fewer yards in the air. But he completed 62 percent of them against has connected on 72.6 percent of such passes this season.
"We're going to keep taking what they give us," Ponder said, "and if they give us the underneath stuff, then that's fine. ... We're not going to force anything downfield when we don't have to."
You can't win every game throwing checkdown passes, even if you have open-field stars such as Peterson and
Percy Harvin
(11 catches, 89 yards) to throw to. But in itself, executing a plan successfully is a big progression from what we saw in Ponder's rookie season. So far, at least, Ponder is making almost every play he has a chance to.
And when he has no chance, he isn't spending much time waiting for something to develop. He was not sacked Sunday in part because of perhaps a dozen plays in which he either threw the ball out of bounds, rolled purposefully toward the sideline with crossing receivers or tucked the ball and ran.
"I thought from a decision-making standpoint this might have been his best game," Vikings coach Leslie Frazier said. At one point, Frazier said, he told his assistant coaches on the sideline: "Man, he's growing up. He's getting it."
Added Frazier: "In certain situations, you have to recognize when the play is dead. He's beginning to do that, and that's going to make us a better football team moving forward."
One of those plays, in fact, led to an unorthodox touchdown. On a first down in the second quarter, Ponder recognized the 49ers had covered both potential targets in a two-receiver route. Knowing the 49ers were in man-to-man defense, when defenders chase receivers with their backs to the line of scrimmage, he smartly pulled down the ball and took off down the middle of the field. Most of the defense never even saw him.
Exactly 23 yards later, Ponder became the first player to score a rushing touchdown against the 49ers this season.
Ponder compared himself to Forrest Gump on the play and joked: "I saw a big running lane and figured that if my white legs were fast enough, maybe I would get there."
Of course, with the brief exception of
Brett Favre
's Pro Bowl run in 2009, quarterback play for the Vikings has been no laughing matter. Ponder hasn't solved the problem quite yet, but he sure looks like he's on the way.
"He's played some of the cleanest football I've ever seen anybody play at any age in the NFL," linebacker
Chad Greenway
said. "He just has that poise about him and you have to credit the coaches for putting him in position to make throws they know he can make."