NFC North:

Dave Tollefson
August, 27, 2012
8/27/12
10:02
AM ET
The
Detroit Lions
are scheduled to practice Monday afternoon at 3 p.m. ET. It's not clear if quarterback
Matthew Stafford
will take the field after injuring his left hand Saturday night, but according to
ESPN's Adam Schefter
, there is every expectation that Stafford will be ready for the Lions' Week 1 game against the
St. Louis Rams
.
A blood vessel in Stafford's hand popped when the
Oakland Raiders
'
Dave Tollefson
hit it Saturday night, causing near-instant swelling that Stafford said "freaked" him out. But X-rays were negative for a fracture, and
indications even late Saturday night
were that he had escaped serious injury.
At the moment, the Lions have two other quarterbacks on their roster: Longtime backup
Shaun Hill
and rookie
Kellen Moore
.
August, 26, 2012
8/26/12
8:15
AM ET
Reviewing Saturday's action at Oakland-Alameda County Coliseum:
Oakland Raiders 31, Detroit Lions 20
Preseason record:
1-2

Of interest:
We hashed through the
Lions' injury situation late Saturday night
. The big news is that X-rays on quarterback Matthew Stafford's left hand were negative. Although the Lions don't provide explicit injury information, they usually differentiate between a minor injury and one that is long-term. Indications were that Stafford suffered the former when the Raiders' Dave Tollefson hit the hand and drove him into the hard infield dirt. … Running back Mikel Leshoure played in his first game since Dec. 2010, touching the ball eight times, including one play wiped out by penalty, and grossing seven yards. Six of those came on his lone pass reception. His most important accomplishment was getting his proverbial feet wet again. … Linebacker Stephen Tulloch's interception was caused when safety John Wendling knocked the ball out of the hands of Raiders receiver Eddie McGee. … It was an active night for the Lions' defensive line. Ndamukong Suh had a sack, Willie Young intercepted Raiders quarterback Carson Palmer and Nick Fairley had a tackle for loss.
Local coverage:
Stafford said it was "scary" to see his hand "swelling up by the second," but added, via
Dave Birkett of the Detroit Free Press
: "Probably what would have happened in a regular-season game is right after it happened I would have just run up for X-rays and if they said they were negative I would have come back in the game." … The Lions' most serious injury might have been to cornerback Chris Houston (ankle), according to
Chris McCosky of the Detroit News
. Coach Jim Schwartz: "He was not able to return. We will have to evaluate him when we get home. Hopefully we can get him back as quick as we can." … Schwartz on the game, via
Anwar S. Richardson of Mlive.com
: "There were a lot of guys that didn't play their best." … Leshoure played 18 consecutive snaps,
via Birkett
, and said: "It felt good man. Felt good to be back on the field with my teammates, being back to football, getting a little contact out there. Definitely not where I need to be, but it felt good to get my feet wet a little bit, get out there, get a couple carries." ... Tailback Kevin Smith,
via Richardson
, on his sprained ankle: "It's just a minor tweak, something I'm pretty sure I can get rid of quick. Just stay in the training room. More than anything, I was very scared. Just being that I had a high ankle sprain, I know how long it took to get back healthy. It's not a high ankle sprain, so that's positive. I'll get in the treatment room and get back as soon as I can."
Up next:
Thursday against Buffalo Bills
August, 25, 2012
8/25/12
11:38
PM ET
Following the
Detroit Lions
' preseason game was painful Saturday night, whether it was via Twitter or Internet play-by-play or the local television broadcast. Five starters and one key backup, including quarterback
Matthew Stafford
, were reported to suffer injuries in a
31-20 loss
to the
Oakland Raiders
. Our job now is to figure out which injuries are significant and which ones sound worse than they are.
[+] Enlarge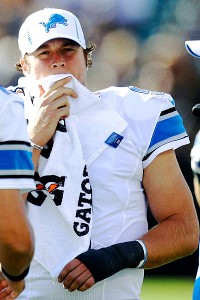 AP Photo/Ben MargotLions QB Matthew Stafford was sporting a wrap Saturday but told reporters he could have continued had it been a regular-season game.
The Lions are headed back east this evening, and it might take a few days for word to filter out about everyone. But according to beat writers who covered the game,
X-rays on Stafford's left hand
were negative. Stafford
told reporters
he would have continued playing if this were a regular-season game, even after the Raiders'
Dave Tollefson
drove him into the hard infield dirt at Oakland-Alameda County Coliseum.
Other injuries included:
Running back Kevin Smith injured his right ankle but told reporters that X-rays were negative and that he had not suffered the more-serious high-ankle sprain.

Both starting cornerbacks, Chris Houston and Bill Bentley, departed with injuries. Houston had a left ankle injury and Bentley had a shoulder injury.

Defensive tackle Ndamukong Suh had ice on his knee in the second half, and running back Mikel Leshoure -- making his Lions debut after fighting back from a number of injuries, had a wrap on his midsection after his final run, according to the Associated Press. There are no indications that Suh was icing for any reason other than maintenance.
Naturally, the biggest concern is with Stafford, and the initial panic I saw on Twitter reflected how recently it was that Stafford was viewed as an injury-prone quarterback as opposed to a 5,000-yard passer. We'll obviously monitor his situation closely, but earliest indications suggested Saturday night's injury was not serious.
April, 9, 2012
4/09/12
7:00
AM ET
We're Black and Blue All Over:
Good Monday morning. Hopefully everyone had a wonderful holiday weekend. We're pretty much full speed ahead toward the NFL draft, which opens in just 17 days, and have plenty of ground left to cover. But first, let's ease back into the football routine with a tour around the NFC North:
March, 30, 2012
3/30/12
11:00
AM ET
»
AFC Assessments
:
East
|
West
|
North
|
South
»
NFC
:
East
|
West
|
North
|
South
Chicago Bears
Key additions:
Running back
Michael Bush
, linebacker/special teams
Blake Costanzo
, quarterback
Jason Campbell
, receiver
Brandon Marshall
(trade), receiver
Devin Thomas
, receiver/returner
Eric Weems
.
Key losses:
Running back
Marion Barber
(retired), cornerback
Zack Bowman
, cornerback
Corey Graham
.

Come on back:
Lost in the shuffle of the Marshall trade were the return of three free agents who should play key roles in 2012. Tight end
Kellen Davis
figures to get an expanded role in offensive coordinator Mike Tice's scheme, especially as a receiver. Cornerback
Tim Jennings
should retain his starting role opposite
Charles Tillman
, with
D.J. Moore
in the nickel. And safety
Craig Steltz
will provide reliable depth at safety and will be one of the Bears' special teams leaders after the departure of Graham and Bowman.
What's next:
There is no urgency yet, but the Bears will need to make peace with tailback
Matt Forte
at some point before the summer. Forte isn't happy that he's been made the Bears' franchise player and briefly lost his public composure when Bush signed a deal that guaranteed him about the same amount of money as the franchise tag will pay Forte. It's not a big deal if Forte skips the Bears' offseason program or even misses a few days of training camp, but the Bears will want to find a way to eliminate this issue by early August. Meanwhile, it wouldn't be surprising if the Bears address their offensive line during the draft.
Detroit Lions
Key additions:
Defensive end
Everette Brown
, cornerback
Jacob Lacey
.
Key losses:
Cornerback
Eric Wright
.

All in the family:
With the exception of Wright, the Lions were able to retain the core of their 10-6 team. Among those who re-signed: Tackle
Jeff Backus
, safety
Erik Coleman
, defensive end
Andre Fluellen
, quarterback
Shaun Hill
and linebacker
Stephen Tulloch
. And don't forget that receiver
Calvin Johnson
is locked up for perhaps the rest of his career. He signed a new eight-year contract worth $132 million.
What's next:
The Lions appear interested in adding competition at safety, having hosted free agent
O.J. Atogwe
earlier this month. Adding a safety remains a possibility, if not through free agency, then probably through the draft. And while Backus is re-signed for two years, it wouldn't be surprising if the Lions look for a long-term replacement in the draft.
Green Bay Packers
Key additions:
Defensive lineman
Daniel Muir
, center
Jeff Saturday
, defensive lineman
Anthony Hargrove
.
Key losses:
Quarterback
Matt Flynn
, center
Scott Wells
.

Shocker:
The Packers usually do whatever it takes to keep their own players and avoid having to search the free-agent market for other the castoffs of other teams. They started off that way by re-signing tight end
Jermichael Finley
to a two-year contract, but when they were unable to sign center Scott Wells, they quickly targeted veteran Jeff Saturday and made him their first starting-caliber free-agent signee in five years. General manager Ted Thompson also authorized the acquisition of Hargrove and the pursuit of
Dave Tollefson
.
What's next:
It's not out of the question that the Packers will add a veteran pass-rusher, whether at defensive end or linebacker. Then they'll get back into their comfort zone and start preparing for the draft, where it's reasonable to think they'll use at least one of their 12 picks on a center while also continuing to pursue pass-rushers.
Minnesota Vikings

Key additions:
Cornerback Zack Bowman, tight end
John Carlson
, running back Jerome Felton and offensive lineman
Geoff Schwartz
.
Key losses:
Nose tackle
Remi Ayodele
(release), guards
Anthony Herrera
(release) and
Steve Hutchinson
(release), tight end Jim Kleinsasser (retire), running back Jerome Felton.
Methodical methodology:
The Vikings made one big-money signing, bringing in Carlson as a new weapon for quarterback
Christian Ponder
, and otherwise have spent their offseason getting younger and signing complementary players. General manager Rick Spielman wants to end a cycle of seeking blue-chip players via free agency and instead count on the drafts for his difference-makers.
What's next:
One way or the other, the Vikings need to find a deep threat for Ponder. The draft would seem the most likely place for that will happen. They are also midway through a rebuild of the secondary that could use at least one more cornerback and perhaps two safeties.
March, 28, 2012
3/28/12
7:00
AM ET
We're Black and Blue All Over
PALM BEACH, Fla. -- We've arrived at the final day of the 2012 NFL owners meetings, one that might be the busiest from an NFC North perspective.
There is a 7:15 a.m. ET breakfast with NFC coaches, and I'll do my best to circulate among Lovie Smith, Jim Schwartz, Mike McCarthy and Leslie Frazier without spilling orange juice all over myself. I'll then endeavor to give you a blog post from each interview session, while saving some of the information for later posts, and by midday we should get word on any rule changes approved by NFL owners before the meeting has adjourned. An early-evening flight back to blog headquarters is also on the docket.
I know we've been a little light on Chicago Bears coverage here, but they've been quiet from a news perspective and sometimes life isn't fair. Hang in there.
Continuing around the NFC North:
March, 27, 2012
3/27/12
12:00
PM ET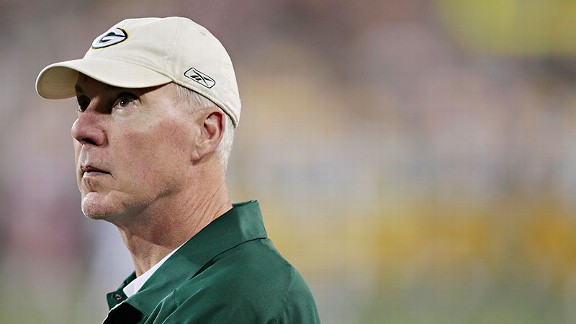 AP Photo/Mike RoemerPackers GM Ted Thompson appears to be relying more on the free-agent market this offseason.
PALM BEACH, Fla. -- In recent years, I would arrive at the NFL owners meetings in late March to annual questions on the
Green Bay Packers
' apparent abdication of the free-agent market.
What are the Packers up to?
That's what officials from other teams wanted to know. My answer was always the same: This isn't Packers season. That starts at the end of April.
This year? Not so much. Last week, center
Jeff Saturday
became the first unrestricted free agent to sign with the Packers in three years. The team also hosted defensive lineman
Anthony Hargrove
on a visit, and reports suggest defensive end
Dave Tollefson
and offensive tackle
Demetrius Bell
could also visit in the next week or so.
Already, it's the most active stretch of free agency for general manager Ted Thompson since 2006, when he signed defensive lineman
Ryan Pickett
and cornerback
Charles Woodson
. Indeed, as of Tuesday, Pickett, Woodson and Saturday remain the only players on the Packers' roster
to have been acquired as unrestricted free agents
.
What has gotten into Thompson? Did the Packers' early exit from the 2011 playoffs spur a change of philosophy? Did somebody sprinkle the Lambeau Field coffee with extra caffeine?
Not if you ask Thompson, as a few of us did this week here at the NFL owners meetings. Thompson smiled and said: "I know you guys don't believe me. But we're always active in free agency."
Right. And I hit the treadmill every day.
Thompson added: "There have been years, a couple years in a row when we haven't actually signed anybody. It doesn't mean that we weren't active, pursuing leads, trying to understand the market, doing all of that. … Sometimes the market runs away from you, and you keep your hands in your pocket."
[+] Enlarge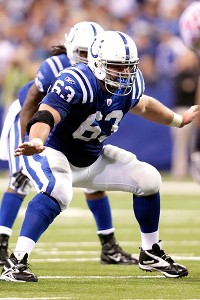 AP Photo/AJ Mast, FileCenter Jeff Saturday agreed to a two-year contract with Green Bay.
In all seriousness, it's not as if the Packers have stayed pat as a rule over the years. In 2009, for example, they expressed interest in defensive lineman
Chris Canty
but wouldn't make him an offer before he visited Green Bay, as he demanded.
Still, it's hard to look at what's happened so far in 2012 and write it off as random. Given his druthers, I think we know that Thompson would prefer to remain in the background in March. So I see at least a couple of issues at play here.
First, and most important, the Packers have encountered what I could call "Ted Thompson's Imperfect Storm." The Packers have specific needs at important positions where depth is thin, and the draft provides an untenable risk. That was certainly the case at center, a position that might rank second to quarterback in order of importance in the Packers' offense and had no obvious heir on the roster.
Thompson acknowledged that teams have found immediate starters at center in the draft, but that player almost certainly couldn't shoulder the play-calling responsibilities of a Packers center even if he was physically ready to compete with NFL-caliber defensive linemen.
In his typical understated way, Thompson said: "I think it's an important position. The whole makeup on our offense. We asked [former center
Scott Wells
] to do a lot. We'll ask Jeff to do a lot. … I do think in free agency you're able to target more specific things as opposed to the draft, when we try to take the best player."
The same could be said of the Packers' clear focus on pass-rushers. The Packers have a clear need for a right end and an outside linebacker to play opposite
Clay Matthews
. But in the current pass-happy era of the NFL, you'd better believe that the other 31 teams are deeply in need of pass-rushers as well. Now more than ever, the Packers would be foolish to close the door on every possible avenue for upgrades.
Second, I wonder whether the Packers weren't at least cautioned by their experience with former defensive end
Cullen Jenkins
last year. Their anticipated succession plan, 2010 second-round draft pick
Mike Neal
, suffered a training camp knee injury and made little impact. It's difficult to project injuries, even for a player like Neal, who has endured more than his share. But the Packers' diminished pass rush made a huge impact on their defensive struggles, thus highlighting the risk in counting on unestablished players at key positions.
Every team would love to follow the Packers' style from recent years, relying almost entirely on drafted players to win the Super Bowl. But you wonder whether they were the exception to the rule. Even the best teams need help from the outside at least occasionally, and credit Thompson for acting on that -- even if he did it with his nose pinched and his eyes closed tightly.
Yes, Thompson admitted that he wasn't at Lambeau Field when Saturday arrived last week for his recruiting visit. He was at Iowa's pro day instead. He called Saturday to make sure there would be no hard feelings about his absence and said it was more critical for coach Mike McCarthy to handle the visit. To quote one of my favorite movies:
Small moves, Ellie. Small moves
.
March, 24, 2012
3/24/12
3:02
PM ET
Defensive lineman
Anthony Hargrove
's visit this week to the
Green Bay Packers
, as first reported by
Jason La Canfora of NFL.com
, tells us the team is serious about using free agency to improve a vexing hole in its defense.
The Packers' conservative approach to the open market in recent years has been well-documented, and historically they don't bring in players for visits if they don't have significant interest. Hargrove is the second veteran free agent to visit Lambeau Field this month. The first, center
Jeff Saturday
, signed a two-year contract worth $7.75 million, according to ESPN's Adam Schefter.
Hargrove, 28, is an aggressive pass-rusher who also plays the run well. He projects as an end in the Packers' 3-4 scheme and can also play tackle when they use their nickel. He's listed at 272 pounds but played close to 300 pounds as recently as the 2010 season, when he was with the
New Orleans Saints
.
For a player who has never signed with an NFC North team, we've crossed paths often with Hargrove here on the blog.
We spent some time with him prior to Super Bowl XILV
, allowing him to tell his story of addiction and recovery in his own words.
In 2010
, Hargrove visited the
Detroit Lions
and earlier this month,
he released an extensive statement
denying that he received a bounty for an illegal hit in the Saints' victory over the
Minnesota Vikings
in the 2009 NFC Championship Game.
According to the
Green Bay Press-Gazette
, the Packers have also been in contact with two other pass-rushers who might project as outside linebackers:
Manny Lawson
and
Dave Tollefson
. But to my knowledge, neither player has visited Lambeau Field. I don't know if that means Hargrove is necessarily the Packers' top priority among pass-rushers, but their recent history makes every visit noteworthy. Stay tuned.