November, 7, 2013
11/07/13
12:00
PM ET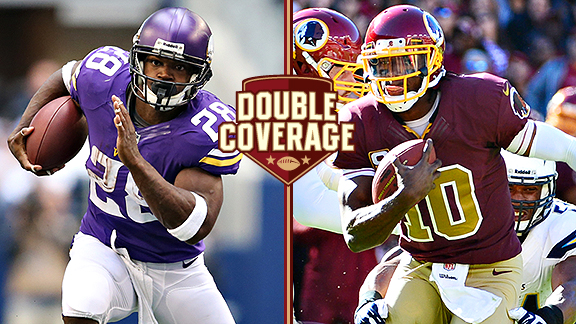 USA TODAY SportsThe running of Adrian Peterson, left, and Robert Griffin III could decide Thursday's game.
The last time the
Minnesota Vikings
and
Washington Redskins
met, it was an electrifying affair between two soon-to-be playoff teams on a picturesque autumn day in Maryland, with
Robert Griffin III
halting the Vikings' comeback attempt on a back-breaking, jaw-dropping 76-yard touchdown run that gave the Redskins a 38-26 win last October.
The circumstances couldn't be more different for Thursday's matchup in the dingy Metrodome. The Vikings are 1-7, with their quarterback situation in chaos and their defense coming off its third last-minute collapse of the season. The Redskins, meanwhile, are in the process of recovering their identity, with Griffin still on the mend from a torn ACL and regaining his comfort with the team's read-option scheme. Washington's defense has been one of only three in the league worse than Minnesota's, undoing some of the work of an offense than can still score at will.
To get you ready for the first game of Week 10, ESPN.com Vikings reporter Ben Goessling and Redskins reporter John Keim got together to discuss the matchup and what's next for two teams in the middle of tumultuous seasons:
Ben Goessling:
John, when we saw these two teams face off last October, the Vikings had no answer for Griffin, and if the Redskins' offense is at full speed on Thursday night, I'm not sure things will work out much better for Minnesota this time. Missed tackles have been one of their biggest problems this season, particularly with their back seven, and they know all too well how dangerous RG III can be when he gets into the open field.
It seems like the Redskins' offense is getting back to what it was before Griffin got hurt. Does he look comfortable running the read-option again, or is it still a work in progress?
John Keim:
Griffin started to look more comfortable running it a couple games ago. He's still not as explosive as he was, but he's also still faster than most quarterbacks. It's more his willingness to keep the ball and be a threat, something he wasn't in the first part of the season. They need him to be a threat running the ball because of how much it opens up the offense; they are just not capable of sitting back and hurting teams throwing the ball without some form of deception. That's because of where Griffin is as a passer. Teams definitely have defended the option a little differently this season, whether more disciplined against it or in terms of focus. The emphasis for almost every team has been on stopping
Alfred Morris
, mainly because teams didn't fear Griffin going wide or they thought he wouldn't run. The read-option success also is determined by the style of the defense; Denver, for example, made it tough to run. The work-in-progress part, too, comes in the passing game. The Redskins loved throwing over the middle after a zone-read fake, but teams started taking that away. So they had to go to more out-breaking routes, which take longer to develop. Also, Griffin is more accurate between the hashes.
I know players have questioned the Vikings' defensive play calls. And I know the offense hasn't helped them. But what are the other reasons this defense has struggled?
Goessling:
In some ways, the Vikings probably shouldn't have been as decent on defense as they were last season. They were only 14th in the league and 30th against the pass, but they survived because their front four got enough pressure on the quarterback to mask growing pains in the secondary. And they had cornerback
Antoine Winfield
playing some of his best football at age 35, while helping their young defensive backs get into position. This season, they haven't gotten to the quarterback consistently -- though they did it until defensive coordinator Alan Williams called off the dogs in the final minutes of the Dallas game -- and they've been burned by teams that can throw screen passes and get rid of the ball quickly. The Vikings' linebackers and defensive backs have missed quite a few tackles. Not having Winfield has hurt them there. So has not having safety
Harrison Smith
, who's out with turf toe. But it's been surprising to see linebacker
Chad Greenway
come up empty as much as he has. He might be covering for other linebackers, and he might have lost a step at age 30, but he's been targeted regularly in pass coverage and has done better work as a blitzer than he has in open-field situations.
Speaking of pass defense, what do you make of the Redskins'? They've been shredded in four games, and in the other four, they've allowed less than 220 yards. Is that because of the quarterbacks they've faced, or are they just that inconsistent?
Keim:
Both. They have faced five of the top seven rated passers and six of the top 11. The result is a pass defense that, if the quarterback has time, will get picked apart. They've done well for stretches -- holding Denver to 14 points through three quarters, for example.
Tony Romo
did not have a good game against them. They're not getting good pressure consistently, but part of the problem is the quarterbacks they've faced excel at reading a defense and unloading the ball quickly. Their safety play has been erratic to say the least. Cornerback
DeAngelo Hall
has been terrific in the past four or five games. Rookie corner
David Amerson
will make plays, but also gives them up; he's very aggressive and will get beat on double moves. He can be set up. The linebackers are inconsistent in coverage. So they have issues, but a lot does stem from the quarterbacks and passing attacks they've faced.
That might not be a problem this week, though.
Christian Ponder
was a first-round pick in 2011. Why does he still struggle so much?
Goessling:
It's been the same set of issues with Ponder for most of his three seasons with the Vikings, which is probably the most frustrating thing about him. We hear plenty about how smart Ponder is, how good he is at digesting a game plan and diagnosing a defense, but when he gets on the field, it's like he's unable to translate that into action. He seems like he thinks too much and doesn't trust himself to throw into tight windows, so he either holds the ball too long or takes off if his first read is covered. He's got good feet, and can extend drives when he runs, but he hasn't learned how to move in the pocket or how to extend plays instead of giving up on his receivers. Nobody expected him to turn into
Aaron Rodgers
or
Tom Brady
, but there are plenty of situations where Ponder could be more effective if he just played with a little more gumption.
The Redskins have been blown out every time they've been on the road this season. What has been their biggest problem away from Dan Snyder's quaint little stadium in Maryland, and do you expect those problems to carry over into Thursday's game?
Keim:
That's a good question. They've played well for stretches on the road. At Dallas, their kick and punt coverage failed them. They hit a point where it looked like they had taken over the game, only to lose all the momentum and then fall by 15 points. At Denver they were up 21-7 in the third and playing outstanding, only to fall apart in the fourth quarter and lose by 24. They were never in the game at Green Bay. Ever. Part of it, perhaps, stems from not having the same level of confidence as last season. So when something goes wrong it snowballs a lot faster. It also reflects the inconsistencies of each unit. There is always a breakdown on offense, defense or special teams that leads to momentum-changing plays. Against Denver, the defense was great for three quarters but the offense responded with weak drives and then turnovers. Against Dallas it was a punt return for a score and then a 90-yard kickoff return. They get punched in the mouth and don't respond, something they fought back against a year ago.
Why do you think the Vikings have gone from a playoff team in 2012 to a one-win team in 2013?
Goessling:
It would be convenient to put it all on the Vikings' three-man weave at the quarterback position, but the issues go much deeper than that. The team gambled on a young secondary developing, and it hasn't worked. The offensive line hasn't been anywhere near as good as it was last season, and -- it's hard to believe we've gone this long without mentioning it -- they couldn't count on
Adrian Peterson
to run for 2,097 yards again. He's fourth in the league with 711, but he hasn't been able to take over games like he did last season. With Peterson having merely a good season by his standards, the Vikings don't have much margin for error. That's why they're 1-7, and that's why I think we're both in agreement they'll be 1-8 after Thursday night.
.
September, 13, 2013
9/13/13
12:00
PM ET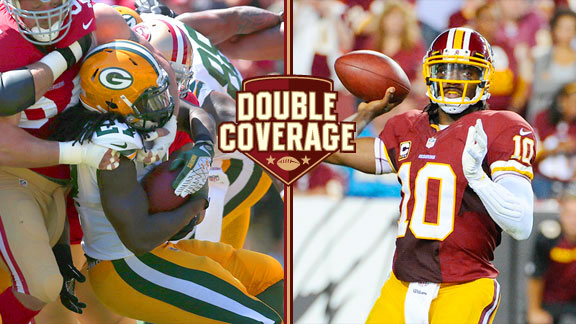 AP Photo, Getty ImagesEddie Lacy, left, and Robert Griffin III are among the keys to Sunday's Packers-Redskins matchup.
The
Green Bay Packers
and
Washington Redskins
, NFC division winners last season and playoff hopefuls this season, both lost in Week 1.
That means, barring a tie, when they meet Sunday at Lambeau Field, one of these teams will be in an 0-2 hole to start this season.
"It's not about, does it make or break your season," Redskins quarterback
Robert Griffin III
said this week.
ESPN Packers reporter Rob Demovsky and ESPN Redskins reporter John Keim break down the key elements to this matchup.
Demovsky:
John, let's get right to perhaps the most closely watched knee rehabilitation in recent NFL history. You've watched Griffin's every move in his comeback from the knee injury. You have chronicled practically every step he has made since, and by now, you've dissected the film of Monday night's loss to the
Philadelphia Eagles
. What limitations, if any, did he play with?
Keim:
Griffin did not look the same and showed the effects of not playing in a game in the preseason -- and of recovering from major knee surgery in January. Was his knee 100 percent? Everyone says it is, including the doctors. But his game was not 100 percent, as should be expected. Jon Gruden pointed it out a few times on Monday night, showing how Griffin wasn't always transferring his weight onto his front leg when he threw. In some cases, the line was getting shoved back and provided him no chance to step into a throw. But it was evident early, even when he had that room. It seemed like his reactions in the pocket, especially early, were not where he would want them to be. He also made the worst passing decision of his career, throwing an interception into triple coverage to a receiver who never even appeared open. He finished strong, though most of the passes he completed during this stretch were short throws. Still, he showed a better rhythm. It's going to take him a few games.
The Packers just played a mobile quarterback; how did they take away
Colin Kaepernick
's legs -- and how did it leave them vulnerable to the pass?
Demovsky:
The Packers did a good job limiting Kaepernick's running opportunities by playing a lot of zone coverage. That kept the defenders' eyes on the quarterback, and they rarely had their backs turned to him. However, that meant they couldn't play as much press coverage as they normally would, and the result was that they gave up massive amounts of yardage to receiver
Anquan Boldin
, who caught 13 passes for 208 yards, and allowed Kaepernick to throw for 412 yards. Now, it should be noted that the Packers were missing two key players in the secondary, safety
Morgan Burnett
and cornerback
Casey Hayward
, who both missed the game because of hamstring injuries.
How much, if anything, do you think Redskins can learn from watching the way Kaepernick and the 49ers attacked the Packers?
Keim:
I'm sure there is a lot to learn, but I wouldn't be surprised if they anticipate different looks in the secondary because of who might be back for Green Bay and because Griffin needs to prove himself as a dynamic threat again. Until he does, I wouldn't be surprised to see teams play him more aggressively, or at least without as much fear. I'm not sure how long that will last; until he makes them pay, I suppose. But I also think what Washington needs to do more than learning from Green Bay's game is learn from its own. The Redskins killed themselves with penalties and poor decision-making. That meant their bread-and-butter run game could never get going, and their offense sputtered until it was 33-7.
Are Burnett and Hayward expected to play Sunday? If so, how big a difference will that make for the Packers?
Demovsky:
Hayward won't play. He already has been ruled out and is likely to miss at least another game or two. This is the second time he pulled the same hamstring. The first time, he missed a month. He reinjured it Aug. 23, and if it's as severe, he could be out for a while. Last season, his six interceptions were huge for the defense. Burnett's injury didn't seem as bad, and it was somewhat surprising that he missed the 49ers' game. The Packers hope he can play, because their safety play with
M.D. Jennings
and
Jerron McMillian
was subpar at San Francisco.
Speaking of the secondary, the Redskins were 30th in the NFL last season in passing yards allowed. Are there any signs that will improve this season? I would think
Aaron Rodgers
would be licking his chops to play against this defense.
Keim:
It's debatable how much they've improved. Long term? I think they'll be helped because two rookies -- starting free safety
Bacarri Rambo
and cornerback
David Amerson
-- are playing key roles. Rambo's big issue is tackling, mostly in the open field. His coverage has mostly been fine, but I don't think he's been challenged in a way that Rodgers could on Sunday. I like Amerson's future, if he remains disciplined with his technique. He's a better tackler than anticipated. But Washington has issues at strong safety because of
Brandon Meriweather
's constant injury issues (missed Monday with a groin injury). The Redskins used a cornerback who had never played safety before in his place (
E.J. Biggers
), and he struggled. Their corners,
DeAngelo Hall
and
Josh Wilson
, do some good things but are not top-line starters. What this group needs more than anything is a better pass rush.
Speaking of the rush, how is the Green Bay offensive line holding up without
Bryan Bulaga
, and where is it susceptible?
Demovsky:
Perhaps surprisingly, Green Bay's young tackles, rookie
David Bakhtiari
on the left side and second-year man
Don Barclay
on the right, held up well against the 49ers.
Aldon Smith
beat Bakhtiari a couple of times for sacks, but Smith does that to a lot of tackles. It's why he had 19.5 sacks last season. But other than those two plays, Bakhtiari's first start went fine. Barclay is much improved over last season, when he filled in for Bulaga the final six games. As a unit, the run blocking needs to get much better.
Eddie Lacy
didn't have much running room, and when he did, there were penalties -- three of them on left guard
Josh Sitton
, who is normally pretty clean -- that wiped away the Packers' longest rushes of the game.
Looking at the big picture, one of these teams is going to be 0-2 after this game (barring a tie). If that's the Redskins, how devastating would that be for them? I know they finished strong last season, but I'm sure they don't want to put themselves in a hole again.
Keim:
It's a hole they could dig out of with games against the
Detroit Lions
at home and on the road against the
Oakland Raiders
in the following two weeks before their bye. But I don't think any team wants to start off 0-2, especially one that has designs on accomplishing grand things in the postseason, which, if healthy, the Redskins should have. I also think it would depend on how they look against Green Bay. If they play well and lose a close game, it still suggests they're on a certain path (no moral victories, but more about being headed in the right direction). If it's an ugly game like it was for nearly three quarters Monday? Then it suggests other issues. That would be difficult for them to swallow. But the one thing I've seen with this group, last season and in the previous few, is that they are resilient. Their mindset is a good one for a 16-game season.
I would think if there's any formula for stopping the Green Bay offense, everyone would use it. But is there a theme to when teams are able to slow this attack?
Demovsky:
For about the past year and a half, teams have played the Packers predominantly one way -- keep both safeties back and dare them to run the ball. That's why they drafted Lacy in the second round. The hope is that teams will start respecting the Packers' running game and bring a safety in the box to stop it. That would give Rodgers more open space to throw in the secondary. Lacy did not get off to a strong start against the 49ers, but he did have one impressive series late in the game in which he gained 26 yards on five carries. Problem was, he couldn't get much else done the rest of the game.
March, 29, 2013
3/29/13
8:40
AM ET
By
ESPN.com staff
| ESPN.com
Chicago Bears
Running back
Armando Allen signed his exclusive-rights tender
, keeping the two-year veteran from becoming a free agent.
GM Phil Emery needs to set aside the "best player available" approach in the first round of next month's draft and
strengthen the Bears' offensive line
, argues Dan McNeil of the Chicago Tribune.
The Tribune's Brad Biggs has
the contract details
for recent free-agent signees James Anderson, Kelvin Hayden and Jonathan Scott.
Detroit Lions
Kicker Jason Hanson wants to return to the Lions for a 22nd NFL season,
the Free Press reports
, though the team has given him a "minimum-salary offer" and plans to host free agent David Akers next week.
NC State cornerback David Amerson and Central Michigan left tackle Eric Fisher
visited the team facility
as the Lions continued to mull what they might do with the No. 5 overall pick.
Green Bay Packers
Expect big new deals for quarterback Aaron Rodgers and linebacker Clay Matthews to get done in the not-too-distant future, Tom Silverstein writes in the Milwaukee Journal Sentinel,
now that the Packers have taken care of other business
.
Pete Dougherty of the Green Bay Press-Gazette takes
a look at Purdue's Kawann Short
, a defensive lineman the team could consider with its first-round pick.
Coach Mike McCarthy has
set his offseason schedule
, and Packers will hold their mandatory, full-squad minicamp in the midst of their organized team activities for the first time, writes ESPNMilwaukee.com's Jason Wilde.
Minnesota Vikings
The team's official web site takes a look at whether the Vikings
might look at Brian Urlacher or Manti Te'o
for the middle-linebacker spot.
The Vikings' stadium deal was "fool's gold"
and legislators should scrap it and start over, argues The Pioneer Press' Ruben Rosario. "This already was corporate welfare at its worst. Then news broke this month that confirms that Minneapolis and state taxpayers will be getting hosed for more than the $498 million in public contributions to the estimated $975 million stadium project," Rosario writes.