NFC North:

David Bahktiari
January, 2, 2014
Jan 2
7:00
PM ET
GREEN BAY, Wis. -- On one side of the
Green Bay Packers
' locker room, cornerback
Tramon Williams
pulled a stocking cap over his head and slipped into a pair of warm boots.
At another section of lockers, rookie left tackle
David Bakhtiari
wore nothing heavier than a sweatshirt -- unzipped.
Take a guess at where each player falls on the sleeves versus no sleeves debate in cold-weather football.
[+] Enlarge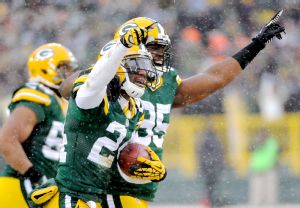 Benny Sieu/USA TODAY SportsWhen the weather turns frigid, some Packers like Jarrett Bush, 24, opt for sleeves, while some like Datone Jones, 95, go without.
Although the forecast keeps getting worse for Sunday's NFC wild-card playoff game against the
San Francisco 49ers
at Lambeau Field, players on the no-sleeve side of the argument do not appear to be budging, despite the
latest from The Weather Channel
that indicates the high temperature won't get above zero, and the low could be close to 20-below.
"I'll never wear sleeves," said Bakhtiari, a northern California native.
Why not?
"It's kind of like the norm. That's the best way to describe it."
However, Bakhtiari did say that there have been a couple of times this season when he and fellow offensive lineman
Josh Sitton
pondered it. But they kept coming back to the same point.
"You don't wear sleeves," Bakhtiari said.
Williams, on the other hand (or arm), has been wearing sleeves all season. If the offensive linemen want to look tough, that's fine with him, but he wants no part of that.
"Whatever makes them play the best, they need to go with or without," he said.
Maybe players get wise with age, because veteran defensive tackle
Ryan Pickett
, 34, used to be a no-sleeve guy. That was until the 2007 NFC championship game against the
New York Giants
, when it was minus-1 at kickoff.
"Definitely sleeves; I'm wearing sleeves, man," Pickett said. "I tried the no-sleeves thing [against the Giants], and it took me three days to thaw out. I'm wearing sleeves."
Packers running backs coach Alex Van Pelt, a former quarterback with the
Buffalo Bills
from 1995-2003, had a message for young players on the team.
"Don't try to be a hero," Van Pelt said. "If you need to wear sleeves, wear sleeves. Nobody's going to call you soft."
Unless you're an offensive linemen, apparently, because those guys refuse to cover up.
"For me, I put my helmet on, go to work," said Packers offensive line coach James Campen, who played center in Green Bay from 1989-93. "Weather was irrelevant to me. It didn't bother me."
Packers coach Mike McCarthy took practice outside for about an hour on Thursday, when the temperature in Green Bay was in the single digits. He put the players through ball-handling drills in order to get used to how the football will feel in the cold.
Both the practice field and Lambeau Field have an elaborate underground heating system to keep the playing surface from becoming an ice rink, There's no snow in the forecast, either, so footing should not be an issue, and winds aren't expected to be overly strong.
The usual array of gloves, insulated pockets, hand warmers and sideline heaters will be available to the players on Sunday. But that stuff can help only so much in sub-zero conditions.
Even with his sleeves and other assorted accessories, Williams remembers the shock of the cold in the NFC championship game against the Giants.
"The first drive, I froze to death," he said. "I ain't going to lie to you. I froze to death. But once I got thawed out ... got in front of the heaters and things like that when I came back on the sideline, I was good for the rest of the game."
September, 23, 2013
9/23/13
7:10
PM ET
GREEN BAY, Wis. -- It's hard to find fault with most things that
Green Bay Packers
quarterback
Aaron Rodgers
does.
But be honest, who among us was convinced that he would lead the Packers on a game-winning drive when the Packers got the ball back with 3 minutes and 47 seconds left in Sunday's 34-30 loss to the
Cincinnati Bengals
?
Surely not Scott Kacsmar of Football Outsiders, who broke down Rodgers' fourth-quarter comeback opportunities and game-winning drive situations in
an Insider piece for ESPN.com

.
In the piece, Kacsmar's research indicated the Packers dropped to 5-24 in games when Rodgers had the ball in the fourth quarter and trailed by eight points or less. Among active NFL starters, only Carolina's
Cam Newton
(2-16) has a worse record in such situations. The research also showed that Rodgers has a 9-26 record in games where it was tied in the fourth quarter or overtime.
It's worth noting that seven times in those 26 losses, Rodgers had led a fourth-quarter scoring drive that put the Packers ahead only to see the lead slip away, according to Kascmar's research. In Week 1 at San Francisco, Rodgers put the Packers ahead 28-24 on an eight-play, 76-yard touchdown drive with 8:26 remaining only to see the 49ers score the last 10 points.
Rodgers is 49-5 in games where the Packers don't have to score the winning points in the fourth quarter or overtime, Kascmar discovered.
The Packers did not score in the fourth quarter of Sunday's loss to the Bengals, and Rodgers turned it over on downs with 1:21 left in the game after rookie left tackle
David Bakhtiari
's missed cut block allowed defensive end
Michael Johnson
to bat down Rodgers' fourth-and-5 pass attempt from the Bengals' 20-yard line.
In games Rodgers has started since he took over in 2008, the Packers are 5-17 in games decided by four points or less. For an MVP-quarterback like Rodgers, it's a surprising and perhaps even confusing statistic.
If the blame is largely to be placed on Rodgers -- something that is certainly disputable -- then perhaps the only way to explain it is that his aversion to turnovers could make him too conservative at times when he needs to take chances late in games.
The Packers say they have studied what has happened to them in close games -- not necessarily just from the quarterback's perspective.
"Trust me, we have a director of research and development in Mike Eayrs that I'd put up against anybody," Packers coach Mike McCarthy said Monday. "We feel like we're in tune with what we need to work on and the things we need to get better at. You can throw a bunch of numbers into a can and sort them different ways and come up with strengths and weaknesses, and you can believe what you want to believe. I think you really have to stay in tune with individuals, especially in a team sport where you have 11 people on the field at once. We're definitely aware of that."