October, 23, 2014
Oct 23
3:45
PM ET
EDEN PRAIRIE, Minn. -- In the recent annals of performances by rookie quarterbacks, the number of times
Teddy Bridgewater
's been taken to the ground has been startling.
The
Minnesota Vikings
rookie quarterback has been sacked 15 times in just four games, or on 11 percent of his dropbacks.
In other words, according to ESPN Stats and Information, Bridgewater is on pace to be the most frequently-sacked rookie quarterback in the league since the
Dallas Cowboys
' Chad Hutchinson in 2002. He's been pressured on 27.9 percent of his dropbacks, and he's thrown just one touchdown pass against five interceptions so far.
Bridgewater
I've heard some talk recently about the idea that the Vikings could be "ruining" Bridgewater by exposing him to so much pressure -- and running the risk of either getting him injured or making him skittish -- as a rookie. The name David Carr usually comes up in these conversations as a cautionary tale, after the former first overall pick was subjected to 76 sacks in the
Houston Texans
' inaugural season, and then another 173 in the following four seasons, before the Texans let him go.
It's true that the list of the most-sacked rookie quarterbacks in history (usually passers playing for bad teams behind leaky offensive lines) includes a number of busts: Carr tops the list at 76, followed by Tim Couch at 56, Jake Plummer at 52, Dieter Brock at 51, Tony Banks at 48 and Rick Mirer at 47. But then we come to names like Warren Moon and Jim Kelly (albeit after time in the CFL and USFL, respectively), and
Andrew Luck
, who was taken down 41 times as a rookie and pressured on 28.8 percent of his dropbacks while playing for a team that threw the ball 627 times. Phil Simms took 39 sacks as a rookie.
Russell Wilson
was sacked 33 times,
Joe Flacco
32 and
Ben Roethlisberger
30.
It'd be one thing to worry if Bridgewater was showing signs of letting the rush affect him, either by taking off early or hurrying throws to avoid sacks. We've seen him rush throws on a couple occasions, but not to the point where I'd attribute it to something more deep-seeded than a rookie still figuring out his timing in the NFL. He rebounded from two interceptions on Sunday, making some of his best throws when he stood in the pocket and fired decisively to a receiver, and offensive coordinator Norv Turner sounded pleased on Thursday with how composed Bridgewater has remained in the face of all the pressure.
"He's got good sense in the pocket. He's getting better at getting the ball out," Turner said. "He threw the ball away a couple times Sunday when there was nowhere to throw it, where against Detroit [on] those plays he took sacks. We're working on getting him a lot quicker, we're working on design to help get the ball out quick, we're working on protection so we don't have to have the conversation about how he handles it."
If the Vikings keep giving up pressure to the point where Bridgewater's sack totals are pushing into the 50s, then we might have something to worry about long-term. But right now, the issue seems to be affecting the Vikings' ability to win in the present more than it's stunting Bridgewater's growth. The amount of pressure the Vikings have allowed is alarming, especially from an offensive line that was supposed to be one of the team's strengths. But the Vikings were drawn to Bridgewater in part because of how masterfully he handled pressure in college, and any sense of a maladjustment because of what he's faced as a rookie probably is premature.
February, 2, 2012
2/02/12
8:30
AM ET
We're Black and Blue All Over:
Tom Silverstein of the Milwaukee Journal Sentinel
provides the hard numbers that will make it so difficult for the Green Bay Packers to use their franchise tag on quarterback Matt Flynn, with the purposes of trading him, rather than simply allowing him to leave via free agency.

The basics: The Packers have about $113.3 million already allocated for a 2012 cap expected to remain around $120 million. That means they have around $7 million in wiggle room. But using their tag on Flynn would require a $14 million commitment, requiring them to clear at least another $7 million -- and that's if they don't do any other contracts all offseason.
Tight end Jermichael Finley and center Scott Wells, among others, are pending free agents. The Packers probably want to keep both, but it would be tough to squeeze in the 2012 cap numbers of their presumptive new contracts while also leaving Flynn's $14 million on the books even in a temporary situation. A more likely scenario would be to let Flynn depart and use the remaining space on a deal for Wells, and perhaps a much-cheaper franchise tag on Finley.
Teams can do any single move they want in the cap era if they're willing to sacrifice in other areas. In this case, would it be worth it to get an extra draft pick or two for Flynn if it means losing Finley and/or Wells in the process? I'm guessing no.
Continuing around the NFC North:
October, 11, 2011
10/11/11
1:00
PM ET
»
NFC Stock Watch
:
East
|
West
|
North
|
South
»
AFC
:
East
|
West
|
North
|
South
FALLING
1. Help for Jay Cutler, Chicago Bears quarterback:
At some point, you wonder if Cutler is on the road to being the next
David Carr
, a player so battered by opposing pass rushes -- mentally and physically -- that his game is forever altered. Cutler hung in as best he could Monday night against the
Detroit Lions
, but you wonder if he fully trusts the players around him.
Michael C. Wright of ESPNChicago.com
reported that Cutler has concerns about his offensive line and receivers. We'll touch on this more in the Bears' Free Head Exam later Tuesday, but after watching Monday night's game, I wouldn't blame Cutler if he has some concerns.
2. Mistakes by Aaron Rodgers, Green Bay Packers quarterback:
Rodgers is completing an NFL-high 71.7 percent of his passes. And most notably, he is pushing the ball downfield, as evidenced by his average of 9.6 yards per attempt, tied for highest in the NFL. You don't need me to tell you that Rodgers is playing at a high level, but it's quite amazing to think no one is playing more aggressively with fewer mistakes.
3. Concentration in Chicago:
There is no other way to attribute a stunning nine false starts for a veteran team in one game, but that's what the Bears did Monday night. Left tackle
J'Marcus Webb
had three of them, but the Bears can't possibly hold him accountable in a meaningful way because their personnel is so thin right now. Who could they replace Webb with, if even to send a message?
Frank Omiyale
has been benched in consecutive games for poor play at right tackle. Rookie
Gabe Carimi
is recovering from a knee injury. The Bears and offensive line coach Mike Tice are once again left to make chicken salad from the leftovers. Or something like that.
RISING
1. Jahvid Best, Detroit Lions running back:
Remember when Lions coach Jim Schwartz said he fantasized over Best's potential when he was drafted in 2010? This was the kind of fantasy Schwartz was imagining: A scatback rolling up 172 all-purpose yards on 16 offensive touches in a key divisional game. Best had exceeded 70 rushing yards only once in his NFL career before Monday night. But his breakout total of 163 yards against the Bears will add a layer to the game planning of opposing defensive coordinators for weeks to come.
[+] Enlarge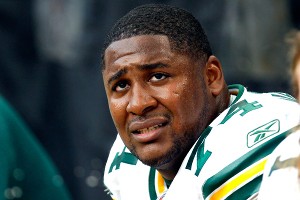 AP Photo/Charles Rex ArbogastMarshall Newhouse was called on Sunday night when Chad Clifton was lost to injury.
2. Marshall Newhouse, Packers offensive lineman:
A few weeks ago, no one knew for sure if Newhouse could play at all on the NFL level. Sunday night in Atlanta, Newhouse handled the exceedingly difficult job of flipping from right to left tackle in the middle of a game after
Chad Clifton
's hamstring injury. The Packers have drafted college left tackles in the first round of each of their past two drafts (
Bryan Bulaga
and
Derek Sherrod
), so it will be wild if Newhouse ends up taking Clifton's place for a substantial part of the 2011 season.
3. Passions in Minnesota:
The Ramsey County Charter Commission could decide as early as Tuesday whether to place a stadium financing referendum on the November 2012 ballot. The county is being asked to contribute $350 million in new taxes to the
Minnesota Vikings
' stadium project, and some opponents are calling for the issue to be opened to the voting public. The referendum would likely scuttle the project altogether if you assume voters won't choose to raise their own taxes. In the end, a legal battle likely would be initiated to determine whether the charter commission has the final authority on this matter or if the state legislature can reverse the decision. In the meantime, the clock will tick toward the February 2012 expiration of the Vikings' lease at the Metrodome.
November, 9, 2009
11/09/09
2:06
PM ET
Posted by ESPN.com's Kevin Seifert
After Green Bay's 38-28 loss at Tampa Bay, here are
three (mostly) indisputable facts I feel relatively sure about:

Disappointing seasons naturally lead to questions about the current leadership structure, so I'm sure a Packers fan or two might be wondering about the future of general manager Ted Thompson and coach Mike McCarthy. It is, of course, way too early to make any predictions. At 4-4, the Packers could still go either way with their season. Ultimately, however, I'll hold tight with what we discussed in March. McCarthy certainly has responsibility for how the team plays on a weekly basis, but I think it's fair to hold Thompson accountable for the fate of this season. As we discussed, Thompson stood pat from a personnel perspective after a 6-10 season. Free agency isn't a cure-all, but to intentionally dismiss any avenue for improving after a losing season is a risky path for any NFL team-builder.
The Packers are headed for another offensive line shakeup after new right tackle Mark Tauscher sprained his knee Sunday. Tauscher has only a "slight" chance of playing this week, coach Mike McCarthy said Monday. His likely replacement isn't clear -- Allen Barbre? T.J. Lang? -- but it's now time to start wondering if the Packers will ever get their pass protection issues solved. They have given up 37 sacks through eight games, putting them on pace for 74 over the course of the season. In case you're wondering, the NFL record for most sacks absorbed by a quarterback in a 16-game season is 76, by Houston's David Carr in 2002.
McCarthy said Monday that he believes new special teams coordinator Shawn Slocum has done a "good job" in his first season. But considering the rampant breakdowns over the past two weeks, it's only natural for Slocum to face some scrutiny. In the NFL, you rarely see an interior lineman go unblocked in punt protection, but that's exactly what happened Sunday to the Bucs' Geno Hayes. McCarthy said the play resulted from a "mental error" and media reports suggested that upback John Kuhn missed his assignment. The only reason the Packers' special teams haven't received more scrutiny is that their offensive line and defensive scheme have caused greater concerns.
And here's
one question I'm still asking:
Is it possible the Packers are poorly conditioned? When your opponent outscores you 21-0 over the final 11:34 of the game, you at least have to wonder. The Packers set up a new personnel rotation to help rest players in the Florida heat, and McCarthy said Sunday and Monday that he might have worked his team too hard in practice during the week. The gametime temperature at Raymond James Stadium was 82 degrees, but no team with playoff aspirations -- and especially one that has the lowest average age of any NFL roster -- should run out of gas in those conditions.
September, 7, 2009
9/07/09
3:30
PM ET

Posted by ESPN.com's Kevin Seifert
Detroit has the oldest team in the NFC North and the fifth-oldest in the NFL, according to
this analysis
from NFC West maven Mike Sando. But at the most important position in the game, they've got the league's youngest starter.
Matthew Stafford
left the University of Georgia a year early, turned 21 in February and on Monday was named
Detroit's starting quarterback
. Speaking to reporters at the Lions' practice facility, coach Jim Schwartz said the decision was not impacted by
Daunte Culpepper
's toe injury and said Stafford is the Lions' permanent starter.
So now is a good time to make a few things clear. First: It's almost a given that this will be ugly, at least in the beginning. Stafford played like a classic young gunslinger during the preseason, completing seven passes of at least 20 yards while throwing four interceptions in 55 attempts. (In a 500-pass season, that ratio would bring 3,536 yards and 36 interceptions.) And as you can see from the chart above, recent NFL history is littered with the early struggles of highly-drafted quarterbacks.
| | |
| --- | --- |
| | |
| | Rick Stewart/Getty Images |
| | Detroit rookie quarterback Matthew Stafford. |
To me, the near-constant references to Atlanta's
Matt Ryan
and Baltimore's
Joe Flacco
need to end. Both took their teams to the playoffs as rookies last season, but I don't think anyone would doubt they had the benefit of landing on a better team than the Lions. For every Ryan, there is a
David Carr
,
JaMarcus Russell
and
Alex Smith
. For every Flacco, there is a
Peyton Manning
. Yes, even Manning struggled as a rookie, throwing 28 interceptions as Indianapolis finished 3-13 in 1998.
This is not to suggest that the Lions have doomed Stafford's career by naming him their starter right away. It just means the negative moments are going to outweigh the positive moments this season unless Stafford is different than nearly every other young quarterback who has taken over a sub-par team in recent years.
I actually like the way Stafford aggressively pursued the job this summer, especially compared to the way Culpepper appeared to be playing it safe. In the Lions preseason action that I saw, Stafford was throwing downfield routinely while Culpepper was far more conservative.
I suppose that could have been a function of playing calling, but ultimately the disparate approaches were reflected in the numbers: Stafford averaged 7.1 yards per attempt, while Culpepper averaged 5.7. Culpepper, on the other hand, threw no interceptions and finished with a solid passer rating of 89.6.
Rookie seasons of Lions QBs drafted in 1st round*

Quarterback
Year drafted
W-L as starter
TD-INT

Matthew Stafford

2009

???

???

Joey Harrington

2002

3-9

12-16

Andre Ware

1990

0-1

1-2

Chuck Long

1986

0-2

2-2

Greg Landry

0-2

2-7

9-15

*Common draft era (since 1967)

The end result is that neither quarterback separated himself. In other words, the competition was a draw. So if they were even, I have no problem with choosing the more aggressive player -- and the one who eventually would be taking over the job anyway.
I just think it's better to be realistic about the short term from the outset, rather than start tossing out platitudes about Stafford's presumed attributes before he takes his first NFL snap.
Update:
It's only fair to publish Schwartz's thoughts on tempering expectations. Suffice it to say, he's not in favor of it. Here's what Schwartz said Monday:
"I don't expect to get beat up and beaten down this year. I expect a lot out of this football team and I'm not going to concede anything to expectations outside this building, outside this locker room. I know what we have here, and we expect to compete this year. So, let's sort of throw that out right now."
September, 7, 2009
9/07/09
1:15
PM ET

Posted by ESPN.com's Kevin Seifert
Just to make sure you saw the news, Detroit
has named
rookie
Matthew Stafford
its starting quarterback. I'll be back later with more thorough analysis, but for now I'll leave you with a few quick facts from Scott Beamon of ESPN Stats & Information:
Houston's David Carr was the last NFL quarterback taken No. 1 overall to start all 16 games of his rookie season. As the Lions' Week 1 starter, Stafford obviously has a chance to do that. Incidentally, the Texans' record in Carr's first season (2002) was 4-12.
The last four quarterbacks taken No. 1 overall -- Cincinnati's Carson Palmer, the New York Giants' Eli Manning, San Francisco's Alex Smith and Oakland's JaMarcus Russell -- all started their rookie years on the bench. Palmer sat all season. The other three combined to start 15 games, going 3-12. Collectively, they threw nine touchdown passes and 24 interceptions.
I'll be back with more after we hear from Lions coach Jim Schwartz. I'm especially interested to know what impact
Daunte Culpepper
's late-summer toe injury had on the decision.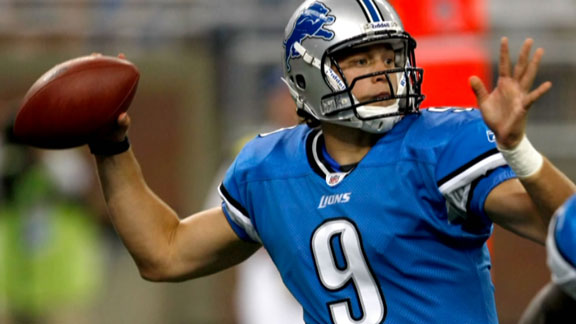 April, 25, 2009
4/25/09
12:55
PM ET
Posted by ESPN.com's Kevin Seifert
| | |
| --- | --- |
| | |
| | NFL.com Video |
| | Matthew Stafford and the Detroit Lions agreed on a contract Friday night. |
DETROIT -- The Black and Blue blog has arrived in the Eastern time zone, and I'll be heading out to the Lions' facility shortly to be in place for the formal announcement of Matthew Stafford as the No. 1 overall pick. Hopefully I won't get stuck behind any of the Brinks trucks bringing Stafford's first paycheck to the building.
If you're inclined to have ESPNEWS running in the background, keep in mind we'll be starting the NFC North portion of the "On the Clock" series at 3 p.m. ET. I'll be jumping on to update the latest and greatest news from each division team.
Meanwhile, Don Banks of SI.com had a good early reaction to the Stafford contract: Despite the record-setting moolah, the Lions must be patient and let Stafford develop on the bench at least for one season.
Consider this list of the last five quarterbacks drafted No. 1 overall, as compiled by ESPN Stats & Information. The collective performances were hardly impressive and not necessarily a productive building block for future success:
Oakland's JaMarcus Russell (2007): 2 touchdowns, 4 interceptions
San Francisco's Alex Smith (2005): 1 touchdown, 11 interceptions
New York Giants' Eli Manning (2004): 6 touchdowns, 9 interceptions
Cincinnati's Carson Palmer (2003): Didn't play
Houston's David Carr (2002): 9 touchdowns, 15 interceptions
And finally, here is a trivia question to consider while you're waiting for this thing finally to get underway:
Name the last Georgia quarterback to appear in the Pro Bowl. (Hint: Think with your feet.)
March, 15, 2009
3/15/09
12:00
PM ET
Posted by ESPN.com's Kevin Seifert
As promised, Part II of the weekend mailbag will focus exclusively on last week's debate on Georgia quarterback Matthew Stafford.
Ethan of Monroe, La., writes: I'd be interested to see how Sanchez and Stafford compare if you isolate the calculations based upon their last season.
Kevin Seifert: If you base it only their senior seasons, Mark Sanchez maintains his spot in the "Strong likelihood of success" category with a score of 47. Stafford moves into "hit or miss" with a score of 15.5. I agree that Stafford is dragged down in this formula to some extent by his freshman year, but even his senior year doesn't elevate him to the status you would hope to see from a No. 1 overall pick.
---
Steve of Troy, Mich., writes: Kevin, I did the formula that you applied to Matt Stafford to decide if he would be a bust. I know that it is for 1st rounders, but the Lions 2007 2nd round pick was Drew Stanton. He has sat the bench, and been placed on IR his rookie season. According to your formula he comes out as a 29.6665. Do you think that this matters at all? It seemed to be a great indicator for 1st round talent.
Kevin Seifert: There are some instances where players rating in the top group didn't work out, Tim Couch and David Carr among them. I think this formula is best viewed as a check and balance on players whose evaluations otherwise place them in the first round. Are there any flags? In many cases, this formula identifies them. In the case of Stanton, he never rose to the level of first-round evaluation in the first place.
---
Gino in Denver rants: Are u retarded? Do You see who is at the top of your so called rankings? Thats right Matt frickin Leinart/ U are a two bit hack who should consider another career! Thank ur "fans" all u want, but ur formula is lacking as well as your input! I wish i could get paid to write phony articles just like u Mrs. Seifert!
Kevin Seifert: Eloquently put, Gino. One point I should address: We made clear in the story that the only point of the scores was to put the players into their broader categories, not to rank them 1-31. That Leinart scored into the top group is the only relevant factor. It's true that he hasn't succeeded yet, but I don't think we close the book on him yet, either.
---
Jay of Lake Geneva writes: It seems to me that the formulas are backwards. A BCS quarterback is going to have a higher score than a non-BCS quarterback. Shouldn't it be harder for a BCS quarterback to get a good score? For BCS quarterbacks (Career Starts x 0.5) + [(Career completion pct. - 60)x5] +[(Career touchdown-INT ratio - 2.25)x10] For non-BCS quarterbacks (Career Starts x 0.5) + [(Career completion pct. - 60)x2.5] + [(Career touchdown-INT Ratio - 2.25)x5]
Kevin Seifert: Ryan McCrystal, who developed the formula, said the idea was that if you have a non-BCS quarterback who is NFL-caliber, he's going to be heads and shoulders above the competition. His statistics would reflect that disparity, the theory goes, and would have to be compensated for. That's the explanation Ryan gave.
---
Kris of Maconga writes: Michael Vick cannot be considered a "bust" by the traditional definition. His second contract made him the highest paid player in the league. By definition, a bust is a pure failure, and his rookie contract is always his best. Vick was too deep into his career and performed too well for the Atlanta Falcons on the field, and at the ticket booth.
Kevin Seifert: Fair point. Vick's off-field flameout had nothing to do with his playing ability. Although for the purposes of this formula, I'll say his success relied heavily on his unique running ability. He would not have made it on his passing skills.
---
Kirt of Grand Rapids, Mich., writes: I just wanted to say impressive work with the numbers, quarterbacks and looking at Stafford's chances in the NFL. I watched the Lions all 16 losses and their biggest need is at linebacker. Look at what Urlacher did for Chicago's D- If I'm GM I'm drafting Aaron Curry!
Kevin Seifert: Thanks, Kirt. I like your thinking.
---
Ben of Philadelphia writes: Your formula is bs. Stafford is not a good fit for the Lions (no qb is) but in making a formula you can't start with the numbers first and then see how well it fits. You have to start with the real world situations. Peyton Manning, Tom Brady, these are the best quarterbacks in the league. Your formula has to put them at the top of the list (and if not Brady, certainly Peyton Manning, his body of work is large enough.
Kevin Seifert: Again, this wasn't intended to be a 1-31 ranking. Don't pay attention to the actual figures, just the categories those figures put them in.
---
Diane writes: I am not a fan of any of the QB prospects this year, but (if I was a person that believed in suing people) I would sue you & ESPN for writing a story like this before the draft ~ if I was Matthew S. or the other 2 QBs you mentioned. It is terrible for you to write a story like this before the draft. There are a number of QB in your likely to succeed group that appear to be a bust. You guys are wrong so many times about the draft prospects but you would write an article that might ruin someone's prospect at being drafted by a team. I do not believe in suing, but if I was these guys or their parents & I did believe in it I would 100% sue.
Kevin Seifert: I appreciate your sentiments but I don't think any team is going to base its draft decision on this formula or any other work produced by the media. They'll use the information they gather on their own.
---
Jay writes: Question regarding the Stafford article and the formula: Did it account for whether the other quarterbacks started their freshman year? If Stafford did not start in the SEC in his freshman year, would the rating be significantly different? I have doubts about Stafford and especially his ability to through the deep ball with touch. In his defense I will say that as a UGA fan, his receivers in his sophomore year dropped about every other pass (seemed that way at least) I think Stafford will be great -- but I'm hesitant as well.
Kevin Seifert: The formula accounted for each year played by each quarterback. Had Stafford not played as a freshman, his score would have been about 12, which would have placed him in the "hit or miss" category. Of course, it's a bit of a leap to assume he would have had the exact same statistics as a sophomore had he not played as a freshman. You would think the experience factor helped him at least somewhat as a sophomore.
---
Brandon of D.C writes: Seifert thanks for singling out a guy who is more than worthy of the #1 pick. This article hopefully is more about saving him from the Detroit stupidity of a football team. But I hope Stafford writes you himself when he is more successful
than your pitiful writing career and shoves this article in your face and then proceeds to slap you with a hundred dollar bill from all the money he's gonna make. Thanks, have a great day!
Kevin Seifert: Have a great day yourself!
February, 17, 2009
2/17/09
1:00
PM ET
| | |
| --- | --- |
| | |
| | Getty Images |
| | Will the Detroit Lions choose Georgia quarterback Matthew Stafford (left) or Alabama tackle Andre Smith with the No. 1 pick? Or could it be someone else? |
Posted by ESPN.com's Kevin Seifert
The situation begins to focus this week. At some point, Detroit officials will find themselves face-to-face with Georgia quarterback Matthew Stafford. They'll size up Alabama offensive tackle Andre Smith. They'll get a better sense for the handful of blue-chip players who could be the No. 1 overall pick of a draft that as of Tuesday is 67 days away.
The Lions are approaching a franchise-altering decision: Because of their 0-16 record in 2008, they will have their choice of any college player in the nation. There are no obstacles, no reasons to cross their fingers and no "if-then" scenarios to consider. It's the rarest of opportunities, even for a team with the Lions' recent history. In fact, nearly 30 years have passed since the Lions last owned the No. 1 pick.
| | |
| --- | --- |
| | |
| | NFL.com Video |
| | An inside look at how three players are preparing for the 2009 scouting combine. |
(For the historically minded: Running back Billy Sims, 1980.)
The top pick annually carries a combination of opportunity and fear. You can choose anyone -- so don't make a mistake.
Occasionally, the choice is obvious. In 2001, for example, few people faulted the Atlanta Falcons for targeting Virginia Tech quarterback Michael Vick. Sometimes there is a handful of players who seem equally worthy. In 2007, you could have made an argument for LSU quarterback JaMarcus Russell, Georgia Tech receiver Calvin Johnson or Wisconsin tackle Joe Thomas at No. 1.
Then there are years when it seems no one might be qualified. Wouldn't it be the Lions' luck if that were the case in 2009? Media analysts have tabbed Stafford as the likeliest overall pick because he is the top quarterback prospect, but that might not have been the case had Heisman Trophy winner Sam Bradford not returned to Oklahoma. The Lions must determine whether Stafford is worthy of the No. 1 pick -- or if, like Utah's Alex Smith (2005) and Fresno State's David Carr (2002) before him -- he's merely the best quarterback in the draft.
If it's the latter, where would the Lions turn? Would it be Smith, whom Alabama coach Nick Saban kicked off the team last season? Texas Tech receiver Michael Crabtree? (The Lions history with drafting wide receivers works against Crabtree in this case.) Wake Forest linebacker Aaron Curry? Or would they trade the pick altogether?
With the annual scouting combine set to commence later this week in Indianapolis, let's take a closer look at the Lions' options. The Lions, after all, aren't just deciding whom to select. They must determine when they want to pick as well.
The franchise quarterback

Scouts Inc. Top 10
Player
Year
Pos.
School
1. Michael Crabtree
So.
WR
Texas Tech
2. Aaron Curry
Sr.
OLB
Wake Forest
3. B.J. Raji
Sr.
DT
Boston Coll.
4. Eugene Monroe
Sr.
OT
Virginia
5. Matthew Stafford
Jr.
QB
Georgia
6. Jason Smith
Sr.
OT
Baylor
7. Malcolm Jenkins
Sr.
CB
Ohio State
8. Mark Sanchez
Jr.
QB
USC
9. Andre Smith
Jr.
OT
Alabama
10. Vontae Davis
Jr.
CB
Illinois
Mel Kiper Top 10
Player
Year
Pos.
School
1. Michael Crabtree
So.
WR
Texas Tech
2. Aaron Curry
Sr.
LB
Wake Forest
3. Andre Smith
Jr.
OT
Alabama
4. Matthew Stafford
Jr.
QB
Georgia
5. Mark Sanchez
Jr.
QB
USC
6. Jason Smith
Sr.
OT
Baylor
7. Malcolm Jenkins
Sr.
CB
Ohio State
8. Eugene Monroe
Sr.
OT
Virginia
9. Jeremy Maclin
So.
WR
Missouri
10. B.J. Raji
Sr.
DT
Boston College
Even at this early date in the draft season, it seems clear that 2009 is not a banner year for so-called "blue-chip" quarterbacks.
ESPN.com analyst Todd McShay
has four underclassmen at the top of his quarterback rankings: USC's
Mark Sanchez
, Kansas State's
Josh Freeman
and Ball State's
Nate Davis
. The senior class of quarterbacks, McShay notes, "ranks among the worst in NFL draft history."
This set of circumstances has several implications for the Lions. Historically, underclassman quarterbacks are less likely to develop into NFL stars. That inherently makes Stafford a more difficult and potentially riskier prospect to evaluate. But conversely, it means the Lions will have less to choose from if they bypass him and target a lesser-known quarterback lower in the draft.
(The wild-card might be USC quarterback Mark Sanchez, who hasn't generated much No. 1-pick buzz. Sanchez could change that if he decides to work out fully at the combine, as has been reported.)
Knowing they need to address the quarterback position in some way, the Lions have been working for months to evaluate the lower portions of the class. Starting with the combine, they'll be able to address the Stafford question more directly. Stafford isn't expected to work out, following a long-h
eld pattern of top quarterback prospects, but he will be scheduled to conduct interviews with team officials.
How smart is he? Does he display leadership attributes? What about his character? Those are questions the Lions can begin answering at the combine.
The fallback
If drafted No. 1 overall, Stafford figures to exceed the $30 million in guaranteed money that Miami gave offensive tackle Jake Long last year as the top pick in the draft. If anything concerns the Lions about Stafford's physical or mental makeup, they will have to consider possible fallback options to minimize the financial risk.
The Dolphins took that path with Long, opting for a talented but grounded player who could fill a hole for the next decade. In doing so, Miami passed over Virginia defensive end Chris Long, Boston College quarterback Matt Ryan and Arkansas tailback Darren McFadden, among other higher-risk but potentially higher-reward choices.
Houston followed a similar pattern in 2006, tapping NC State defensive end Mario Williams rather than a pair of offensive playmakers: USC tailback Reggie Bush and Texas quarterback Vince Young.
Does a "safe" pick exist for the Lions at No. 1? Could it be Curry? What about Boston College defensive tackle B.J. Raji, who would fill a tremendous need and probably accept less guaranteed money than Stafford? Those questions, too, the Lions will explore in Indianapolis.
The trade
Thanks to the October trade of receiver Roy Williams, the Lions already own five of the draft's top 82 picks. They could further speed up the rebuilding process by trading out of the No. 1 pick if they determine no player is worthy of that slot.
A quarterback has been involved the last two times the No. 1 pick has been traded. In 2004, San Diego moved down three spots in the draft so the New York Giants could have Eli Manning. For doing so, the Chargers received third- and fifth-round picks in 2004 and the Giants' first-round pick in 2005.
In 2001, the Chargers moved down four spots in the draft so that Atlanta could grab Vick. San Diego received kick returner Tim Dwight, a third-round pick in 2001 and a second-round pick in 2002 for its trouble.
So it stands to reason that the Lions' best hope for a trade is if another team falls in love with Stafford and is willing to pursue him aggressively.
With any luck, it's an option the Lions won't have to make again for a long time.
February, 10, 2009
2/10/09
6:59
AM ET
Posted by ESPN.com's Kevin Seifert
Hi there. As we move into this fine Tuesday, I'll be working on a few projects that will limit the frequency of posting Tuesday morning and early afternoon. I expect to be back at full blogging strength by mid-afternoon. Please plan your day accordingly.
Among other tasks, I'll be searching out some of the blogroll information you requested after last week's post. To review, we have the ability to link to reference material or other areas of note along the right hand side of this blog. The list has slowly been growing. If you haven't already, let me know in the mailbag what you'd like to see. I'll accommodate as much as I can.
For now, let's take a quick tour through most of the NFC North:
December, 28, 2008
12/28/08
8:46
PM ET
| | |
| --- | --- |
| | |
| | Elsa/Getty Images |
| | Ryan Longwell's field goal gave Minnesota a 20-19 win over New York. |
Posted by ESPN.com's Kevin Seifert
MINNEAPOLIS -- Multiple layers of emotion converged at the 35-yard line Sunday afternoon.
There was the initial joy of a game-winning field goal, a 50-yard boot from Ryan Longwell that gave Minnesota a 20-19 victory over the New York Giants.
"Best feeling I've ever had," said owner Zygi Wilf, still catching his breath after a celebratory sprint onto the field.
Then came this realization: Longwell's kick had clinched Minnesota's first division title since 2000. The Vikings will take on Philadelphia next weekend in the first playoff game at the Metrodome in eight years.
"That's the reason I came here," safety Darren Sharper said, "and it's the reason a lot of guys in this locker room came here. To win the NFC North and have a chance to win the Super Bowl."
And at the core was this: The kick sent the Vikings into the postseason with a boost that could carry them for weeks.
As it turned out, because of the Bears' 31-24 loss to the Texans, the Vikings would have won the NFC North even if Longwell's kick had failed -- but they would have taken a two-game losing streak into the NFL's postseason tournament. From this vantage point, you can't underestimate the institutional importance of clinching with a victory for an organization that has choked in big games for most of this decade.
"When you win like that, you get a confidence that you just can't get otherwise," defensive end Jared Allen said. "If we lost, you just carry a disappointment into the playoffs with you. So we won and we feel like we earned it. We didn't have to worry or care about what anyone else did. I think this game is going to build character and give us something to reflect back on.
"We know now that we're a good football team," Allen added. "And we know that when the game is on the line and the season is on the line, we can forge ahead and win the game. The playoffs are about who is playing good at the right time. Now, we can say we've won five of our last six games. If we go into the playoffs with another loss, we go in with a mindset that we're struggling."
And for much of Sunday, it appeared the Vikings were on course to deal with just that. Behind backup quarterback David Carr, the Giants scored 10 unanswered points to take a 19-10 lead with 11:22 left. Quarterback Tarvaris Jackson had scuttled one drive by throwing an interception in the end zone, and tension was mounting as everyone -- including more than a few Vikings players -- kept track of Chicago's game. (Several players, including Sharper, admitted that non-field personnel gave them regular updates of the Bears' progress during the fourth quarter.
The Bears trailed by 14 points as the Vikings moved into position for Longwell's field goal, but the Vikings managed to create far more drama than the Bears could provide.
Coach Brad Childress pulled Longwell off the field to run more time off the clock with nine seconds remaining, effectively forcing Longwell to sit through three timeouts before finally delivering the kick. According to the Elias Sports Bureau, it was the first time this season an NFL kicker had brought his team from behind with a 50-plus yard walk-off field goal.
December, 24, 2008
12/24/08
12:00
PM ET
Posted by ESPN.com's Kevin Seifert
Call me crazy, but Minnesota fans might want to be careful about what they wish for this holiday season.
If you are hoping the New York Giants will sit quarterback Eli Manning and start backup David Carr Sunday at the Metrodome, you should at least recall the history of both players against your squad.
In two career starts against the Vikings -- both at Giants Stadium -- Manning has thrown eight interceptions and has a 36.6 rating. Last season, the Vikings returned three of those interceptions for touchdowns in a 41-17 victory.
Carr, meanwhile, had a career day against the Vikings while playing for Houston in 2004, throwing for 372 yards in an overtime loss.
Here are the full numbers:
Giants QBs against Minnesota
Player
Games
Comp.
Att.
Pct.
Yards
TDs
INT
Rating
Record
Manning
2
44
97
45.4
564
2
8
36.6
0-2
Carr
1
27
42
64.3
372*
3*
0
116.4
0-1
*Career high
I'm not saying. I'm just saying.