November, 15, 2013
11/15/13
10:00
AM ET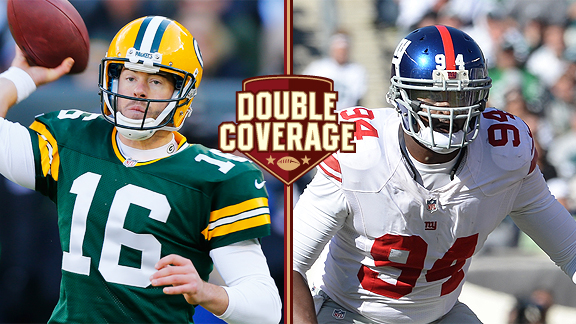 Gregory Shamus/Getty ImagesNew Packers quarterback Scott Tolzien will face Mathias Kiwanuka and an improved Giants pass rush.
.
The
New York Giants
will be looking for their fourth win in a row following an 0-6 start. The
Green Bay Packers
will be trying to snap their first two-game losing streak since 2010. The two teams square off Sunday at MetLife Stadium in East Rutherford, N.J. ESPN.com Giants reporter Dan Graziano and ESPN NFL Insider Matt Williamson (filling in for Packers reporter Rob Demovsky) break down the matchup for you.
Dan Graziano:
Hey, Matt. Thanks for filling in while Rob's on the inactive list this week. The big question the Giants have this week is: Who is
Scott Tolzien
and what can we expect to see from him? So let's start with that one.
Matt Williamson:
Well, Dan, that's a good question! I don't think we really know the answer, but he did move the team well and was generally a smart distributor of the football. And we know Green Bay has weapons to get the ball to. We obviously don't have a lot of tape to evaluate, but I think the Packers are better off with Tolzien over
Seneca Wallace
.
While we are talking quarterbacks, what on Earth is going on with
Eli Manning
? Despite this winning streak, he really has not played well at all.
Graziano:
Matt, my theory on Eli is that the protection issues at the beginning of the season were so egregious that he just fell into this zone of discomfort from which he's been unable to extricate himself. He just doesn't look right back there, and while the protection issues have improved some, they're still present. They've had no blocking help from the tight-end position at all. They're very vulnerable in the middle of the line, and I'm not sold on either tackle, to be honest. They haven't had reliable blitz pickup help from the running backs. Downfield,
Hakeem Nicks
isn't playing wide receiver the way he used to play it. A lot has gone on around Manning to make him far less comfortable with his surroundings, and I'm not sure what it's going to take before he starts playing with that old Eli confidence again. Great quarterbacks make the best of bad situations, and Manning has not done that this year. As the Giants' situation improves, they will need him to play much better if they're really going to make this miracle run they still believe they can make.
Now, they get another break this week with
Aaron Rodgers
out and Tolzien in, but they are already talking about that improved Packers running game. What do you see from
Eddie Lacy
& Co. and how do you think they'll attack the Giants, who have generally been pretty good against opposing running backs this season?
Williamson:
This Packers' running game is terrific and should continue to excel even with less of a passing threat with Rodgers sidelined. The left side of the Packers' offensive line is playing great, but -- as with the rest of the team -- isn't healthy on the right side and has had to do a lot of shuffling of personnel there. Still, Green Bay's rushing attack isn't easy to prepare for as they can run a wide variety of plays out of a wide variety of personnel groupings and formations. Lacy is quick to get downhill and is a punishing runner who can wear a defense down, and he also excels at reading his blocks and showing patience with the ball in his hands -- rare traits for a rookie running back. The Packers' ability to run the ball will probably be the most crucial component of this football game.
Along those lines, I feel like the Giants might actually have a respectable rushing attack of their own now with
Andre Brown
carrying the rock. Do you agree?
Graziano:
Yeah, the 30 carries and 115 yards for Brown on Sunday in his first game back off a twice-broken leg were eye-opening. I think the workload they gave him showed that the Giants knew just how much they were missing this season at running back.
David Wilson
never got going and then got hurt, and they patched it together with
Brandon Jacobs
and
Peyton Hillis
. But watching Brown run with vision and power and gain yards after contact Sunday, it was obvious that he's the Giants' best option going forward and the best they've had all season. The injury risk has to be considered, given Brown's history, but at this point the Giants need to win pretty much every game, and they're going to have to lean hard on Brown to do it. Even if he can't be as productive every week as he was against the Raiders, the legitimate threat he poses on film should open up the play-action passing game as a way for Manning to combat those protection issues.
So the Giants feel they can offer a balanced offensive attack against a Packers defense that couldn't get the ball back from the Eagles in the final 9:32 of Sunday's game. Was that a
LeSean McCoy
issue, or are the Packers really struggling on defense right now?
Williamson:
The Packers are struggling on defense and allowing too many big plays. I expected last week's return from injury by
Clay Matthews
to pay off much more than it did. However, we know that Matthews is a truly great player, and maybe he just needed a week to get back into the swing of things. I still expect Matthews to torment the Giants' tackles this week. On the inside of their defensive line, the Packers have a lot of sheer mass and power with guys like
B.J. Raji
,
Johnny Jolly
and
Ryan Pickett
. I also expect the Giants' interior offensive line to have a difficult time moving this group in the running game. This could be a bounce-back week for Green Bay on this side of the ball.
The Packers' run defense had a very difficult time when the Eagles stacked both of their offensive tackles on the same side of the formation. While I expect the Giants could use some personnel groupings with six offensive linemen, I don't see them duplicating what Philadelphia did to make room for McCoy.
Watching the Giants game from last week, I noticed they had a difficult time getting the Raiders'
Pat Sims
blocked. Sims is a big-bodied and powerful defensive tackle in much the same mold as the Packers' group. I think that bodes well for Green Bay this week.
And expect the Giants to have a difficult time blocking little-known
Mike Daniels
in the passing game. Daniels has taken over the
Cullen Jenkins
role in this defense -- a spot Green Bay drafted
Datone Jones
for in the first round -- as an interior pass-rusher, and he has excelled in that role.
The Giants' defense is based entirely on great defensive line play. This is a deep group with a ton of important resources tied up in it, but it hasn't been an elite group. It is improving, however. Where do you see this unit right now and this week against the Packers?
Graziano:
Well, the sack numbers have come up. The Giants had only six sacks in their first seven games, but then got eight in their past two games. So they've moved from last in the league in sacks, where they spent most of the season, to a tie for 30th in that category. Odd thing is, of the eight sacks in their past two games, only four have come from defensive linemen. Safety
Antrel Rolle
has as many sacks (two) in the Giants' past two games as defensive end
Jason Pierre-Paul
has in their past 16. Pierre-Paul did get one against the Raiders, and he says he's on the verge of a breakout. And the line has been very good, as I mentioned, against the run this year. But over the first seven games of the season, opposing quarterbacks did a good job of unloading the ball before the Giants' pass-rushers could stop them from doing so. Not sure they get the full test this week against Tolzien, but at some point we're going to find out whether the front four really has improved, or whether it's just been feasting on lesser competition.
Thanks again, Matt. Catch you online in one of our game chats soon, I'm sure.
.
August, 25, 2012
8/25/12
8:25
AM ET
Reviewing Friday night's action at MetLife Stadium:
Chicago Bears 20, New York Giants 17
Preseason record:
2-1

Of interest:
Jay Cutler
and
Brandon Marshall
combined for a 21-yard touchdown in the first quarter, but for the most part the offense had trouble establishing rhythm. Tailback
Matt Forte
had a 24-yard run but gained 15 yards on his other nine carries combined. ... The Bears' defense had a hard time tackling Giants rookie
David Wilson
, who had a 29-yard reception and a 20-yard carry. ... The offensive line seemed to meet the challenge of the Giants' pass rush. Cutler wasn't sacked. The guess is that
J'Marcus Webb
earned the left tackle job and
Chris Spencer
will be the left guard when the season opens. ... Giants quarterback
Eli Manning
's 17-for-21 outing came at the expense of Bears cornerback
Charles Tillman
, who had two pass interference calls and was targeted on many of Manning's completions. … Punting for the injured
Adam Podlesh
, rookie
Ryan Quigley
had one block and averaged 43.6 yards per punt. Coach Lovie Smith went out of his way to mention Quigley's effort after the game.
Local coverage:
Cutler called the outing "hit and miss" and added, via
Sean Jensen of the Chicago Sun-Times
: "Brandon and I missed some things. Everything was just a little bit off a count in the passing game. We made some plays and we missed some stuff. We missed a touchdown because of communication. There is some stuff that can be easily fixed but it needs to be fixed in the next two weeks." … Defensive end
Julius Peppers
flashed Friday night after a quiet summer, notes
Jeff Dickerson of ESPNChicago.com
. ... Webb and Spencer are eager for resolution to their situations, writes
Michael C. Wright of ESPNChicago.com
. …
David Haugh of the Chicago Tribune
: "The Bears sought the precision every team wants to see in its last real chance to evaluate starters but settled for sloppiness. Their offense made too many mistakes, their defense gave up too much ground and you could find crisper special-teams execution under the Friday night lights of your local high school. The Bears came east looking for confirmation they were a playoff team but left searching for answers after things suddenly headed south in the second quarter." ...
Melissa Isaacson of ESPNChicago.com
: "[I]f the third game is truly the most accurate indicator we have of how the regular season might look, Bears fans would be well-advised not to get too comfortable just yet."
Up next:
Thursday at the
Cleveland Browns
December, 22, 2011
12/22/11
3:00
PM ET
Kyle of Quad Cities
pointed me in the direction of an interesting Twitter exchange between
Detroit Lions
Hall of Fame running back
Barry Sanders
and
the Detroit Free Press
, all of which was started by
Todd McShay's initial ESPN.com mock draft for 2012

.
As we noted
, McShay drafted Virginia Tech running back David Wilson for the Lions at No. 25 overall. Wilson would be the third highly drafted running back for the Lions in as many years, but significant injuries to
Jahvid Best
and
Mikel Leshoure
make it a plausible scenario.
After the Free Press pointed out the pick, Sanders
tweeted back
: "will they ever take an O - Lineman???"
Sanders added
: "I am sort of biased... but would help [quarterback
Matthew Stafford
] and [receiver
Calvin Johnson
] too. to be fair, @DetroitLionsNFL recent drafts have been solid"
The Lions have largely left their offensive line untouched during a three-year rebuilding process that has gutted the rest of the roster. The only starter added since the start of the 2009 season is left guard
Rob Sims
, acquired in an April 2010 trade with the
Seattle Seahawks
.
At some point, the Lions will need to begin plotting a succession plan for left tackle
Jeff Backus
, whose contract expires after this season. Center
Dominic Raiola
turns 33 later this month but plays a position that typically hosts aging players well. But I would agree they had more pressing needs than offensive line in recent years.
December, 21, 2011
12/21/11
2:30
PM ET
You've been waiting for it since April, and now it's arrived. ESPN draft analyst Todd McShay offered his
first 2012 mock draft

Wednesday, with a draft order that projected the
Minnesota Vikings
at No. 3, the
Chicago Bears
at No. 19, the
Detroit Lions
at No. 25 and the
Green Bay Packers
at No. 32.
You'll need an Insider subscription to view the entire draft, but here's a look at McShay's suggestions for the four NFC North teams. The comments are mine.
3. Minnesota Vikings
Player:
LSU cornerback
Morris Claiborne
Seifert Comment:
In the midst of a historically bad season of pass defense, it would be hard to argue against drafting the top cornerback available. I'm guessing USC tackle Matt Kalil would have been the choice if the Vikings were at No. 2.
19. Chicago Bears
Player:
Notre Dame receiver
Michael Floyd

Comment:
I thought the Bears settled their need for a "big receiver" by signing
Roy Williams
, but maybe that's just me. Seriously, it's fair to say the Bears could use another weapon in the passing game. But I can't say it's their top need at this point, if you're a draft-for-need type.
25. Detroit Lions
Player:
Virginia Tech running back
David Wilson
Comment:
The Lions used a first-round pick in 2010 to take
Jahvid Best
and a second-rounder in 2011 on
Mikel Leshoure
, but serious injuries to both players leave their 2012 status in the air. Their offense has functioned well with heavy emphasis on the pass, but I'm sure they would like to balance it out a bit.
32. Green Bay Packers
Player:
Oklahoma linebacker
Ronnell Lewis
Comment:
Taking another swing at finding a pass rusher opposite
Clay Matthews
. Sounds like a good idea, if Lewis turns pro.