April, 9, 2013
4/09/13
1:15
PM ET
April, 2, 2013
4/02/13
7:10
AM ET
We're Black and Blue All Over:
Two NFL contract agreements Monday night had NFC North implications and are worth noting here on the blog.
First, the Indianapolis Colts
announced a deal
with free agent receiver Darrius Heyward-Bey, who visited the Detroit Lions last month. The prospect of Heyward-Bey's speed in the Lions' offense was intriguing, but the team could also satisfy its need for additional depth at the position through the draft.
Meanwhile, the Washington Redskins
re-signed
cornerback DeAngelo Hall, making it fair to wonder if they are still in contention for veteran Antoine Winfield. The Redskins are tight against the salary cap, and the return of Hall could help the Minnesota Vikings' chances of luring Winfield back after they released him last month. Coach Leslie Frazier
has made it clear he wants Winfield back.
Continuing around the division:
October, 27, 2010
10/27/10
10:00
AM ET
»
NFC Stock Watch
:
East
|
West
|
North
|
South
»
AFC
:
East
|
West
|
North
|
South
FALLING
1. Qualifications for linebacker in Detroit:
The Lions signed free agent
Bobby Carpenter
during their bye last week. This week, it's possible he'll be in their starting lineup because of
Zack Follett
's neck injury. Much is left to be decided this week during practice, and Carpenter has more pedigree than the average player you sign off the street in midseason. But the bottom line is he flamed out as a 2006 first-round draft choice for the
Dallas Cowboys
and made it through only five games this season with the
Miami Dolphins
before being released. When a player walks in your door one week and has a chance to start the next, you know your depth at the position is far from adequate.
2. Tolerance for interceptions in Minnesota:
Last summer, the Vikings signed the quarterback who has thrown more interceptions than any other in NFL history. They were the beneficiaries of a one-year aberration in 2009;
Brett Favre
threw seven in what was the best season of his career. But what they've gotten this year -- 10 in six games -- is closer to Favre's career-long habit. The big problem for 2010 is not the interceptions, but the fact that Favre has made less big plays to even out the mistakes. Still, no one in the Vikings organization, from coach Brad Childress on down, should be complaining at this point. If you're not going to tolerate the occasional (or even somewhat frequent) head-scratching throw, then Favre wasn't the right quarterback to bring in.
3. Numbers on the Detroit Lions' injury list:
The Lions emerge from their bye with the likelihood that two key players who have missed most of the season will return. Quarterback
Matthew Stafford
(shoulder) and linebacker
DeAndre Levy
(ankle) are on pace to play Sunday against the
Washington Redskins
. Hopefully, we'll get a chance to see Stafford play the Lions' final 10 games and observe the progress for ourselves that the team has suggested he made in the offseason. Levy will help settle down a position that has been in disarray, but it's critical for the future of the franchise to get a better handle on where Stafford is and how far he might be able to take it.
RISING
1. Tramon Williams, Green Bay Packers cornerback:
How confident are the Packers in Williams' ability to hold down this position? We got two big clues last week. First, the Packers didn't seem compelled to rush back former starter
Al Harris
from the physically unable to perform (PUP) list for Sunday's game against the Vikings. Second, it was Williams -- and not All-Pro
Charles Woodson
-- who was matched up most frequently against Vikings receiver
Randy Moss
. Williams helped hold Moss to three catches for 30 yards, and overall has been the best cover corner on the Packers' roster this season. That's right. From a coverage standpoint, at least, Williams has surpassed Woodson.
[+] Enlarge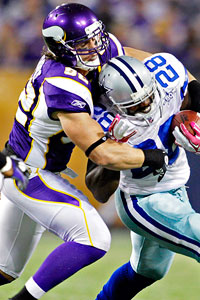 Bruce Kluckhohn/US PresswireChad Greenway has spent more time this season in opposing teams' offensive backfields.
2. Chad Greenway, Minnesota Vikings linebacker:
Greenway has always run up high tackle totals, but I think close observers would note he has taken his game to a higher level in 2010. In the past, I've noted that Greenway's tackle totals didn't often include many of the game-changing plays that big-time linebackers make. But this season, Greenway has made more plays behind and close to the line of scrimmage than I've ever seen from him. He already has seven tackles for a loss, one behind his career high for an entire season. Three of them came Sunday night against the Packers, and on a fourth play he stopped
Brandon Jackson
for a 1-yard gain and forced a fumble. Greenway leads the Vikings with 65 tackles through six games and might be on track for Pro Bowl recognition.
3. Interception totals in Chicago:
Quarterback
Jay Cutler
held himself to three over the Bears' first six games, causing some of us to wonder whether he had put behind his irrational gun-slinging habits. Oops. Four second-half interceptions Sunday against the Washington Redskins, all to cornerback
DeAngelo Hall
, reaffirmed that Cutler's self-destruction gene is still active and operating. The quarterback isn't always fully responsible for every interception, and FOX analyst Troy Aikman blamed Bears receivers for two of them during the live broadcast. But this was Cutler's third four-interception start in his first 22 games with the Bears. Sacks are one thing. As with Favre, we're willing to tolerate some interceptions if they're balanced with a requisite number of big plays. But Cutler now has 33 interceptions during his short Bears career. It will be impossible to consider him a long-term franchise quarterback at that pace.
October, 25, 2010
10/25/10
1:15
PM ET
After the Chicago Bears' 17-14 loss Sunday to the Washington Redskins, here are three issues that merit further examination: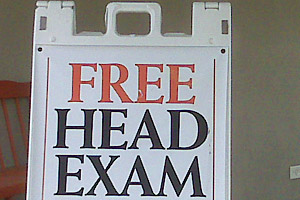 Kevin SeifertFollowing their loss to Washington on Sunday, the Bears take their turn in the examination room.
I didn't get too worked up when quarterback Jay Cutler said he would not shy away from challenging Redskins cornerback DeAngelo Hall if and when they play again. I wouldn't want a quarterback who was afraid to throw at any particular cornerback. Here's my problem: For the most part, Cutler wasn't challenging Hall. He was just giving him opportunities to intercept the ball. There's a big difference. The most egregious instance came on the last interception, where Cutler trusted receiver Johnny Knox too much in single coverage. Hall, protecting a lead, bailed immediately and was not going to give up a deep pass. So here's where I stand on Cutler: With the Bears almost at the midpoint of the season, Cutler hasn't demonstrated that he has enough self-control to prosper in this offense. He's too aggressive right now for where the rest of the offense is situated. He's either throwing wildly downfield or holding the ball too long to make a play. The Bears' next nine games will be about whether the gunslinger can reign himself in.

I don't know where the offensive line is going to go from here. But the symbolic moment of the first seven games came when Redskins defensive tackle Albert Haynesworth drove left guard Chris Williams 10 yards into the backfield. Williams fell into Cutler, who went to the ground for a sack. It was the kind of play you see when the varsity takes on the J.V. at the end of August practice, not when two NFL players -- both first-round draft choices -- meet in a regular-season game. I realize that Haynesworth is an elite player when he wants to be, and that Williams is playing out of position. General manager Jerry Angelo said before Sunday's game that continuity is more important on the offensive line than talent, but if your left guard is so ill-equipped to pass block from his position, continuity doesn't mean a lick. No matter what the circumstances, that was an atrocious NFL display.

Two punt returns for touchdowns this season was all it took for opponents to start kicking it away from Devin Hester. Redskins punter Hunter Smith landed five of his seven punts out of bounds and averaged 28.7 gross yards per punt overall. Hester got his hands on only one kick, a 50-yarder that he returned 12 yards. It didn't happen Sunday, but over time the Bears should realize exceptional field position if opponents continue to follow that strategy.
And here is one issue I don't get:
Actually, I sort of get it. Coach Lovie Smith challenged the spot on Earl Bennett's 48-yard reception in the third quarter because he knew his offense doesn't excel at the goal line. Bennett was obviously down before he reached the end zone, but Smith was hoping somehow the play would be ruled a touchdown. Smith's concerns were justified on the next play, when Cutler fumbled on a quarterback sneak. (By the way, that call should have been obvious to everyone watching based on Cutler's pre-snap positioning.) Replays indicated the ball crossed the plane before the end zone, but Smith didn't challenge. Was he afraid to burn both challenges in a two-play sequence? He might have out-thought himself on that one.