December, 22, 2010
12/22/10
11:00
AM ET
»
NFC Stock Watch
:
East
|
West
|
North
|
South
»
AFC
:
East
|
West
|
North
|
South
FALLING
1. Margin of error in Green Bay:
Given their list of injuries to prominent players, the Packers probably are fortunate to remain in playoff contention at 8-6. None of their losses this season have come by more than four points, and their total margin of those six defeats is 20 points. But there is no longer any wiggle room. The Packers will be eliminated from the playoffs if they lose Sunday to the
New York Giants
. They need victories in their final two games to ensure a wild-card berth. Given the unpredictable nature of an NFL season, all any team can hope for is to be in this position. There is no sense lamenting how injury-free the
Chicago Bears
were on the way to their division title. The Packers have an opportunity and need to capitalize on it.
2. Candid speech in Minnesota:
Shortly after he tweeted that the field at TCF Bank Stadium
was "unplayable
,"
Minnesota Vikings
punter
Chris Kluwe
said he had been asked to stop publicly discussing field conditions. Later, ESPN's Ed Werder reported the Vikings instructed all players to stop criticizing it. To be fair, most private companies would do the same thing. You aren't guaranteed free speech as part of employment, especially if it casts your employer in a poor light. But at the same time, there was a strong sense that NFL and team officials were glossing over potential safety issues with the field by expressing unfounded confidence and revealing only vague details about the preparation process. Muzzling players only added to that suspicion. Why shut them down if there is nothing to hide?
3. Concerns about the Chicago Bears' receivers:
We spent a fair amount of time last offseason debating the merits of the Bears' receivers and whether they would overlook the skills of tight end
Greg Olsen
in the Mike Martz scheme. The Bears kept telling us they considered the sum of the parts to be greater than any one individual, and on cue, they have three wide receivers with 36 or more catches.
Johnny Knox
is nearly on pace for a 1,000-yard season. Knox,
Earl Bennett
and
Devin Hester
each have three touchdown receptions. And while Olsen has been limited to 35 receptions, he has a team-high five touchdowns.
RISING
1. Holiday cheer in Oconomowoc, Wis.:
We noted Monday
that Vikings quarterback
Brett Favre
wore a towel with a backwards "4" in honor of 5-year-old Anderson Butzine, who has a terminal brain tumor. Favre and his wife, Deanna, visited Butzine's family in suburban Milwaukee last Friday. If you haven't already, take a few minutes to watch
this homemade video of Favre's visit
. No matter what you might think of Favre, the impact of his visit is undeniable. If you're interested in more of Butzine's story, be sure to check out
his CaringBridge page
. And then be sure to give your children an extra hug today.
[+] Enlarge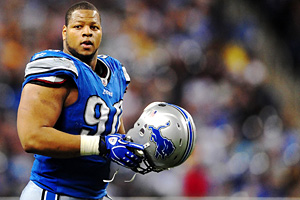 Andrew Weber/US PresswireNdamukong Suh has been as good as advertised during his rookie season.
2. Lovie Smith, Chicago Bears coach:
Last winter, there were suggestions that the Bears would have fired Smith were it not for the $11 million buyout on his contract. This winter, he's the top coach in the NFC North. Smith has been described by detractors as tone-deaf to the realities of the world around him, but that proved to be an attribute for this season. Even if it was misplaced, Smith's genuine confidence in this Bears team helped everyone tune out the near-universal expectations for an all-out collapse in 2010. Sometimes, insulation helps.
3. Ndamukong Suh, Detroit Lions defensive tackle:
Although he hasn't had a sack in three games, Suh continues to have a precedent-setting season. In an
ESPN Insider piece
this week, Vince Verhei of Football Outsiders suggests Suh is having the best rookie season of a defensive tackle in at least 13 years. Football Outsiders measures defensive tackles partly with a metric known as "defeats" -- the sum of plays that result in a loss of yardage, turnover and/or a stop on third or fourth down. Suh has 25 defeats this season, two more than
Shaun Rogers
had for the Lions in 2001. I think we all know Suh is having a great season, but this analysis helps us put it in some historical context.
December, 21, 2010
12/21/10
5:15
PM ET
After the Minnesota Vikings' 40-14 loss to the Chicago Bears, here are three issues that merit further examination:
In the end, the much-discussed field at TCF Bank Stadium was less hazardous than feared but worse than NFL-caliber fields at other northern locales. Vikings players were ordered not to make negative comments about the field after punter Chris Kluwe called it "unplayable" via Twitter on Sunday, according to ESPN's Ed Werder, so it's difficult to put much stock in what they said about it after the game. But for what it's worth, here's what receiver Sidney Rice said: "It's probably the worst, most dangerous field I've played on ever. I've been in the league a long time. I'm from down South, but it was tough conditions. But there are no excuses. The Bears played well on it and won the football game." Bears quarterback Jay Cutler said: "There were a couple of slick spots out there. Outside the numbers, the big 'M', the end zone, they were all rock hard. They were slippery, so you had to be careful. They did a good job of getting the field ready. But without those heating coils under it there is only so much that they could do." In the end, the most dangerous thing that happened Monday night was security's failure to notice a fan jump onto the field, walk nearly 60 yards down the hashmark during a play and then begin mingling with players before finally getting dragged off the field.

I will admit that there were some cool moments Monday night, including fans spontaneously throwing snow in the air after Percy Harvin's first-quarter touchdown. And to be clear, I'm all for outdoor football as long as the facility can support it adequately. TCF Bank Stadium wasn't built to be used in December. If the Vikings build a new stadium, surely it would be. But I'm guessing they will have a hard time getting an outdoor stadium publicly financed. If political leaders are going to devote some $700 million to the project, they'll want it to be used more than 10-12 times per year. A dome, or retractable roof, would be necessary for a new stadium to replace the current utility of the Metrodome.

No matter what you think of quarterback Brett Favre and his decision to play Monday night, I hope we can all agree that he and wife Deanna made a wonderful gesture over the past few days. According to Werder, the Favres traveled by private plane last Friday to Milwaukee to visit five-year-old Anderson Butzine, who has terminal brain cancer. During a visit that lasted several hours, Anderson showed Favre pictures he had drawn of his favorite player. In all of the pictures, Favre's No. 4 was drawn backwards. Monday night, Deanna Favre sent down a towel for her husband to wear. It had a backwards "4" drawn on it.
And here is one issue I don't get:
Let's face it. The Vikings have absolutely tanked their past two games and lost by a combined score of 61-17. There is no debate there. But how will that performance reflect on the future of interim coach Leslie Frazier? Will he get a pass considering the unusual circumstances that have followed the Metrodome roof collapse? Or will owner Zygi Wilf hold him accountable for the way players have performed the past two weeks? Fair or otherwise, coaches are ultimately evaluated on their record.
October, 22, 2010
10/22/10
8:40
PM ET
The NFL has apparently made some headway in its efforts to interview the former
New York Jets
sideline reporter who reportedly received inappropriate text messages and photographs from
Minnesota Vikings
quarterback
Brett Favre
in 2008.
The details are posted in a
news story on ESPN.com
. The attorney for reporter Jenn Sterger is quoted saying: "We're certainly headed in that direction" of an interview. Sterger would be in position to provide evidence and/or corroboration of the allegations, which were first reported by Deadspin.com.
The apparent shift of the investigation from the NFL's personal conduct policy to one of a workplace behavior issue clouds the possible discipline for Favre if the allegations are proved true. Under the personal conduct policy, Favre was subject to a fine or suspension.
Favre has refused on multiple occasions to comment on the issue. He
met Tuesday
with the NFL's vice president of security. His wife, Deanna Favre,
said this week
she is relying on her faith to get through this time period but didn't address the veracity of the claims.
October, 21, 2010
10/21/10
10:30
AM ET
We can say one thing with certainty as the NFL continues to investigate allegations that
Minnesota Vikings
quarterback
Brett Favre
sent inappropriate photographs and text messages to a former
New York Jets
sideline reporter: The Favre family message is unified.
Favre has declined on multiple occasions to discuss, confirm or deny the allegations. Thursday morning, his wife
did the same
.
Appearing on "Good Morning America" and "Fox & Friends," Deanna Favre said she would not discuss anything personal. She said she is handling the situation "through faith" but offered no other comment during interviews previously scheduled to promote a new book.
So if you're scoring at home, here's what we know:
No one involved in the story has publicly denied it.
The NFL is interested to the extent of determining whether the allegations, if true, violated its personal conduct policy. If so, commissioner Roger Goodell would have the option to fine or suspend Favre.
Favre met with NFL vice president of security Milt Ahlerich on Tuesday. The sideline reporter, Jenn Sterger, has thus far not cooperated with the investigation but this week hired a New York-based law firm to represent her.
Deadspin.com, which originally reported the allegations, revealed this week that Ahlerich also wants to speak to its top editor about the information.
By the way, Deanna Favre's book is titled "The Cure for the Chronic Life." Promotional material bills it as "a guide for the journey out of hopelessness."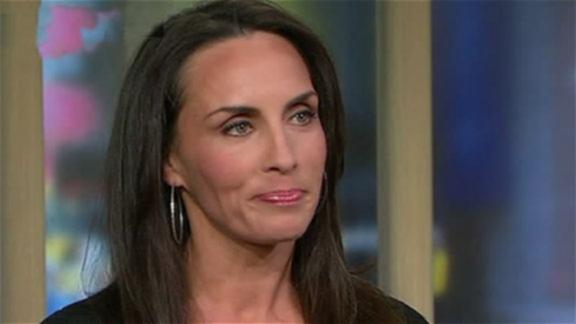 August, 6, 2008
8/06/08
6:54
PM ET
Posted by ESPN.com's Kevin Seifert
GREEN BAY, Wis. -- Green Bay Packers General Manager Ted Thompson and his staff remained holed up in their Lambeau Field offices Wednesday afternoon, continuing trade discussions about quarterback Brett Favre. Thompson has postponed his weekly news conference until there is news to discuss, but there is still a chance he will meet with reporters at some point this evening.
The Packers are scheduled to practice at 6:30 p.m. CT. We'll keep you updated on any late developments.
To summarize today's activities:
Favre and his wife, Deanna, departed Green Bay this afternoon and have returned to Hattiesburg, Miss.
The Packers are holding active conversations with both the Tampa Bay Buccaneers and New York Jets.
Favre has spoken to officials from both teams.
According to ESPN's Chris Mortensen, the Favre family is huddling Wednesday night to discuss the pros and cons of playing for each team.
July, 11, 2008
7/11/08
5:05
PM ET
Posted by ESPN.com's Kevin Seifert
The Packers just released the statement below. Note the fifth paragraph, where the team says Favre would become an "active" member of the team if he is reinstated.
The Green Bay Packers are aware of the latest developments regarding Brett Favre.

Brett earned and exercised the right to retire on his terms. We wanted him to return and welcomed him back on more than one occasion.

Brett's press conference and subsequent conversations in the following weeks illustrated his commitment to retirement.

The finality of his decision to retire was accepted by the organization. At that point, the Green Bay Packers made the commitment to move forward with our football team.

As a retired player, Brett has the option to apply for reinstatement with Commissioner Goodell. If that were to occur, he would become an active member of the Green Bay Packers. As always, the Packers will do what's right and in the best interest of the team.

As with all Packers greats, Brett's legacy will always be celebrated by our fans and the organization, regardless of any change in his personal intentions.

Brett and Deanna will always be a part of the Packers family.