December, 12, 2010
12/12/10
7:31
PM ET
CHICAGO -- No sense devoting too much wordplay to this stinker.


It became abundantly clear very quickly the home-team
Chicago Bears
were more affected by the inclement weather conditions than the visiting
New England Patriots
, who rode Tom Brady's arm to
a 36-7 smackdown
at Soldier Field.
Chicago's embarrassing loss brings back the question that has hung over the club all season: Are the Bears the real deal?
They definitely didn't look the part against the Patriots.
What it means
: The Bears squandered an opportunity to pad their lead atop the NFC North by falling to the Patriots. Earlier in the day, the
Green Bay Packers
-- already a game behind the Bears in the division -- lost 7-3 to the
Detroit Lions
. Further complicating matters for Green Bay was the concussion quarterback
Aaron Rodgers
suffered in the first half that casts doubt about his availability for the Packers' matchup next week at New England.
So had the Bears taken care of business Sunday against New England, they'd be two games up against a Packers team that could very well be on the way to yet another loss next week on the road against what appears to be the best team in the league.
Snow what?
That's probably what the Patriots say to the notion of inclement weather at Soldier Field affecting their offense. The Patriots racked up 273 yards in the first half, converting on 67 percent of third downs.
The team with home-field advantage, meanwhile, managed just 33 yards of offense in the first half as quarterback
Jay Cutler
succumbed to two sacks and finished with a passer rating of 58.3. The area the Bears hoped to lean on most -- the rushing attack -- produced just 19 yards in the first half, led by
Matt Forte
, who averaged 1.9 yards per carry. The club's longest run in the first two quarters was a 7-yard scramble by Cutler.
Brady lights up Cover 2
: Chicago made no secret of its plan to stay in Cover 2 and test Brady's patience by forcing him to make short passes. Brady did that and more in the first half, lighting up the Bears' Cover 2 defense for 195 yards in the first half with two touchdowns and a passer rating of 124.1.
Brady displayed patience against Chicago's Cover 2 in taking New England on 12- and 11-play scoring drives to start the game. Then, when the Bears started to take more chances in coverage, the quarterback and his receivers took advantage. On the final play of the second quarter, Brady hit
Deion Branch
-- who beat Bears corner
Charles Tillman
on the route -- for a 59-yard touchdown as time expired.
In the first half alone, the Patriots lined up in six different personnel packages on offense, in addition to no-huddle. The Bears seemed to have no answer, and by the end of the third quarter, two New England receivers -- Branch and
Wes Welker
-- had each racked up more than 100 yards on a combined 15 catches.
Record-setting first half
: Chicago's performance in the first half Sunday will go in the team's record books, just not the way it would like. The Bears allowed the most first-half points in franchise history, surrendering 33 through the first two quarters, shattering the old mark of 31 points scored on the club by the Detroit Lions on Sept. 18, 2005.
What's next
: Minnesota is next up on the schedule, but there's uncertainty concerning whether the Bears will be able to play the Vikings at the Metrodome next Monday night because the facility's inflatable roof caved in under the weight of heavy snows in the area.
Bill Lester, executive director of the Metropolitan Sports Facilities Commission -- which operates the Metrodome -- reportedly said that extent of the damage was still being assessed. But Steve Maki, the facilities manager, told the Associated Press he is optimistic the roof can be repaired in time for the Monday night matchup.
November, 25, 2010
11/25/10
3:57
PM ET
A few thoughts on another
late collapse
by the Lions:


What it means:
The Lions dropped to 2-9 on the season, ensuring themselves a 10th consecutive losing season. They have now lost their past seven Thanksgiving Day games and nine of their past 10.
A harsh lesson:
Trailing 14-3 in the first half, the Patriots stayed cool, made a few offensive adjustments and roared back to score the final 28 points of the game. The Lions, on the other hand, melted down on defense -- particularly cornerback
Alphonso Smith
-- and watched quarterback
Shaun Hill
throw a critical interception in the third quarter.
The goat:
A national television audience got an idea why the
Denver Broncos
gave up on Smith after one season. Smith was the closest defender on three of quarterback
Tom Brady
's touchdown passes, but it was his tackling that was atrocious and not worthy of a professional football field. Most notably, he was way too high on Patriots running back
BenJarvus Green-Ellis
on a 15-yard touchdown run and got twisted out of his Underoos on a 79-yard catch-and-run by receiver
Deion Branch
. With all of that said, I'm not a fan of the Lions' decision to bench him in favor of veteran
Nate Vasher
. I'm all for accountability, but I also think it's obvious the Lions don't know how to respond to adversity. You don't give a young player like Smith a chance to learn if he's standing on the sideline.
More slop:
In case you forgot, this game was tied at 24 when the fourth quarter began. After that point the Lions were called for seven penalties, two of which were declined. Tight end
Brandon Pettigrew
lost track of where he was on the field, stepped out of bounds, and then stepped back in illegally to catch a pass. Meanwhile, receiver
Bryant Johnson
dropped another touchdown pass. That's pretty much the definition of a 45-minute team.
Congratulations in order:
Brady finished with a perfect passer rating of 158.3 after completing 21 of 27 passes for 341 yards, four touchdowns and no interceptions.
Early pressure:
The Lions battered Brady early in the game. Defensive tackle
Ndamukong Suh
notched his eighth sack of the season.
Little Best:
Rookie tailback
Jahvid Best
wasn't a factor because of turf toe.
Maurice Morris
and
Aaron Brown
combined for a better-than-expected 91 rushing yards on 22 carries.
What's next:
The Lions will host the
Chicago Bears
on Dec. 5, the first of three late-season home games against NFC North rivals.
December, 27, 2009
12/27/09
7:02
PM ET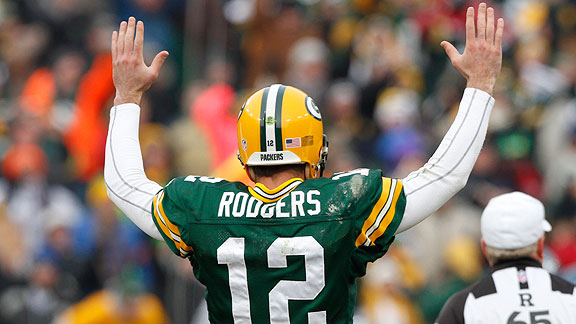 AP Photo/Jim PrischingAaron Rodgers and the Packers won the sixth of their last seven games Sunday, clinching a playoff spot in the process.
GREEN BAY, Wis. --
Charles Woodson
knew all was well the moment he received Green Bay's practice schedule last week. Coach Mike McCarthy had given players an extra day off Friday so they could enjoy Christmas.
If there was any question about how the Packers would bounce back from a stunning loss at Pittsburgh last week, McCarthy nipped it with one flick of his pencil.
"I don't remember a time in my career -- college, high school, pros -- when the coach has given you off the whole day for a holiday," Woodson said. "You just don't get that opportunity to spend the whole day with your family. That's a day away from preparation. Most coaches are not going to take you away from preparation. He showed his support in this team and his trust in this team."
I didn't have the heart to tell Woodson that many NFL coaches, including all four in the NFC North, designed a similar schedule last week. But from that moment, it was clear to Woodson and the rest of the Packers' locker room that they would
stomp an undermanned Seattle team
in their final home game of the regular season.
That they clinched a wild-card playoff berth, courtesy Carolina's stunning
41-9 defeat
of the
New York Giants
, was a bonus. You can say what you want about the level of competition the Packers faced Sunday -- and we will soon -- but there is no debating that the Packers successfully circumvented what could have been a devastating loss.
As a result, they remain one of the NFL's hottest teams after winning for the sixth time in seven games.
"It's an impressive body of work, this second half of the season," McCarthy said. "That's the truth. That's the reality, and that has been acknowledged."
In Pittsburgh, Green Bay made clear they were a playoff-caliber team -- if not one equipped to win a postseason game on the road. And it's only fair to point out the Seahawks appeared to have given up on this season about three weeks ago. They've lost their last three games by a combined score of 106-24, and I thought quarterback
Matt Hasselbeck
made a measured observation Sunday afternoon.
"They are a good football team," Hasselbeck said of the Packers. "We made them look really, really good today."
Indeed, playing the Steelers on the road is much closer to a playoff atmosphere than taking on the Seahawks at home. But before we dig too far into the Packers' chances to make a run in the NFC playoffs -- "Anything is possible," quarterback
Aaron Rodgers
said -- we should give them a moment to enjoy their clinching moment. Meanwhile, we can reflect on how they got there.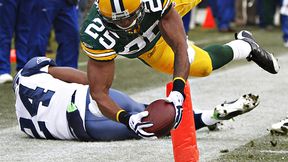 AP Photo/Morry GashRyan Grant has scored five touchdowns in his last three games, including two on Sunday.
In many ways, Sunday's victory provided a high-octane example of how the Packers pointed themselves in the right direction after a 4-4 start.
First, they adjusted their offense to compensate for severe pass-protection issues. Sunday, you saw the fruits of their primary tweaks. Running backs accounted for all six of their touchdowns: Three by
Brandon Jackson
(one via a screen pass), two for
Ryan Grant
and one for
Ahman Green
.
Grant's 56-yard scoring run in the second quarter officially buried the Seahawks in a 21-3 lead. Over this seven-game stretch, Grant has broken off three scoring runs of 24 yards or longer and has a total of six scores.
"It's nice to have some of the burden taken off of you," said Rodgers, who was sacked once Sunday and has taken only 15 during the seven-game stretch. He took 37 over the first eight games of the season.
Indeed, you didn't hear much from Seattle defensive end
Patrick Kerney
, who was largely shut down by another improvement the Packers made at midseason. Right tackle
Mark Tauscher
, who replaced former starter
Allen Barbre
, held Kerney without a sack and with only one quarterback hit.
From a defensive perspective, meanwhile, the Packers have overwhelmed most opponents with havoc at the line of scrimmage. Sunday, they sacked Hasselbeck three times and intercepted him on four occasions. They're playing coordinator Dom Capers' 3-4 scheme at a high level, rendering moot some early complaints from Woodson and defensive end
Cullen Jenkins
.
Here's one anecdote to explain what I'm talking about.
With the Seahawks facing third-and-8 from their 31-yard line in the third quarter, Woodson lined up across from Seahawks receiver
Deion Branch
in the slot. Woodson noticed tight end
Cameron Morrah
in the backfield and immediately recognized the upcoming play.
Before the snap, he turned to Packers safety
Atari Bigby
and filled him in.
"You recognize what a team is doing to you," Woodson said. "You recognize sets. I've seen that set a number of times, and I just let [Bigby] know what they were going to run. Either the ball will go short and I'll get it, or it will go long and he gets it."
As it turned out, Hasselbeck overthrew Branch on a seam pattern. Bigby was in place to make the interception.
Those are the types of game-changing plays a well-coached and well-oiled defense makes. Opponents will still find weaknesses, as the Seahawks did Sunday by targeting Packers nickelback
Jarrett Bush
on a 31-yard pass to receiver
T.J. Houshmandzadeh
and a 16-yard touchdown to tight end
John Carlson
. More often than not, the Packers' smart defensive plays have outnumbered their mistakes during the second half of the season.
So where does this all leave us? Sunday, it meant a team that changed its defensive scheme in January and significantly altered its offensive scheme in November is now in the playoffs. Its flaws have surfaced against some of its most difficult opponents, Minnesota and Pittsburgh among them, giving us some pause when you consider the Packers' postseason aptitude.
But in terms of reaching the playoffs, the Packers ultimately minimized those losses and prevented them from consuming their season.
"You've got to keep your vision," Woodson said. "I think most of the guys on this team have done that. We've had a lot of ups and downs and a lot of things said. A lot of things were not said. But everybody realizes our ultimate goal. We've now got a chance."