NFC North:

Derrick Thomas
February, 4, 2012
2/04/12
6:56
PM ET
We spent plenty of time in recent days discussing
the tough road for wide receivers
making the Pro Football Hall of Fame. In the process, we ignored where the selection committee has turned its attention: pass-rushers.
Not one receiver made the last cut to five modern-day finalists in Saturday's balloting in Indianapolis. But former Minnesota Vikings defensive end Chris Doleman became the third consecutive NFC North pass-rusher
to earn enshrinement
, following Richard Dent in 2011 and John Randle in 2010. Former Minnesota Vikings receiver Cris Carter again failed to make the cut, a victim of the perceived value between pass-rushers and wide receivers.
[+] Enlarge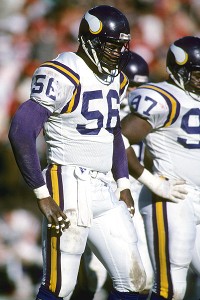 AP Photo/NFL PhotosNot only was Chris Doleman a sack specialist, but the former Vikings star is also among the NFL career leaders in fumble recoveries.
At least one pass-rusher has won election in each of the past five years. Bruce Smith and Derrick Thomas were part of the 2009 class, and Fred Dean was in the class of 2008.
Doleman's 150.5 career sacks rank fourth in NFL history, behind Smith (200), Reggie White (198) and Kevin Greene (160). Smith and White are both in Canton, and as of Saturday, five of the top eight players with the highest career sack totals have or will be enshrined. Greene, Michael Strahan (eligible in 2013) and the recently retired Jason Taylor (139.5) are the only players who have been left out.
(More on Greene, who didn't even make the cut from 15 finalists to 10, in the coming days.)
I don't want to take anything away from Doleman, who was a pass-rushing force for an extended period in the NFL. His two best seasons -- 21 sacks in 1989 and 15 sacks in 1998 -- came nine years apart. Doleman was part of four teams that finished the season with the NFL's top-ranked defense, recovered the seventh-most fumbles (24) in league history and was an eight-time Pro Bowler.
But with the exception of Greene, it's clear that sack totals are among the most reliable tickets to the Hall of Fame. Minutes after Doleman's election was announced, longtime Twin Cities sports analyst Patrick Reusse (also a colleague of mine at ESPN 1500)
tweeted
: "Apparently, it's all about sacks, since in his absolute prime, Doleman was 2nd best D-lineman on his team, behind Keith Millard."
To me, the definition of a Hall of Fame player is that he was one of the best of his era. Doleman was named to the NFL's 1990's All-Decade team, along with three other defensive ends. Was he one of the best players of that generation? He was if you accept that pass-rushing is as important as the voting committee considers it.
But enough of that. I'm not going to diminish Doleman's big day by questioning his credentials. There is little doubt he was a great player for a long time in this league.
Yes, the beauty of the annual Hall of Fame announcement is that it produces as much debate afterward as it did beforehand. Doleman is a Hall of Fame player because the voting committee places premium value on his particular skill set. (Again, Greene appears to be the lone exception to that rule.)
Carter isn't in the Hall of Fame because the voting committee doesn't value his position and corresponding statistics nearly as much. There are still only 21 receivers in Canton, the lowest total of any position other than tight end and kicking specialist. That's the deal -- no more and no less.
September, 20, 2009
9/20/09
7:55
PM ET

Posted by ESPN.com's Kevin Seifert


I'm going to go out on a limb here and suggest that Green Bay's offensive line transition hasn't worked according to plan quite yet.
I know there are a lot of things to jump on after Sunday's 31-24 loss to Cincinnati. But I can't get past the fact that Bengals defensive end
Antwan Odom
sacked Packers quarterback
Aaron Rodgers
five times. FIVE TIMES. F-I-V-E T-I-M-E-S. Those are
Derrick Thomas
numbers. Those are
Lawrence Taylor
numbers. Sorry, those aren't Antwan Odom numbers.
It's true, Packers left tackle
Chad Clifton
departed with an ankle injury, forcing the Packers to shift left guard
Daryn Colledge
over one spot to replace him. But a couple points on that: First, Odom victimized Clifton a couple times before Colledge moved over. And second, didn't the Packers want to avoid this type of multi-positional backup situation in the first place?
The performance was particularly alarming when you take into account the struggles right tackle
Allen Barbre
had in the season opener against Chicago. To me, it goes beyond personnel. When an individual is struggling to that level on a given day, isn't it incumbent on a coaching staff to stop the bleeding, even if it requires multiple adjustments elsewhere? Can you really let a guy keep motoring to a five-sack day?
The Packers have now given up 10 sacks in two games this season. Rodgers isn't going to make it through the season at that rate. No quarterback would.
September, 16, 2009
9/16/09
11:00
AM ET
| | |
| --- | --- |
| | |
| | Jonathan Daniel/Getty Images |
| | Is Bears linebacker Brian Urlacher a Hall of Famer? |

Posted by ESPN.com's Kevin Seifert
I know. This is the type of post you write when a player announces his retirement, suffers a career-ending injury or otherwise signals his time remaining on the field is short. None of those qualifications exist for Chicago linebacker
Brian Urlacher
, who at this point is fully expected to return in 2010 after dislocating his wrist Sunday night at Green Bay.
But let's face it. When the Bears open training camp next summer, Urlacher will be 32 and four seasons removed from his last Pro Bowl team. He's played 138 games in his career, and it's safe to say that his body of work is largely in the books. So for this week's "Have at It," let's discuss whether Urlacher has done enough to be a legitimate candidate for the Pro Football Hall of Fame.
In the history of the game, 19 linebackers have been enshrined. You can view a list of them
here
. Of that group, only four began their careers after 1980. I pulled some numbers and accomplishments for that group -- Mike Singletary, Andre Tippett, Lawrence Taylor and Derrick Thomas -- to give you a reference point for the standards the voters have most recently looked for. (I didn't include tackles because they are an unofficial stat and vary based on which linebacker position you play.)
Urlacher vs. recent Hall of Fame linebackers
Player
Year
Games
INTs
Sacks
Pro Bowls
All-Pros
Awards

Mike Singletary

1981-92

179

7

19

10

8

Defensive POY, 1985 and '88

Lawrence Taylor

1981-93

184

9

132.5

10

9

Defensive POY, 1981, '82 and '86

Andre Tippett

1982-93

151

1

100

5

2

Named to 1980's all-decade team

Derrick Thomas

1989-99

169

1

126.5

9

3

NFL Rookie of the Year

Brian Urlacher

2000-now

138

17

37.5

6

4

NFL ROY; Defensive POY, 2005
The big question voters will ask is if Urlacher dominated his era, and that should be a primary focus of this debate. Did he have a few dominant years, or was he a game-changer for a generation? Those are two questions to consider. His central role in making the Bears' defense a blueprint for the league will be reviewed, as will his status as
one of five players
in NFL history to win both the Rookie of the Year and Defensive Player of the Year awards.
Again, this is no post-mortem. Urlacher have a chance to add a finishing flourish to his legacy. The wrist injury has spared him a year of pounding and could eventually extend the timetable of his career. But while Urlacher is likely to return, it's reasonable to expect voters to most closely scrutinize his heyday from 2000-06.
As usual, we'll meet back here Friday morning to hash it all out. Have at It.
August, 8, 2009
8/08/09
12:30
PM ET
Posted by ESPN.com's Kevin Seifert
Way back in January, one or two of you expressed some, er, mild, disappointment that I didn't allocate enough space to Chicago defensive end Richard Dent's failure to make the Pro Football Hall of Fame. (Especially after noting the somewhat surprising snub of former Minnesota receiver Cris Carter.)

Richard Dent
Defensive End



CAREER STATS
G
TACK
FF
INT
SACK
203
671
37
8
137.5
Dent has been a finalist five times. So on the weekend of the 2009 enshrinement, I invite you to argue why Dent should be in the Hall. (Or if he shouldn't.) Put your sentiments in the comment section below. I'll cull the most reasonable and civil arguments and post them in the near future.
If you're interested in what Dent himself thinks, check out this piece from Brad Biggs of the Chicago Sun-Times. Dent believes his résumé compares favorably to that of former Kansas City linebacker Derrick Thomas, who will be enshrined this weekend.
Here is the gist of Dent's sentiment:
"[Thomas], he was a good ballplayer. Don't get me wrong. But understand that when I was stripping balls and doing things, there was only one other player that was doing that around the same time, and that was Lawrence Taylor."
For your convenience, here is the most exhaustive compilation of Dent's career statistics and milestones from pro-football-reference.com.
February, 3, 2009
2/03/09
4:00
PM ET
Posted by ESPN.com's Kevin Seifert
I admit it. I clicked on this podcast to see if there were any hints of bitterness from former Minnesota receiver Cris Carter, who was excluded Saturday from the annual Pro Football Hall of Fame class for the second consecutive year.
I listened closely to a guy who doesn't usually have a problem speaking his mind. But Carter's reaction was classy, genuine and confident at the same time. Here's the full transcript of what he said this week on ESPN's "Mike and Mike in the Morning" radio show (emphasis is mine):
(Asked his feelings now that two years have gone by without getting into the Hall)
"Well, I ain't going to get no better next year, either [laughing]. I don't plan on having a big year. So it might be tough next year. Man, at this stage, I've been hanging out with [Mike] Golic and eating and everything. The thing about the Hall of Fame is, really, the news is not me not getting in. The news is the class that is going in -- all guys that did deserve to go in.
"I would probably start with my teammate Randall McDaniel, who was a dominant, consistent player. Undersized. Phenomenal teammate. He's everything you want in a teammate. He's everything you want in a Hall of Famer. ... I played with him for 10 years. He made the Pro Bowl every year. There was no down that I played with him that I didn't know I was playing with a Hall of Famer. Just like when you play with Reggie White.
"And Ralph Wilson Jr., him getting in, 90 years old. Give the man a chance to enjoy it. He should have been in. He's one of the pioneers and why we have success in the National Football League. The story is not me not getting in. The story is celebrating these guys: Bruce Smith, Rod Woodson, who I competed again. Bob Hayes, who finally got in. His sister was there. Big Derrick Thomas -- we saw him, Golic, unbelievable player.
"The story is not me. It's really not. I've done all I can do. Whenever the Hall of Fame calls, I'm pretty certain I'm going to answer."
February, 1, 2009
2/01/09
1:18
PM ET
Posted by ESPN.com's Kevin Seifert
One NFC North alumnus (guard Randall McDaniel) got into the Pro Football Hall of Fame on Saturday while another (receiver Cris Carter) absorbed a significant snub. Here's another disappointment that didn't get quite as much attention on Sunday: Defensive end Richard Dent, who was turned away for the fifth consecutive year.
Dent finished his career with 137.5 sacks, which at the time ranked third in NFL history. He made it past the first round of cuts Saturday, an advance that Brad Biggs of the Chicago Sun-Times considers an important milestone. But Dent, in an interview with David Haugh of the Chicago Tribune, seemed to take the news pretty hard.
"I don't feel much at all," Dent said. "I'm just numb to the situation. I really don't have much to say."
Dent has lost out to four other pass-rushers in the past two years: Fred Dean, Andre Tippett, Bruce Smith and Derrick Thomas.
Continuing around the NFC North on Super Bowl Sunday:
Minnesota has approached Fox Sports reporter Jay Glazer for help in getting quarterback Tarvaris Jackson involved in a mixed martial arts program. But Jackson doesn't seem too interested. Asked by Sean Jensen of the St. Paul Pioneer Press, Jackson said: "Nah. I'm not planning on it."
Detroit was focusing its personnel search on former Jacksonville executive James "Shack" Harris late last week, and now it seems likely that Harris is the Lions' choice. Nicholas J. Cotsonika of the Detroit Free Press confirms the hire.
Former Lions offensive lineman Mike Utley, paralyzed during a 1991 game, was a guest of Pittsburgh executive Kevin Colbert at the Steelers' practice Saturday. Colbert worked for the Lions front office earlier in his career.