NFC North:

Devery Henderson
September, 10, 2010
9/10/10
11:00
AM ET
(We're sprucing up our day-after-game posts here on the NFC North blog, but the structure remains the same.)
After the Minnesota Vikings' 14-9 loss Thursday night at the New Orleans Saints, here are three issues that merit further examination:
Kevin SeifertThe Minnesota Vikings take their turn in the examination room after losing to New Orleans.

I spent much of my time in our "Countdown Live" chat arguing for the Vikings to open up their offense and felt vindicated when passes of 33 and 20 yards to tight end Visanthe Shiancoe resulted in a touchdown just before halftime. But after doing some postgame interviews, I changed my mind. I think the Vikings missed an opportunity to really get after it with their running game. With the Saints playing mostly a three-man line with Cover 2 defense in the back end, the Vikings should have been able to control the game better with their running game. But coach Brad Childress seemed disappointed with the direction the offense took in the second half. Adrian Peterson got only four carries, while quarterback Brett Favre missed on eight of 12 throws. I think the Vikings could have worn down the Saints defense and knocked off a big run or two if they had stayed with it. Oh well. Hindsight is 20-20.

Childress said without reservation that third-year player Husain Abdullah is "our starting strong safety." We knew the Vikings weren't happy with 2009 starter Tyrell Johnson, but their training camp competition exclusively pit Johnson against second-year player Jamarca Sanford. Abdullah apparently got a few first-team repetitions during practice, but his emergence truly came out of nowhere. I don't know if the Vikings were playing possum with him, or if he became the starter because both Johnson and Sanford proved unworthy. But I can't argue with Abdullah's play Thursday night. He finished with four tackles, including an especially athletic stop of Saints tailback Reggie Bush. And if he dragged down the Vikings' pass defense, it wasn't evident on the whole. Quarterback Drew Brees threw for a relatively harmless 237 yards.

It took a while for the Vikings to work Greg Camarillo into their offense, but I liked what I saw when they did. Favre's first pass to him was not until midway through the fourth quarter, but Camarillo made a nice adjustment and hauled in a 29-yard reception to convert a third-and-4 situation. An offense that clearly lacked explosiveness Thursday night should use every weapon at its disposal. Camarillo might not have breakaway speed, but his sure hands and precise route-running should make him an easy fit with Favre.
And here is one issue I still don't get:
I'm still trying to figure out why the Saints didn't continue throwing downfield the way they did on their first drive, when quarterback Drew Brees completed three of four passes for 69 yards. Devery Henderson's 29-yard touchdown less than three minutes into the game suggested the rout was on. The Saints were clearly trying to capitalize on the Vikings' three-cornerback roster, but Brees managed only 158 more passing yards the rest of the way. So what gave? Childress suggested that the Saints had success with the "scripted" portion of their game plan but then veered away from it. The Vikings really didn't make much of an adjustment. They kept playing their nickel scheme and were the beneficiaries of an opponent that decided to play into the Vikings' strength as run-stoppers and mid-range pass defenders. Whatever.
January, 28, 2010
1/28/10
10:14
AM ET
At the risk of opening old wounds, I'd like to bring you the NFL's response to several key officiating calls in Minnesota's 31-28 loss at New Orleans in the NFC Championship Game.
[+] Enlarge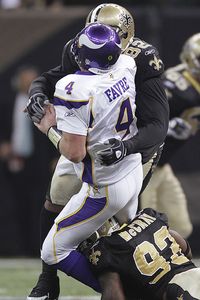 AP Photo/Mark HumphreyA penalty for hitting Brett Favre below the knees would have nullified a Saints interception.
Appearing Wednesday night on both the
NFL Network
and
NFL.com
, vice president of officiating Mike Pereira admitted there should have been a 15-yard penalty on the third-quarter play where Vikings quarterback
Brett Favre
suffered a left ankle injury. We
questioned the no-call
on Monday, and Pereira said: "We just missed it."
On the play, Saints defensive end
Bobby McCray
hit Favre in what Pereira called "pretty much a direct shot into the back of the legs." That contact violated an NFL rule prohibiting low hits on quarterbacks.
"It's the type of hit that we don't want," Pereira said, "… because clearly we're trying to protect the knees and we need to focus on this to make sure we don't miss [them]."
Had the penalty been called,
Jonathan Vilma
's interception would have been nullified and the Vikings would have re-gained possession with a first down at the Saints' 19-yard line.
Pereira was less direct about two instances involving instant replay during overtime, both of which went in the Saints' favor. I agree that both fell in a gray area, as Pereira explained.
On the first, a 9-yard reception by receiver
Devery Henderson
, Pereira admitted the ball touched the ground. "But the issue is not whether it hit the ground or not," he said. "The issue is whether he had control [of the ball before and after it hit the ground]" On that question, Pereira agreed with referee Peter Morelli: Replays didn't show enough to reverse the original call.
"I think if we had called it incomplete on the field," Pereira said, "it stays incomplete" after a review.
The same premise applied to the next play,
Pierre Thomas
's 2-yard run on fourth-and-1. There has been some discussion about where Thomas' forward progress should have been marked, especially after Vikings linebacker
Chad Greenway
appeared to have knocked the ball loose.
"One of those situations where it's so hard to tell [on replay]" Pereira said. "Did he lose possession? Hard to say. Was he short of the line to gain? Equally hard to say."
If Pereira addressed a third controversial call in overtime, a 12-yard pass interference penalty against Vikings linebacker
Ben Leber
, I didn't see it.
I know these comments won't satisfy everyone. NFC North readers react more emotionally to officiating than just about any other topic, and that's why we tried to address it weekly through our Dirty Laundry feature.
In the end, of course, there is nothing you can do about erroneous calls -- admitted or otherwise -- after the game is over. Officiating imperfection is part of sports at all levels, and ultimately -- although unscientifically -- I believe they even out over time. If anything, I give Pereira credit for speaking to some of the bigger questions on a weekly basis.