NFC North:

Devin McCourty
January, 28, 2011
1/28/11
11:30
AM ET
As promised, it's time to take a look at some potential Senior Bowl draft targets for the
Detroit Lions
. To be clear, all we can do at this point is match up the positions the Lions need help at with the reports we're getting out of Mobile, Ala.

Toward that end, outside linebacker is a position of need for the Lions and ESPN's Todd McShay has been raving about Texas A&M linebacker Von Miller all week. Miller has also got some work at defensive end, but at 6-foot-3 and 237 pounds,
McShay writes
: "He's looking like a perfect fit for a strongside linebacker in a 4-3 scheme."
Another snippet of McShay's report: "It's very clear Miller has the athleticism, speed and raw, natural football instincts to not only become adequate in coverage, but to make it a strength of his game, which already includes man-to-man coverage ability."
It doesn't sound like Miller will rise into the conversation for the Lions' first-round pick, No. 13 overall, but he is certainly a player who improved his stock this week.
On the other hand, our Scouts Inc. partners aren't that enamored with another position of need for the Lions this week. McShay wrote he didn't see a cornerback who would be worth of a first- or second-round draft pick.
McShay: One position group that really failed to make a mark this week was the defensive backs. Where were they? In recent years, we've seen standout performances from players like Chris Cook, Devin McCourty and Alphonso Smith, but this year has seen a very average group. There are no safeties like Taylor Mays, who wowed you with his size, speed and freakish natural athleticism. And looking at the cornerbacks, we don't know whether we saw anyone who will go in the first two rounds. No one rose to the top of the class and took advantage of the opportunity.
I always look at the Senior Bowl as an appetizer. Along with the East-West shrine game, it's the first step in a long process of matching college players with NFL teams. But it sure gets our juices flowing.
April, 22, 2010
4/22/10
9:45
AM ET
We've been following the mock drafts of ESPN analysts
Mel Kiper
and
Todd McShay/Scouts Inc.
all spring, so it's probably appropriate to take a look at their final efforts here on draft day. You'll need ESPN Insider subscriptions to see both posts, but I'm authorized to give you a look at the NFC North-related picks. I've also added the representative picks from
Dallas Morning News reporter Rick Gosselin
, whose draft-day mock is annually one of the most accurate in the country:
Detroit Lions
Scouts:
Nebraska defensive tackle
Ndamukong Suh

Kiper:
Suh

Gosselin:
Suh

Seifert comment:
For what it's worth, this seems to be a national consensus.
Green Bay Packers
Scouts:
USC tackle
Charles Brown
Kiper
: Idaho guard
Mike Iupati
Gosselin:
TCU linebacker
Jerry Hughes
Seifert comment
: I would take Iupati over Brown, but the Packers might go for Hughes over either.
Minnesota Vikings
Scouts:
Rutgers cornerback
Devin McCourty
Kiper:
Florida quarterback
Tim Tebow
Gosselin:
Notre Dame quarterback
Jimmy Clausen
Seifert comment:
I think coach Brad Childress honestly respects and would like to have Tebow. I'm also not convinced the
Lito Sheppard
signing would change the Vikings' direction on cornerbacks.
Chicago Bears
(third round)
Scouts:
Florida safety
Major Wright
Gosselin:
Wright
Seifert comment:
Safety is a top need and a good position to draft in the third round.
April, 21, 2010
4/21/10
8:20
PM ET
To the extent that the
Minnesota Vikings
were targeting a cornerback with its No. 30 overall pick, I doubt anything has changed based on Wednesday's
quick signing
of free agent
Lito Sheppard
. Here's where I'm coming from:
Sheppard, 29, signed a one-year, $2 million contract. Those terms paint the perfect picture of a short-term commitment to fill a specific hole. We outlined that opening earlier Wednesday: Starter Cedric Griffin is rehabilitating a torn anterior cruciate ligament. He might not be ready for the start of the season, and Benny Sapp is the only player with experience behind him. But without question, Griffin is a long-term fixture in the Vikings' lineup.
A first-round cornerback might contribute right away, but his horizon would extend far beyond Sheppard's likely career arc. In other words, if a cornerback you value is available at your spot in the draft, you're not going to pass because you just signed a veteran free agent to a one-year contract.
A rookie drafted this year would more likely be targeted as Antoine Winfield's eventual replacement. Winfield turns 33 in June.
Sheppard has played for coach Brad Childress and defensive coordinator Leslie Frazier in Philadelphia. If you have the opportunity to bring in a veteran cornerback who is familiar with your defense and as well-respected around the league as Sheppard is, you do it without consideration to the draft. I'm pretty sure no NFL team has had too much depth at cornerback.
Now, watch the Vikings pass on Kareem Jackson, Kyle Wilson and Devin McCourty -- three of the draft's top cornerbacks -- and pick a tight end at No. 30. That would show me.
April, 9, 2010
4/09/10
12:05
PM ET
Much of our debate on Green Bay's pre-draft needs has centered on offensive tackle and outside linebacker. But some of you suggested an alternate focus during
last week's discussion
: cornerback.
A cornerback with sophisticated coverage skills is one of the four most-difficult targets in any draft, a list that (in my opinion) also includes pass-protecting left tackles, pass-rushing defensive ends and competent quarterbacks. That's one of the reasons you saw the Packers issue a high tender to restricted free agent
Tramon Williams
, who has made 20 NFL starts.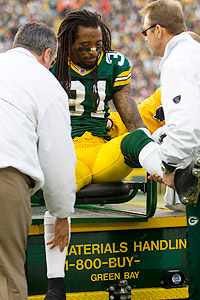 Jeff Hanisch/US PresswirePackers cornerback Al Harris, who injured his knee last season, might not be ready when the 2010 season begins.
Another big reason is something we haven't discussed much in this space: The uncertain future of longtime starter
Al Harris
, who at 35 is rehabilitating a left knee injury that was more serious than we originally thought.
Harris has been chronicling his recovery over at the
National Football Post
, but coach Mike McCarthy spoke with realism last month when discussing Harris' timetable for returning to the field. McCarthy called it a "real serious injury" and indicated that team doctor Patrick McKenzie performed two separate procedures on him to regain full range of motion.
"We'll just continue to watch that and see how he responds," McCarthy said, adding that it's "probably fair" to compare Harris' timetable to the one right tackle
Mark Tauscher
followed last year. Tauscher wasn't ready to start practicing until October.
If Harris isn't ready to start the season, Williams would start opposite
Charles Woodson
. In that scenario, the Packers would be counting on several other players to recover from injuries, including
Will Blackmon
and
Pat Lee
, to provide depth.
A first-round cornerback might not be a dramatic need, but it wouldn't be a luxury either. For what it's worth, here are Mel Kiper's
top five available cornerbacks
:
1. Florida's Joe Haden
2. Alabama's Kareem Jackson
3. Rutgers' Devin McCourty
4. Boise State's Kyle Wilson
5. Florida State's Patrick Robinson
March, 10, 2010
3/10/10
2:30
PM ET
Let's continue our (spontaneous) Draft Wednesday theme by taking a look at ESPN.com's
latest mock draft
. (It's 3.0 for those of you keeping track.) This one combines picks from analysts Mel Kiper and Todd McShay. You need an Insider subscription to view the entire list and accompanying analysis, but I can give you a sneak peek of the three NFC North-related picks.
Detroit Lions (No. 2)
Kiper:
Nebraska defensive tackle
Ndamukong Suh
McShay:
Suh
Seifert comment:
This assumes St. Louis takes Oklahoma quarterback
Sam Bradford
No. 1 overall. What a coup that would be for the Lions.
Green Bay Packers (No. 23)
Kiper:
Iowa tackle
Bryan Bulaga
McShay:
Rutgers tackle
Anthony Davis
Seifert comment:
Big discrepancy here. McShay has Bulaga going at No. 6 to Seattle. I myself have absolutely no idea, but it sure sounds like Bulaga's stock has moved above the No. 23 overall pick. I'm guessing the Packers will pounce if he falls this far.
Minnesota Vikings (No. 30)
Kiper:
Rutgers cornerback
Devin McCourty
McShay:
UCLA defensive tackle
Brian Price
Seifert comment:
At this point, the Vikings will take the best available player. But all things equal, a cornerback ranks higher than defensive tackle on their need list.