May, 18, 2011
5/18/11
10:50
AM ET
Lost amid helmet hysteria Tuesday was the
second part of our Flash Point exercise
, an effort to determine the most significant moment in each NFC North team's franchise history. In a video we added post-publication, ESPN's Mike Golic offered an alternative consideration for the Chicago Bears.
You chose the moment the Bears hired Buddy Ryan, architect of the 46 defense that led the team to a dominant 1985 season and ultimately victory in Super Bowl XX. I didn't disagree. Golic, on the other hand, suggested a moment we never discussed.
In the 1965, the Chicago Bears had three first-round draft picks. Their first choice: Linebacker Dick Butkus. Their second: Running back Gale Sayers.
Two Hall of Fame players chosen in the first round of one draft? Pretty impressive. I'll let you argue their franchise-wide impact among yourselves, noting the Bears were in the midst of a 14-year playoff drought at the time.
November, 24, 2010
11/24/10
10:00
AM ET
»
NFC Stock Watch
:
East
|
West
|
North
|
South
»
AFC
:
East
|
West
|
North
|
South
FALLING
1. Tension in Minnesota:
More than anything, the firing of coach Brad Childress relieved the daily updates we have received about his relationship with players and his stature within the organization. The Vikings were a tense, irritable and clearly distracted team from the start of training camp. That doesn't provide an excuse for why they are 3-7, but it's certainly part of the explanation. Interim coach Leslie Frazier will have to walk the line between easing up on players while also establishing an appropriate sense of urgency.
2. Jahvid Best, Detroit Lions tailback:
Something doesn't add up. Best put his explosive wares on display in Week 2, accumulating 232 all-purpose yards against the
Philadelphia Eagles
. Since then, however, his production has dipped dramatically. Over the past two games, Best has touched the ball 28 times and gained 56 yards. He is known to be suffering from multiple turf toe injuries, but he hasn't missed a game. If the injuries were the sole explanation for his struggles, you would assume the Lions would have given him a rest by now. They haven't. So what does that tell us? Either the injuries aren't as debilitating as they appear, and his low production is due to other factors, or the Lions have been criminally negligent with one of their top assets.
3. Brett Favre, Minnesota Vikings quarterback:
Now that his presumed nemesis has been vanquished, Favre has one less excuse for playing poorly over the season's final six games. He's enmeshed in one of the worst stretches of his career, having posted a passer rating below 52 in three of his past five games, and now has a limited engagement to resurrect his reputation in what you would assume is the final year of his career. Don't underestimate how important legacy is to him. With his full complement of receivers and presumably more license within the offense, Favre should have just about everything he thinks he needs to play better.
[+] Enlarge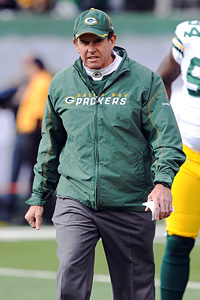 AP Photo/Evan PinkusDom Capers' defense is holding opponents to an average of 14.6 points per game.
RISING
1. Dom Capers, Green Bay Packers defensive coordinator:
After limiting opponents to 10 points combined over the past three games, the Packers are tied for the NFL low in points allowed per game. Capers' scheming and personnel adjustments have played a big role. It's amazing, for example, to watch how many one-on-one situations Capers gets linebacker
Clay Matthews
into over the course of a game. You know that opponents would prefer a double-team if they could figure out where he is going to line up. Normally, this type of coaching job is what gets your name on the short list of head-coaching candidates the following season. Capers, 60, has already had two shots as a head coach and might not get a third. But he's still had one of the best seasons of any assistant coach this season.
2. Rod Marinelli, Chicago Bears defensive coordinator:
It's hard to mention Capers without noting that Marinelli, in his first-ever stint as a coordinator, has his defense playing just as well. Marinelli has taken a different tack, using his base 4-3 scheme for about 70 percent of downs and occasionally mixing in blitzes to surprise opponents. Players have raved about the motivational nuggets he has used, and you can't argue with the results. Like the Packers, the Bears are giving up an average of 14.6 points per game. It's nice to see Marinelli resurrect his career and reputation following his 0-16 debacle with the Lions in 2008.
3. Brian Urlacher, Chicago Bears middle linebacker:
An important milestone eluded us during the chaos of the past week. Urlacher's five tackles last Thursday against the
Miami Dolphins
lifted him ahead of Mike Singletary and into first place on the Bears' all-time list of tackles. His total currently stands at 1,484. Tackles are an unofficial statistic and subject to coach's review, but if nothing else, the accomplishment puts Urlacher in the historical context of two Hall of Fame linebackers, Singletary and Dick Butkus, among others. And he's not done yet.
July, 20, 2010
7/20/10
9:49
AM ET
By
ESPN.com staff
| ESPN.com
We're Black and Blue All Over:
Chicago Bears
The Chicago Tribune takes a look at the Bears'
offensive line
.
NFL Films president
Steve Sabol picked
Dick Butkus as the game's greatest defensive player and Walter Payton as the game's greatest running back.
Former Bear Steve McMichael
talks about his induction
into the College Football Hall of Fame.
Detroit Lions
The Lions will open 20 training camp sessions
to fans
.
Cliff Avril is
battling for the Lions' left defensive end position
after Kyle Vanden Bosch claimed his right defensive end spot.
Green Bay Packers
The Green Bay Press-Gazette has a
profile on Marv Fleming
, who was recently inducted into the Packers Hall of Fame.
Minnesota Vikings
Offensive lineman Chester Pitts, who is recovering from microfracture surgery on his right knee,
will work out for teams
in Arizona. The Vikings are one of several teams that have shown interest.
An
unsettled labor situation
leaves the Vikings -- and other NFL teams -- treading unchartered waters.