April, 16, 2013
4/16/13
12:30
PM ET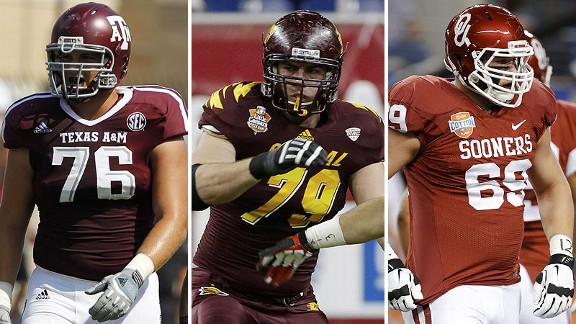 AP PhotosLuke Joeckel, Eric Fisher and Lane Johnson are prospects who could fit into the Lions' plan for 2013.
The
Detroit Lions
bottomed out and had desperate needs at nearly every position in 2009 when, with the draft's No. 20 overall pick, they selected ... a tight end. No one doubted the skills and potential of the Lions' choice, Oklahoma State's
Brandon Pettigrew
, but it seemed fair to question why they targeted a supplemental position while leaving presumably more important areas critically bare.
Two years later, the Lions targeted a running back in the second round a year after drafting one in the first round. At the time, Illinois'
Mikel Leshoure
seemed a luxury so soon after drafting Cal's
Jahvid Best
. The same could be said for the 2012 decision to draft Oklahoma receiver
Ryan Broyles
in the second round
at a time when there were several good options available
to upgrade their thin secondary.
If nothing else during the tenure of general manager Martin Mayhew, the Lions have demonstrated a thorough commitment to long-term draft philosophy over immediate need. It has given them a talented, if imbalanced, roster and provides a fascinating backdrop for next week's affair.
A 4-12 record in their fourth year under Mayhew and coach Jim Schwartz has generated a natural sense of urgency for this year's draft,
Mayhew told reporters last month
. Schwartz added: "There's nobody that doesn't feel that whether or not you've had success." The Lions' position at No. 5 overall provides a good opportunity to draft an immediate-impact player, or it could bring them a player who fits their long-term needs better but might need seasoning. The chart shows how teams have fared over the past 10 years in that spot.
If the Lions stay true to their approach under Mayhew and Schwartz, they could wind up with a player who isn't immediately ready to help them rebound from last season's debacle. Another disappointing season could prompt Lions ownership to end the tenures of both men.
Could self-preservation alter the Lions' philosophy? Will we see them draft the most NFL-ready defensive end, cornerback or linebacker -- arguably their three biggest positions of need? Or could they take a longer-term approach by drafting at a position where they already have at least an adequate starter -- say, at left tackle -- because the player is, in their view, the most talented at any position still available?
The guess, and frankly the hope, is the Lions won't deviate too far from an approach that has brought them players such as Pettigrew, Broyles, defensive tackle
Nick Fairley
and others. This discussion could quite possibly be moot, especially if Alabama cornerback
Dee Milliner
is still available at No. 5, but to me the gray area would be exposed under a scenario in which Milliner is gone.
In that situation, would the Lions draft BYU defensive end
Ziggy Ansah
, a freakish athletic talent who seems a perfect fit for their defense but had just one season as a starter and totaled just 4.5 college sacks? Ansah might not be ready to pass rush against the likes of
Matt Kalil
and
Jermon Bushrod
in Week 1, but over time there is a widespread belief he could develop into an elite defensive end in the mold of
Jason Pierre-Paul
(
New York Giants
) and
Aldon Smith
(
San Francisco 49ers
).
The most intriguing analysis comes at left tackle, where the Lions could almost certainly get by in 2013 and perhaps beyond with
Riley Reiff
, their first-round pick in 2012. But Reiff is athletic and versatile, and over the long haul, the Lions might well be better off with Reiff at right guard or even right tackle if they could find a better left tackle.
Most draft observers would tell you that Texas A&M's
Luke Joeckel
and Central Michigan's
Eric Fisher
would fall into that category. But what if Joeckel and Fisher, along with Milliner, are both off the board at No. 5? I've asked around over the past week and have been surprised
by how many people suggested
the Lions might and/or should draft Oklahoma's
Lane Johnson
in that scenario.
Johnson -- as well as Joeckel and Fisher -- would fit the profile of the Lions' recent draft approach. He is talented and well-regarded at a position the Lions don't have an immediate need at. While he hasn't been included in the Joeckel-Fisher debate, Johnson is generally considered a top-10 pick and might not make it past the
Arizona Cardinals
at No. 7.
His primary drawback is experience, having played quarterback, tight end, defensive end and right tackle before becoming the Sooners' starting left tackle last season. He has every athletic and physical measurement imaginable, from 35 1/4-inch arms to a stunning 4.72-second time in the 40, and ESPN analyst Todd McShay said the comparison between him and Reiff "is not even close in terms of natural ability." McShay said there is a gap between Joeckel/Fisher and Johnson now "but not a big difference between where they should be in a year or two."
McShay: "It all falls in line with a guy who has a chance to be a great player. But you may take some lumps in that first year. Obviously your quarterback is the franchise and that's the guy you have to protect, and he doesn't move well. ... But I do think [Johnson] is talented enough and there is such enormous potential. The ceiling is really high with him."
Can the Lions afford to take a player with "enormous potential" and a "really high" ceiling who has a better chance of making them better in 2014 than 2013? Or, in that scenario, would they need to look toward a more immediately helpful player, perhaps Oregon defensive end
Dion Jordan
? We're all waiting to see.
April, 11, 2013
4/11/13
11:30
AM ET
I thought Scouts Inc.'s Steve Muench brought up an interesting suggestion
during our video discussion Wednesday
, one that went against conventional wisdom and will depend largely on the
Detroit Lions
' internal evaluation of what many consider the third-best left tackle in the draft.

If left tackles
Luke Joeckel
(Texas A&M) and
Eric Fisher
(Central Michigan) are both off the board by the Lions' No. 5 overall pick, Muench suggested the Lions draft Oklahoma's
Lane Johnson
rather than a defensive end such as Oregon's
Dion Jordan
or LSU's
Barkevious Mingo
. The defensive end class is deep, Muench reasoned, and the Lions should have access to a good one at the top of the second round.
Would Johnson be a reach at No. 5? I wouldn't assume that fact based simply on his media ranking below Joeckel and Fisher. Johnson is a tremendous athlete, as evidenced by a stunning performance at the scouting combine, and ESPN analyst Mel Kiper Jr. ranks him
as the fifth-best prospect in the draft

. Scouts Inc. ranks Johnson
at No. 10 overall
.
Johnson, who was
a quarterback at Kilgore Junior College
, ran the 40-yard dash at the combine in 4.72 seconds and recorded a 34-inch vertical jump. Those attributes don't necessarily mean Johnson will be an elite left tackle, but they indicate he has room to grow and develop after what was already a well-regarded career at Oklahoma. He is also 6-foot-6 with 35 1/4-inch arms, measurements that should satisfy the NFL scouting community.
Of course, Johnson's presumably high ceiling is only part of the equation here. We still don't know how the Lions A) Judge their need for a left tackle and B) evaluate Johnson. Their 2012 first-round pick,
Riley Reiff
, played left tackle at Iowa and made one start there last season. But
offseason discussion about his versatility
has spurred suggestions that the Lions would prefer to play him at right guard or right tackle.
Ultimately, however, I think we should accept that the Lions' options for drafting a left tackle at No. 5 aren't completely eliminated if Joeckel and Fisher are already off the board.
April, 11, 2013
4/11/13
7:35
AM ET
We're Black and Blue All Over:
Notre Dame linebacker Manti Te'o has now had confirmed pre-draft visits to three of the four NFC North markets. Does that mean he has a good chance of landing in our division in a couple weeks? Not necessarily.
It's true that the Chicago Bears and Minnesota Vikings are in the market for a middle linebacker, but there are more reasons for a team to seek additional time with Te'o than there are for most draft-eligible players. Teams get brief opportunities to speak with players at the NFL scouting combine and even at pro days, but the best time to have a controlled and detailed discussion about Te'o's role in a well-publicized online hoax is during a visit to the team's facility.
Te'o participated in the Vikings' recent top 30 event, while the Lions hosted him earlier this week. He visited the Bears within the past few weeks, according to
Jeff Dickerson of ESPNChicago.com
. There usually isn't a correlation between visits and players a team drafts. All we can say at this point is that the NFC North has interest in getting more information on Manti Te'o.
Continuing around the NFC North:
April, 10, 2013
4/10/13
4:30
PM ET
Tuesday's SportsNation chat
brought a question that I ultimately posed to Scouts Inc.'s Steve Muench in the video accompanying this post. What should the
Detroit Lions
do, asked
Jay of Chicago
, if all four of the most publicly-discussed possibilities for their No. 5 overall pick are off the board?
That list includes left tackles
Luke Joeckel
(Texas A&M) and
Eric Fisher
(Central Michigan), Alabama cornerback
Dee Milliner
and BYU defensive end
Ezekiel Ansah
. My first-blush answer in the chat was Oregon defensive end
Dion Jordan
. In the video, Muench has a different -- and intriguing -- suggestion.
Steve and I discussed another scenario later in the video: Which middle linebacker should the
Chicago Bears
and
Minnesota Vikings
draft, if any, should Georgia's
Alec Ogletree
go before the Bears' No. 20 overall pick? I also pressed Steve on whether the
Green Bay Packers
should draft a running back in the first round.
It's worth comparing that discussion with the
latest mock draft of ESPN analyst Todd McShay

, who found a way to get Fisher to the Lions and Ogletree to the Vikings. (He still has the Bears drafting Notre Dame tight end
Tyler Eifert
. The Packers get Syracuse guard
Justin Pugh
in this version of the mock.)
Note: I'm aware I referred to LSU linebacker "Kevin Minter" as "Alex Minter." Such is the nature of one-take videos.
April, 5, 2013
4/05/13
7:35
AM ET
We're Black and Blue All Over:
A Minnesota state senator plans to introduce a bill next week
to delay construction
of the Minnesota Vikings' new stadium until revenue streams for paying the public's annual share are secured. Many of you panicked when I tossed that news out on Twitter late Thursday, but if you breeze through
the Twitter timeline
of the state senator (Sean Nienow), you see that even he agrees that the stadium is a "done deal" and won't be permanently derailed as a result of the bill or financing problems.

The intention, according to Nienow, is to force legislators and Gov. Mark Dayton to address the shortfall of and problems with the designated revenue streams in the bill. Projections initially called for $35 million in annual revenue from electronic pull-tab machines, but issues with distribution and use has dropped that projection to $1.7 million for 2013. Without another solution, the state might have to dip into its general fund to uphold its share of the financial obligations.
So it's not time to rekindle concerns about the franchise moving to Los Angeles. But it is time for the appropriate officials to figure out where the money is going to come from, and it's not outrageous to straighten out any mistakes before large chunks of money start getting spent on construction.
Continuing around the NFC North:
April, 4, 2013
4/04/13
11:30
AM ET
I would call Oregon defensive end
Dion Jordan
an outside candidate to be drafted No. 5 overall by the
Detroit Lions
. Jordan hasn't received the same type of buzz as BYU's
Ezekiel Ansah
, but this Sport Science video shows how much of an athletic specimen he is in his own right.
Jordan was measured with an 81-inch wingspan, a 3.8 percent body fat and an exceptionally quick spin move. Meanwhile, his 10-yard acceleration was as fast as any wide receiver tested this year.
February, 7, 2013
2/07/13
11:15
AM ET
This, my friends, is big. It doesn't get a whole lot bigger during the first full week of February to get a double dose of mock drafts.
That's what we have on this fine Thursday: Mock drafts 2.0 from ESPN analysts
Mel Kiper Jr.

and
Todd McShay

. You need an Insider subscription to access the full posts, but as always I'm willing to sneak you the NFC North portions as long as no one tells on me.

5. Detroit Lions
Kiper:
Georgia linebacker
Jarvis Jones
McShay:
Oregon defensive end
Dion Jordan
Seifert comment:
The Lions are going to have plenty of starting positions to fill on defense after the release of defensive end
Kyle Vanden Bosch
, the likely departure of defensive end
Cliff Avril
and other possible departures. To me, the best 4-3 defensive end available makes the most sense at No. 5.

20. Chicago Bears
Kiper:
Alabama offensive tackle
D.J. Fluker
McShay:
Notre Dame linebacker
Manti Te'o
Seifert comment:
Te'o was the best linebacker in the country for most of 2012. Will last month's bizarre revelations push his draft stock down? Who knows. But the Bears obviously have a need for a long-term replacement for middle linebacker
Brian Urlacher
, a pending free agent.

23. Minnesota Vikings
Kiper:
North Carolina defensive tackle
Sylvester Williams
McShay:
Connecticut cornerback
Blidi Wreh-Wilson
Seifert comment:
A lot of you would like to see the Vikings draft a receiver here, but that could be contingent on free agency. Defensive tackle and cornerback are also key positions of need.

26. Green Bay Packers
Kiper:
Alabama running back
Eddie Lacy
McShay:
Georgia defensive tackle
Johnathan Jenkins
Seifert comment:
I'll be interested to see how much public momentum builds for the Packers to draft a running back. General manager Ted Thompson has drafted two running backs in the first three rounds during his tenure, and neither
Brandon Jackson
(2007) nor
Alex Green
(2011) have had the impact the Packers hoped for.