August, 7, 2012
8/07/12
7:20
AM ET
We're Black and Blue All Over:
Overt talk of the Super Bowl is on everyone's mind at the Chicago Bears' training camp, as we noted in
our official Camp Confidential
. Receiver Brandon Marshall mentioned it during Friday night's practice at Soldier Field, and it's worth passing along what Marshall said in an interview with
ESPN's Rachel Nichols on Monday
.

"We break it down on 'Super Bowl' or 'champions' every single day, and it's a reality for us around here," Marshall said. "… [E]veryone's goal is to make it to the Super Bowl, but for us I think we really have a chance. We have the pieces, we have the coaches to do it."
Bears linebacker Lance Briggs concurred in another interview, which can
be found through this link
.
What to make of all this? The excitement over a Super Bowl "prediction" has been watered down by its frequency over the years. But given the investment the Bears have put into this roster, both from personnel and financial standpoints, it would be disappointing for them if they thought they would fall anywhere short of the Super Bowl.
Continuing around the NFC North:
August, 6, 2012
8/06/12
7:45
AM ET
We're Black and Blue All Over:
Here's what we know: Chicago Bears linebacker Brian Urlacher suffered what initially looked like a catastrophic left knee injury in the 2011 season finale against the Minnesota Vikings. The injury was later announced as sprained medial collateral and posterior collateral ligaments, requiring no surgery.

Urlacher didn't participate in the team's on-field work during the offseason, and when he resumed practicing at the start of training camp, he was wearing a brace on the knee. Now Urlacher has missed four consecutive days because of soreness in the knee, and it's possible he won't play in the Bears' preseason opener against the Denver Broncos.
Here's what we don't know: Are the Bears merely being cautious with a veteran who really doesn't need every practice repetition in camp? Or is this an indication that Urlacher hasn't fully recovered from the original injury and could be limited when the regular season begins?
Coach Lovie Smith didn't seem concerned when
speaking with reporters Sunday
, and in the short term the Bears can move outside linebacker Nick Roach to Urlacher's spot in the middle. But the Bears don't have anything close to an heir apparent on their roster, as they found out when Urlacher dislocated his wrist and missed 15 games in 2009. Their defense is much different when he is not on the field.
Continuing around the NFC North:
August, 3, 2012
8/03/12
10:00
AM ET
GREEN BAY, Wis. -- As he always does,
Green Bay Packers
quarterback
Aaron Rodgers
has closely followed media coverage of NFL training camps this summer. Rodgers has seen multiple national networks covering every minute of
Denver Broncos
camp, where the arrival of
Peyton Manning
has drawn rock-star attention. He has seen the frenzy in New York, home of the Super Bowl champions and
the most famous backup quarterback in the league
.

In Green Bay, on the other hand, the Packers have trained in their quiet biosphere at 1265 Lombardi Avenue. Remember, over the past 19 months this team has captured a Super Bowl championship and won 21 of 23 games, including playoffs. The oversight has left Rodgers glowing with genuine glee, knowing he and the Packers have their competitors right where they want them.
"I think we're in a good position," Rodgers said. "A lot people are talking about other teams, which is always helpful to us. Nobody is going to forget about the Packers, but there are plenty of things to distract national attention away from us. And for whatever reason, we usually play a little bit better when that's the case.
"You've got what's going on with both teams in New York, Super Bowl stuff and that other stuff going on. You've got Peyton in Denver, and the Eagles with their talent and Dallas making a comeback this year. So I think that helps us out … that we're sort of flying under the radar."
As much as any athlete I've covered, Rodgers has demonstrated an extraordinary ability to manufacture a perceived slight into motivation. As a team leader, and now the second-longest tenured player on the Packers' roster, he sets the tone for a team that is primed for another Super Bowl run -- regardless of national attention. And it's clear that Rodgers has already begun the process of placing chips on as many shoulders as he can in the locker room.
Roughly 10 days into training camp, the Packers are the best team no one is talking about. Which suits them just fine.
"The Packers Way has been passed down for years," Rodgers said. "Just kind of keeping your mouth shut and playing."
THREE HOT ISSUES
1. Added juice:
The first week of training camp was notable for its elevated energy, both from an audio and a competitive standpoint. An influx of loud and excitable defensive players, from veterans
Anthony Hargrove
and
Daniel Muir
to rookie
Jerel Worthy
, brought a new dynamic and is a big part of why Rodgers said the Packers
will have a better team in 2012
.
As he spoke with two reporters in the locker room this week, Rodgers raised his voice multiple times to be heard above the din of his exuberant teammates. And during practice, there was a clear increase in verbal jockeying between the offense and defense, at least compared to what I've seen in recent Packers camps.
[+] Enlarge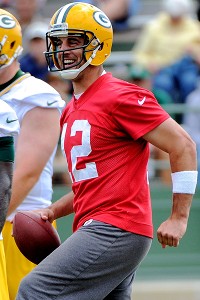 Benny Sieu/US PRESSWIREAaron Rodgers and the Packers are just fine with the media's attention focused elsewhere around the league.
Higher energy doesn't necessarily equal a better chance to win, but the consensus around the team was that the locker room mix needed a shift from the professorial mentality it fell into last year.
"This group," coach Mike McCarthy said, "has more personality with what they bring to the locker room. You have some guys now with a lot of personality and juice, and obviously we've added talent on the defensive side of the ball. There's a lot more juice out there, and it's not just the rookies."
2. Running game:
McCarthy
spoke this offseason
about reevaluating the Packers' running game, but nothing has happened so far to suggest the team will re-balance its offense. If there are any changes, the Packers will be looking for ways to yield more explosive runs of 12-plus yards.
Last season, the Packers had 29 runs that went for 12 or more yards, tied for No. 24 in the NFL, according to ESPN Stats & Information. A few more would help slow opposing pass rushes and further open the Packers' already-lethal play-action game.
"Run more?" Rodgers said. "I don't see it happening drastically at all. It's not our identity. But running more effectively and picking the five or six or seven runs that we really like and are our best opportunity for those 12-yard gains? That's what we're going to try to do."
James Starks
will get an opportunity to be the Packers' primary back. But second-year player
Alex Green
appears recovered from a torn ACL suffered last season and has worked in rotation with Starks and
Brandon Saine
during camp.
3. Return of (the real) Tramon Williams:
After giving up more passing yards than any team in NFL history last season, the Packers have added some new pass-rushers to their defensive line and linebacker group. They shifted
Charles Woodson
to
safety in their base defense
and
lauded the progress
of third-year safety
Morgan Burnett
. But just as important in the presumed improvement of their pass defense has been the recovery of cornerback Tramon Williams, who demonstrated complete confidence in a now-healed shoulder that limited his 2011 effectiveness.
"It's actually really doing fine," Williams said. "I'm doing exactly what I want to do out there. Jamming. No pain. No anything. Just ready to play. … I had never been injured in any way in my career. But it's an obstacle that stood in front of me last year and I knew I needed to get through it. I was able to go out there and go to battle with my teammates and I think they respect me for it today.
"But for this last year, it was what it was. Obviously it wasn't 100 percent. I've worked hard this offseason to get back as far as I can to that. I'm ready to go. Hopefully it turns out well."
Woodson will move to the slot cornerback role in the Packers' nickel and dime defense, meaning that Williams is in essence the Packers' top cover man. Remember, Williams was a Pro Bowl player in 2010. The early portion of camp this summer suggested that he is physically ready to take on that role.
REASON FOR OPTIMISM
The Packers return what should be an elite offense led by the reigning MVP. They have solid special teams and worked aggressively this offseason to overhaul their one significant weakness in 2011.
Eight new players -- five rookies and three veteran free-agent acquisitions -- are in the mix to play significant roles in the pass defense. Another pair of players who were rookies last season, cornerback
Davon House
and safety
M.D. Jennings
, are currently working with the first team.
Sometimes there can be safety in numbers. Not every draft pick and free-agent signing will work out. But an optimist would say the Packers took enough swings to ensure they make contact at least a few times this season. Or something like that.
REASON FOR PESIMISSM
Here's the downside of relying on so many young players to improve a sore spot: They're young players. There's no telling what direction they'll go in, or how long it will take them to get to a point where they can contribute consistently.
It sounds great to draft a pair of athletic pass-rushers like Worthy and linebacker
Nick Perry
. But
when will it kick in for them?
Is it even fair to expect immediate results? Remember,
Clay Matthews
had three sacks midway through his rookie season before finishing with 10.
Can the Packers count on second-year player Davon House to start at cornerback? Or will they have to turn to rookie
Casey Hayward
? And is it reasonable to assume that second-year player M.D. Jennings will have a seamless transition at safety? Or will the Packers have to turn rookie
Jerron McMillian
?
[+] Enlarge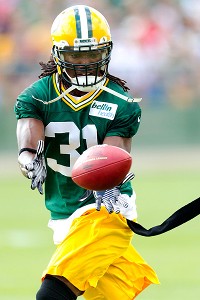 Jeff Hanisch/US PRESSWIREDavon House is part of a youth influx on the defensive side of the ball for the Packers.
Sometimes people equate new with better. There is no reason to suspect any particular trouble with the Packers' defensive changes, but the premise itself merits further scrutiny.
"That's the exciting thing when you've got young guys," defensive coordinator Dom Capers said. "They're bright-eyed and they've got a lot of energy. They're getting better, but still too much inconsistency. After every practice you see some improvement, but fortunately we don't have to play a game right now."
OBSERVATION DECK
As good as the Packers' offense was last season, coaches have found plenty of ways to push for improvement. According to Rodgers, coaches have presented statistical comparisons between the Packers' offense last season and the previous four Super Bowl teams in third-down percentage, red zone touchdowns and goal line performance, among other categories. "They're challenging us to do maybe one more third down per game to get us to [that] level," Rodgers said, "and one more conversion on the season in goal-to-go to get us in this ranking. If you look at it like that, we can definitely improve. But if you look at it as a whole, it's going to be tough to put up those kind of numbers."

The Packers have significantly increased the time they spend working on tackling drills and fundamentals during camp, the result of poor tackling in their playoff loss to the New York Giants and other games last season. "We're emphasizing it as much as we possibly can," McCarthy said. "It's on every slide we show in meetings and talked about in every correction period. It's talked about continuously throughout team and in coordinator meetings. To me, that's coaching. If you want to have it on Sunday, it's got to show up every day in your training structure."

For the first time in the McCarthy era, the Packers entered training camp with five set starters along the offensive line. There are no rotations under way and no competitions to judge. Center Jeff Saturday is new to the organization, but he is getting every practice repetition with the first team. Said offensive line coach James Campen: "Just from a familiarity standpoint, the communication, passing off stunts, getting a feel for the guys next to you, obviously that's more advantageous. The more reps that you get with the same guy side by side, it's is very helpful."

Usually it's good news when you don't notice the left tackle during training camp practices, and there wasn't much to note about Marshall Newhouse until Wednesday morning. Matthews smoked him twice during a team blitz drill, but otherwise Newhouse has continued to earn praise from the coaches grading his work. "Marshall has had a very good camp so far," Campen said. "[Wednesday,] Clay got the best of him a couple times. They each get the best of each other a little bit. This was practice No. 6. It was a little rough for him. Clay brought some new stuff to him, and it's a great opportunity for him to go against somebody like that."

Wide receiver Donald Driver reported to training camp in his usual fantastic shape and made quick work of several young cornerbacks in red zone drills. There is every reason to believe Driver will make the Packers' final 53-man roster, once again making the Packers' receiver rotation a complicated proposition. If everyone is healthy, there are going to be some talented players standing on the sidelines.

On a couple of occasions last season, the Packers found a way to get receiver Randall Cobb on the field as a quasi-running back in the backfield. I wouldn't be surprised at all if they seek additional opportunities to do that in 2012. It's a great way to get a versatile player on the field.

A final note on receivers: There was a lot of offseason discussion about the fate of youngsters Tori Gurley and Diondre Borel if the Packers decided to keep Driver on the roster. Gurley and Borel are nice players, but let's just say Lambeau Field would still stand if they are waived and another team claims them. It'll fall somewhat short of losing Babe Ruth to the Yankees.

The Packers have three players suspended for the start of the regular season: Hargrove (eight games) and defensive lineman Mike Neal (four), along with linebacker Erik Walden (one). Only Walden was involved in an off-the-field incident, however, and Rodgers said the Packers "don't put up" with off-field distractions. "We've got good leadership," he said. "Guys hold each other accountable. It starts with the guys up top, the guys we bring in. We bring in a lot of high-character guys who fall in and understand what it means to put on the colors and the tradition here. It's not to say that stuff doesn't happen, because it does happen. We had some instances last year. But for the most part I think it's the kind of guys that [the Packers] bring in."

Tight end D.J. Williams, for the second consecutive year, put together a nice start to training camp and could be in line to be the Packers' top backup behind Jermichael Finley.
August, 1, 2012
8/01/12
10:00
AM ET
GREEN BAY, Wis. -- A quick glance at the
Green Bay Packers
' practice field this summer reveals some of the best players in the NFL. Quarterback
Aaron Rodgers
is the reigning MVP. Linebacker
Clay Matthews
is one of the league's top pass-rushers and defensive back
Charles Woodson
is a future Hall of Famer.
It took only a few minutes, however, to realize that receiver
Donald Driver
is the fan favorite here at Packers training camp. Whether it was his victory in "Dancing With the Stars," his decision to accept a pay cut to remain with the franchise or the phenomenal condition he reported to camp in, Driver elicits a roar for every step he takes downfield.
[+] Enlarge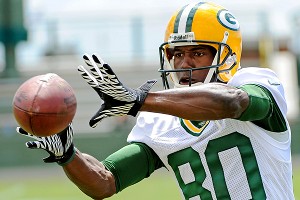 Benny Sieu/US PRESSWIREDonald Driver is still in superb physical condition at age 37. "Age is a just a number," he said.
Driver usually returns the favor with a wave or a few words to fans in the bleachers, and at this point there is no doubt in my mind that he has a roster spot locked down despite a deep group of young receivers who would likely be lost if they are waived later this summer.
"As you can see out there, I'm having a lot of fun," Driver said. "I'm enjoying the game. When I stop enjoying the game, it's over for me. Now, I'm still having fun."
Driver produced seven 1,000-yard seasons over an eight-year stretch before dropping to 565 yards in 2010 and 445 last season. He is 37, and the Packers not only have a young receiver in
Randall Cobb
to get on the field, but also have two other youngsters --
Tori Gurley
and
Diondre Borel
-- who are hoping to join
Greg Jennings
,
Jordy Nelson
and
James Jones
on the final roster.
But the Packers guaranteed Driver $500,000 as part of a $2.5 million contract he signed in May, and this week general manager Ted Thompson said: "Donald's an unusual athlete. Remarkable in some ways. The age doesn't necessarily tell the whole story."
Indeed, telling Driver's story at this point is easy. He has maintained superb physical condition -- "Age is a just a number," he said -- and he has once again convinced himself he is surrounded by "critics" who "doubt" him.
I don't think Driver has been criticized or doubted; simply, people who understand how the NFL works wondered if Thompson would see fit to keep a 37-year-old receiver when he seemingly has sufficient options elsewhere.
But whatever works, right?
"In 14 years," Driver said, "I've never got comfortable. Anything can happen. I'm always prepared for the worst. I'm going to continue to play that way. I'm going to continue to play with a grudge. And hopefully when it's all said and done I've proven all the critics wrong, because I've done that my whole career and I want to continue to."
This week, in fact, has proved a perfect example why the Packers weren't in a rush to part ways with a receiver who might have declined from his peak but by all accounts can still contribute. An elbow injury has sidelined receiver Greg Jennings, turning the luxury of Driver's depth into more of a necessity.
I know there are lots of Packers fans obsessing about the futures of Gurley and Borel. I say this: If they're good enough to make this team, the Packers will find a way to get them on the roster, even if it means keeping six or seven receivers in the final analysis.
Driver, it's clear, is feeling too good and having too much fun to make it easy on anyone.
"You've got to continue to feel great," he said. "That day that you don't want to get out of that bed, it's over for you. For some reason, at six o'clock, I still jump out the bed. The day you hit the snooze button, it's over for you."
June, 14, 2012
6/14/12
7:00
AM ET
We're Black and Blue All Over:
The Chicago Bears' re-creation of the Denver Broncos' 2008 offense includes the quarterback (Jay Cutler), the primary receiver (Brandon Marshall) and one of the key assistant coaches (Jeremy Bates). But who will play the role of Eddie Royal, the slot receiver who caught 91 passes for the Broncos that season?

Here's an idea, courtesy
Jeff Dickerson of ESPNChicago.com
: Earl Bennett. In fact, Bennett has already reached out to Royal via phone and discussed the possibilities. Here's how Bennett recounted the conversation following a Bears minicamp practice this week:
"I picked his brain about this offense and the role of the slot guy and also playing outside. Both of us play the position pretty much the same way. We both have the same fundamentals, get in and out our routes the same way and have good body control. Eddie is probably a little quicker than I am but there are definitely similarities between the two of us. He's one of the guys I call and ask about the plays and he helps me out with that.' We watch tape and I see what Eddie did right and what Eddie did wrong in the offense when he played. I just want to come out, stay focused, make plays and learn from what he and Brandon Stokley did in this offense."
Bennett predicted the Bears could have "three or four" receivers exceed the 1,000-yard mark this season, an accomplishment that not even that 2008 Broncos offense achieved. But in the middle of June, at least, anything and everything seems possible. Why not?
Continuing around the NFC North:
May, 21, 2012
5/21/12
7:00
AM ET
We're Black and Blue All Over:
Good Monday morning to everyone. It doesn't get a whole lot bigger than the first week of organized team activities, or OTAs as we call them in the business, and that's exactly the point we've reached in the NFL offseason.
The Detroit Lions and Green Bay Packers have scheduled their first OTAs of the spring for Monday, and the Chicago Bears will have one Tuesday. The Minnesota Vikings will open OTAs a week from Tuesday. Over on our NFL Nation blog, we have
a comprehensive schedule of all 32 team's OTA schedules
.
For newcomers, OTAs are on-field practices without pads or (presumably) contact. Some are open to the media, so expect to see some coverage in the coming days of how your favorite players are performing in jerseys and shorts.
Before we move on to our morning roundup, I want to thank everyone for their feedback to
Friday's post on our blog operations
. If you missed the post and/or want to share further thoughts about what you like and don't like, by all means
hit up the mailbag
.
OK, now, continuing around the NFC North: