May, 27, 2014
5/27/14
10:29
PM ET
LAKE FOREST, Ill. -- Initially, the injury didn't appear to be serious.
Domenik Hixon
popped up after being shaken up during a drill Tuesday at organized team activities, but he later indicated he won't be a contributor for the
Chicago Bears
in 2014, posting on Facebook he's torn an anterior cruciate ligament for the third time.
Hixon
Based on his post, Hixon believes the injury will end his NFL career. A league source confirmed the severity of the injury, revealing Hixon tore his right ACL.
"I tore my ACL today for the third time today!"
Hixon posted
. "I'm disappointed that I won't be playing for a Bears team that has players and coaches to win the Super Bowl. I thank God for letting me live my dream of playing in the NFL for 8 plus years. It has truly been FUN! #blessed #lovethis game."
Hixon, 29, played last season with the
Carolina Panthers
and had previous stints with the
New York Giants
and
Denver Broncos
. Hixon signed a one-year deal with the Bears in March worth $823,750 to compete as a contributor on special teams or as a fourth, fifth or sixth receiver.
"We're bringing him in to compete, to find a spot on our roster," Bears general manager Phil Emery said after the club signed Hixon. "Obviously, we like his size. I always like receivers that come in and they're about an inch and a half taller than me. He's got huge hands, great straight-line speed. He's been a good [special] teams player. He's returned kicks. So it's up to him to find his spot on the squad, and that opportunity is there. That's what we're trying to create: competition. Best man wins."
Listed at 6-foot-2 and 205 pounds, Hixon averaged 10.8 yards per punt return and 24.6 yards on kickoff returns in his career.
Last season for Carolina, he caught just seven passes in 15 games, and despite plenty of experience as a return man, he wasn't asked to perform such duties.
Hixon put together his best season with the Giants in 2008, catching 43 passes for 596 yards and two touchdowns.
April, 11, 2014
4/11/14
7:20
PM ET
The
Chicago Bears
asked kick returner/receiver
Eric Weems
in March to take a pay cut from the $1.1 million he was scheduled to earn in 2014, ESPNChicago.com's Jeff Dickerson reported, and the veteran complied Thursday, according to documents obtained by ESPN.com.
Weems
The Bears reduced Weems' $1.1 million base salary for 2014 to $730,000, and the deal still includes a $100,000 workout bonus and escalators worth up to $500,000 for receptions. The new deal reduces Weems' cap figure of $1.6 million for 2014 to $1.33 million.
Weems was expected to be released if he declined the salary reduction.
Weems joined the Bears on a three-year deal worth $4.25 million in 2012 that included a $1.5 million bonus.
But when the Bears proposed the salary reduction, it was believed the club wanted Weems' deal to be similar to the contract signed in March by receiver
Domenik Hixon
. Hixon signed a one-year deal worth $730,000 that included $100,000 in roster bonus provided the receiver is active on game days, and Weems' new base salary for 2014 is the same.
A seven-year veteran, Weems contributed 13 tackles on special teams last season and caught one pass for an 8-yard gain. Weems was named to the Pro Bowl in 2010 as a member of the
Atlanta Falcons
.
Weems will compete against Terrance Toliver,
Josh Bellamy
, Hixon and
Chris Williams
for a dual role as receiver and special-teams contributor.
The club also asked
Earl Bennett
to take his second pay cut since 2013 but the receiver declined, leading to the Bears to release him on March 18.
ESPNChicago.com's Jeff Dickerson contributed to this report.
March, 18, 2014
3/18/14
8:53
AM ET
CHICAGO -- The
Chicago Bears
have asked veteran kick returner/wide receiver
Eric Weems
to take a pay cut from the $1.1 million base salary he is scheduled to earn in 2014, according to a source familiar with the situation.
Weems
Weems is expected to be released if he declines the proposed salary reduction, per the source.
Weems signed a three-year deal, $4.25 million that included a $1.5 million bonus. His salary cap number for the upcoming season is $1.6 million, but the Bears would have to carry $500,000 worth of dead money if Weems is released, making the total salary cap savings $1.1 million.
It's believed the Bears want Weems' contract to mirror the deal
Domenik Hixon
signed last week. Hixon inked a one-year, $730,000 deal that included $100,000 worth of roster bonuses if Hixon is active on game days (6.25K per game active).
Weems, a seven-year NFL veteran, made 13 special teams tackles and caught one pass for eight yards last season. He made the Pro Bowl in 2010 while a member of the
Atlanta Falcons
.
Weems is not the only wide receiver being asked to accept a salary reduction. Although it hasn't happened yet, the Bears are expected to approach
Earl Bennett
about taking another pay cut after the veteran lowered his salary by $1 million in 2013.
Bennett had a cap number of $1.35 million (after the reduction) last year, but is scheduled to count $2.45 million against the Bears' cap in 2014 and earn a total of $2.45 million (that includes a $100,000 roster bonus).
The Bears could offer to allow Bennett to earn back the money in the form of incentives as the club did last year. Bennett finished 2013 with 32 receptions for 243 yards and four touchdowns, but had to miss the final game of the year versus the
Green Bay Packers
to be with his ailing brother who tragically passed away in the offseason.
Bennett has been a reliable target throughout his Bears' career when healthy. After not catching a single pass his rookie year of 2008, Bennett has 185 receptions for 2,277 yards and 12 touchdowns over the last five seasons in just 78 regular season games. Bennett is also a capable punt returner and could be in the mix to land the job with
Devin Hester
departing via free agency.
March, 13, 2014
3/13/14
12:53
PM ET
Lamarr Houston
's five-year, $35 million contract was a start, but the Bears had been sending out clear signals the organization intended to further address defensive end via free agency.
Twenty-eight-year-old
Willie Young
fit the mold of what the Bears were searching for.
While the Bears never had serious interest in former
Minnesota Vikings
star pass-rusher
Jared Allen
, Young's three-year, $9 million signing allows general manager Phil Emery to continue his mission of getting younger on defense, while at the same time stealing a productive player from the division rival
Detroit Lions
.
[+] Enlarge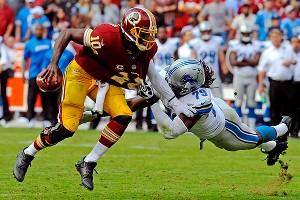 AP Photo/Richard LipskiWillie Young posted 47 tackles and three sacks last season for the Detroit Lions.
Young started 15 games for the Lions last year and recorded 47 tackles and three sacks. But the 6-foot-4, 251-pound edge rusher has a reputation for being extremely disruptive when asked to pressure the opposing quarterback.
Young also has ties to Bears coach Marc Trestman from their time spent together at NC State.
To add some perspective,
Julius Peppers
was scheduled to earn $14 million in 2014 and eat up $18,183,333 worth of cap space. Young lands in Chicago at a fraction of the cost, and at six years younger than Peppers, figures to have a much greater impact on the Bears' defense for the next several seasons.
Young probably isn't a household name in the NFL, but the deal looks solid on the surface.
For all the criticism directed toward the Bears' secondary in 2013, notably the safeties, the front four needed the most work in the offseason. Houston and Young represent a significant upgrade over what the Bears lined up last year at defensive end when the club barely managed to muster a pass rush or effectively stop the run.
The Bears simply weren't in a position to wait and see when
Corey Wootton
recovered from offseason hip surgery to make their second move at defensive end in free agency. Maybe Wootton is back in the mix when healthy (June or July), but with a thin crop of defensive ends expected to be available in May's NFL draft, the Bears knew they had to be aggressive in free agency in regards to the position.
The respective contracts of Houston and Young speaks to the dire situation the Bears found themselves in on the defensive line. In total, the Bears awarded deals totaling eight years, $44 million to defensive ends, while safeties
Ryan Mundy
and
M.D. Jennings
, linebackers
D.J. Williams
and
Jordan Senn
and wide receiver
Domenik Hixon
all received modest deals by comparison.
Instead of rolling the dice on older and somewhat more established defensive ends on the market, the Bears secured the bookends of their defensive line for the future.
In free agency, it isn't always about reeling in the biggest names. It's about making the moves that make the most sense for the health of the franchise.
June, 18, 2010
6/18/10
11:00
AM ET
The season-ending injury to
New York Giants
receiver
Domenik Hixon
comes at an interesting time for two NFC North teams.
The
Minnesota Vikings
' landlord is enmeshed in a lawsuit with the manufacturer of FieldTurf artificial surfaces, the same surface Hixon was practicing on Tuesday when his right knee crumpled. The
Chicago Bears
, meanwhile, recently decided against replacing the grass at Soldier Field with FieldTurf or a similar product
because of safety concerns
.
Hixon has been diagnosed with a torn anterior cruciate ligament. Giants safety
Antrel Rolle
told ESPNNewYork.com that
Hixon's leg got caught in the turf
just before he fell.
It's not unusual for players to complain about artificial turf, even the newer in-fill version that includes rubber pellets to make it softer. But it's interesting to note that when the Metropolitan Sports Facilities Commission reviewed bids for its upcoming turf replacement project, it chose a lesser-known company that submitted a higher bid because the Vikings, like the Bears, were concerned about the safety of FieldTurf.
The
Minnesota/St. Paul Business Journal describes the situation in detail
, noting the commission plans to pay Sportexe $495,000 for the project even after FieldTurf bid $458,561. FieldTurf is suing the commission for the way it conducted the bidding process. Here is a key passage:
The MSFC, however, says it rejected FieldTurf's bid after the Vikings expressed concerns about the safety of the company's product -- the main reason for replacing the Dome's existing turf in the first place. Therefore, the commission opted for Sportexe, which provided the second-lowest bid at $495,000; the Irving, Texas-based company also installed the turf at the Louisiana Superdome in New Orleans and M&T Bank Stadium in Baltimore. "Medically, FieldTurf has proven to increase risk and severity of injury in NFL players," the Vikings said, according to documents filed by the commission in response to FieldTurf's lawsuit.
A recent study showed that knee injuries were 88 percent more likely to occur on FieldTurf than natural grass. (Ask
Green Bay Packers
defensive back
Will Blackmon
about
that one
.) To be fair to FieldTurf, that study didn't include any other brands. There is no evidence that its product is different from that of any other in-fill company. But whether it's coincidence or otherwise, half of our teams have made a point to go in another direction this offseason.