NFC North:

Dominica Raiola
December, 28, 2010
12/28/10
7:45
AM ET
We're Black and Blue All Over:
Hello there everyone. I'm finally re-connected after making the long trek back to NFC North blog headquarters. The trip spanned Monday night's thrilling game between the New Orleans Saints and Atlanta Falcons, and leaves us to discuss -- yes -- the possibility of the Chicago Bears nailing down the No. 1 seed in the NFC playoff picture.

The Saints' victory kept that possibility alive. Here's what would have to happen, according to ESPN Stats & Information:
A Bears win at the Green Bay Packers AND
A Falcons loss at home to the Carolina Panthers AND
A Saints loss at home to the Tampa Bay Buccaneers AND
A Philadelphia Eagles loss in one of their final two games.
It's a long shot, but nothing about the Bears' 2010 season has been predictable.
Continuing around the NFC North:
September, 27, 2010
9/27/10
11:15
AM ET
After the Detroit Lions' 24-10 loss Sunday to the Minnesota Vikings, here are three issues that merit further examination: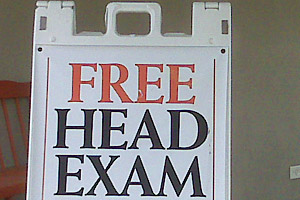 Kevin SeifertThe Detroit Lions take their turn in the examination room after losing to Minnesota.
I thought it was interesting to hear how the Vikings prioritized the task of stopping the Lions' offense. "The key was not letting 44 get going," said Vikings defensive tackle Kevin Williams, referring to tailback Jahvid Best -- and not receiver Calvin Johnson. Best had 25 yards rushing and 13 yards receiving at halftime and was limited the rest of the way by a toe injury. We're not certain how serious the injury is, but this much seems clear: After two NFL games, Best was drawing more defensive attention than Johnson. We've been discussing this dynamic since training camp. If Best eases pressure on Johnson, the latter should have more opportunities for big plays. When Best was in the game Sunday, however, that didn't seem to be the case.

The Lions showed some spunk mixed with frustration as the game turned chippy in the second half. You never know how these things get started, but one early flash point came midway through the third quarter when Vikings nose tackle Pat Williams flattened receive Derrick Williams at the end of a play, drawing an unnecessary roughness penalty. It culminated with quarterback Shaun Hill, of all people, shoving and chasing after Vikings defensive end Jared Allen in the fourth quarter. "All I have to say about that," Hill said, "is that I , we, are not going to be anybody's punk out there. You know what I mean? That's all I have to say about that one." It's nice to have a quarterback defending his teammates, but you can view it as a frustration release as much as anything.

I got handfuls of tweets during the game on Ed Hochuli's officiating crew, which called a total of 20 penalties on the two teams -- 12 for the Vikings and eight for the Lions. To be sure, there were some questionable calls against the Lions, among them a holding penalty on center Dominic Raiola that wiped out Jerome Felton's run to the Vikings' 8-yard line in the second quarter. But it's hard to gripe too much about officiating when the Lions made as many unforced errors as they did. Safety C.C. Brown had a rough game in particular, failing to cover Vikings receiver Percy Harvin on a wide-open touchdown in the first quarter and then getting sucked too far playside on Adrian Peterson's 80-yard cutback run in the third quarter.
And here is one issue I still don't get:
I agreed with coach Jim Schwartz when he said: "I think if you look at our first three games, I think it's obvious that we have enough ability to play." The Lions look better than their recent teams, and in particular they have more spark and fight in them. But ultimately, they're 0-3. Schwartz, meanwhile, is 2-17 in his first 19 games in this job. What is keeping this team from getting over the hump? "We need to be able to make plays that win us the game rather than have the play that cost us an opportunity at the game," Schwartz said. He has accomplished the task of raising the energy level and competitiveness of the team, but that next step is proving more difficult than he might have anticipated.