December, 6, 2011
12/06/11
1:55
PM ET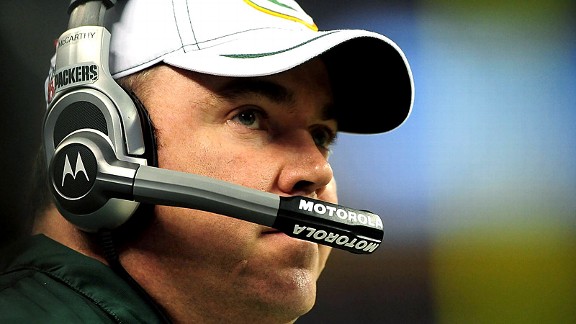 Andrew Weber/US PresswirePackers coach Mike McCarthy is one of just five NFL coaches to win 18 consecutive games.
Most of us treat our head coaches like offensive linemen. We don't have much to say until they make a mistake or get beat or otherwise indicate they should be replaced. If you don't hear much discussion about a coach's job performance, there probably isn't much of anything to complain about.
On that scale, the relative silence about
Green Bay Packers
coach Mike McCarthy this season has spoken volumes about the quality of his work. So for one moment, at least, I suggest we take a break from discussing
Jim Schwartz's discipline issues
,
Leslie Frazier's game management
and
Lovie Smith's quarterbacks
and recognize that McCarthy has presided over one of the most dominant stretches of football in NFL history.
As you might have heard, the Packers are 12-0 and have won 18 consecutive games. McCarthy is one of six coaches to have accomplished that milestone, joining an All-Star list that includes George Halas, Don Shula, Bill Belichick, Mike Shanahan and George Seifert. McCarthy's team hasn't lost since Dec. 19, 2010 and hasn't been defeated at home since Oct. 17, 2010.
It was only a year ago that many were questioning
McCarthy's game management
, his teams'
poor performance in close games
and whether his program could
turn the corner from good to great
. These days, you don't hear much of anything.
McCarthy's game management has been slick, from deferring possession after winning the coin toss to ordering a kneel-down from kick returner
Randall Cobb
last Sunday against the
New York Giants
. He has pushed enough motivational buttons to create what tight end
Jermichael Finley
termed a "ridiculous" locker room full of "guys who just want to keep winning." And he has, to this point, insulated players from the increasing pressure of an unbeaten season with a deft mix of acknowledgement and caution.
"I clearly understand the 16-0 gig and the importance of it," McCarthy said after Sunday's game. "[But] that's why you have to stay focused on what's at hand, because every week it's going to be a challenge. We're 12-0 and we need to get to 13-0. We have other goals that are in front of us before we can even attain [16-0]. I hope we're in position to talk about it, but right now we really aren't."
This isn't meant to be the definitive "McCarthy is the best-ever" post. I just think we need to start the conversation of placing McCarthy's career in context, given what has happened in the past 12 months. Let's consider some bullet points here:
McCarthy has had four playoff appearances and only one losing season in six years with the Packers.

As the chart shows, he has the fourth-highest winning percentage among active coaches and the 17th-highest in NFL history.

His offense has ranked among the NFL's top 10 in terms of total yards in every season since he arrived in 2006.

McCarthy has managed what will go down as the most effective transition from a Hall of Fame quarterback in NFL history. We've discussed this issue before, but the shift from Brett Favre to Aaron Rodgers stands out in stark contrast to the attempts by most franchises. The one comparable example: The San Francisco 49ers' transition from Joe Montana to Steve Young.
I think McCarthy deservers considerable credit for his management style, his offensive innovation and public deflection of credit. But after spending some time around the Packers over the past year, I've also come to appreciate his willingness to veer from convention when it best suits what he understands to be the strengths of his team.
The two examples I cited earlier merit further examination.
Six times this season, McCarthy has deferred possession after winning the coin toss. On five of those occasions, the Packers have scored on the opening drive of the second half. Twice, the Packers have "doubled up" by scoring on the final possession of the second quarter and the opening possession of the third.
Against the
Minnesota Vikings
in Week 7, they transformed a 17-10 deficit to a 20-17 lead in that manner. Two games later, they extended a 21-17 lead to 31-17 before the
San Diego Chargers
got another opportunity on offense.
To me, the strategy exemplifies two merits. Not only is it an intentional and relatively sophisticated way to manipulate the natural flow of a game, but it's also a demonstration of supreme confidence that the Packers' offense can overcome an early deficit if the opponent scores on its opening possession.
"I love it," quarterback Aaron Rodgers said earlier this season on his ESPN 540 radio show. "… I enjoy letting the defense get out there first, and I think our team does as well. I think for an offense it's a little bit easier to let the defense start on the field, to kind of relax as the early part of the game starts, and then go in, maybe taking away some of those nerves for some of the guys, so I think it really helps our offense. And ... you can double up on teams at the end of the first half, and the beginning of the second half. … That's when you can really separate yourself from the opponent."
Meanwhile, you could question why McCarthy instructed Cobb to take a touchback after the Giants tied the score at 35 with 58 seconds remaining. Cobb has two touchdown returns this season, is averaging 27.6 yards per kickoff return, and many coaches would hope for a big return to jump-start a final-minute scoring drive.
But in this case, McCarthy weighed Cobb's skills against the potential of Rodgers and the Packers' offense and wisely chose the latter. Why put the game in the hands of a rookie returner, one who has three fumbles on returns this season, when you have the NFL's best quarterback?
Those are just a few of my thoughts. I'm sure you have some you would like to share in the comments section below. Now, let's go back to ripping coaches as we all prefer to do anyway….
November, 21, 2011
11/21/11
4:30
PM ET
The buildup to our NFC North Thanksgiving Feast is going to short, intense and full of distractions. This week would have been busy even without Thursday's matchup between the 10-0
Green Bay Packers
and the 7-3
Detroit Lions
, so as of this moment I'm declaring
complete and total pandemonium in the ring
.
[+] Enlarge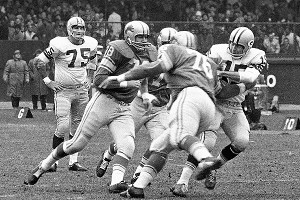 AP File PhotoDetroit's Darris McCord, 78, and Roger Brown, 76, sack Green Bay's Bart Starr on Nov. 23, 1962. The Lions dealt Vince Lombardi's Packers their only loss of a championship season, sacking Starr 11 times.
As we monitor the
Chicago Bears
'
quarterback transition
and
the health status
of the
Minnesota Vikings
' star running back, we'll start our Packers-Lions coverage with the story of a rematch nearly 50 years in the making.
If you qualify for AARP membership, or if you watched Bob Costas' weekly essay Sunday night on NBC, you know the Packers and Lions played a Thanksgiving game under similar circumstances in 1962. The Packers entered the game undefeated at 10-0, but the Lions handed them their only loss of the season.
Many people consider the 1962 Packers
the best team in franchise history
and one of the best in the history of pro football. It had 10 future members of the Hall of Fame, including fullback Jim Taylor, right tackle Forrest Gregg, quarterback Bart Starr, linebacker Ray Nitschke, cornerback Herb Adderley, defensive end Willie Davis, center Jim Ringo, halfback Paul Hornung, safety Willie Wood and defensive tackle Henry Jordan.
But on November 23, 1962, the Lions handed them a decisive 26-14 defeat. They sacked Starr 11 times and intercepted him twice.
Monday, the Lions made several members from that team available via conference call. On that day, recalled Hall of Fame linebacker Joe Schmidt: "We were all out to prove to the world that we were as good or better than Green Bay."
(Sound familiar?)
History tells us the Lions were hardly slouches in those days. They won the NFL title in 1957 and won the Runner-Up game in 1960 and 1961. But after opening the 1962 season 3-0, the Lions lost to the Packers in a game that has gone down in franchise lore.
Jerry Green of the Detroit News
recalled that game in detail this season. The short version: Leading 7-6 with less than a minute to play, the Lions called a pass play. Receiver Terry Barr slipped, and Adderley intercepted Milt Plum's pass to set up Hornung's game-winning field goal.
Tempers flared in the post-game locker room, and defensive tackle Roger Brown said Monday that the Lions had a "vendetta" against the Packers in the Thanksgiving rematch. Added Schmidt: "We always felt down deep that we were a better football team."
The Lions were well-versed in Packers' coach Vince Lombardi's offense, and defensive coordinator Don Shula worked with Schmidt to recognize each play.
"They basically ran six or seven plays off a couple different formations," Schmidt said. "By the formation, I could call a slant to where they were going to run. Our defensive line penetrated them so severely that their offensive line lost their poise."
Said Brown: "We were determined to get to Bart Starr. I don't think the German Luftwaffe could have stopped us that day."
The parallels for this year's game are interesting, if not completely relevant. The Packers are again 10-0, of course, and the Lions are quite eager to demonstrate they are, as Schmidt said, just as good. Like the 1962 team, today's Lions are built around a nasty defensive line. I'm not sure if
Kyle Vanden Bosch
,
Ndamukong Suh
and company will register 11 sacks Thursday of Packers quarterback
Aaron Rodgers
, but they'll be trying.
It's worth noting that the Packers rebounded from that 1962 loss to finish 13-1 and win the NFL title. The Lions finished 11-3 and made another trip to the Runner-Up game. If nothing else, it's nice to have a game this season that means something to everyone -- the teams, both sets of fans and the playoff race.

NFC NORTH SCOREBOARD
Thursday, 9/4
Sunday, 9/7
Monday, 9/8