September, 23, 2012
9/23/12
8:29
PM ET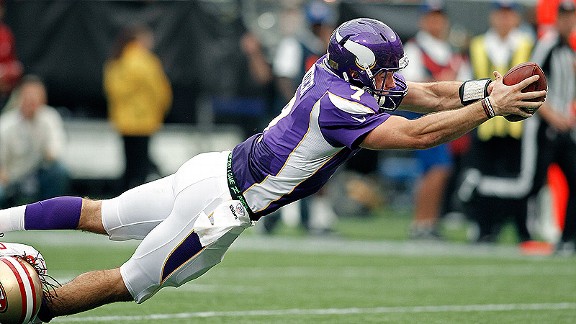 Bruce Kluckhohn/US PresswireChristian Ponder threw two touchdown passes and ran for another score in Minnesota's victory.
MINNEAPOLIS -- When
Christian Ponder
put together an efficient game against the
Jacksonville Jaguars
, it was only fair to withhold judgment.
It was the Jaguars, after all. They're 1-2 this season and going nowhere.
When Ponder produced similarly competent statistics in a loss last week to the
Indianapolis Colts
, it was tough to get excited.
It was the rebuilding Colts, of course. They're also 1-2 after losing Sunday to those same Jaguars.
But after Ponder took it to the
San Francisco 49ers
on Sunday,
slicing through a defense
that stymied
Matthew Stafford
last week and
Aaron Rodgers
the week before, it was difficult to escape some big(ger)-picture conclusions. The
Minnesota Vikings
didn't defeat the 49ers solely because of Ponder, of course, but their play unmistakably reflected a confidence that comes only when a team trusts its quarterback to do his job well.
Ponder accounted for three touchdowns, completed 11 of his first 15 passes in staking the Vikings to a 14-point halftime lead and made a series of smart plays down the stretch in a 24-13 victory. Three games into his crucial second season as the Vikings' starter, Ponder has completed 70.1 percent of his passes without an interception and compiled a 104.9 passer rating.
You guys and gals get all fired up when I "overreact" to an apparent trend. So let's put it this way: Ponder has done as much as possible through three games to suggest he is the Vikings' long-term answer at the position.
"We know with him back there, he's going to be accurate and we're going to pick up first downs," center
John Sullivan
said. "We're never going to be out of a football game, and I feel like we have incredible stability at that position now. We've kind of been in flux for a couple of years. Christian is answering all the questions. Hats off to him.
"I knew it was there," Sullivan added. "But at the same time, it has to work out on Sundays. We're 2-1, and we don't want to overstate that. But this is a really good football team here that we beat here today, and [Ponder] was a huge reason why we won this game. It's an enormous step in the right direction."
If the Vikings didn't trust Ponder, do you think they would have put the ball in his hands on fourth-and-goal at their 1-yard line in the first quarter? Offensive coordinator
Bill Musgrave
called a naked bootleg pass requiring Ponder to roll to his left. Ponder calmly avoided safety
Dashon Goldson
, who diagnosed the play and charged his way, and found tight end
Kyle Rudolph
for a game-defining touchdown.
If a team was concerned about how a young quarterback would respond to pressure, would it have let him pass on third-and-goal at the 2-yard line early in the fourth quarter? I'm sure there were many among the 57,288 at the Metrodome who hoped tailback
Adrian Peterson
would get the ball. Instead, the Vikings passed against a "Cover-0" defense, meaning the 49ers were blitzing and leaving their receivers in single coverage in the end zone.
Ponder didn't panic with pressure in his face, instead identifying the best one-on-one matchup the Vikings had: Rudolph against safety
Donte Whitner
. (He missed a wide-open Peterson, but we'll note the heavy pressure and move on.)
Rudolph made a spectacular catch with his right hand while holding off Whitner with his left, a connection that occurred only because two players trusted each other to do their jobs.
To be clear, Ponder didn't gash the 49ers for big downfield passes. Of his 35 throws, 26 traveled 10 or fewer yards in the air. But he completed 62 percent of them against has connected on 72.6 percent of such passes this season.
"We're going to keep taking what they give us," Ponder said, "and if they give us the underneath stuff, then that's fine. ... We're not going to force anything downfield when we don't have to."
You can't win every game throwing checkdown passes, even if you have open-field stars such as Peterson and
Percy Harvin
(11 catches, 89 yards) to throw to. But in itself, executing a plan successfully is a big progression from what we saw in Ponder's rookie season. So far, at least, Ponder is making almost every play he has a chance to.
And when he has no chance, he isn't spending much time waiting for something to develop. He was not sacked Sunday in part because of perhaps a dozen plays in which he either threw the ball out of bounds, rolled purposefully toward the sideline with crossing receivers or tucked the ball and ran.
"I thought from a decision-making standpoint this might have been his best game," Vikings coach Leslie Frazier said. At one point, Frazier said, he told his assistant coaches on the sideline: "Man, he's growing up. He's getting it."
Added Frazier: "In certain situations, you have to recognize when the play is dead. He's beginning to do that, and that's going to make us a better football team moving forward."
One of those plays, in fact, led to an unorthodox touchdown. On a first down in the second quarter, Ponder recognized the 49ers had covered both potential targets in a two-receiver route. Knowing the 49ers were in man-to-man defense, when defenders chase receivers with their backs to the line of scrimmage, he smartly pulled down the ball and took off down the middle of the field. Most of the defense never even saw him.
Exactly 23 yards later, Ponder became the first player to score a rushing touchdown against the 49ers this season.
Ponder compared himself to Forrest Gump on the play and joked: "I saw a big running lane and figured that if my white legs were fast enough, maybe I would get there."
Of course, with the brief exception of
Brett Favre
's Pro Bowl run in 2009, quarterback play for the Vikings has been no laughing matter. Ponder hasn't solved the problem quite yet, but he sure looks like he's on the way.
"He's played some of the cleanest football I've ever seen anybody play at any age in the NFL," linebacker
Chad Greenway
said. "He just has that poise about him and you have to credit the coaches for putting him in position to make throws they know he can make."
September, 17, 2012
9/17/12
2:00
AM ET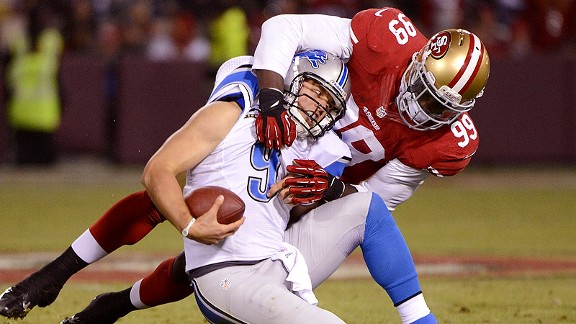 Thearon W. Henderson/Getty ImagesThe Lions and Matthew Stafford couldn't rely on their usually potent passing offense.
SAN FRANCISCO -- I know what you're thinking, at least some of you. You want to know why a team with the best receiver in football would run almost as many times as they passed in a nationally televised game against one of the NFL's best teams. If the
Detroit Lions
were going down Sunday night to the
San Francisco 49ers
, as most of us assumed they would, shouldn't they have done so by firing their best weapons?
It sounds logical on the surface, but let's make something clear. The Lions didn't lose at Candlestick Park because they ran the ball 26 times and targeted
Calvin Johnson
and his fellow receivers on only 18 plays. If anything, the Lions absorbed a
27-19 loss
because they couldn't run it better.
What we saw Sunday night was basic football. No offense, not even if it's led by a receiver like Johnson and a quarterback like
Matthew Stafford
, can impose its strength when a talented defense like the 49ers is aligned and determined to stop it. And just as they did in Week 1 against the
Green Bay Packers
, the 49ers used a deep zone to take away the Lions' downfield passing game.
Theoretically, the Lions had a reasonable counter in place from a football perspective. In practice, it just wasn't good enough. They managed 82 yards on those 26 rushing plays, including just 53 yards on 16 carries from starter
Kevin Smith
.
"We needed to be able to run," Lions coach Jim Schwartz said. "They were taking the approach of playing deep safeties and taking away the big play, which they were able to do. When people do that, you need to be able to hurt them underneath and hurt them with the run. I thought at times we ran the ball well. Sometimes a one- or two-yard run was a good play."
What those runs did, however, was leave the Lions with almost no margin of error. Disembodied as they were from their preferred method of scoring -- shots into the end zone via the passing game -- the Lions looked like the proverbial fish out of water. They couldn't penetrate the 49ers' red zone their first nine possessions and settled for five field goal attempts by
Jason Hanson
. (He converted four.)
"We didn't play our best game tonight in any phase," Schwartz said. But what he meant, of course, was that the Lions didn't play a perfect game. And that's what they needed against a team that has now dispatched two of the NFL's best offenses, the Lions' and Packers', in impressive fashion.
"We lost to a good team tonight," defensive end
Kyle Vanden Bosch
said. "They were 13-3 last year. They were a couple plays away from the Super Bowl. We had to play our best football to beat this team and we didn't."
Said center
Dominic Raiola
: "That's one of the best teams in the NFC."
[+] Enlarge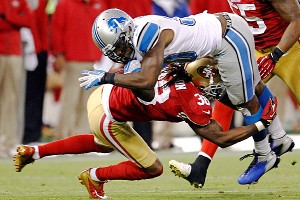 AP Photo/Tony AvelarKevin Smith managed only 53 yards on 16 carries against San Francisco.
I don't blame the Lions a bit for their approach. If you want to hold them accountable, you can wonder if they did enough this offseason to account for the shaky status of their top two runners,
Jahvid Best
and
Mikel Leshoure
. Best has not yet been cleared for contact nearly a year after a season-ending concussion, and Leshoure has now served a two-game NFL suspension.
Would Leshoure and/or Best have made a difference Sunday night? I'm not sure. The Lions' defense wasn't able to stop the 49ers when it became a one-score game in the fourth quarter, allowing three consecutive third-down completions from
Alex Smith
to
Michael Crabtree
on the game-clinching drive.
This much was clear: the running game the Lions put on the field Sunday night wasn't good enough. Johnson said the 49ers never came out of their two-deep look, often using
a "three-cloud" zone
that in essence calls for a cornerback to join both safeties to cover deep thirds of the field. It all but shuts down deep routes but leaves big portions of the field available underneath. Stafford wound up throwing only six passes that traveled farther than 10 yards, according to ESPN Stats & Information, completing two. Johnson had only 46 receiving yards before the Lions opened it up to start the fourth quarter.
"[The Lions' run game] didn't have any effect at all," 49ers safety
Donte Whitner
said. "We were able to keep two safeties deep at all times. We didn't have to get too nosy in the run game. Our front seven, front six, did a good job of stopping the run with a light box and that is what we have to do versus teams like Green Bay and Detroit, teams that like to throw the ball a lot."
The 49ers might not have adjusted even if the Lions had been more dynamic in their running game, although the Lions' offense might have scored more points. In the end, however, I don't think anyone should fret too much. There aren't many NFL defenses like the 49ers', which can stop a running game, no matter who the opposing runner is, by using six men in the box.
I suppose we could conclude that the Lions demonstrated they're not ready to be measured among the NFL's best teams, but was anyone really saying that before Sunday night? I don't think so.
"That's a good team," Schwartz said, adding later: "We lost by one score on the road, even considering we didn't play well."
The only way the Lions were going to win Sunday night is if they played perfectly. They didn't. Their counter to the 49ers' defense wasn't good enough. They were outmatched, something I think the 49ers will do to many opponents this season. So it goes.