NFC North:

Dorin Dickerson
January, 27, 2014
1/27/14
10:00
AM ET
As much as is talked about player safety in the NFL and a focus on the importance of understanding and diagnosing head injuries, there is one undeniable truth.
When it comes to games of more importance, players just might not care.

Take
Dorin Dickerson
, for example. The
Detroit Lions
tight end suffered a concussion in a critical game for the Lions this season in Week 16 against the
New York Giants
. If the Lions won, they would still be alive for the playoffs. If they lost, their playoff hopes would be over.
And Dickerson had become the No. 2 tight end after
Brandon Pettigrew
suffered an ankle injury against Baltimore in Week 15. Dickerson had bounced on-and-off of the team for much of the season, and this was his chance to prove himself.
So when he suffered the concussion in the second half, he didn't tell anyone. He continued playing. It wasn't until he admitted it to reporters after the game that anyone knew anything was wrong.
"Got a little concussion. Should have reported it," Dickerson said that day. "Thought I could get through it."
The Lions eventually said he reported the concussion during overtime of the 23-20 loss to New York -- after he had dropped a pass and was called for holding on back-to-back plays.
So now imagine it is the Super Bowl, the game a player has been waiting his whole life to reach. In the case of the Lions, this would be the first time the team had ever made the championship game.
From the vibe of the players who took the survey inside the Detroit locker room, they would play with a concussion if it meant participating in the game they have practiced and played their whole life for.
Even if they knew it would be the wrong thing to do for their health in the long term.
December, 19, 2013
12/19/13
6:30
PM ET
ALLEN PARK, Mich. --
Brandon Pettigrew
hobbled through the
Detroit Lions
' locker room on Wednesday on crutches. On Thursday, he sat out the second straight day with an ankle injury.
And Detroit coach Jim Schwartz said Wednesday that of some of the players who missed practice because of injury that day, Pettigrew was the most concerning. So there is at least a decent chance the Lions' top tight end doesn't play Sunday against the
New York Giants
.
That can leave Detroit in an interesting predicament. Neither of the other tight ends on the roster,
Joseph Fauria
or
Dorin Dickerson
, present the full blocking-and-catching arsenal that Pettigrew does.
[+] Enlarge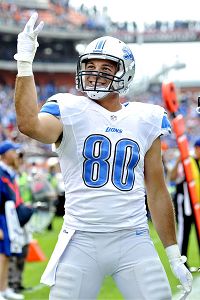 AP Photo/David RichardThe Detroit Lions will turn to Joseph Fauria, 80, and a host of others if starting tight end Brandon Pettigrew can't play.
Much of what the Lions do, especially in the run game, is aided by Pettigrew's ability as a blocker, so it could leave Detroit with two potential conundrums. Either use Fauria or Dickerson in blocking roles, or bring in an extra offensive lineman, perhaps giving away what the Lions are going to do on a specific play.
"We're going to have some scenarios there. We've got to wait until we get the word on Brandon," offensive coordinator Scott Linehan said. "If anyone's going to answer the bell, it's going to be him. So Saturday night we'll figure that out.
"The contingency is to have the next two guys ready to go. Joe's been in the system all year. Dorin has done a really nice job of picking up what we're doing. We've done extra tackle stuff before, so that's not new to us."
The Lions have seen what Fauria and Dickerson have been able to do this season. More and more each week, Fauria has played next to offensive linemen with his hand on the ground, showing signs of becoming an improved blocker.
But even he'll admit he isn't fully there yet toward the end of his rookie season. And Dickerson only plays a handful of snaps as it is, so it is unknown how effective he can be in that role.
So that leaves the offensive linemen -- specifically
Dylan Gandy
and possibly
Rodney Austin
-- as the sixth offensive linemen. When
Tony Scheffler
was injured this season, the Lions discussed using Gandy as an emergency tight end/sixth offensive lineman.
"You never know what's going to happen," Gandy said. "You just get ready for whatever comes and you take advantage of any opportunity you get."
For Austin, that could be a first chance. He was signed off the practice squad last month and has yet to be active in a game. But he has consistently worked on his hands, including after practice Thursday.
This is not new for Austin. He did this last season and throughout OTAs in the offseason. He just had not done it as frequently during the regular season.
"Just trying to get back to it," Austin said Thursday. "Working on my hands. The more you can do, you know."
Interestingly, Austin seemed more comfortable with his left hand instead of his right hand. This is because he said while his mother made him write with his right hand when he was a kid, he thinks he is a natural lefty.
He said she just didn't like to see him writing with his left, so he learned with his right.
But if he were to be called on to be an extra lineman or even run routes, Austin would be comfortable with that. After all, it would be a way on the field for a guy who has yet to be active for a game this season.
"I would love that. I run pretty good routes," Austin said. "I'm pretty quick for a big man. My coach, he prides himself on working on my footwork and getting me right. (Jeremiah Washburn) and (Terry Heffernan), they been getting my footwork down.
"Footwork in one drill can only help you in any other drill, making sure you're doing the right things with every part of your body that you're supposed to just makes you a better player overall."
While having options is nice, Detroit also knows it would be at a loss without Pettigrew, who has been a comfortable target for quarterback
Matthew Stafford
and a more-than-capable blocker.
Pettigrew has 41 catches for 416 yards this season and, according to Pro Football Focus, has only allowed one sack of Stafford this season.
"Brandon is a good, veteran player and a multidimensional player," Detroit coach Jim Schwartz said. "He's done a really nice job for us. I think what you would see is a lot of different people replacing parts of what he did, rather than one person stepping into his role.
"It is still too son to really have a good handle on that. We'll be ready for a lot of different contingencies, just like a lot of other injuries that we have."
At a thin position group, though, the Lions will have to have more plans than most.
December, 5, 2013
12/05/13
7:15
PM ET
ALLEN PARK, Mich. -- Practice ended Thursday, and while most of the
Detroit Lions
players went through a hallway to the locker room, the wide receivers assembled in the indoor practice facility.
There, receivers took turns catching passes after having what appeared to be a screen blocking their vision at first. The screen would then be pulled down by an assistant and the ball would already be on its way.
The receiver, obviously, would have to catch it. Considering some of Detroit's issues there this season, this is an important drill to be working on.
[+] Enlarge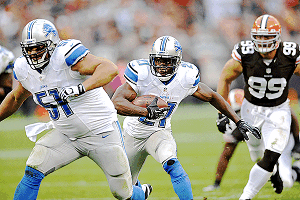 AP Photo/David RichardReggie Bush is averaging nearly 10 yards per catch on his 45 receptions, but his eight dropped passes are part of an ongoing issue for the Lions.
Detroit's drop numbers are interesting. The Lions have more drops, 37, than any other team in the league. But they also have the second-most passing attempts in the NFL, with 500.
Where it evens out -- and where Detroit's drop struggles become more evident throughout the season -- is in drop percentage. The Lions are tied with the Rams for the league's worst drop rate at 7.6 percent of
Matthew Stafford
's passes.
And it hasn't gotten better for the Lions in the second half of the season. Detroit has 14 drops in the past four games at a drop rate of nine percent, both numbers that are worst in the NFL.
Offensive coordinator Scott Linehan explained away the drops as a function of Detroit's passing offense.
"We throw the ball a lot, so some teams don't throw the ball as much, so they aren't going to have as many when it comes to the amount of throws," Linehan said. "I think guys really worked hard at catching it. I thought the last game they caught it really well.
"Great catches that weren't routine. I don't think that's necessarily indicative of us versus anybody else."
Except Detroit was credited with four drops in that game according to ESPN Stats and Information -- one each to
Kris Durham
,
Joique Bell
,
Brandon Pettigrew
and
Calvin Johnson
.
The drops, though, haven't been quarantined to one game or one player. Ten of the 14 Lions players who have caught passes this season have also dropped at least one pass.
The four Detroit players who haven't been credited with a drop by ESPN Stats and Information are tight ends
Joseph Fauria
and
Dorin Dickerson
, and wide receivers
Kevin Ogletree
and Patrick Edwards, who is now on the practice squad.
The most guilty Lion of dropping passes? Running back
Reggie Bush
, who has eight drops this season and is dropping passes at a rate of 12.3 percent -- second-highest in the NFL among qualifying players behind Pittsburgh's
Le'Veon Bell
(13.3 percent).
Combine Bush's drops with his fumble issues -- he's been big on working on ball security this week -- and bad hands would be a potential concern for the Lions' starting running back.
Detroit coach Jim Schwartz, though, is not concerned. He noted Bush's drops earlier in the season as a reason for his high percentage.
"That'll get your numbers up," Schwartz said. "He also made an over-the-shoulder catch last week, too."
This isn't to say Bush isn't a talented player -- he is a gifted runner and receiver -- but he has also dropped passes on screens and in the flat that could have been large gains if he held on to the ball.
After Bush is Johnson with seven drops (5.3 percent), Durham with four (5.8 percent), Bell with four (8.9 percent) and Pettigrew with four (7.0 percent). Beyond them are players who are either no longer on the Lions, on injured reserve or have limited roles.
Tight end
Tony Scheffler
, who was cut in October, had three drops.
Ryan Broyles
, who is now on injured reserve, has two along with
Nate Burleson
, who missed seven games, and
Jeremy Ross
, who has played in six games and been targeted nine times.
Running back
Theo Riddick
, who plays sparingly, has one drop.
Of all the players listed, Johnson's drops might be the most understandable. His seven drops are one off a career-worst set last season, but he has been targeted 131 times, more than any other receiver in the league.
Despite the drops from his pass-catchers, Stafford is having a good season. He has still completed 59.2 percent of his passes (296 of 500), thrown for 27 touchdowns, 14 interceptions and 3,825 yards.
But as the weather gets colder and situations become more intense for the Lions as they make a playoff push and a potential appearance in the postseason, how Detroit's pass-catchers handle what Stafford throws at them will be paramount for any future Lions success.
October, 16, 2013
10/16/13
8:00
AM ET
Good morning and ROOOOAARRR!!!!
ALLEN PARK, Mich. -- Each week this season, tight end Dorin Dickerson would get in a car or on a plane, fly to some city in the United States and audition for a job. Then he'd leave, and the following Sunday sit in Pittsburgh with his friends, watching the NFL's Red Zone package as they continued to keep him confident as he waited for another shot in professional football.
That officially came Tuesday, when the Detroit Lions signed Dickerson to a contract.
"It gets hard," Dickerson said of the waiting to find a home. "Whenever you're going into your fourth year like me, and this is my fourth year, just bouncing around a little bit, it gets frustrating. You want to stick somewhere and contribute in a good role."
Now he'll get a chance to do that, especially if tight end Tony Scheffler remains out with a concussion.
It could help Dickerson, too, that he has some familiarity with the Lions staff. He played for them in the 2010 Senior Bowl -- as a wide receiver.
"But I always paid attention to what they did with the tight ends because I knew I wasn't really a receiver," Dickerson said. "I liked what they did there. It's going good this year with Joe [Fauria], with Brandon [Pettigrew] and them doing a great job."
And now a look at what is going on around the Interwebs with the Lions.
October, 14, 2013
10/14/13
8:45
PM ET
Even with the injuries to
Nate Burleson
and
Calvin Johnson
, there was slowly starting to be a glut of players at wide receiver for the
Detroit Lions
.
So Monday's decision by the Lions to release Patrick Edwards isn't completely surprising. Especially since Detroit could have a need at tight end due to the injury to
Tony Scheffler
. It's why the team, according to
Dorin Dickerson
's Twitter account, signed the tight end Monday as well.
Just signed with the Detroit Lions! Lets gooooo

— Dorin Dickerson (@scorindorin) October 14, 2013
If the Lions were going to make this move, Edwards started to appear as the odd men out. Johnson and Burleson are cornerstones of the offense.
Ryan Broyles
is the team's slot receiver.
Kris Durham
has emerged as a sure-handed, tall target for quarterback
Matthew Stafford
.
And when the Lions brought in
Kevin Ogletree
last week, it seemed like they were searching for better options at receiver. Then Ogletree saw 29 snaps Sunday (39 percent) to Edwards' 16 snaps (22 percent) and his role started to lessen.
Edwards had five receptions for 46 yards this season, but only had catches in two games -- against Minnesota in the opener and against Green Bay two weeks ago as he recovered from an ankle injury.
His time with the Lions might not be completely done, though. If he clears waivers the team could bring him back to the practice squad, but Detroit already has two practice squad receivers: rookie
Corey Fuller
and receiver/returner
Jeremy Ross
.
Detroit's new signing, Dorin Dickerson, only has nine catches for 117 yards in his career, but fills a position of need with the Lions down to
Brandon Pettigrew
and
Joseph Fauria
at tight end with Scheffler out for now.