February, 13, 2012
2/13/12
10:00
AM ET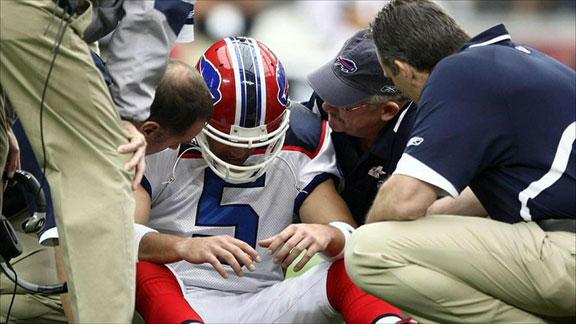 Bob Holtzman's piece on the hundreds of former NFL players suing the NFL over concussion-related issues includes an interview with former
Green Bay Packers
running back
Dorsey Levens
. Last summer, Levens produced and starred in a play in Atlanta about an ex-football player who is losing his mind. Levens has also produced a documentary ("Bell Rung"), featuring 10 current and former players talking about the issue. It's all thought-provoking stuff.
July, 1, 2011
7/01/11
7:10
AM ET
We're Black and Blue All Over:
The state of Minnesota's
government shutdown
will obviously keep the Minnesota Vikings' stadium proposal on the back burner for the time being. Negotiations have continued on closing the funding gap between the team and state on a $1.057 billion proposal to build in suburban Arden Hills, but they won't be resolved in a public fashion until state leaders agree on a budget that would re-start the state government.

The best-case scenario for the Vikings: The new budget would include the Vikings' stadium bill and would be approved during a special legislative session called this summer by Gov. Mark Dayton. The worst case: The stadium issue gets lost in the political fight and the Vikings enter the 2011 season as presumptive franchise free agents.
Here is one twist we must remember: Either the Vikings or Ramsey County can now opt out of the memorandum of understanding for this project, to which they were bound until June 30. The Vikings have shown no interest in doing so, but it's already clear that some forces who would like to see the stadium built in downtown Minneapolis are already mobilizing.
Sid Hartman of the Star Tribune
notes that some people still prefer the Farmers Market site near Target Field. Earlier this week the Star Tribune published an
op-ed piece written by Dave Albersman
, a local urban planner who wrote: "Locating the new Vikings stadium in the Farmers Market area would build on the vitality of Target Field and would begin to realize the vision described in the Downtown East/North Loop Master Plan."
Continuing around the NFC North:
April, 7, 2011
4/07/11
9:56
AM ET
By
ESPN.com staff
| ESPN.com
July, 20, 2009
7/20/09
10:53
AM ET
Posted by ESPN.com staff
Chicago Bears
Detroit Lions
Green Bay Packers
Minnesota Vikings
July, 16, 2009
7/16/09
1:20
PM ET
Posted by ESPN.com staff
Chicago Bears
Detroit Lions
Green Bay Packers
Minnesota Vikings
December, 17, 2008
12/17/08
5:30
PM ET
Posted by ESPN.com's Kevin Seifert
The two newest nominees to the Packers Hall of Fame added some credible voices to a growing theory about Green Bay's surprising downturn this season.

Favre
Former tailback Dorsey Levens and former receiver Antonio Freeman said Wednesday they were surprised at how distracted the Packers appeared during training camp while in the midst of a messy divorce from quarterback Brett Favre.
According to Jason Wilde of the Wisconsin State Journal, Levens said:
"I really didn't know what to expect. I knew the whole Brett Favre situation was going to loom heavy. I didn't know how the players would react, how the fans would react. It was a circus, to be quite honest, going up there in training camp and all the hoopla surrounding Brett and that situation."
Freeman added:
"It was more [of a distraction] than I expected. I knew it was pretty major. ... Talent-wise, I think they have a ton of talent. I think the whole ordeal of Brett Favre leaving might have had an effect on it. Next year, going forward, it'll be fresh. Maybe some of those distractions will be out of there and people will be more content and settled in with the fact that, 'Hey, [Aaron Rodgers] is our guy, we're going forward.'"
Again, few people have attributed the Packers' 5-9 record to a drop-off in quarterback play. But you can't easily measure the impact of the bizarre circumstances surrounding Favre's departure. Specifically, players arrived at training camp without knowing whether Rodgers or Favre would be their starting quarterback. And then they practiced for nearly a week before the team finally traded him to the New York Jets.
In Levens and Freeman, you have two respected veterans who were a part of some of the Packers' most successful teams in recent history. They know what a productive training camp looks like. Their observations on this season's camp should be considered accordingly.
Levens and Freeman will be inducted to the Packers Hall of Fame at Lambeau Field next summer.