NFC North:

DraftWatch2011
March, 7, 2011
3/07/11
10:05
AM ET
While we await word on the state of the NFL's collective bargaining agreement (CBA), the pro day circuit will move into full swing this week. Schools from most major conferences will be hosting NFL scouts and coaches to give them a second look at players who might or might not have fared well at the scouting combine.
We'll hit the ground running on Tuesday from an NFC North perspective, as two of the draft's top quarterbacks -- Auburn's
Cam Newton
and Arkansas'
Ryan Mallett
-- will be on display. Below
is a list for this week's primary pro days
:
Monday:
Tulsa.
Tuesday:
Arkansas, Auburn and Oklahoma.
Wednesday:
California, Colorado, Georgia Tech, Oklahoma State, Portland State, Rutgers, Texas A&M and Wisconsin.
Thursday:
Alabama, Buffalo, Clemson, Fort Valley State, Fresno State, Indiana, Kentucky, Louisville, Miami (Fla.), Mississippi State, Nebraska, Oregon, Texas Tech, Washington State and West Texas A&M.
Friday:
Idaho, Ohio State, Oregon State, Purdue, Southern Miss, Tennessee and TCU.
February, 28, 2011
2/28/11
11:00
AM ET
On Friday, we
opened our discussion
on the
Minnesota Vikings
' difficult task this offseason: Finding a quarterback to take them through the next decade. One of my points was that the Vikings haven't had many opportunities to draft a blue-chip quarterback in recent years, short of trading up to grab a prospect. And based on the buzz at the NFL scouting combine over the past few days, they are in the same position again this year.
I spent some time speaking with ESPN analyst Todd McShay, who feels certain that the draft's top two quarterbacks -- Missouri's
Blaine Gabbert
and Auburn's
Cam Newton
-- will be off the board when the Vikings' No. 12 overall pick arrives. That means the Vikings will need to trade up to draft one of them. Otherwise, they must decide whether they like one of two other quarterbacks -- Washington's
Jake Locker
and Arkansas'
Ryan Mallett
-- enough either to take them at No. 12 or grab them later via a trade-down.
McShay listed his top four quarterbacks as Gabbert, Newton, Locker and Mallett, in that order. He has Mallett as a second-round value. His second tier includes: TCU's
Andy Dalton
, Iowa's
Ricky Stanzi
, Nevada's
Colin Kaepernick
and Florida State's
Christian Ponder
.
As a means for pushing forward the discussion, I'll pass along McShay's thoughts on that first tier below.
Player:
Missouri's Blaine Gabbert.
McShay:
"I think Gabbert should be the first quarterback. I won't change on that. Every game I've watched, I'm convinced. He's safer. That's not necessarily a reason to take him. But that [spread] system, I know they catch a lot of flak. But he has to make reads. He has to get rid of the ball quickly. His mechanics are good for the most part. He's accurate throwing in the face off pressure. People who say his completion percentage [was low before last season], they didn't watch. He's got guys in his face all the time. He's making accurate throws that guys are dropping. ... He just needs a little bit of time coming from that system. He'll be good. He's going to be a really good starter."
Bottom line:
Gabbert didn't throw at the combine but proved athletic with a 4.62 time in the 40-yard dash. He'll throw at his March 17 pro day and has no character issues that have surfaced. The Vikings would be wise to study his every move over the next few months.
Player:
Auburn's Cam Newton
McShay:
"He is actually pretty accurate for a guy whose footwork is terrible. He opens one way, and throws [another], but he's putting it on guys. ... The only way he's available for the Vikings is if enough teams start to get really scared about Cam Newton the mental makeup."
[+] Enlarge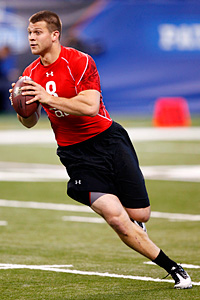 Joe Robbins/Getty ImagesJake Locker may be available when the Vikings pick at No. 12.
Bottom line:
Newton would probably generate the most excitement in Minnesota, and he would have more skill players around him there than in most places he might land. But any team that drafts Newton knows they're getting more than a quarterback. It's obvious he is determined to become a marketing brand of his own. Are the Vikings OK with that?
Player:
Washington's Jake Locker
McShay:
"Love, love Jake Locker the competitor. Love the physical tools. Tremendous athlete, obviously. He wants it. He makes accurate throws at times. He just hasn't put it together. I've taken a lot of heat for it, and I stuck with [him] because I thought it was going to click. And it hasn't. It just hasn't. At some point, you have to be honest with yourself. That point was three or four weeks ago for me. I was able to go back and watch the coaches' copy tape and watch the seven games. He just didn't improve at all [last year]. Injuries were a little bit of a setback, but ultimately his mind is going too fast. ... It's all in his head. Maybe one day it becomes a nice smooth process. But you can't risk a high draft pick on a player [with that history]. The most important thing you have to do is be accurate. He's not accurate now and he's not showing signs over the last year of becoming more accurate."
Bottom line:
There are exceptions to every rule. But historically, quarterbacks don't improve their accuracy when they move from college to the NFL. They are what they are, and Locker was a 55.4 percent passer last season. The Vikings couldn't find a better leader than Locker, and his 4.59 speed is intriguing. That should all count for something. Perhaps the Vikings could coach him into being an exception.
Player:
Arkansas' Ryan Mallett
McShay:
"He is immature. And there are a lot of questions about his leadership and the consistency of his emotional level, and how he just carries himself. And there is also some off-the-field stuff that he is going to have to answer, that won't come out in [public] but will definitely be asked in closed doors. ... There is no question he has the strongest arm in this class. But he can't re-set his feet in the pocket. He's like Drew Bledsoe almost. Once teams catch on to that, how to stop him, they can really limit his effectiveness. It's not to say he can't be good quarterback. But put a ceiling on that. And if you add an attitude problem and immaturity, then you have a potential bust on your hands if you spent a first-round pick."
Bottom line:
It's just as easy to get excited about Mallett's powerful arm as it is
his snarling personality
. But perhaps the biggest concern is his mobility. No modern-day NFL quarterback can succeed without an ability to move in the pocket. You can't use your golden arm if you're on the ground.
February, 22, 2011
2/22/11
2:00
PM ET
Missouri quarterback
Blaine Gabbert
might or might not be available at the No. 12 overall pick in the 2011 draft, where the
Minnesota Vikings
are positioned. But that didn't stop us from
giving you a look inside Gabbert's training regimen
. Likewise, the
Detroit Lions
' position at No. 13 overall won't keep us from offering a look at Nebraska cornerback
Prince Amukamara
's efforts to improve his speed.
Scouts Inc.
rates Amukamara as the No. 8 prospect in the draft, and both
Mel Kiper Jr.

and
Todd McShay

have projected him as a top-10 pick. But the Lions arguably need help at cornerback more than any other position, and if they like Amukamara enough, he could be within reach of a draft-day trade.
January, 28, 2011
1/28/11
11:30
AM ET
As promised, it's time to take a look at some potential Senior Bowl draft targets for the
Detroit Lions
. To be clear, all we can do at this point is match up the positions the Lions need help at with the reports we're getting out of Mobile, Ala.

Toward that end, outside linebacker is a position of need for the Lions and ESPN's Todd McShay has been raving about Texas A&M linebacker Von Miller all week. Miller has also got some work at defensive end, but at 6-foot-3 and 237 pounds,
McShay writes
: "He's looking like a perfect fit for a strongside linebacker in a 4-3 scheme."
Another snippet of McShay's report: "It's very clear Miller has the athleticism, speed and raw, natural football instincts to not only become adequate in coverage, but to make it a strength of his game, which already includes man-to-man coverage ability."
It doesn't sound like Miller will rise into the conversation for the Lions' first-round pick, No. 13 overall, but he is certainly a player who improved his stock this week.
On the other hand, our Scouts Inc. partners aren't that enamored with another position of need for the Lions this week. McShay wrote he didn't see a cornerback who would be worth of a first- or second-round draft pick.
McShay: One position group that really failed to make a mark this week was the defensive backs. Where were they? In recent years, we've seen standout performances from players like Chris Cook, Devin McCourty and Alphonso Smith, but this year has seen a very average group. There are no safeties like Taylor Mays, who wowed you with his size, speed and freakish natural athleticism. And looking at the cornerbacks, we don't know whether we saw anyone who will go in the first two rounds. No one rose to the top of the class and took advantage of the opportunity.
I always look at the Senior Bowl as an appetizer. Along with the East-West shrine game, it's the first step in a long process of matching college players with NFL teams. But it sure gets our juices flowing.
January, 27, 2011
1/27/11
11:00
AM ET
Our long and winding postseason trip has left us unable to focus as much on Senior Bowl festivities as we otherwise would have. But it's worth taking the time to note the mostly positive reviews of a player who likely will be part of our NFC North draft discussion this spring.
Washington quarterback
Jake Locker
apparently has made a good impression on NFL scouts and is on the way to solidifying a mid-first round ranking. That puts him squarely in the sights of the
Minnesota Vikings
, who have the No. 12 pick and are searching for their quarterback of the future.
Here is a snippet of
Todd McShay's report
on Locker's work in Senior Bowl practices this week:
We've known all along that Locker has the size (6-3, 230 pounds), arm strength and athletic ability, but the positive that came out of this week is by playing with better players around him, he is better than what you see on film when he was playing behind the line and using only the weapons he had at Washington. I think it also has been helpful for Locker to go through the process. He's showing NFL personnel and coaches that he's committed to get better and has good football character. He understands he's flawed and has areas he needs to improve on.
On Friday, we'll take a look at the Senior Bowl from the
Detroit Lions
' perspective.
January, 6, 2011
1/06/11
11:52
AM ET
It's already that time of year.
Mel Kiper's first Big Board
of 2011 is posted.
You'll need an Insider subscription to view the entire list, in which Kiper ranks the top 25 draft-eligible players. (Some are underclassmen who have yet to declare.) But here is what I can tell you: Stanford junior Andrew Luck is the first of five quarterbacks included and No. 1 overall. Kiper wrote that there is "no true consensus" for who should follow Luck, but below I've given you Kiper's rankings for the the rest of them. The list should be of particular interest to those of you would would like to see the
Minnesota Vikings
draft a quarterback this spring:
9. Blaine Gabbert (Missouri)
13. Cam Newton (Auburn)
17. Ryan Mallett (Arkansas)
25. Jake Locker (Washington)
Remember, the 2011 draft will take place whether or not the NFL locks out its players this offseason.
NFC NORTH SCOREBOARD
Thursday, 9/4
Sunday, 9/7
Monday, 9/8