January, 13, 2010
1/13/10
1:00
PM ET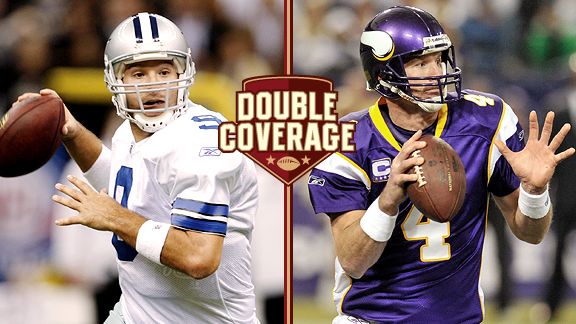 Icon SMIThe Vikings-Cowboys playoff matchup on Sunday will feature high-powered passing attacks led by Tony Romo and Brett Favre.
Here on the ESPN Blog Network, we're bracing ourselves for quite possibly the biggest divisional playoff game in the history of the 2010 postseason. Come Sunday afternoon at the Metrodome, Dallas and Minnesota will reprise a storied postseason rivalry -- sans (hopefully) whiskey bottles, push-offs and Hail Marys. (Well, at least the
push-offs
.)
ESPN.com's Matt Mosley and Kevin Seifert have spent most of the week buried in the film room -- er, basement -- refining the blogging plan for the rest of the week. As now they're ready to start breaking down this most critical game.
Kevin Seifert:
Greetings from the North Pole, Matt. Actually, you're going to get lucky this weekend. We're expecting unseasonably warm temperatures here this weekend, with highs in the 30s. Normally we call that "May" in Minnesota. Usually at this time of year, you can get frostbite on half your hand while walking from the parking lot to the media entrance at the Dome.
Matt Mosley:
I will look for any excuse to visit Minneapolis in mid-January and this game is as good as anything else I might come up with.
Sid Hartman
and I have been waiting on this postseason matchup for years. Jerry Jones tried to capture the "charm" of the Metrodome in his new Cowboys Stadium, but I'm not sure things worked out. And by the way, Drew Pearson told me to pass along his best wishes to Vikings fans.
KS:
OK, Matt. Let's get down to it. Everyone in the world thinks the Cowboys are going to win this game. Even
ESPN's Trent Dilfer
is convinced of it. You've been close to the Cowboys this season. Are they as hot as everyone says they are?
MM:
Kevin, in my eight years of covering the team, I've never been around a more confident bunch of players. I think they're the hottest team in the NFC right now because of something that took place last month in New Orleans. The players got sick and tired of all the talk of their December failures and went out and overwhelmed a Saints team in the Superdome. That game did wonders for the Cowboys' confidence. No quarterback in the playoffs has performed as well as
Tony Romo
over the past six games and he benefits from having a dominant defense. So yes, I think the Cowboys are as hot as everyone at the Mall of America is indicating.
KS:
Actually, Matt, you need to be more specific. We now have
Mall of America Field
here in addition to the
Mall of America
. At Mall of America
Field,
the conversation is revolving around two things: Are the Vikings willing to accept that they are a pass-first offense? And can their tackles,
Bryant McKinnie
and
Phil Loadholt
, keep
DeMarcus Ware
and
Anthony Spencer
at bay long enough for
Brett Favre
to get the ball downfield?
If they come out of the gates aggressively and use their full array of offensive weapons, I think they can put up some serious points against the Cowboys' defense. The Vikings are one of two teams in NFL history to have six players catch at least 40 passes. That's too many receivers for any defense to keep track of if the pass protection is there.
What's your take, Matt? Do you think Ware & Co. can be slowed down?
MM:
I agree with the aforementioned Dilfer that Loadholt and McKinnie are outmatched by the Cowboys' outside linebackers. Since the last time you saw this team, Spencer has become a force. Cowboys defensive coordinator/head coach Wade Phillips even lines them up next to each other at times.
Donovan McNabb
didn't have a chance against the Cowboys' pass rush and you can argue that
Jason Peters
and
Winston Justice
are superior offensive tackles to what the Vikings have to offer. The Cowboys' plan is to make sure Favre has to test those 40-year-old legs. The last time he saw this defense, he completed 5 of 14 passes and was intercepted twice before being knocked out of the game at Texas Stadium. He was of course with a 10-1 Packers team at the time in '07.
Keith Brooking
told me Tuesday that the Eagles and Vikings have similar offenses, but he alluded to the fact that Brad Childress is much more likely to use the running game than his mentor, Andy Reid. Of course, that's a lot easier to do when you have the pride of Palestine, Texas,
Adrian Peterson
, in your backfield. It's been quite a while since a team has put up points on this defense -- and that includes a Chargers team that was held to a season-low in points. I don't think we'll have a shootout on our hands, but Sid might have other ideas.
[+] Enlarge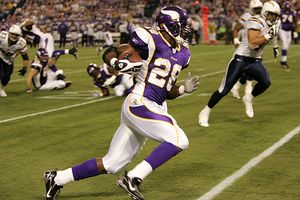 K.C. Alfred/Union-Tribune/Getty ImagesHow will Adrian Peterson figure into the Vikings' game plan against Dallas' tough run defense?
KS:
I'll check with Sid when I see him. In the meantime, Matt, we have two elephants crowding the room for this game: The head coaches. In Minnesota, there is an unspoken fear that Brad Childress will get in the way and try to force his power running game on the Cowboys. Prior to Favre's arrival, and at times this year, that has been Childress' preference. Childress also made a couple of questionable game-management decisions in last year's playoff loss to Philadelphia.
On the other side, however, is Phillips. Do Minnesota fans have anything to fear in this matchup?
MM:
Calling Phillips an elephant is a low blow, Kevin. The man might fill out a pair of Russell coaching shorts, but he deserves better from you. And yes, there's reason for Vikings fans to fear The Wade. No matter what you say about his head-coaching credentials, he's always been an excellent defensive coordinator. He puts players in position to succeed and he does a superb job of exploiting weaknesses. From reading your fine work on a regular basis, I'm aware that Vikings center
John Sullivan
isn't a large man. He'll be facing one of the best nose tackles in the game in
Jay Ratliff
. From time to time, the behemoth-type centers give Ratliff a little trouble. But he's been known to destroy the guys who are close to his size. Everyone's focused on the offensive tackles, but I could see the "Ratt" having a big game in the middle. It all starts with him in this defense.
KS
: Interesting. OK, Matt. This was great but is only a step in our coverage plan for this week. Keep checking back on the NFC East and NFC North blogs through Sunday.
MM:
Just to be honest, my coverage plan for Saturday is a little weak because of travel. But I've thoroughly enjoyed this tremendous show of synergy within the NFL Blog Network. Kevin, I arrive at 8:10 local time on American, so please pass that along to my driver. Peace and courage from the Beast.
January, 11, 2010
1/11/10
9:00
PM ET
It's never too early to ramp up coverage of Sunday's divisional playoff game at the Metrodome. I'm going to brand this week's features "Pushoff 2010." We all know, after all, the only reason Dallas beat Minnesota in the 1975 divisional playoffs was Cowboys receiver
Drew Pearson's push off
on a game-winning Hail Mary pass. From this point forward, he will be known as "Push" Pearson on this blog.
In taking a look at our corporate cousins over at ESPN Dallas, I saw a headline that sparked what I'm sure will be a big theme this week:
"Stopping Peterson."
As we've
discussed
in recent weeks, the Vikings' offense this season has neither started nor stopped with tailback
Adrian Peterson
. Its best success has come by loosening up defenses with the passing game. So I wonder: Will the Cowboys fall in line with many other Vikings opponents, stacking eight players on the line of scrimmage under the assumption he is their most important player on the field?
Or will they gear their defense toward the passing game, correctly noting that Peterson managed only 3.5 yards per carry over the final seven games of the regular season?
I'm no expert, but wouldn't the latter be the more responsible approach? Afforded a favorable opportunity, I'm sure Peterson would get his yards Sunday. But we can safely say that Peterson hasn't carried the Vikings offense to a victory since Week 1 at Cleveland (25 carries, 180 yards). If the Cowboys are picking their poison, wouldn't it be novel if they considered Peterson the lesser of two evils?
January, 10, 2010
1/10/10
11:45
AM ET
Three things to know about next Sunday's Cowboys-Vikings divisional playoff game:


1. Minnesota tight end Visanthe Shiancoe had this to say Sunday morning via Twitter:
"Cowboys are leaving the suburbs and coming to the hood! Better be ready.. "ain't nothing nice"." Among other things, Shiancoe was referring to the Vikings' 8-0 record at the Metrodome this season, located in downtown Minneapolis. Minnesota has been a confident, proficient and aggressive team all season at the home, and it's probably the best advantage the Vikings will have going against a Cowboys team that is playing at an elite level. (The Cowboys are 5-3 on the road this season.) I really don't think the Metrodome is the loudest stadium in the NFL, but it's certainly claustrophobic and carries a long history of audio intimidation. The Cowboys lost their last three games there, including a 1999 wild-card playoff game, and last won at the Metrodome in 1995.
2. Minnesota coach Brad Childress gave his players the week off, and left tackle Bryant McKinnie better have made the most of it.
McKinnie finished the season with several minor physical ailments and didn't play well down the stretch, most notably getting benched after a disastrous night against Carolina's
Julius Peppers
. McKinnie figures to face Dallas'
DeMarcus Ware
, an equally fearsome pass-rusher, in what could be the game's most critical matchup. Ware had a dominant game Saturday night against the Eagles, and the Cowboys will have their pick of matching him against McKinnie or the Vikings' rookie right tackle,
Phil Loadholt
. The Vikings will have to slide protection toward Ware no matter where he lines up. We have little confidence that McKinnie (or Loadholt) would fare well in a one-on-one situation.
3. There has been a long and colorful playoff history between these two teams.
Perhaps the most-remembered loss in Vikings history came on Dec. 28. 1975. The Cowboys won that divisional playoff matchup after receiver Drew Pearson caught a Hail Mary pass from Roger Staubach to cap a fourth-quarter drive. In Minnesota, the receiver on that play is known as "Push Pearson" because of the long-held contention he pushed away cornerback Nate Wright before making the catch. Offensive pass interference wasn't called, and the crowd at the old Metropolitan Stadium got so rowdy that field judge Armen Terzian was hit by a whiskey bottle and knocked unconscious.