November, 20, 2011
11/20/11
8:00
PM ET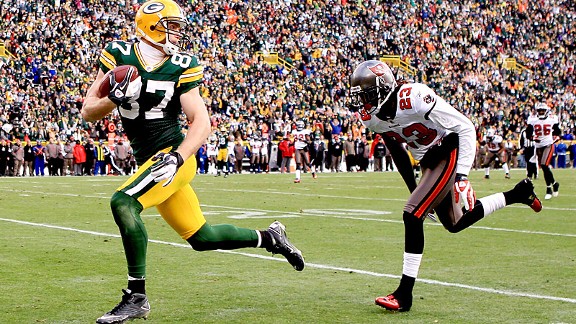 Matthew Stockman/Getty ImagesJordy Nelson caught six passes for 123 yards and two touchdowns against Tampa Bay.
GREEN BAY, Wis. -- I'm sorry to disappoint you. We had it half-right last week on
Jordy Nelson
. He does fit a stereotype -- just not the one that seeped its way into national discussion.
The son of farmers and a Kansan, Nelson wears his hair in a crew cut and still squints in front of television camera lights. He physically recoils in the public spotlight and really means it when he says: "I just prefer to do my job every day in practice, and in the game, and then go home and hide out with the family."
Nelson is a blue-collar Midwesterner if there ever was one, a condition that will be increasingly difficult to maintain after a stretch of games that could catapult him to the Pro Bowl. Nelson caught two more touchdown passes Sunday in the
Green Bay Packers
' 35-26
victory
over the
Tampa Bay Buccaneers
, including the game-clincher, and brought his season total to nine with six games remaining.
How understated is Nelson? Discussing his performance Sunday, the best word that coach Mike McCarthy and quarterback
Aaron Rodgers
could come up with was "consistent." Added McCarthy: "I wish I could be more complimentary: He is so consistent and he's the same guy every day, and that's huge on a lot of different fronts... ."
Which is largely why Nelson seemed so out of place last week
in a national discussion
about the speed and perception of white receivers. We touched on the topic twice, wondering whether opponents were truly underestimating him because of race or whether they have made a schematic decision to focus on other players in the Packers' offense.
Regardless, Nelson said the issue made him "uncomfortable" as it played out last week. He said he laughed when an official, and even some Bucs players, referenced it on the field Sunday. But you don't have to know Nelson well to recognize he wasn't going to dip his toe into those social waters.
"I hate the spotlight," he said. "I don't like it. That's why, what happened last week, I did not like that one bit. … I don't even deal with race and anything like that. It's something we've discussed in the locker room here, and I hope it didn't offend anybody. … I'm not mad at anybody. I just don't like to be in the spotlight, and that kind of put me out there."
It would be insulting to the Buccaneers to suggest they underestimated Nelson, for racial or any other reasons. Sunday marked his third 100-yard game in the past five weeks, and here are his numbers during the Packers' 16-game winning streak, dating to last season and including playoffs:
Receptions:
67
Yards:
1,255
TDs:
12
"I really don't care how they think," Nelson said, "because honestly, if someone underestimates you, it's better [for me]. But everyone in this league has a job. They watch film. They see what they see. I'm going to keep doing what I'm doing and keep grinding."
[+] Enlarge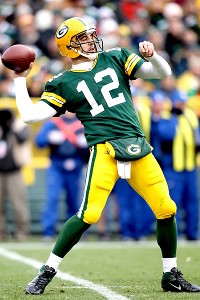 Matthew Stockman/Getty ImagesAaron Rodgers has thrown 31 touchdown passes this season, including nine to Jordy Nelson.
I would think opponents are now fully aware that Nelson is not a stereotypical white receiver, if there is such a thing. He can run past anyone, as suggested by his average of 18.7 yards per catch over that 16-game stretch. But there is only so much that can be done while also defending against receiver
Greg Jennings
, tight end
Jermichael Finley
and the rest of the Packers' offense.
Sunday, the Buccaneers fruitlessly searched for ways to handle Nelson while not losing sight of the Packers' so-called heavy hitters. Nelson is a starting-caliber receiver whom the Buccaneers mostly tried to defend with backups. Ever heard NFL people talk about having players who can step up when the focus is elsewhere? Nelson hasn't been underestimated; he's the best example of how the Packers' offense is overwhelming opponents on matchups.
Sunday, the Buccaneers tried nickel back
E.J. Biggers
on Nelson. They rotated cornerback
Ronde Barber
on him a few times, and for some reason had little-used
Myron Lewis
matched up in single coverage on third-and-four at the Bucs' 40-yard line with 3 minutes, 1 second remaining in the game.
The Packers were clinging to a 28-26 lead. If you watch the replay, it appears that Nelson put a dirty double-move on Lewis to leave him in the dust for a 40-yard touchdown.
Not so, Mr. Humble said afterward.
Nelson said he thought Rodgers was going to feed him a shorter pass that would be a jump ball.
"So I slowed down a little bit to gather myself to get ready to jump," Nelson said. "And when it came out of his hand, I was like, whoa, that kind of took off. That little hesitation did help myself. The DB did think it was going to be to the back shoulder."
Come on. Nelson wasn't going to say so, but make no mistake: It was a big-time move at a critical moment for a team that is making a run at history. This season, Nelson has showed us that stereotypes can be true. You just have to make sure you've nailed him on the right one.
September, 18, 2011
9/18/11
7:25
PM ET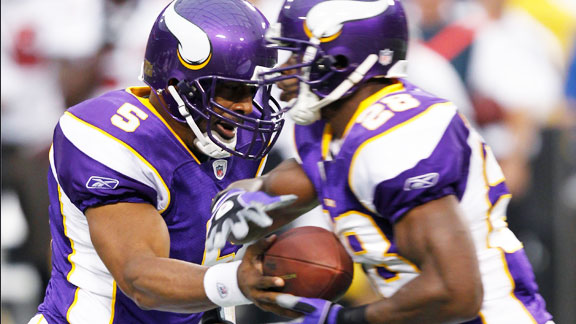 AP Photo/Andy KingThe Vikings run a low-risk attack featuring handoffs to Adrian Peterson, and few big plays.
MINNEAPOLIS -- The headline quote from the
Minnesota Vikings
' postgame locker room came from tailback
Adrian Peterson
.
"They wanted it more tonight," Peterson said after the
Tampa Bay Buccaneers
scored the final 14 points of a
24-20
victory before a stunned Metrodome crowd. The Bucs had stormed back from a 17-0 halftime deficit, blistering the Vikings for 273 yards and 16 first downs on only 30 plays over that time period.
The implication from Peterson, and a few other Vikings players, was that the team somehow didn't match the mythical energy the Buccaneers brought from the halftime locker room.
Said defensive end
Jared Allen
: "We must have rested on our laurels."
Receiver
Percy Harvin
: "We didn't play 60 minutes and our record shows it."
I understand why a player would instinctively reach for that explanation, but strongly disagree that it was behind the Vikings' second-half collapse. From my vantage point, at least, this game wasn't decided on effort. If we can say anything definitive about the 2011 Vikings, it's that they are constructed with absolutely no margin for error and few alternatives with which to juggle the momentum swings of a typical NFL game.
Through two weeks, at least, the Vikings (0-2) have been intent on controlling the ball on offense and limiting exposure for their defense. When that works, you're up 17-0 at halftime. But when the slightest issue goes awry, you're left incapable of covering for it elsewhere. To date, the Vikings haven't demonstrated a quick-strike mentality, or capability, on either side of the ball.
The Vikings are like an old-school locomotive amid a fleet of F-16's. Loaded full of coal, they can start smoothly and pick up steam on the track. Knock it ever so softly off its tracks, however, and its stuck in mud while the rest of the NFL zooms by.
"This," quarterback
Donovan McNabb
said, "is a game we should have won. No doubt about it."
For that to happen, however, the Vikings would have needed their low risk, low-reward approach to continue producing flawlessly. In rolling up their big first-half lead, the Vikings put together three long and time-consuming drives. Using Peterson and a passing game that almost exclusively relied on fake runs, they went 90 yards on 12 plays, 82 yards on 14 plays and 75 yards on eight plays.
McNabb threw for 153 yards in the first half, most of which came on low-risk bootlegs and screen plays. Relying on power running and a short passing game decreases your total number of possessions, placing a premium on scoring a touchdown after every drive.
The Vikings, however, had one possession stall at the Buccaneers' 4-yard line and another at their 11. A touchdown in either instance likely would have given them an insurmountable lead.
"The ability to score a touchdown in the second half really would have changed the course of the game," McNabb said.
As it turned out, however, the Bucs spread out their offense in the fourth quarter much like they did at the end of their Week 1 loss to the
Detroit Lions
. Over the final nine minutes and 41 seconds, they put together scoring drives of 80 and 61 yards. Receiver
Aurelius Benn
caught a 25-yard touchdown pass for one score, and
LeGarrette Blount
scored from four yards out for the winner with 31 seconds remaining.
Successful NFL teams have the capability to score an easy touchdown every now and then. The Vikings piled up 398 yards Sunday, but they never came close to scoring from outside the red zone. Peterson compiled 120 yards on 25 carries, but both of his scores came from inside the 10-yard line. The Vikings had hoped to jump to an early lead and then ride Peterson to victory, but there were too many times in the second half when just handing it to Peterson to grind out the clock wasn't good enough.
On a first-and-goal at the Bucs' 10-yard line in the fourth quarter, Peterson lost a yard. That put McNabb in an undesirable position to throw consecutive passes, both of which fell incomplete.
Later in the quarter, McNabb faced a third-and-6 from his 26-yard line. There was 4:25 left in the game, and a first down would have put the Buccaneers into timeout mode. The Vikings' play call there? A deep pass down the right sideline to reserve receiver
Devin Aromashodu
, who was blanketed by cornerback
E.J. Biggers
.
McNabb said afterward that the Vikings' performance on those key plays "is something that will be corrected." But as currently constituted, and with defenses intent on limiting Peterson's potential for a big play, the Vikings will have to be perfect to make it work. Their red-zone touchdown conversion rate was 50 percent Sunday. That's not bad. What the Vikings didn't have Sunday, nor in their Week 1 loss to the
San Diego Chargers
, is a player in their passing game who can get them an easy touchdown or make the critical third-and-6 catch with the game on the line.
[+] Enlarge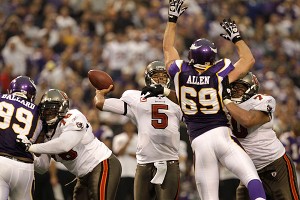 AP Photo/Charlie NeibergallDefensive end Jared Allen, 69, and the Vikings were unable to produce a game-changing play in the second-half against Tampa Bay.
Nor, to this point, have the Vikings had a defensive player step forward to make a game-changing play in the second half. Last week, they committed three encroachment penalties to sustain the Chargers' final possession. On the first of the Bucs' fourth-quarter scoring drives, the Vikings allowed quarterback
Josh Freeman
to convert two third-and-1 plays with 2-yard scrambles. On the next possession, Freeman sat in the pocket and completed seven of eight passes before Blount's game-winning romp.
We know that defensive tackle
Kevin Williams
was completing his two-game suspension. That left Allen, who had one sack and three quarterback hits earlier in the game, and linebacker
Chad Greenway
as the only potential playmakers on the field. Neither stepped up.
"I don't know what happened," Allen said. "I'm trying to find a positive word to use. I don't really have one. You look at it, and they had one big run [Blount's 27-yard score in the third quarter] and one big pass. But they kicked the crap out of us in the second half, and that sucks, because we were dominating the first half."
One big run and one big pass was all it really took to knock the Vikings of the tracks. They didn't stop playing hard. They didn't make a ton of mistakes. They just fell off the narrow wire they've given themselves to maneuver. I consider it a crisis of construction, not performance or attitude.
December, 19, 2010
12/19/10
4:34
PM ET
A few thoughts on
a historic day
for the modern-day
Detroit Lions
:


What it means:
The Lions (4-10) snapped their NFL-record streak of 26 consecutive road losses with an overtime victory over the
Tampa Bay Buccaneers
. Kicker
Dave Rayner
tied the game with two seconds remaining in regulation with a 28-yard field goal and won it after the first possession in overtime on a 34-yarder. The Lions' last road victory was on Oct. 28, 2007 at Chicago. They have now won consecutive games for the first time since defeating the
Denver Broncos
one week after that 2007 victory over the Bears.
Fourth-quarter turnaround:
In nine of their 10 losses this season, the Lions were either ahead or trailing by no more than five points in the fourth quarter. In other words, they were in every game and felt they were a play or two away from turning the tide in these close games. So it's worth noting they have won consecutive games by a total of seven points. They are finding ways to close out games.
What I liked:
Tell the truth. You thought this game was over after kicker
Connor Barth
drilled a 26-yard field goal to give the Bucs a 20-17 lead with 1 minute, 44 seconds remaining. But quarterback
Drew Stanton
displayed all kinds of moxie on the ensuing drive, hitting receiver
Bryant Johnson
for 19 yards,
Calvin Johnson
for 23 and tight end
Tony Scheffler
for 12 to get Rayner in comfortable field position. Credit goes to Stanton and Calvin Johnson for the 12-yard play that got Rayner in position for the overtime kick. Johnson finished 10 receptions for 152 yards.
What else I liked:
Tailback
Maurice Morris
had his second 100-yard day since joining the Lions, and his 26-yard run on the first play of overtime set the tone for the drive.
I also liked:
Receiver
Nate Burleson
pushed Bucs cornerback
E.J. Biggers
the final five yards at the end of his 10-yard touchdown reception in the first quarter. Burleson isn't the NFL's biggest receiver, but obviously you can't tackle him high when he sniffs the end zone.
What I didn't like:
Conservatively, I counted six missed tackles on the pair of long runs (37 and 29 yards) from Bucs tailback
LeGarrette Blount
.
What's next:
The Lions will try to make it three in a row on their second consecutive trip to the state of Florida. This time, their targets will be the
Miami Dolphins
. Next Sunday. Sun Life Stadium. Be there.