February, 19, 2015
Feb 19
6:00
PM ET
By
Michael Wright
| ESPN.com
INDIANAPOLIS --
Chicago Bears
coach John Fox and general manager Ryan Pace met Wednesday with the media at the NFL combine, and several other interview sessions commenced Thursday involving general managers and head coaches around the league. Here's what we've learned about the Chicago Bears:

Arians
Revisiting Bruce Arians:
In explaining that quarterback
Carson Palmer
was nearly a month ahead of schedule in his rehabilitation, Arians knocked on the lectern here at Lucas Oil Stadium and said, "Don't jinx me, baby."
Engaging, detailed and surprisingly open about Arizona's needs in free agency and the draft, Arians wowed the crowd in Indianapolis more than any other coach or general manager conducting sessions with the media, which begs the question: How did former general manager Phil Emery spend several hours with him in an interview setting and come away thinking he needed to hire Marc Trestman?
We can't say with any real certainty that Arians would have been more successful than Trestman. But Emery's decision to go with the latter over the former after firing Lovie Smith coming off a 10-6 season will always register as one of moves that ultimately doomed him in Chicago.
Some teams would love Chicago's QB problem:
Seeing most of the league's 32 teams represented at the combine in interviews with general managers and head coaches helps to put Chicago's issues with
Jay Cutler
into proper perspective.
At Tampa Bay, Lovie Smith recently released
Josh McCown
and the Buccaneers currently have only one quarterback on the roster in
Mike Glennon
as they eye the possibility of adding
Jameis Winston
or
Marcus Mariota
with the No. 1 pick. "If you have to be in the position [holding the No. 1 pick], you're always looking for a franchise quarterback," Smith said. New Buffalo coach Rex Ryan, meanwhile, praised
EJ Manuel
despite the Bills bringing in McCown for a visit. "This league's proven when you've got a great quarterback, it's rare that you don't go to the playoffs," Ryan said.
Quarterback issues in Cleveland led up to Browns general manager Ray Farmer on Thursday apologizing for his involvement in the texting scandal that could lead to a suspension and the team possibly losing a draft pick as well as receiving a fine.
So if you're thinking the Bears have it bad at the quarterback position, think again. Most of the teams referenced above would love to have Cutler.
Willie Young, Jared Allen and Lamarr Houston will be LBs:
At least, that's where the Bears plan to play the defensive ends initially in the new 3-4 scheme. Bears coach John Fox was asked specifically whether Young and Allen were now linebackers.
"We'll line them both up there. What they become is up to them," Fox said. "In Willie's case, he's coming off an Achilles surgery. You know, same thing with Lamarr Houston coming off an ACL. You know, I had two guys a year ago, Chris Harris and
Von Miller
coming off ACLs, and they both had Pro Bowl seasons. So that's all part of the process, you know, getting guys healthy medically and getting them ready to play. We're working on that as we speak daily."
Young, Allen and Houston combined in 2014 for 16.5 sacks. Young led the way with a team-high 10 sacks.
October, 2, 2014
10/02/14
8:00
AM ET
This is the Jim Schwartz Reunion Show.
For the
Detroit Lions
head coach turned
Buffalo Bills
defensive coordinator, seeing Detroit at 3-1 and playing well heading into October must bring back some memories.
While it's unknown exactly how Lions fans will treat Schwartz when he enters Ford Field on Sunday for a game for the first time since cursing at some fans in last season's home finale, former players will almost definitely be cordial to him.
ESPN.com Lions reporter Michael Rothstein and Bills reporter Mike Rodak break down this week's game.
Rothstein:
So this is the Jim Schwartz homecoming game. How much similarity is there in what Schwartz is running now and what he ran the past couple of years in Detroit?
Rodak:
It's almost uncanny how similar the blitz numbers are between Schwartz's defense so far this season and his defense in five seasons with the Lions. From 2009-2013, the Lions blitzed on 23 percent of plays. Through four games with Schwartz as defensive coordinator this season, the Bills have blitzed 22.7 percent of the time. Over that time, the Lions had an identical QB pressure rate of 23 percent, while the Bills have a 24.4 percent pressure rate this season. Schwartz's defensive line is again the strength of his team, and he's able to use
Mario Williams
and
Jerry Hughes
in some of those wider alignments that were part of his scheme in Detroit. Schwartz has also been known for his defense's ability to stop the run. That hasn't changed, either; the Bills rank second in the NFL behind the
Seattle Seahawks
, allowing just 2.89 yards per carry.
On the flip side, how much has changed for the Lions since Schwartz left? This always seemed like a talented team that underachieved during Schwartz's tenure. The Lions are now 3-1, so what has been different?
Rothstein:
A lot has changed. Schematically, the Lions are using two tight ends a lot more than they did under Schwartz and Scott Linehan. Defensively, Detroit is blitzing a lot more than it did last season, when the Lions blitzed less than any team in the NFL. More important, though, there's more accountability this season than there was in 2013 under Schwartz. Schwartz never belittled his star players -- particularly
Matthew Stafford
-- publicly, but multiple players have pointed out this season that it feels like every player is treated the same under this coaching staff.
Also, Jim Caldwell is not a yeller. Not even close. He has a very calm demeanor, and with this team right now, it appears to be working. Detroit's players are buying into that and it's a big reason the Lions are 3-1. It also helps that Stafford is playing extremely well right now and the defensive front is making it hard for teams to run on the Lions. Defensive coordinator Teryl Austin has also been a big factor. His ability to scheme despite losing starting linebacker
Stephen Tulloch
and a multitude of defensive backs over the first four weeks of the season has been impressive.
Since we're talking about switching personnel, what does Buffalo get with
Kyle Orton
that it didn't have with
EJ Manuel
?
Rodak:
I wouldn't go as far as to say Orton can take over and win games where Manuel was unable, but it gives the Bills a better shot. The Bills felt as though they surrounded Manuel with plenty of weapons for him to succeed -- a strong running game with two showcase backs, a top-flight talent in
Sammy Watkins
, and two other capable receivers in
Robert Woods
and
Mike Williams
. It just never came together for Manuel and a shake-up was inevitable. The Bills' hope is that Orton can take advantage of those weapons. He's not going to be
Aaron Rodgers
, but if he's better than Manuel, then the move was worth it. The Bills' passing "attack" was the main contributor to their last two losses. It may not be the main reason why they win -- if they do with Orton -- but it takes some pressure off the defense to do all the work.
The Lions' offense gains 76 percent of its total yards through the air, the seventh-highest rate in the NFL. Even with
Calvin Johnson
hobbled lately by an ankle injury, how have Stafford and others been able to get it done?
Rothstein:
A lot of underneath routes and
Golden Tate
. The Lions signing Tate gave them a legitimate No. 2 receiver and a player who could pick up the targets effectively for this particular scenario. Detroit also added
Eric Ebron
in the first round of the draft, and while he hasn't done much so far, his role appears to be expanding by the week. But a lot of it has to do with Stafford. He's making smarter decisions, finding the open player and showing more patience than last season, even as his line is not protecting him nearly as well as a year ago.
We talked about the defense at the top of this, so let's come back to that for this final question. The Bills are second in the league in run defense, allowing 2.89 yards a carry. Is this a defense better at stopping between-the-tackles runners or can they handle an edge guy like
Reggie Bush
as well?
Rodak:
It starts up front with a defensive line that is unmatched.
Marcell Dareus
and
Kyle Williams
, both Pro Bowlers last season, clog up the middle better than anyone, while Mario Williams and Hughes have buttoned up the outside. The problem, however, is a knee injury to Kyle Williams in last Sunday's loss to the
Houston Texans
that could threaten his availability in Detroit. If the Bills need to turn to backups
Stefan Charles
or
Corbin Bryant
, they'll be more prone to runs up the middle. On the second level, they added
Brandon Spikes
this offseason, and while he has been limited in his playing time, he has brought some physicality that has added another dimension to the run defense. The Bills don't have the fastest group of linebackers, so if the Lions want to find a way to exploit that, they should give the ball to Bush in space and see if he can make some plays.
One of the Lions' strengths is their defensive line, and we know the impact
Ndamukong Suh
can have on a game. Yet the Lions' defense as a whole has allowed only 15 points per game, fourth fewest in the NFL, so surely there's more to the defense than the front four. Where else have they excelled?
Rothstein:
Teryl Austin has done a great job masking any issues the Lions may have because of injury (linebacker, slot corner) and has come up with different ways to pressure opposing offenses. It has probably helped some that there hasn't been a ton of film on Austin's tendencies yet, so it'll be interesting to see if this keeps up. But four weeks in, it has been tough to face the Detroit defense.
DeAndre Levy
is a major reason for the success, too. He's still pretty underrated nationally, but is one of the best coverage linebackers in the league and is always around the ball. Having a guy like that in the middle third of your defense can hide any problems.
December, 18, 2013
12/18/13
7:10
PM ET
GREEN BAY, Wis. --
Eddie Lacy
's case for the NFL's offensive rookie of the year award keeps getting stronger.
And wouldn't it be fitting if he helped solidify it on Sunday against the
Pittsburgh Steelers
?
[+] Enlarge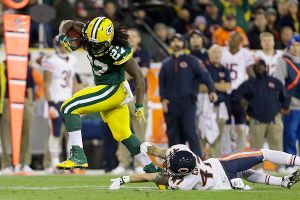 Mike McGinnis/Getty ImagesIt has been more than 40 years since Green Bay had a rookie running back top 1,000 yards rushing.
It was the Steelers who reportedly "
would not touch
" Lacy because of toe fusion surgery he had before his final year at Alabama. If Lacy needed any extra motivation,
which he said he did not
, Steelers coach Mike Tomlin said this week that picking running back
Le'Veon Bell
in the second round ahead of Lacy was "
an easy decision
."
"I mean, you can use it for motivation," Lacy said Wednesday. "But I'm not one to use external factors for motivation."
It was a rocky start for Lacy, who was the 61st overall pick in the draft.
He was criticized for being out of shape, something that wasn't helped by
an unflattering picture
that appeared to catch him in an awkward position during training camp. He fumbled in the season opener against the
San Francisco 49ers
and then was knocked out of the Week 2 game against the
Washington Redskins
because of a concussion that also sidelined him the next week against the
Cincinnati Bengals
(another team that picked a different running back ahead of Lacy).
Since then, Lacy's conditioning has not been an issue, he has not missed another game despite battling a sprained right ankle the past two weeks and he has been the most productive running back in the NFL since he returned in Week 5. In that stretch, he has an NFL-best 977 yards rushing. With 141 yards on 21 carries in Sunday's win over the
Dallas Cowboys
, Lacy was named the
NFC's offensive player of the week
and became the first Packers running back to rush for 1,000 yards as a rookie since John Brockington in 1971.
With 1,028 yards, Lacy ranks seventh in the NFL in rushing. The next-best rookie is
Zac Stacy
, a fifth-round pick of the
St. Louis Rams
, who ranks 10th with 854 yards. Bell, the second running back taken in the draft behind
Giovani Bernard
, ranks 24th in the league with 646 yards rushing.
"They picked the guy they wanted, and I landed here," Lacy said. "And I'm very happy here, and I'm doing good."
Bernard, who was taken 37th overall, is one spot ahead of Bell in the rankings with 653 rushing yards.
Montee Ball
, the only other back taken ahead of Lacy, ranks 42nd with 455 yards for the
Denver Broncos
.
More so than his statistics, Lacy has impressed with his running style. The 5-foot-11, 230-pounder has shown a penchant for breaking tackles and carrying the pile.
"He'll rush for a 10-yard gain and be mad at himself because he didn't make another guy miss," Packers right guard
T.J. Lang
said. "That's the attitude that you love to see, man. He's never satisfied. He's always looking for more."
Last week, ESPN Stats & Information provided some insight on a few of the
top candidates for the rookie of the year
award.
None of the rookies at any position ranks as high in their respective statistical categories as Lacy does in the rushing yardage. The top rookie receiver,
Keenan Allen
of the
San Diego Chargers
, ranks 36th in the NFL in receptions (63) and 21st in receiving yards (931).
Minnesota Vikings
rookie receiver
Cordarrelle Patterson
has made his biggest impact on special teams, with two kickoff returns for touchdowns. None of the rookie quarterbacks playing --
Mike Glennon
in Tampa Bay,
EJ Manuel
in Buffalo and
Geno Smith
with the Jets -- have done enough to warrant serious consideration.