December, 19, 2013
12/19/13
10:00
AM ET
The
Philadelphia Eagles
have found themselves in the middle of the NFC North race as much as the NFC East race over the past month. Sunday night's game against the
Chicago Bears
is their third game in a row against an opponent from the North.
Two weeks ago, the Eagles and Bears helped each other out. Chicago defeated the
Dallas Cowboys
, pushing the Eagles into first place in the East. The Eagles beat the
Detroit Lions
, opening the door for the Bears in the North.
They won't be helping each other this week. ESPN.com Bears reporter Michael C. Wright and Eagles reporter Phil Sheridan discuss some of the issues facing both teams.
Sheridan:
Like the Eagles, the Bears survived this season when a backup quarterback took over and played unexpectedly well. Unlike the Eagles, who stayed with
Nick Foles
, Chicago went back to
Jay Cutler
and sent
Josh McCown
to the sideline. So, Michael, how is that scenario playing out in the locker room, on the field and among the fans?
Wright:
The reaction is quite a bit different between the fans and the players, obviously. In the immediate aftermath of Cutler's ankle injury on Nov. 10 against Detroit, Bears coach Marc Trestman told the team and the media that Cutler would be the starter again as soon as he was medically cleared to play. The coach never wavered on that declaration, and that was apparent even among the players during McCown's incredible four-game run. In answering questions about McCown during that stretch, Trestman and the players seemed to temper the compliments regarding the backup, making it a point to state that Cutler was still the starter once he would be able to return to action. So within the locker room, the message was always that Cutler would return, but among the fan base, as McCown flourished, the call to make him the permanent starter grew louder regardless of what Trestman and the players said on the record. Cutler certainly helped himself by bouncing back from a bad start at Cleveland to throw for three touchdowns in a win, but there's certainly a segment of the Chicago fan base still calling for McCown to be the man under center.
Phil, Chicago's defense simply can't stop the run, so
LeSean McCoy
is poised to have a pretty big game if the Eagles decide to feature him. What was the deal with McCoy running the ball just eight times against the
Vikings
?
Sheridan:
That was one of the head-scratching strategies Chip Kelly deployed Sunday. It was like stepping into a time machine and watching an Andy Reid-coached game. Kelly's explanation was simple enough: The Vikings were missing four cornerbacks and the Eagles thought they could exploit the inexperienced backups. Then, he said, the Eagles fell behind and had to throw, but McCoy had run for 217 yards the week before, mostly in the second half as the Eagles staged a comeback win. Ultimately, there is no explanation or excuse for eliminating a weapon as dangerous as McCoy from your offense. That's supposed to be the defense's job.
The Eagles did a better job against
Larry Fitzgerald
and
Calvin Johnson
in recent weeks than against the Vikings' deeper, less star-studded receiving corps. How much more dangerous are the Bears now that
Alshon Jeffery
has emerged alongside
Brandon Marshall
? Is Jeffery even better at this point?
Wright:
In the past, teams focused most of their game plan on shutting down Marshall. That involved double-teams and shading coverage over to his side. Teams are now finding they can't do that anymore because if you double Marshall, you put Jeffery in one-on-one matchups that he's going to win the majority of the time. The Bears say teams are now starting to mix it up against those receivers, which makes it important for Cutler to be able to quickly recognize the coverage and distribute the ball accordingly. I wouldn't say Jeffery is the better receiver overall at this point, but I will say that he tracks the ball in the air better than anybody else on Chicago's roster, which has allowed him to make some unbelievable grabs in contested situations. I'd say one player to watch is No. 3 receiver
Earl Bennett
. With all the focus on Marshall and Jeffery, the Bears have made it a point in recent weeks to involve Bennett more in the offense. Remember, Bennett played college football with Cutler at Vanderbilt, so there's chemistry. Bennett has hauled in a touchdown in each of the past two games.
How will Philadelphia's secondary look on Sunday? I know the Eagles are banged up, causing something of a musical-chairs effect in the secondary. At this point, do you know which guys the Eagles will have available to face Marshall, Jeffery and tight end
Martellus Bennett
?
Sheridan:
We don't know yet, Michael. The larger problem is that, even when everyone is healthy, the Eagles' secondary isn't equipped to handle a receiving corps as deep and talented as the Bears' is. The Eagles have the 31st-ranked pass defense for a reason. During their five-game winning streak, they were able to give yards but minimize points allowed by forcing turnovers and playing well in the red zone. That formula fell apart in Minnesota. As for the injuries, the biggest loss would be nickel corner
Brandon Boykin
, who leads the team in interceptions and is a very good cover guy. It looks like rookie safety
Earl Wolff
will be back after missing four games with a knee injury, but it remains to be seen how effective he'll be after missing that much time. If the Bears go three or four wide, the Eagles will be hard-pressed to match up with all those weapons. Their best hope would be to pressure Cutler, but they have struggled against guys who get the ball out as quickly as he does.
There's a chance linebacker
Lance Briggs
returns Sunday night. What impact would that have on Chicago's defense? Can the Bears clamp down on the Eagles or is this thing destined to be a shootout like their win over Dallas two weeks back?
Wright:
I see this one being a shootout. I think Briggs will have an impact on the defense in terms of making sure the calls get in quickly and the defense is lined up correctly. Briggs should also be an upgrade over rookie
Khaseem Greene
, who has filled in on the weak side over the past seven games. But Briggs has been on the shelf for a month and a half, and there's no way he's in football shape yet. So you have to wonder how much he will actually be able to contribute from a physical standpoint. If Briggs plays like the Briggs we all know, then Chicago will have a much better shot at controlling Philadelphia's rushing attack, but I'm not sure he'll return as that guy. So let's count on a shootout. The team with the defense that gets that one or two key stops down the stretch will be the team that comes out on top.
Early in the season, Philadelphia's frenetic pace seemed to be the next new thing, the revolution. Now that the Eagles have basically an entire season under their belts, how have teams adjusted to their pace on offense? Is it still as big an advantage as it seemed to be early in the season?
Sheridan:
It has been an effective tactic at times. The up-tempo approach is one of the reasons Foles replaced
Michael Vick
as the No. 1 quarterback. Vick is obviously a bigger threat in the read-option, but Foles is more comfortable with the pace Kelly likes. Hard to blame Vick, who had a career's worth of offensive football to unlearn. But the pace can hurt the Eagles, too. When they have a couple of three-and-outs in a row, as they did against the Vikings, their defense is back on the field way too quickly. And when a team moves the ball as well as the Vikings did, the defense wears down. It was useless by the fourth quarter. The Eagles defense has been on the field for more plays than any team in the NFL. That is partly a side effect of Kelly's up-tempo offense.
December, 15, 2013
12/15/13
10:00
PM ET
MINNEAPOLIS -- The demolition in Denver made sense.
Peyton Manning
at the top of his game shredded a still-learning Eagles defense in a 52-20 Broncos rout.
But the meltdown in Minneapolis? Against a Vikings team with a journeyman quarterback and without
Adrian Peterson
? Nobody saw that coming, and when the 48-30 beating was over, nobody seemed able to explain how a defense that held nine consecutive opponents to 21 or fewer points got dismantled so thoroughly.
"I wish I had better answers for you," defensive coordinator Bill Davis said.
[+] Enlarge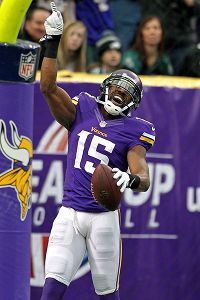 Brace Hemmelgarn/USA TODAY SportsGreg Jennings said he's confident that Norv Turner's scheme will help make the Vikings' offense more potent than in recent seasons.
"They just made more plays than we did," Eagles safety
Nate Allen
said.
Matt Cassel
completed his first eight passes, finishing 26-of-35 for 382 yards and two touchdowns.
Greg Jennings
caught 11 of those passes for 163 yards, including a 57-yard touchdown.
Matt Asiata
, who hadn't touched the ball in a game all season, ran for three touchdowns.
It added up to the most points surrendered by an Eagles defense since Oct. 30, 2005, when the Broncos scored 49 points. Denver scored two special-teams touchdowns in their 52-20 win in September.
"I do not know if we were overlooking them or did not take it seriously," Eagles linebacker
Connor Barwin
said. "I don't know what happened, but whatever we did was not good enough going into this game."
The Eagles have made it a priority to avoid giving up big plays. Cassel found Jennings streaking behind Allen and
Patrick Chung
in the first quarter for that 57-yard score. The Eagles gave up four passes of 20 yards or more, the most they allowed since a game against Carolina last year, according to ESPN Stats & Information.
Chung, who lost his starting job to rookie
Earl Wolff
earlier in the season, was benched in favor of
Kurt Coleman
.
"Kurt has done a good job in practice," coach Chip Kelly said. "Just trying to find out where we are since Earl has been down (with a knee injury). I think Kurt deserves some time and we're just trying to figure out who can play."
No one on the defense made much of a case for themselves in this game.
"We just weren't playing tight enough coverage," Davis said. "That's attached to the rush, too. It's all attached together. It's not just the coverage giving up plays, it's the rush that has to get there. Collectively, as a defense, we came up really short today."
The Eagles had gotten some breaks this season. They faced Green Bay in its first game without
Aaron Rodgers
. That snowstorm last week helped neutralize Detroit's
Calvin Johnson
. Facing a Vikings team without the injured Peterson and backup
Toby Gerhart
seemed like good fortune smiling on the Eagles again.
But without Peterson to lean on, Cassel was free to throw to Jennings,
Jarius Wright
,
Cordarrelle Patterson
,
Jerome Simpson
and
Chase Ford
. It begged the question of how Chicago, with
Brandon Marshall
and
Alshon Jeffery
, will attack this defense.
"I don't see it as a blueprint," linebacker
DeMeco Ryans
said. "It was mainly us. We are going to have to go back and watch the film to see what we can correct."
They should see plenty.

NFC NORTH SCOREBOARD
Thursday, 9/4
Sunday, 9/7
Monday, 9/8