March, 23, 2010
3/23/10
1:30
PM ET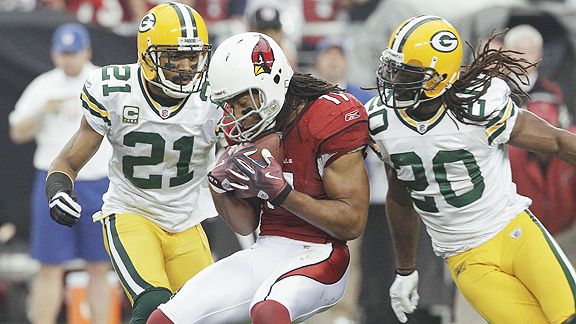 AP Photo/Ross D. FranklinThe Packers gave up 375 passing yards in a wild-card playoff loss to the Arizona Cardinals, but don't expect an offseason makeover of the secondary in Green Bay.
ORLANDO, Fla. -- The numbers and images are seared into the brain of everyone who played, watched or endured them:
Those figures represent the number of points, net passing yards and touchdown passes Green Bay gave up in two memorable shootouts during a four-week span last season. Both were losses, and one -- a
51-45 wild-card playoff defeat
at Arizona -- ended Green Bay's year. So as I reviewed the Packers' offseason activity en route to the NFL owners meetings, one question kept recurring: What have they done to address those defensive collapses?
Green Bay has made substantial commitments to keep its roster intact, from re-signing nose tackle
Ryan Pickett
to extending the contract of Pro Bowl safety
Nick Collins
. I believe those moves were preferable to the alternative. And it should be no surprise that Packers general manager Ted Thompson chose that route over adding veteran free agents from the outside.
But with the Packers' personnel largely unchanged, I think it's fair to ask how the Packers plan to fix the problems that arose against the Cardinals in the playoffs and in Week 15 at Pittsburgh. In speaking with Thompson and coach Mike McCarthy, it seems clear the Packers won't overreact to the events in 2/17ths of their games. They are counting on the return of some players who were injured and thus unavailable to play against the Steelers and Cardinals, and they are planning some practice changes they hope will address the roots of the poor play.
But if you were expecting a dramatic scheme adjustment or hoping for an infusion of experienced personnel, I'm sorry. It's not going to happen.
"We went through all of the specifics with the coaches and they do all of their evaluations of what happened here and what happened there," Thompson said. "At the end of the day, we did get in a couple shootouts. On the good side, we had the kind of offense that could stay with the other team in a shootout, and it really was 50-50 who was going to win the game at the end in both of those games.
"But I don't think you can necessarily discount the fact that we played really good pass defense and overall defense in most other games. There are things that happen during the course of a game, you get off on the wrong foot, especially towards the end of a season, [and] you're playing guys in sub packages that weren't on your team to start the season.
"I'm not trying to make excuses. ... There just becomes a wearing away of the quality you put on the field."
Thompson's response covered two of our three primary points. By the time they arrived Dec. 20 in Pittsburgh, the Packers had lost three cornerbacks they were counting on to play significantly at that point: Starter
Al Harris
and reserves
Will Blackmon
and
Pat Lee
. Blackmon and Lee should be ready for the start of training camp, while Harris could also return then or shortly thereafter.
There is also a high likelihood the Packers will prioritize cornerback and safety depth in next month's draft, perhaps with the No. 23 overall pick.
It is also accurate to say Green Bay's pass defense played much better in its other 15 games than it did against the Steelers and Cardinals. The only other quarterback who hurt them over that span was Minnesota's
Brett Favre
, who threw seven touchdown passes in two games against them.
To illustrate the dichotomy, check out the chart below. It compares the Packers' pass defense against Arizona, Pittsburgh and the rest of its schedule.
You can't discount those numbers, and I think the Packers can use them to make a decent case for fine-tuning their fix rather than overhauling personnel or their schematic approach. I've written that there's no shame in giving up yards to elite quarterbacks like Favre,
Kurt Warner
and
Ben Roethlisberger
. But it's only fair to add this caveat: You're far more likely to face elite quarterbacks in the playoffs, and you'll need to at least slow them if you want to advance.
So what will the Packers do? McCarthy said pass defense will be an offseason "emphasis" and plans to present defensive players with two priorities during the offseason: improving their tackling and handling adversity.
Without a doubt, the Packers exacerbated their coverage problems against the Cardinals by allowing receivers to extend their yardage after the catch. That was especially true on touchdown passes to receivers
Larry Fitzgerald
and
Early Doucet
.
McCarthy stopped short of saying he will conduct live tackling drills during training camp but said: "There are some things we can do to improve that in our drill work, and that's what will be done."
Improving reactions to adversity is a less tangible task. McCarthy's plan is to increase the amount of game situations he presents in practice -- for example, presenting a difficult down-and-distance during 11-on-11 drills -- to cultivate a bigger comfort zone in stressful environments.
In theory, the emphasis would help the two-minute defense that collapsed in the final minutes at Pittsburgh, culminating in Roethlisberger's game-winning 19-yard touchdown pass on the final play.
"There are aspects that we're going to try to improve upon," McCarthy said. "... The productivity we had throughout the defense was a vast improvement over what we've done in the past, but those are two areas we're going to really emphasize. ... You'll see some drills and things, situations and an emphasis that will be applied to highlight the defense."
Will it be enough? There is a fine line between an aggressive fix and avoiding overreaction. The Packers are leaning toward the latter.
January, 10, 2010
1/10/10
6:16
PM ET
GLENDALE, Ariz. -- A few halftime thoughts with Green Bay trailing by two touchdowns at University of Phoenix Stadium:


It's rare that you overcome two turnovers in the first five minutes of a road playoff game. That's what the Packers are up against here. Aaron Rodgers' poor decision on his first play, and Karlos Dansby's punch-out after a Donald Driver reception, were the two big plays in Arizona building a 14-0 lead. It bears repeating: The Packers committed 16 turnovers in 16 regular-season games. They had two in the first five minutes of their first playoff game.
Thanks to those turnovers, the Cardinals started their first two drives at the Packers' 40- and 22-yard lines, respectively.
There hasn't been a moment where I've thought Rodgers was in rhythm. It started with his first pass, an across-the-body toss into double coverage just before he stepped out of bounds, and continued throughout the half. He seems to have returned to his early-season tendency to hold the ball too long. I haven't seen many receivers running open in the secondary, but Rodgers needs to be willing to throw the ball away. Arizona has four sacks in the first half.
Some of us wondered if the Packers were up to defending the Cardinals' three-receiver set. That issue seemed to have been minimized by the absence of receiver Anquan Boldin, but the Packers have still been on their heels for the entire first half. Early Doucet has two touchdowns in Boldin's absence; on the second, oft-targeted nickelback Jarrett Bush was in coverage.
As it turns out, the only thing keeping the Packers from having been completely blown off the field was Charles Woodson's forced fumble against Arizona receiver Larry Fitzgerald in the red zone. That became a 10-point play when the Packers eventually converted a field goal. It also got coach Mike McCarthy off the hook for having Mason Crosby attempt a 54-yard field goal. The predictable miss gave the Cardinals possession on the Packers' 45-yard line.
January, 8, 2010
1/08/10
4:17
PM ET
We're no
closer to knowing
whether Arizona receiver
Anquan Boldin
(knee, ankle) will play in Sunday's wild-card matchup against Green Bay.
Boldin missed a third consecutive day of practice Friday but is listed as questionable on the Cardinals' injury report. By NFL definition, that means it's a 50-50 proposition. Boldin has been noted for playing with injuries on multiple occasions in his career, and Cardinals coach Ken Whisenhunt told reporters a decision won't be made until Sunday morning.
Here's how Boldin put it, courtesy
Tom Pelissero of the Green Bay Press-Gazette
: "If I can go, I'll be out there. I'm doing everything within my power to make sure I'm on the field Sunday. If I'm not able to go -- trust me, it won't be nothing that I didn't do. I have doctors at my house at night, poking and prodding, acupuncture -- everything that's possible. I'm trying to make sure that I'm on the field."
Cardinals beat writer Darren Urban, writing on the
team's Web site
, notes that Boldin's status "wouldn't even be a question" if this were a regular season game. Indeed, if Boldin plays, it will be an exceptional effort by a big-time player in a sudden death game.
Without Boldin, the Cardinals would rely more heavily on receivers
Steve Breaston
and
Early Doucet
.
The Cardinals also listed safety
Antrel Rolle
(thigh) and cornerback
Dominique Rodgers-Cromartie
(toe/knee) as questionable. But both players practiced Thursday and Friday and are expected to play.
Meanwhile, only one Packers player could miss Sunday's game because of injury. Safety
Derrick Martin
(ankle), primarily a special teams player, is listed as doubtful. Nose tackle
Ryan Pickett
(hamstring), who has missed three of the past four games, is probable.