May, 1, 2014
May 1
4:45
PM ET
EDEN PRAIRIE, Minn. -- We talked earlier this afternoon about
Adrian Peterson
's willingness to
take on a bigger role as a receiver
, which he almost certainly will do in Norv Turner's offense. The shift in Peterson's role could reduce his number of carries -- and thus the wear and tear on the 29-year-old running back's body -- by converting some of those touches to pass receptions in the open field.
However, during an on-camera interview with ESPN today, Peterson said he still has designs on breaking Emmitt Smith's all-time rushing record of 18,355 yards. That could be tougher if he isn't seeing as many carries during the second half of his career as he saw in his first.
Peterson
"It's definitely a goal," Peterson said. "It's not my main focus. But it's something that's right there on top of the chart [that] I'm consciously aware of. But in due time, it will come. Emmitt, he set the bar kind of high. So God's will, I'll stay healthy and continue to have longevity in this league. So, I'll be able to get it."
At present, Peterson has 10,115 yards rushing, meaning he needs another 8,240 to match Smith. Here's where each man was at after his seventh season in the league:
Peterson: 103 games, 2,033 carries, 10,115 yards, 5.0 yards per carry, 86 rushing touchdowns.
Smith: 108 games, 2,334 carries, 10,160 yards, 4.4 yards per carry, 108 rushing touchdowns.
Peterson's yards-per-carry average is more than a half-yard higher than Smith's was at this point of his career, and if Peterson had stayed healthy through the last few games of last season, he'd be well ahead of where Smith was after seven seasons. But Smith's first season in the league came at age 21, meaning he was only 28 when he started his eighth year in the league. Peterson turned 29 last month, and by the time Smith turned 29, he was already up to 11,234 yards.
Here's the other hurdle Peterson must face: From age 29 to age 35, when he retired, Smith played 102 games, carrying another 1,814 times and logging 7,121 yards. His average carry went for just 3.9 yards in those years, so if Peterson maintains an 0.6-yard advantage over Smith in that category, he'd gain 8,163 yards with the same number of carries after age 29, putting him within less than 100 yards of Smith's record.
But Smith still logged six seasons of at least 250 carries after age 29, playing in a league that asked No. 1 running backs to carry a heavier load than many teams do in today's game. For Peterson to get the same number of carries, he'd have to average 259 a season between now and the time he's 35. That seems hard to imagine in the modern NFL, particularly if the Vikings are thinking about giving Peterson the ball as a receiver more often than they have in the past.
It's entirely possible Peterson can make a run at Smith, but he'd probably have to do it more through efficiency than through the kind of heavy workload Smith managed to command even into his mid-30s (and, some would argue, past the point where he deserved so many carries). It's always dangerous to assume Peterson can't do something -- or to be the one placing limits on him -- so we'll just say for now that if Peterson is able to catch Smith, given the realities of today's game, it might stand as his most remarkable achievement.
February, 26, 2014
Feb 26
11:10
AM ET
MINNEAPOLIS -- Welcome to the start of our "What If?" Wednesday offseason feature, where we'll take a weekly trip down the rabbit hole of
Minnesota Vikings
history and imagine how things might have been different if a pivotal moment in Vikings history had gone another way.
Now, with this team, the possibilities are vast and rich for this type of series, and I know there are plenty of you who will make a habit of averting your eyes on Wednesday solely for reasons of self-preservation. Not to fear -- we've heard your cries, and we promise this feature won't just be a weekly re-hashing of Drew Pearson catching a Hail Mary,
Gary Anderson
yanking a field goal wide left or
Brett Favre
throwing across his body. We know you've been through enough, and while we'll get to those moments in time, we'll also mix in some more positive moments.
[+] Enlarge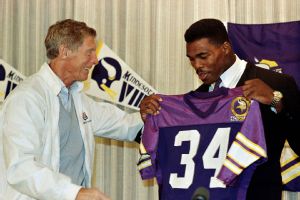 AP Photo/Jim MoneVikings coach Jerry Burns welcomes running back Herschel Walker to Minnesota in October 1989.
But in the interest of starting off with a bang, this first one won't be quite so positive. Hopefully enough time has gone by that we can all laugh about it now. I'm referring, of course, to the infamous
Herschel Walker
trade:
The date:
Oct. 12, 1989
The event:
Vikings general manager Mike Lynn strikes a deal to send five players and eight draft picks to the
Dallas Cowboys
in exchange for Walker and four future draft picks.
The aftermath:
Walker lasts just 2 1/2 seasons in Minnesota, never breaking the 200-carry mark in a season, and spends three seasons in Philadelphia and another one with the Giants before ending his career back in Dallas. By the time Walker returns to Dallas, of course, the Cowboys have built a dynasty, largely with the help of the Walker trade. The Cowboys used many of the picks to make trades in subsequent drafts, but the end result of the trade left the Cowboys with five players and four starters on their Super Bowl teams. Two of those starters were five-time Pro Bowl safety
Darren Woodson
and running back
Emmitt Smith
, the NFL's all-time leading rusher.
Now, let's say the trade didn't happen. Maybe Lynn balks at the price for Walker, or maybe he doesn't make up his mind before Jimmy Johnson's self-imposed deadline. How different would things have been?
Obviously, the effect for the Cowboys would have been profound. Without all those extra picks, they might not have acquired the pieces to build a roster that won three Super Bowls in four years from 1992-95. They wouldn't have had a first-round pick in 1990 -- in a striking example of how different things were back then, they'd already spent what would've been the No. 1 overall pick on quarterback
Steve Walsh
in the supplemental draft -- so they might never have ended up with Smith. If that doesn't happen, all the other effects of the deal are effectively rendered moot. Put simply, without Smith, there is no Cowboys dynasty.
But how would things have played out for the Vikings? Let's say they kept the 21st overall pick in the 1990 draft. That's where things get really interesting. You'll recall Smith went 17th overall in 1990 after the Cowboys traded up to get him, but if the Cowboys don't have the 21st pick to ship to the
Pittsburgh Steelers
, maybe Smith doesn't go at No. 17. Well, sitting there with the 18th and 19th overall picks were the
Green Bay Packers
.
Green Bay took University of Minnesota running back
Darrell Thompson
19th overall, and it's entirely possible the Packers would've taken Thompson over Smith anyway. But if the Vikings had never made the Walker trade, it's possible Smith would have wound up in Green Bay, not Dallas. It's also possible the Packers would've taken Thompson, the
Atlanta Falcons
would've taken running back
Steve Broussard
at No. 20 and Smith would have been sitting there for the Vikings at No. 21.
There are plenty of other effects that came from the Walker deal, but on the basis of Smith's involvement alone, it's not a stretch to say the trade changed the entire complexion of the NFC in the 1990s. The Cowboys won three Super Bowls, and while the Packers played in two and won one anyway, they lost three consecutive playoff games in Dallas before they got there. The
San Francisco 49ers
might have had a chance to collect even more hardware if not for the trade, while the Vikings wouldn't have been hamstrung in the draft for the first part of the decade. Considering the Vikings made seven trips to the NFC playoffs in the 1990s anyway, it's tempting to think how much better they could have been if they'd had the picks from the Walker trade -- like if they'd managed to draft Smith, pair him with
Cris Carter
and still wind up with
Randy Moss
in 1998.
We'll leave you there for the week, with promises of happier memories to come. If you've got suggestions for our future What-If Wednesdays, send them to me on Twitter at
@GoesslingESPN.
February, 6, 2014
Feb 6
6:07
PM ET
EDEN PRAIRIE, Minn. -- Sometime in his first several days as the
Minnesota Vikings
' offensive coordinator, Norv Turner walked past a picture in the team offices of
Adrian Peterson
from his record-breaking 296-yard game during his rookie season. Peterson could be seen racing down the
San Diego Chargers
' sideline, on the way to a game-clinching 46-yard touchdown.
The coach of that Chargers team was Turner. And when he looked at the picture, he saw himself watching Peterson run by.
"I've seen him at his best first-hand," Turner said. "I don't know how you can compare guys at that level because they all have their own way of doing things."
Turner started his NFL career with the Los Angeles Rams when
Eric Dickerson
was still there. He was
Emmitt Smith
's offensive coordinator in Dallas, and had
LaDainian Tomlinson
on those Chargers teams. His legacy in the NFL has been made primarily through his contributions to the downfield passing game, but when Turner's teams have been at their best, he's had a dominant running back, too.
[+] Enlarge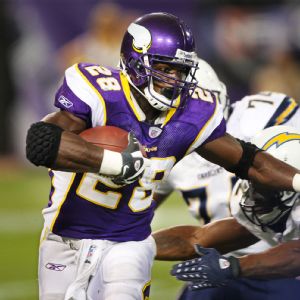 Tom Dahlin/Getty ImagesAdrian Peterson rushed for 296 yards against Norv Turner's Chargers in 2007.
He knows what an asset Peterson can be to him in Minnesota, and Turner has made ingratiating himself to Peterson one of his early goals with the Vikings. Peterson was a staunch supporter of former coach Leslie Frazier, and reserved judgment on the Vikings' hiring of head coach Mike Zimmer until he saw whom the team would bring in as its offensive coordinator. When Turner was hired, Peterson praised the move. The two also talked recently on the phone, Turner said.
"He was excited. It was a very casual conversation," Turner said. "At this time of year, you don't talk football, but I think players and coaches know about players and coaches in the league. He's talked to people I've coached and been with. I think he understands that the biggest thing to me is we're trying to win. He's at a point in his career where he'd like to go, No. 1, be in the playoffs, and No. 2 have success in the playoffs and ultimately win a championship. I think he's at a point in his career where he's done a lot of things in individual goals and accomplishments. And he expressed that whatever it takes for us he wants to do."
Under Turner, the Vikings' plan for Peterson could look slightly different than how the 2012 NFL MVP has been used in the past. He talked about wanting to get Peterson the ball in space more often, which could sound like sweet poetry to Vikings fans who have wondered why Peterson hasn't been used as a receiving threat more over the years. The best season of Peterson's career as a receiver, not surprisingly, came in 2009, when he caught 43 passes for 436 yards from
Brett Favre
, who used running backs as receivers with great success during his career.
"He's run the ball in closed-in quarters with a lot of defenders there and he makes a lot of long runs, making people miss or running over people," Turner said. "It's hard to do, but we would like to get him in space and getting the field spread a little bit better for for him."
If Turner is able to get Peterson in the open field more often, either by throwing him the ball or by reducing the number of defenders in the box, it could help take some of the wear off a running back who just had his third surgery in as many years and will be 29 in March. Peterson has logged more carries against eight-man fronts than any running back in the NFL the past two years, according to ESPN Stats & Information. Under previous offensive coordinator Bill Musgrave, Peterson played in a system that often employed two tight ends or bunched receivers close to the line of scrimmage, inviting defenders to crowd the box. Rather than creating more traffic -- some of it there to help Peterson -- Turner wants to see if he can make the running back's yards easier by isolating him against defenders.
And when it's time for Peterson to do his heavy work, Turner wants much of it to come at the end of games. It was no accident that during his MVP season, Peterson logged a NFL-best 361 yards in the final 10 minutes of games his team was leading, according to ESPN Stats & Information. In 2013, Peterson had just 56 yards in those situations; third-string running back
Matt Asiata
, who filled in for Peterson in two games he missed because of injury, had 99.
Turner reminisced about Smith's days of being one of the game's great closers, churning through tired defenses and running the clock out with first downs for the Cowboys, and wanted to get the Vikings back to a point where Peterson could do the same thing. That makes sense for any running back, and the Vikings have been built to play with a lead.
The difference is, when they've fallen behind in recent years, they haven't had the passing game to make the game close and make Peterson effective again.
"You have to be good in enough things so that when a team overplays the run, you can throw it," Turner said. "Having a runner like Adrian can and should able to help a young quarterback. It can be a hindrance sometimes because if you aren't giving him the ball, it's like you aren't trying to win. Those are things that I've tried to manage."