January, 5, 2011
1/05/11
7:50
AM ET
We're Black and Blue All Over:
As Leslie Frazier moves through his first full week as the Minnesota Vikings' permanent head coach, one question hangs over more than any other: What will he do about the offense?

Will Frazier change schemes or retain the West Coast system?
Will he want Darrell Bevell to return as the Vikings' offensive coordinator?
Who will he hire to replace running backs coach Eric Bieniemy? Will he wait to solidify the coordinator first?
Judd Zulgad of the Star Tribune
examines those questions. Frazier's career-long work as a defensive coach, and his hesitancy to discuss many details about his offensive philosophy, have left these questions a mystery. Frazier has said he wants to focus on running the ball but also said he wants to mold the playbook based on existing personnel.
The biggest clue will come when Frazier names an offensive coordinator, whose background should offer a glimpse into the Vikings' long-term intentions.
Continuing around the NFC North:
December, 31, 2010
12/31/10
8:20
AM ET
We're Black and Blue All Over:
We haven't written or heard much about the Chicago Bears' offensive line of late. That silence can mean only one thing: The Bears aren't giving anyone much to complain about in that area.

As
Neil Hayes of the Chicago Sun-Times
writes, the Bears' line was actually a strength during last Sunday's 38-34 victory over the New York Jets. Offensive line coach Mike Tice has settled down the weekly personnel changes that held back the group earlier this season and the entire offense is benefiting from offensive coordinator Mike Martz's balanced play-calling.
Tice: "[The Jets game] was the fastest they have played, meaning mentally sharp coming off a short week against a team that does a lot of stuff. You're always going to get unscouted looks against the Jets, and I thought it was the best job the guys did of handling the unscouted looks, which tells me they are starting to learn the rules we've tried to install. That means they're getting it and they're getting better."
Continuing around the NFC North on the morning of New Years' Eve:
December, 5, 2010
12/05/10
10:58
AM ET
DETROIT -- Greetings from Ford Field, where I've been caught up watching a Punt, Pass and Kick competition.

One NFC North note before we launch into pregame coverage: If you hadn't heard, Minnesota Vikings assistant head coach/running backs Eric Bieniemy has accepted an offer to become Colorado's offensive coordinator. Bieniemy, a former Buffs standout, had interviewed for the head-coaching job that went to Jon Embree.

Bieniemy told the Star Tribune he will finish the season with the Vikings before leaving. Bieniemy has gained a strong reputation in the NFL, but given the uncertainty about the Vikings' staff and the looming lockout, I don't blame him for returning to the college ranks. He was known as an excellent recruiter during his time as the running backs coach at UCLA.
December, 3, 2010
12/03/10
7:40
AM ET
We're Black and Blue All Over:
Detroit Lions receiver Nate Burleson
said earlier this week
that his team will win in Sunday's matchup against the Chicago Bears. Across Lake Michigan, Bears linebacker Lance Briggs sent Burleson an unsolicited thanks Thursday.
Briggs, via Michael C. Wright of ESPNChicago.com: "Deep down, every player, I would think you would guarantee a win every week you go into it. It's good. It should fire them up. I know it definitely fires us up. We've got it pinned up everywhere in our meeting rooms. I've been tricked into guaranteeing a win a long time ago. I won't be tricked again. We got beat like 45-12 or something like that. I'm not going to guarantee more wins."
The Bears were the last NFC North team to lose to the Lions, on Oct. 28, 2007. Since then, the Lions have lost 18 consecutive division games. Something has got to give sometime. Will it be this weekend? Well, er, uh....
Continuing around the division on this fine Friday morning:
July, 29, 2010
7/29/10
10:16
AM ET
One of your most frequent requests, either
through the mailbag
or in our weekly chats, is to rank the NFC North head coaches. I tend to take a simple -- and usually unsatisfying to you -- approach to this question. To me, a coach is as good as his record. It's true that some coaches have more talented players than others, but unfortunately for them, the history books don't provide asterisks for mitigating factors.
So with training camp set to open around the division, my rankings are based on each coach's career record:
So to make things a bit more interesting, let's run the division's coaching staffs through our Camp2010 Pressure Cooker. The specific summer task facing each coach below are critical to their team's fortunes.

Chicago Bears
Head coach Lovie Smith
The task:
With his job hanging in the balance, set the foundation for a winning record and/or playoff berth.
The skinny:
That appeared to be ground rules set by team president Ted Phillips last winter, making Smith the NFC North's only win-or-else coach this season. Smith will have to make quick work of organizing a new offensive scheme and establishing the workflow for his third different defensive coordinator in as many years.

Detroit Lions
Defensive coordinator Gunther Cunningham
The task:
Utilize new talent on the defensive line to cover for inexperience and uncertainty at linebacker and in the secondary.
The skinny:
Cunningham has more tools to work with this season as he attempts to elevate the Lions from the bottom of the NFL's defensive rankings. But because those assets are focused in one position, Cunningham's schematic skills will be tested.

Green Bay Packers
Special teams coordinator Shawn Slocum
The task:
Identify a new punter, establish kickoff and punt returners, ensure that place-kicker
Mason Crosby
has moved past last season's troubles and elevate coverage teams that left the Packers ranked last in the NFL based on the
annual analysis of Football Outsiders
.
The skinny:
Slocum's debut season in 2009 didn't go as well as anyone had hoped, and he's got his work cut out for him in training camp. His task list speaks for itself.

Minnesota Vikings
Running backs coach Eric Bieniemy
The task:
Smooth over the offseason disconnect that arose with tailback
Adrian Peterson
and develop new depth after the departure of
Chester Taylor
.
The skinny:
Bieniemy was recently promoted and given a raise to prevent him from jumping back to the college ranks, so the Vikings believe he is up to the task. And I'm not even assigning him the duties of rectifying Peterson's fumbling issue. That's an organizational problem and must be addressed at a higher level. But Bieniemy will have to make sure that rookie
Toby Gerhart
or veteran
Albert Young
is ready to step in for Peterson if needed.
Earlier:
NFC North teams ready to
implement a counterpunch
to the pass-happy 2009 season.
Eight players
find themselves in our training camp Pressure Cooker.
July, 26, 2010
7/26/10
7:55
AM ET
We're Black and Blue All Over:
Minnesota Vikings running back Adrian Peterson cleared up a number of question marks about his status in an interview Sunday night, leaving him to report to training camp on time and in the right frame of mind.

Speaking with
Judd Zulgad of the Star Tribune
, Peterson said that contract unhappiness "was not the reason at all" that he skipped last month's mandatory minicamp. He said he will report to training camp Friday on time and that "I'm letting my agents take care of their job" in regards to future discussions.
Further, Peterson said there was no intended message in his decision to skip minicamp, saying the date for the fourth annual Adrian Peterson day in Palestine, Texas, was set before he knew when minicamp would occur. We
discussed the logistical semantics
of that issue last month, but there's no sense in debating when the Vikings' offseason schedule arrived in Peterson's mailbox. It appears everyone has moved on from that issue.
In the big picture, the Vikings can rejoice in the fact that Peterson plans no major contract protest this summer.
Continuing around the NFC North:
June, 26, 2010
6/26/10
12:00
PM ET
Verse No. 2
from a tune reflecting our pending shift from offseason to training camp mode -- and other looming transitions:
Six o'clock TV hour, don't get caught in foreign towers
Slash and burn, return, listen to yourself churn
Locking in, uniforming, book-burning, blood-letting
Every motive escalate, automotive incinerate
Light a candle, light a votive, step down step down
Watch your heel, crush, crushed uh-oh this means
No fear cavalier, renegade, steer clear
A tournament, a tournament, a tournament of lies
Offer me solutions, offer me alternatives
And I decline
It's the end of the world as we know it
It's the end of the world as we know it (It's time I had some time alone)
It's the end of the world as we know it
And I feel fine
Some of us University of Virginia types would argue the transcription of line seven, but Michael Stipe couldn't immediately be reached for comment. Like the rest of you, he can hit the
mailbag portal
,
Facebook
or
Twitter
to contact me.
Onward...
Corey of Evans, Ga., wants us to revisit our 2009 discussion on the NFC North's skilled group of tight ends.
Kevin Seifert:
Last year, we followed the progress of the four promising (and starting) tight ends in this division:
Greg Olsen
,
Brandon Pettigrew
,
Jermichael Finley
and
Visanthe Shiancoe
. Corey's question intrigues me because it helps illustrate how much depth NFC North teams have assembled behind those starters this offseason.
Check out the chart below.
The Bears signed
Brandon Manumaleuna
to a substantial free-agent contract. The Lions traded for
Tony Scheffler
to help them navigate Pettigrew's knee rehabilitation, while the Packers drafted talented pass-catcher
Andrew Quarless
from Penn State. The Vikings drafted Quarless' backup,
Mickey Shuler
, but at this point I don't think he ranks higher than No. 5 on the Vikings' depth chart.
It's going to be fun to watch this group's progress in 2010 and find out how the new additions will impact the incumbents. Olsen, for instance, has been dropped into an offense that traditionally hasn't made much use of pass-catching tight ends. Manumaleuna has played for Bears offensive coordinator Mike Martz and is known for his blocking prowess, but he has disappointed some people with his slow recovery from offseason knee surgery.
In Detroit, it's not totally clear when Pettigrew will be cleared to return after tearing an anterior cruciate ligament last November. Even when he does play, Scheffler is too good of a receiver to leave on the bench. Finally, I'm wondering what Quarless' arrival will mean for veteran
Donald Lee
in Green Bay. Assuming Quarless is good enough to make the team, and that
Spencer Havner
's versatility remains valued, would Lee lose his roster spot? Do the Packers need four tight ends?
Those questions are among the issues we will be following this summer and fall.
---
Yukonjack of Carrington, N.D., writes:
With all the rumors flying around up here about Adrian [Peterson] not attending minicamp, do you think it could be as simple as the Vikings embarrassed him on the NFL Network with running backs coach Eric Bieniemy constantly getting after him in that film study? Adrian's answers kept getting shorter and by the end, he was not answering at all!! What's your take??
Kevin Seifert:
Interesting point, Yuk. I don't think the video itself is what caused Peterson's absence, especially considering it didn't hit the airwaves until after minicamp. (If you haven't watched it yet,
by all means do so
.)
But I'm also not ready to brush aside the video as a non-issue, either. Bieniemy is always blunt and a straight shooter, but I'm wondering if Peterson knew he was going to be so harsh with the cameras rolling. I agree with your assessment. It got pretty uncomfortable watching Peterson's reaction, especially because you could tell he knew the cameras were seeking his reaction.
That's not to say Bieniemy's analysis was wrong or undeserved. But there is a big difference between delivering it in the private sanctity of an NFL film room and in front of NFL Network cameras. By the end, Peterson looked like he wanted it to be over. Not many players, superstar or otherwise, prefer to be dressed down by their coaches in front of a camera.
And I was especially interested to note that none of the (aired) conversation was about Peterson's fumbling issue. It was about Bieniemy's belief that Peterson left 200-300 yards on the field last season through fundamental lapses and impatience.
Keep in mind that this was one of the few (if only) film sessions Peterson had with a Vikings coach all offseason. I'm not sure how productive it was.
---
Thatkuhlkid of Madison, Wis., writes:
What will happen with the Packers if there is an owners lockout? They are a publicly-traded company and I can't imagine the stock holders/team president wanting to lock them out. Is there a scenario that the Packers would have the opportunity to take the field at all?
Kevin Seifert:
I've gotten this question from more than a few people. It's true from a technical standpoint that some 112,000 shareholders
own the franchise through voting stock
. But the reality is the Packers don't operate their daily business in that regard. Their Executive Committee and CEO/president Mark Murphy are empowered to make the organization's decisions.
Given Murphy's role on the NFL's Management Council Executive Committee, which will negotiate a new collective bargaining agreement on behalf of owners, it's safe to assume he will involve the Packers in a lockout if one comes to pass. And if he didn't, who would the Packers play?
---
Mike of Raleigh, N.C. writes:
I've heard a lot about how
Rob Sims
should help anchor the Lions' line, now that we have a quality LG. I've repeated it myself to friends without really thinking too much about it. In unrelated articles however, I've read about how it's relatively easy for coaches to mask deficiencies in the interior of the line. If that is the case, how much improvement should we really see with Sims in there? Is it the case that he is so vastly superior, or is more wishful thinking from Lions fans?
Kevin Seifert:
No, I think this is a big deal -- if for no other reason than having continuity at the position. A team might be able to compensate for a weaker offensive lineman, but there is no way to cover for constantly changing personnel. If Sims can lock down the position, developing some chemistry with left tackle
Jeff Backus
and center
Dominic Raiola
, then the Lions will have made a significant upgrade regardless of his skill level.
June, 24, 2010
6/24/10
3:30
PM ET
The offseason is nearly over. NFL vacations are under way, and we're going to follow suit here on the NFC North blog next week. We've got a few things to get to first, and we'll start with a look at the road we've traveled over the past five months.
There are any number of ways we can examine it, but I'm going to place 10 key offseason decisions into two categories: "smart" and "questionable." (Very creative, I know.) The final tally was just a nice round number, but I do think we can safely say it will take at least 10 victories for any NFC North team to make the 2010 playoffs.
So let's get to it:
[+] Enlarge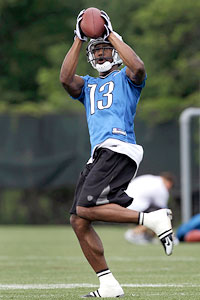 AP Photo/Paul SancyaNate Burleson gives the Lions another threat to score through the passing game.
SMART DECISIONS
[+] Enlarge

AP Photo/Morry GashRookie Bryan Bulaga gives the Packers added depth along the offensive line.
QUESTIONABLE DECISIONS
In focusing on their defensive line this offseason, the Lions left their linebacking and secondary exposed. I'm not yet convinced this was the wrong approach, and I'm glad the Lions didn't feel compelled to sign another layer of veteran "bridge" players who are either past their primes or never had one. But the bottom line is we can reasonably expect new, inexperienced starters at two linebacker spots, along with cornerback, nickelback and safety. The Lions have decided to take the plunge and trust their draft and development systems. It might work out, but there is measurable risk involved.

Warren Wimmer/Icon SMIRod Marinelli knows there is work to be done with Chicago's defense.

The Bears wanted Perry Fewell to join them as defensive coordinator, but Fewell spurned them to join the New York Giants instead. Left with few other options, the Bears promoted defensive line coach Rod Marinelli to the job. Marinelli initially was hesitant about the job; he has never been an NFL coordinator and now will have a whole new set of responsibilities on game day. Marinelli's close relationship with Smith suggests more status quo and less tweaking. Are those the appropriate ingredients for a defense that has been slipping slowly for three years?

Green Bay safety Atari Bigby, legitimately handed a tough situation by changes to the NFL's offseason rules, skipped the entire offseason -- including mandatory minicamp. Much of his absence came after the Packers traded up to draft safety Morgan Burnett in what should have been a clear message to Bigby. Burnett performed well enough in spring practices to create the possibility he could displace Bigby entirely with a strong training camp. If Bigby wanted out of Green Bay all along, he's done everything right. But if he envisions a long-term career with the Packers, he probably should have returned at least for minicamp.

[+] Enlarge

AP Photo/Andy KingThe Vikings still haven't found a long-term replacement for Brett Favre.

The Vikings allowed another offseason to pass without making an effort to identify a long-term starter to succeed Favre (someday). Sage Rosenfels appears on the way out. Jackson was issued a low tender and still received no interest on the restricted free-agent market. Rookie Joe Webb wasn't considered a quarterback prospect by most teams before the draft, including the Vikings. This wasn't the best year for drafting quarterbacks, and the Vikings were buried with the No. 30 overall pick. But if rookies are going to have as hard of a time making this team as the Vikings say they are, why not package a few picks to take a chance with Tim Tebow? Or use a second- or third-round pick to take a Jimmy Clausen or Colt McCoy? The only thing worse than missing is not taking a swing at all.

For reasons that are not entirely clear, the Vikings and tailback Adrian Peterson appear to have developed a disconnect. Peterson trained on his own in Houston, was unable to break away from a hometown parade that conflicted with veteran minicamp and was the subject of an uncomfortable NFL Network video in which running backs coach Eric Bieniemy tore apart his 2009 performance. Does Peterson want a new contract? Has he suddenly transformed into a diva? Is he chafing at Bieniemy's tough love? No one has confirmed or denied anything, but the team needs to ensure it is on common ground with Peterson before training camp opens.
April, 23, 2010
4/23/10
10:31
PM ET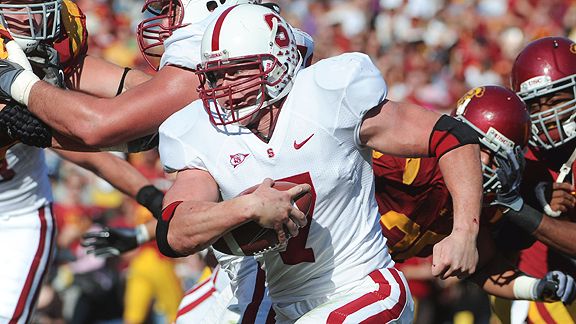 Kirby Lee/Image of Sport/US PresswireThe Vikings will pair Stanford running back Toby Gerhart, above, with Adrian Peterson.
EDEN PRAIRIE, Minn. -- Here is a measure of Minnesota's confidence in its roster: The Vikings' top two picks of the 2010 draft both play positions with long-term starters firmly in place.
Virginia cornerback Chris Cook faces a season as a reserve/special teams player behind veterans
Antoine Winfield
,
Lito Sheppard
,
Benny Sapp
and eventually
Cedric Griffin
. Stanford running back
Toby Gerhart
, meanwhile, will get the touches left over by workhorse starter
Adrian Peterson
.
So it goes for a team that is expected to bring back all 22 starters from the group that advanced to the NFC Championship Game. The Vikings didn't find their quarterback of the future on Friday, twice passing up Notre Dame's
Jimmy Clausen
and Texas'
Colt McCoy
, but they still wound up with two players who figure -- at best -- to play secondary roles in 2010.
"We've helped our roster a lot today," said vice president of player personnel Rick Spielman, referring to the all-important depth Cook and Gerhart will provide. The way Gerhart ended up with the Vikings illustrates the way Spielman is approaching this draft: As a tool to polish the edges of his roster.
I was totally on board with the Vikings' decision to let veteran tailback
Chester Taylor
depart via free agency. If the Vikings follow past practice and Peterson stays healthy, their backup running back will get no more than 150 touches in 2010. It would have been irrational to pay Taylor the $7 million in guarantees he got from Chicago for such a limited role.
The Vikings made one run at signing a veteran replacement, but when veteran
LaDainian Tomlinson
signed with the
New York Jets
, Spielman quickly pivoted toward the draft -- where it is a more than reasonable expectation to find a complementary running back.
"I knew what was coming out in the draft and I knew the potential runners that could be available to us," Spielman said. "So if something does not work out in free agency, I have a pretty extensive chart.... So you make a run at one. You don't have to panic because potentially you can get something down the road in the draft."
Spielman passed on an opportunity to draft Cal's
Jahvid Best
at No. 30 overall Thursday night. But he jumped for Gerhart -- giving up his third-round pick (No. 93 overall) to move up 11 spots in the second round. Although Gerhart's 231-pound frame is big enough to be a fullback, the Vikings project him as a traditional (and bruising) tailback in their scheme. Although he didn't fully confirm it, coach Brad Childress suggested Gerhart has the tools to replace Taylor as a third-down back as well.
"I think you see a very versatile athlete there," Childress said. "I know he carried the ball between the tackles [at Stanford], ... but he's exceptional in the pass game. It's not something that was highly emphasized there. I know the system that [Stanford] runs, and he'll come in here and be able to adapt very quickly. He gives you a bigger body, whether it's a backup running back or a special teamer."
Because he has that "bigger" frame and attended Stanford, Gerhart has drawn middling comparisons to former Cardinal fullback
Tommy Vardell
. But Gerhart runs the 40-yard dash in a legitimate 4.5 seconds, and I think anyone who watched him play in college knows he has a significant burst and tremendous competitive instincts. Even Gerhart said he believes he has "more wiggle" than Vardell and that he can be "more all-purpose."
You'll find no argument here. I might not draft Gerhart be a 20-carry per game back, but that's not what the Vikings need as long as Peterson is on the roster.
"I'm not sure what my role is going to be," Gerhart said, "but I think it's going to be to complement the best running back in football. ... I look forward to finding out more and contributing to the team."
In the scenario I believe the Vikings envision, Gerhart will follow in Taylor's footsteps: About three-to-six carries per game and two-to-three catches in third-down situations. I think that's a fair way to use him, and it's a rotation that Childress and running backs coach
Eric Bieniemy
established during three years of working with Peterson and Taylor.
Bieniemy, in fact, once recruited Gerhart to UCLA when he worked as the Bruins' running backs coach in 2006. Gerhart planned to commit until the Vikings hired Bieniemy away two weeks before NCAA signing day. Bieniemy had big plans for Gerhart as a feature back then. Now, he'll have him as a finishing touch.
"Kind of ironic," Gerhart said.
February, 6, 2010
2/06/10
9:00
AM ET
FORT LAUDERDALE, Fla. -- We took our show on the road this week, blogging from the site of Super Bowl XLIV. The NFC North continued to push forward, of course, from the
staff changes
in Chicago
to more
Pro Bowl fallout
from Minnesota left tackle
Bryant McKinnie
.
I also shook things up a bit with a non-NFC North on the
inspiring story
of New Orleans defensive lineman
Anthony Hargrove
.
Remember, you can reach me all sorts of ways: Through the
mailbag
, via
Facebook
or on
Twitter
.
@Bvluke41
asked on Twitter if I actually read all of your questions. The answer is yes, but the multiple platforms make it difficult for me to respond to them individually.
Facebook friend Perry
has passed along some ideas for streamlining the process. Until then….
James of Albany, N.Y., writes:
I'm sure this might be tossed around in Halas Hall but now that Mike Martz is on board, a lot of speculation about
Greg Olsen
's position has come about. Great TE, but might not be a great fit with Martz's offensive scheme. What do you think the chances are of Bears trading Olsen for
Brandon Marshall
? I would think since Marshall is on his way out that this might be a possibility.
Kevin Seifert:
It's an interesting proposal, James. And we all know that Chicago and Denver have come together on a big-time trade before. Here's what I'll say: The Bears should do one of two things. Either Martz should tweak his offense to make better use of the tight end or Olsen should be converted into an asset more valuable to his scheme. (Which is a nice way of saying they should trade him.)
Take a look at the chart. In 10 years as either an NFL coordinator or head coach, Martz has never had a tight end catch more than 38 passes. That's about 40 percent less production than what Olsen put together in 2009.
I would think there should be a role for a player like Olsen in any scheme, whether the coordinator is Martz or someone else. A good coach should be able to incorporate Olsen's size and athletic ability into his offense, not minimize him because he doesn't fit a pre-determined set of guidelines. If the Bears trade Olsen, it will be an acknowledgement that Martz either isn't able or willing to do that.
---
Derek of Warner Robins, Ga., writes:
In your
article on
Darren Sharper
, you highlight that his talents were not fully utilized in a cover-2 scheme. Couldn't this be said of many safeties, as any team that uses cover-2 puts their safeties at a so-called disadvantage by using them as deep cover? Also, can you think of any safeties that excelled in cover-2, or does this scheme just generally limit safety play-making opportunities, thus minimizing the safety's statistical performance?
Kevin Seifert:
I don't think the Cover 2 limits a safety's playmaking opportunities as a rule. There have been safeties who have made noise in the scheme, from John Lynch in Tampa Bay to Mike Brown in Chicago.
But as
Rod Woodson
said in the post you referenced, the Cover 2 minimizes Sharper's particular skill set. Sharper makes plays by jumping routes, reading the quarterback's eyes and playing a bit of an educated guessing game. That approach simply doesn't work with the Cover 2. The ways that Lynch and Brown made plays, most notably through hard hitting, aren't strengths that Sharper possesses.
---
Via Twitter, @SueinChitown notes that the NFL named Scott Green as the referee for Super Bowl XLIV and asks:
I am sorry but can they go any lower than using Scott Green??
Kevin Seifert:
Green was the
referee for Green Bay's 51-45
loss in the divisional playoffs last month at Arizona. As we discussed at the time, he was standing within a few yards of Green Bay quarterback
Aaron Rodgers
on two controversial non-calls in overtime: A blow to Rodgers' head followed by an apparent face mask tug on the final play, which ended with Karlos Dansby's fumble return for the game-winning touchdown.
Green flat-out missed the blow to Rodgers' head, but I understood why he didn't see the face mask. When the ball came loose, Green's top priority was to determine if it was a fumble or a pass, and then to follow its path for a potential change of possession occurs. It's a pretty tough to expect Green to follow the ball and also watch Rodgers for signs of roughness.
I understand the frustration of Packers fans with that sequence. But I don't know that it should have kept Green out of the Super Bowl. As with everyone, the NFL judged him on his body of work. He's been a respected official for a long time.
---
Dave of Rochester, N.Y., writes:
Since
Aaron Kampman
is probably going to be hitting the free agent market, what do you think the chances are that he winds up with the Lions? Clearly Kampman wants to play in a traditional 4-3 defense and Detroit desperately needs to generate a pass rush with their front four, so it seems like a fit as long as Kampman is willing to play for a bad team (though he would do a lot to help that defense which will be infused with some young talent after the draft, as well as an inconsistent but possible star in
Cliff Avril
.)
Kevin Seifert:
As we've discussed before, I'm not sure if anyone knows when Kampman's knee will be healthy. That's the big obstacle to him signing with the Lions or anyone else. Someone will either take a risk or else they'll wait until closer to training camp so they can test his knee and conditioning.
If he's healthy and the Packers don't re-sign him, I think Kampman will have his pick of teams to sign with. The Lions would be one of them, but there are no connections that I'm aware of that would make Detroit his likely landing spot.
---
Matt of Chicago writes:
There is a lot of talk about the effectiveness of Vikings running backs coach
Eric Bieniemy
. … His documented confrontational style of coaching with
Adrian Peterson
is clearly not improving AP's play in a number of areas. AP is just not responding to his coaching. Can you do some investigating or write an article about this?
Would Robert Smith consider coaching AP? Robert Smith was a premed student at Ohio State and a very smart analytical player. I believe he would be a great coach for AP, very cerebral.
Kevin Seifert:
Let's start with your second question. Robert Smith has never coached on any level, and I've never heard him express any interest in doing it. He's got his hands in a lot of other areas, and I really doubt he would be a good match for the running backs job in Minnesota or anywhere else.
As for Bieniemy, I too wondered if he would be a fall guy for Peterson's fumbles and struggles in the second half of the season. But if it were going to happen, it almost certainly would have happened by now. Brad Childress has been very loyal to his original staff in Minnesota, and he's fired only one coach in four years. In the end, I don't disagree with retaining Bieniemy. Based on what I know, he has been emphasizing ball security with Peterson for years. I think the responsibility falls with Peterson more than Bieniemy. It's up to him to protect the ball.
June, 20, 2009
6/20/09
12:00
PM ET
Posted by ESPN.com's Kevin Seifert
Let's take a look at what tickled your fancy this week. Remember, you can contact me in so many ways it's silly.
First off, there's the mailbag.
Then you've got our ceiling-breaking Facebook page.
We have Twitter for those who tweet.
You can even call me. My direct line is 555-0004.
Now, on with it:
On the aforementioned Facebook page, Zack asks about AccuScore's simulation of 10,000 NFC North seasons with and without Brett Favre. I provided the projected records for each team in both cases, but Zack wanted to know how many division titles each of the four teams won over those 10,000 seasons.
Kevin Seifert: I answered on Facebook but I should probably share the results on the blog itself. Remember, AccuScore created digital profiles of every player and coach in the NFC North and then ran 10,000 "seasons" through is computer based on the actual schedule of each team.
According to AccuScore, here were the results when Favre was the Vikings' quarterback:
Minnesota won 42 percent of the seasons

Green Bay won 30 percent

Chicago won 28 percent

Detroit won 0 percent.
Without Favre, and with Tarvaris Jackson and Sage Rosenfels splitting snaps for the Vikings, it was essentially a three-way tie:
Green Bay won 34 percent of the seasons

Minnesota won 34 percent

Chicago won 32 percent

Detroit won 0 percent
That's right. The fellas at AccuScore didn't have the Lions winning the NFC North title in any of the 20,000 total simulations run. I guess there's always next year.
---
Justin of Los Angeles writes: Kevin, in all the Chicago wide receiver talk, one name I haven't heard is Brandon Rideau. He was great last preseason and probably should've made the roster. He's now in his second year. He knows the system as well as Earl Bennett and is more talented than Rashied Davis. Yet he is getting NO publicity. Are the Bears even considering this guy? I think he is a major sleeper.
Kevin Seifert: Rideau has certainly been a fan favorite since the preseason last summer, but you're right, there hasn't been much buzz about him this spring. If anything, he's been overshadowed by the sheer number of young receivers the Bears are trying to get a look at.
If anyone created a spring buzz, it was rookie Johnny Knox. I didn't witness any of the Bears' organized team activities. But those who did, including Brad Biggs of the Chicago Sun-Times, report that Knox caught some eyes with his blazing 4.3 speed. Things could change once the pads come on, but it seems Knox got a lot of the same kind of attention Rideau did last year.
---
Zack of Kansas City writes: Your post about choosing the top ten building blocks from the division got me thinking: What about the coaches? So, what's your NFC North dream team of coaches look like? For me, I start by putting Lovie Smith at D-coordinator. Offensive coordinator: Joe Philbin. D-line: Rod Marinelli. O-line: Pat Morris. Special Teams: Dave Toub. I'm not partial to any of the head coaches, but if I have to chose, it's Mike McCarthy.
Kevin Seifert: Wow, interesting question. Maybe it's something I should consider for a future post. Nah, let's do it here. One rule I'll establish: A coach's current job description can't change. So, no picking Lovie Smith for defensive coordinator. OK, here's my first-blush list, subject to change. I'm leaving a few blank pending further thought and your feedback. I'll expand and explain during a post next week.
Head coach: Lovie Smith (CHI)
Offensive coordinator: Scott Linehan (DET)
Quarterbacks: Tom Clements (GB)
Running backs: Eric Bieniemy (MIN)
Wide receivers: Jimmy Robinson (GB)
Offensive line: TBD
Defensive coordinator: Leslie Frazier (MIN)
Defensive line: Rod Marinelli (CHI)
Linebackers: Fred Pagac (MIN)
Secondary: TBD
Special teams: Dave Toub (CHI)
---
Joseph of High Point, N.C. writes: How do the Packers look at the Favre situation with Minnesota in regards to the charges of tampering last year? It seems very apparent (last year as well) that by the rules of the NFL, Minnesota should be guilty of tampering.
Kevin Seifert: I think the Packers want that whole episode behind them, so I'm not sure they would pursue tampering charges. But your question brings up an interesting conspiracy theory that we might never get resolved. (It's the only one of our five questions that Joe Buck didn't ask Brett Favre last Monday night.) Namely: Did Favre follow an elaborate pre-meditated scheme to get to the Vikings against the Packers' wishes?
As you might recall, over the winter we discussed the seemingly preposterous path Favre would need to follow to make himself eligible to sign with the Vikings. As the 2008 season ended, he was still under contract with the New York Jets, and the Jets remained under the terms of "poison pill" trade language that would have required them to send multiple first-round picks to the Packers if they ever traded Favre to an NFC North team.
So the only way for Favre to get to Minnesota was to somehow get out of his contract. Given the Jets' investment in him, it was unlikely they would simply release him with no return. I thought he might have to force the Jets' hand by threatening to file for reinstatement, backed by a salary cap figure that was too large for the Jets to handle.
Instead, the Jets drafted his replacement in April and then granted Favre's request to be released from his contract. That move made Favre a free agent.
As for tampering, the question would be whether Favre had contact with the Vikings before he was released. Did he seek that release because he knew the Vikings wanted to sign him? For me, however, the juicier question is whether Favre retired in February not because he thought he was finished playing, but because he hoped the Jets would move on wi
thout him and eventually consent to an enabling release.
Short of mind-reading, I don't know if we'll ever know the full answer. But it's the kind of thing that keeps we conspiracy theorists in business.
---
Rob of Winnipeg writes: Can you tell me why the Lions felt they needed to get rid of Shaun McDonald and Mike Furrey? I know their numbers were way down, but other than Calvin Johnson, everybody's numbers were way down. Was it a locker room thing or was this just a move to make this Calvin Johnson's team?
Kevin Seifert: Both players had ties to former offensive coordinator Mike Martz and were probably best suited for his kind of passing offense, which the Lions dumped two years ago. Furrey spent a good part of last year at odds with the team over his health, and his fate seemed sealed when the Lions placed him on injured reserve.
McDonald has signed with Pittsburgh and could still be a productive player. But I think he got caught up in the team's desire to move on from its past. The Lions also seem interested in adding size at receiver. McDonald, at 5-10 is significantly smaller than newcomers Bryant Johnson (6-3) and Ronald Curry (6-2).
December, 30, 2008
12/30/08
1:00
PM ET
| | |
| --- | --- |
| | |
| | Drew Hallowell/Getty Images |
| | There will be plenty of similarities on display when Brad Childress' Vikings and Andy Reid's Eagles square off Sunday. |
Posted by ESPN.com's Kevin Seifert
When it came time to make his first big decision as Minnesota's new owner, Zygi Wilf looked east and hatched a plan. He would figure out a way to spell "Vikings" using "E-A-G-L-E-S."
In January 2006, Wilf made plans to hire Philadelphia's offensive coordinator as the Vikings' head coach and its linebackers coach as his new defensive coordinator. He wanted the Eagles' top personnel man as his general manager, and he was sold on the personnel and schematic approach -- draft a young quarterback to run the West Coast offense, upgrade the offensive line and blitz the bejeezus out of opponents -- that has made the Eagles a playoff team in seven of the past nine seasons.
"What we wanted was to be a first-class organization," Wilf said. "We wanted an organization that was patient and did things the right way with a goal of being a consistent winner that could challenge first for the division championship, and then for the Super Bowl, every season. We still have improvements to make, but that's always been what we have strived for."
As it turned out, Wilf hired Brad Childress as his head coach but couldn't lure talent evaluator Tom Heckert to be his general manager. The Eagles blocked Childress from hiring Steve Spagnuolo as his defensive coordinator, but a year later Childress tapped another former Philadelphia assistant -- Leslie Frazier -- for the job.
And in building the team that will host the Eagles on Sunday at the Metrodome, Childress has emulated his former employers on a number of levels. Among them:
Signing a prominent free agent offensive lineman to a mega-deal with hopes he would add a level of nastiness to the offense. The Eagles did it in 2000 with right tackle Jon Runyan. The Vikings followed in 2006 by acquiring left guard Steve Hutchinson.
Drafting a quarterback early in his tenure and put him on the developmental fast track. The Eagles had Donovan McNabb in the starting lineup by Week 10 of his rookie season. Tarvaris Jackson started the final two games as a rookie in 2006.
Hiring all of his athletic trainers as well as his strength and conditioning staff from Philadelphia. Eagles coach Andy Reid blocked Childress from taking any position coaches to Minnesota, but several Vikings assistants nevertheless have Eagles ties. Running backs coach Eric Bieniemy played for them in 1999, Childress' first year as an assistant in Philadelphia. The Vikings' current quarterbacks coach, Kevin Rogers, was McNabb's position coach at Syracuse. And tight ends coach Jimmie Johnson was once an Eagles intern.
Authorizing Frazier to mix creative blitz packages into the Vikings' cover-2 base defense. Frazier played in Chicago's "46" defense of the 1980s, but he learned the fundamentals of blitz schemes from Eagles defensive coordinator Jim Johnson while serving as Philadelphia's defensive backs coach from 1999-02.
Calling his own plays during the 2006 season, as Reid always did in Philadelphia. And coincidence or otherwise, Childress handed those duties to offensive coordinator Darrell Bevell not long after Reid gave that role to Eagles offensive coordinator Marty Mornhinweg.
August, 27, 2008
8/27/08
1:22
PM ET
| | |
| --- | --- |
| | |
| | Jonathan Daniel/Getty Images |
| | Vikings RB Adrian Peterson has only managed 2.6 yards per carry so far this preseason. |
Posted by ESPN.com's Kevin Seifert
Because the Minnesota Vikings plan to rest their entire starting lineup Thursday at Dallas, we can say with some certainty that running back Adrian Peterson will finish the preseason with 51 yards on 20 carries.
Consider those numbers unexpected on two counts.
One, we didn't think the Vikings would hand it to their franchise player 20 times, considering the extra-cautious approach most teams are taking to the preseason this year -- and especially when you take into account he did not touch the ball in the opener. Second, we wouldn't have guessed Peterson would average 2.6 yards per carry (with a long of 11 yards) after making several adjustments during the offseason to avoid a repeat of his second-half dropoff in 2007.
Peterson and running backs coach Eric Bieniemy worked primarily on developing more patience near the line of scrimmage. As Peterson related last week to Star Tribune columnist Sid Hartman, coaches encouraged him to "play up the gut more." In other words, to hit the prescribed hole rather than try to find open space elsewhere.
Has Peterson been too patient? The closest he came to breaking a big play was a 22-yard reception Aug. 16 at Baltimore. Perhaps the fairest thing to say is that like many players, Peterson has been working on a specific aspect of his game rather than taking a bottom-line approach during the preseason.
"The thing he can't do is he can't get frustrated," offensive coordinator Darrell Bevell said. "He's got to make sure that he continues to read out each play, because he's not going to make a big play by himself. It's going to be 10 guys that are going to help him do that. So as long as he stays with the schemes he'll end up being fine.
"I think he's done a nice job of trying to take the play where it's supposed to go. His ability will let him do all of the other stuff."
Hitting the hole too fast -- or giving up on it too quickly -- is one of the most common mistakes by a young running back. Peterson said last week that his film study revealed a surprising number of holes he missed last season.
"I studied the film and I was always amazed on a lot of plays, it was really me," Peterson said. "It wasn't the offensive line not getting a block or anything like that, or anything else they were doing really. It was really me kind of hurting myself."
The next time Peterson is on the field -- Sept. 8 at Lambeau Field -- will provide a fair measuring stick for determining exactly how much progress he has made.

NFC NORTH SCOREBOARD
Friday, 8/22
Saturday, 8/23