NFC North:

Eric Dickerson
December, 18, 2014
12/18/14
6:20
PM ET
GREEN BAY, Wis. – No offense to Eric Dickerson, but
Eddie Lacy
would rather not wear goggles on Sunday against the
Tampa Bay Buccaneers
.
The
Green Bay Packers
running back has an irritated left eye that he said was from his contact lens. He's had to go with just one contact this week but hopes to be able to wear both for Sunday's game. He said Thursday that there's no way he's wearing goggles.
"I refuse," Lacy said before backtracking slightly. "I don't want to say I refuse because I might, because I think it will be better than wearing contacts, but that's kind of old school."
And when Lacy thinks of goggles …
"That's what I get, Eric Dickerson," he said.
Lacy needs something to help his vision. As he leaned against a table in the middle of the Packers' locker room, he closed his right eye and tried to make out quarterback
Scott Tolzien
's nameplate across the way.
"Let's just say I'm very blind," Lacy said. "I can't see Scott's name over there."
Lacy needs just 60 yards to top the 1,000-yard mark for the second straight season. He's coming off a 15-carry, 97-yard game in Sunday's loss at the
Buffalo Bills
, a game in which he touched the ball only five times in the second half.
When asked whether he thought coach Mike McCarthy should have stuck with the running game more, Lacy said: "That ain't none of my business, bro. I do what's called."
Here's the full injury report from Thursday:
February, 6, 2014
2/06/14
6:07
PM ET
EDEN PRAIRIE, Minn. -- Sometime in his first several days as the
Minnesota Vikings
' offensive coordinator, Norv Turner walked past a picture in the team offices of
Adrian Peterson
from his record-breaking 296-yard game during his rookie season. Peterson could be seen racing down the
San Diego Chargers
' sideline, on the way to a game-clinching 46-yard touchdown.
The coach of that Chargers team was Turner. And when he looked at the picture, he saw himself watching Peterson run by.
"I've seen him at his best first-hand," Turner said. "I don't know how you can compare guys at that level because they all have their own way of doing things."
Turner started his NFL career with the Los Angeles Rams when
Eric Dickerson
was still there. He was
Emmitt Smith
's offensive coordinator in Dallas, and had
LaDainian Tomlinson
on those Chargers teams. His legacy in the NFL has been made primarily through his contributions to the downfield passing game, but when Turner's teams have been at their best, he's had a dominant running back, too.
[+] Enlarge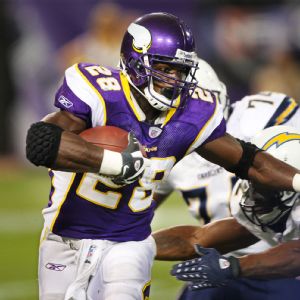 Tom Dahlin/Getty ImagesAdrian Peterson rushed for 296 yards against Norv Turner's Chargers in 2007.
He knows what an asset Peterson can be to him in Minnesota, and Turner has made ingratiating himself to Peterson one of his early goals with the Vikings. Peterson was a staunch supporter of former coach Leslie Frazier, and reserved judgment on the Vikings' hiring of head coach Mike Zimmer until he saw whom the team would bring in as its offensive coordinator. When Turner was hired, Peterson praised the move. The two also talked recently on the phone, Turner said.
"He was excited. It was a very casual conversation," Turner said. "At this time of year, you don't talk football, but I think players and coaches know about players and coaches in the league. He's talked to people I've coached and been with. I think he understands that the biggest thing to me is we're trying to win. He's at a point in his career where he'd like to go, No. 1, be in the playoffs, and No. 2 have success in the playoffs and ultimately win a championship. I think he's at a point in his career where he's done a lot of things in individual goals and accomplishments. And he expressed that whatever it takes for us he wants to do."
Under Turner, the Vikings' plan for Peterson could look slightly different than how the 2012 NFL MVP has been used in the past. He talked about wanting to get Peterson the ball in space more often, which could sound like sweet poetry to Vikings fans who have wondered why Peterson hasn't been used as a receiving threat more over the years. The best season of Peterson's career as a receiver, not surprisingly, came in 2009, when he caught 43 passes for 436 yards from
Brett Favre
, who used running backs as receivers with great success during his career.
"He's run the ball in closed-in quarters with a lot of defenders there and he makes a lot of long runs, making people miss or running over people," Turner said. "It's hard to do, but we would like to get him in space and getting the field spread a little bit better for for him."
If Turner is able to get Peterson in the open field more often, either by throwing him the ball or by reducing the number of defenders in the box, it could help take some of the wear off a running back who just had his third surgery in as many years and will be 29 in March. Peterson has logged more carries against eight-man fronts than any running back in the NFL the past two years, according to ESPN Stats & Information. Under previous offensive coordinator Bill Musgrave, Peterson played in a system that often employed two tight ends or bunched receivers close to the line of scrimmage, inviting defenders to crowd the box. Rather than creating more traffic -- some of it there to help Peterson -- Turner wants to see if he can make the running back's yards easier by isolating him against defenders.
And when it's time for Peterson to do his heavy work, Turner wants much of it to come at the end of games. It was no accident that during his MVP season, Peterson logged a NFL-best 361 yards in the final 10 minutes of games his team was leading, according to ESPN Stats & Information. In 2013, Peterson had just 56 yards in those situations; third-string running back
Matt Asiata
, who filled in for Peterson in two games he missed because of injury, had 99.
Turner reminisced about Smith's days of being one of the game's great closers, churning through tired defenses and running the clock out with first downs for the Cowboys, and wanted to get the Vikings back to a point where Peterson could do the same thing. That makes sense for any running back, and the Vikings have been built to play with a lead.
The difference is, when they've fallen behind in recent years, they haven't had the passing game to make the game close and make Peterson effective again.
"You have to be good in enough things so that when a team overplays the run, you can throw it," Turner said. "Having a runner like Adrian can and should able to help a young quarterback. It can be a hindrance sometimes because if you aren't giving him the ball, it's like you aren't trying to win. Those are things that I've tried to manage."
December, 1, 2013
12/01/13
9:10
PM ET
MINNEAPOLIS --
Adrian Peterson
had just gotten done with his second consecutive game of more than 30 carries, lugging the ball a career-high 35 times in the Vikings' overtime win over the
Chicago Bears
. He had run for 211 yards -- the fourth-most of his career -- despite playing another game with a strained groin that again appeared to keep Peterson from breaking away when he had the chance. And as usual, Peterson wanted more.
"I condition real hard, and actually, I get stronger as I go," Peterson said. "I could have went for 50, maybe 55 carries."
[+] Enlarge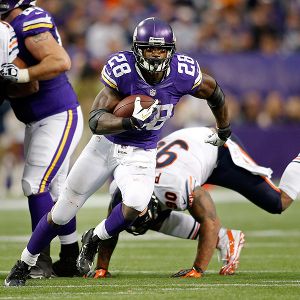 Bruce Kluckhohn/USA TODAY SportsDespite battling a groin injury, Adrian Peterson had his best rushing day of the season, racking up 211 yards.
Peterson's belief in himself is almost purely based in can-do optimism, but it only crosses over into defiance when it's suggested to him that something might have been difficult. It's what made him the third-fastest running back in NFL history to rack up 10,000 yards on Sunday, in just his 101st career game. Only Jim Brown and
Eric Dickerson
reached the plateau sooner. And when Peterson was asked what he would have said if someone had told him at age 16 what he'd do, he said his reply would have been, "You're right.
"I would have believed it," he said. "This has been my mindset since I was young, to be the best to ever play. You have got to believe it in order to accomplish it. So if you had told me that, I would have been like, 'Hmm, he is thinking what I'm thinking."
Peterson has a long ways to go to reach the lofty records he wants to hit, but in a season where he's been hampered by leg injuries, he's got 1,208 yards through 12 games. That might register as a disappointment after Peterson talked of following up a 2,097-yard season with 2,500, but he's still on pace for more than 1,600 yards this year, and could win another NFL rushing title.
It also helps that the Vikings seem to have no plans to marginalize Peterson. They are now 5-0-1 in games where he's carried at least 30 times, and coach Leslie Frazier said, "I can't imagine ever getting away from Adrian being the featured guy in the offense, so long as we can put some more pieces around him."
Frazier played with Walter Payton, and hesitated when asked if he thought Peterson could be the greatest of all time.
"In raw numbers, sure," Frazier said, before adding, "We watched Mr. Payton play, and I've talked to Adrian about that a few times. Adrian is, in today's football, the best running back in pro football. Walter, he's pretty special. That would be a good argument to have."
Peterson seems intent on forcing his way into that argument. Has for a long time, actually.
"Jim Brown [and] Eric Dickerson are the guys that I looked up to, the guys that motivated me to be better than them," he said. "I still have a long ways to go. I've reached this mark and it's great, but I still have a long ways to go to surpass those guys, and that is what I look to do."
November, 19, 2013
11/19/13
8:00
AM ET
Welcome to Around the Horns, our daily look at what's happening on the Vikings beat:
When
Adrian Peterson
was chasing
Eric Dickerson
's single-season rushing record last season, he won the approval of the Hall of Fame running back he grew up idolizing. This season, with the Vikings at 2-8, Peterson is getting Dickerson's sympathy.
Dickerson bemoaned the Vikings' quarterback situation in
an interview with the St. Paul Pioneer Press
, saying a bona fide QB "would make it a lot easier on him," and comparing Peterson's plight to his own time with the then-Los Angeles Rams, where Dickerson often had to toil alongside mediocre quarterbacks.
"I've been there," Dickerson said in the interview. "I mean, I've been so frustrated that when we completed a pass downfield I wanted to be like the people in the stands, jumping up and down and saying, 'Way to go.' "
It's hardly new for someone to say Peterson needs more help from the Vikings' passing game, but the parallel between Dickerson and Peterson is interesting here. The Rams made the playoffs in all four of Dickerson's full seasons in Los Angeles, but got out of the first round only once and traded Dickerson to Indianapolis at age 27. Peterson, now 28, also has been out of the first round just once, and some have wondered if the time might be right for the Vikings to trade the 2012 NFL MVP. For now, they would pick second in next spring's draft, so they might get one more shot to take a top-end quarterback, with Peterson in his prime.
Count Dickerson among those who will be rooting for that to happen for Peterson.
Here are today's other Vikings stories of note:
September, 3, 2013
9/03/13
2:37
PM ET
We've only talked in passing detail about
Adrian Peterson
's attempt to chase
Eric Dickerson
's single-season rushing record for a second straight season -- probably because there's been so much chatter about the topic in other places. Whether it's Peterson talking about wanting to run for 2,500 yards or experts saying he can't possibly duplicate last year's 2,097-yard season, the topic has been a frequent source of conversation heading into the season.
We won't belabor the point here today, other than to mention a couple unique things about Peterson's 2012 season that might, in fact, be unique -- as in, they can't be duplicated again.
According to ESPN Stats & Information, Peterson ran for 1,019 yards after contact in 2012, for an average of 2.9 yards a carry. In other words, nearly half of Peterson's yards came on his ability to take a hit and keep running for an average of almost 3 yards. Essentially, after he took a hit last year, he was still better than the Raiders'
Rashad Jennings
, who ran for 2.8 yards a carry -- with or without contact! -- in 2012. And only one running back in the league --
Maurice Jones-Drew
, with 785 yards after contact in 2011 -- has even come within 250 yards of Peterson's total since Stats & Information started tracking the statistic in 2009.
From 2009 to 2011, Peterson's post-contact average was 2.3 yards per carry. If he carried the same number of times in 2013 as he did in 2012 (348) and dropped back to his 2009-11 average, he'd run for 219 fewer yards. If we add the 2012 season back in, bumping Peterson's average after contact back up to 2.49, and assume he hits that figure this year on 348 carries, he'd run for 152 fewer yards.
Then there's this: Peterson had 27 runs of 20 yards or more in 2012. That was the most in football last year by 15. Since 2008, only five other running backs have even recorded half that many long runs, one of them being Peterson himself in 2008.
We can all remember the highlights of Peterson breaking one tackle and busting loose for 60 or 70 yards. If he can't do that with the same regularity this year, he'd have to find another way to make up for those yards -- most likely by getting more carries or increasing his productivity on his shorter runs. Considering he had the second-most carries of his career last year, and his highest yards-per-carry figure, it seems unlikely to expect Peterson to put up even bigger numbers without the efficiency afforded by a 70-yard romp.
Finally, we've got to consider this point: Of the 18 men in NFL history to carry more than 300 times in a season and average more than five yards a carry, only two --
Barry Sanders
and
Tiki Barber
-- did it in back-to-back years. Sanders actually crossed the 2,000-yard plateau in his second trip over the 300-and-5.0 barrier, when he ran for 2,053 yards on 335 carries (an average of 6.13 yards per attempt) in 1997. And Barber did it at ages 30 and 31, when he averaged 5.21 and 5.08 yards per attempt in 2005 and 2006. But considering Peterson's 6.03 yards per attempt tied O.J. Simpson for the second most of anyone who carried more than 300 times in a season, it probably isn't realistic to expect him to do it again. No running back in history has ever crossed 1,500 yards a year after running for 2,000, and the drop-off in yards-per-carry is part of the reason why.
In all likelihood, topping Dickerson would likely require even more carries than Peterson got last year (Dickerson, it should be noted, carried 379 times when he set the record in 1984). When the Vikings drafted
Cordarrelle Patterson
and signed
Greg Jennings
in an effort to balance their offense, it's worth asking whether Peterson's workload might even drop this year.
After watching Peterson last year, it's awfully tough to say he's incapable of anything. If he's determined to break Dickerson's record -- as he certainly seems to be -- he'll probably give himself a reasonable shot. But as Dickerson has said, so many things would have to go right for Peterson to do it again. History, at least, is not on the running back's side -- not that he's ever been particularly concerned with that.
Maybe it's best to treat Peterson's 2012 season for what it was: a singular act of brilliance by a running back driven to make a dramatic comeback from knee surgery, and not the new normal. Yes, Peterson will be healthier this season than he was last year. Yes, the Vikings will likely be willing to use him early in the season more than they were last year (the fact that Peterson didn't cross 150 yards until Week 7 makes what he did even more remarkable). But it's unreasonable to expect a running back to break tackles and explode for long runs with the regularity Peterson did last year.
If he does it again, and topples Dickerson in the process, Peterson will and should be celebrated for years to come. But last year should be enough to get him that anyway, especially considering how heavily history is stacked against him replicating it.
February, 2, 2013
2/02/13
9:43
PM ET
As
Adrian Peterson
's MVP candidacy grew more realistic this season, we debated what the award means here on the NFC North blog. Should it go to the player who provides the most value to his team -- i.e., does the most to help the team win -- as the "Most Valuable Player" descriptor suggests? Or should it go to the player who simply had the best season?
As it turns out, Peterson's season was so overwhelming in every facet that the Associated Press' 50-person electorate declined to split the hairs. Saturday night, Peterson was announced as
both the league MVP and Offensive Player of the Year
. It was a fitting conclusion for the second-best season by a running back in league history, a catalyst for a team that flipped its 3-13 record last season to 10-6 and a playoff berth in 2012.
[+] Enlarge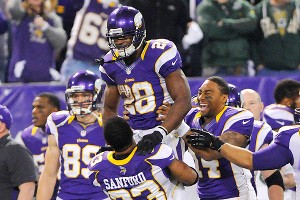 AP Photo/Jim MoneAdrian Peterson's dominating comeback lifted Minnesota to a huge turnaround and a playoff berth.
It was such a dominating performance that voters seemingly forgot -- or considered it moot -- that it all came within a 53-week period of Peterson tearing the anterior cruciate and medial collateral ligaments in his left knee. As such, the AP named
Denver Broncos
quarterback
Peyton Manning
, and not Peterson, its Comeback Player of the Year.
I probably
overthought a set of statistics
that connected the Vikings' record more closely with the performance of quarterback
Christian Ponder
than Peterson, whose production didn't waver much between their wins and losses. I still believe that Ponder's improved play over the final four games were a big reason the Vikings made the playoffs, but I agree with many of you that his earlier struggles would have buried this team were it not for Peterson's increasingly dominant play.
We could spend all night hashing through Peterson statistics, but there are two that I think best illustrate his season. He led the NFL with 27 runs of at least 20 yards, more than twice that of the next-highest player. At the same time, he led the league with 1,019 yards after contact, according to ESPN Stats & Information.
Among other things, that means Peterson was by far the most explosive and the most powerful running back in the league this season. Those attributes are often mutually exclusive, but Peterson combined them both in a season that will go down in the ages.
To me, there was never a question about whether Peterson or Manning had the better individual season. Manning was the NFL's top quarterback, ranking No. 1 in Total QBR (84.1) and second in passer rating (105.8). Peterson's season qualified as one of the best of all time, and it shouldn't be diminished by comparing it only to his 2012 contemporaries.
You have to go back to a different era of football to find production that stacks up to Peterson's. For the most part, gone are the days when the running back is a playoff team's first option. But Peterson's total of 2,097 yards was the most in the NFL in 28 years, bested only by
Eric Dickerson
's 2,105 yards in 1984. Peterson had at least 150 yards in a game seven times, tying Earl Campbell's 32-year-old NFL record for 150-plus yard games in a season. And his average of 131.1 yards per game over a season puts him in some pretty heady company.
All four players who have had
better per-game averages in a qualifying season are in the Pro Football Hall of Fame
: Dickerson, O.J. Simpson, Jim Brown, Walter Payton.
Peterson provided us all with a season we won't soon forget. Sometimes, the obvious answer is the right one. I'll remember that next time.
January, 4, 2013
1/04/13
7:20
AM ET
We're Black and Blue All Over:
Here's a good news/bad news development for the Detroit Lions. The good news is their coaching staff will manage one of the two Senior Bowl teams for the second time in four seasons. The bad news? Well, it's the same thing. Playoff teams don't coach in the Senior Bowl, and typically priority starts with the NFL's worst team and works its way down until someone accepts. It's not an honor you want more than once.

At the same time, there is unquestionable value in spending extra time with the draft prospects. Last season, for example, the Minnesota Vikings liked Notre Dame safety Harrison Smith so much they decided to draft him after the Senior Bowl and never visited with him again so as to limit evidence of their interest.
The game, which follows a week's worth of practices, is scheduled for Jan. 26 in Mobile, Ala.
Let's take our morning spin around the NFC North:
December, 30, 2012
12/30/12
10:33
PM ET
MINNEAPOLIS -- If you spend some time around
Adrian Peterson
, you learn to decipher his mood from small distinctions on his eternally optimistic face. Peterson has a genuine smile, the kind he displayed as a rookie in 2007 when he set the NFL's single-game rushing record.
There is a sardonic smirk that approaches a scowl. I've seen it at least once -- when
his erratic performance
in the 2009 NFC Championship Game contributed to a loss against the
New Orleans Saints
.
And then there is the conflicted grin, the kind we saw plastered on his face Sunday evening after he finished just short of breaking Eric Dickerson's single-season rushing record. His 199-yard performance was critical to the Vikings' 37-34 victory over the
Green Bay Packers
, one that clinched the NFC's final wild-card spot. But it also left him eight yards shy of Dickerson's 2,105-yard mark, and Peterson was nothing if not honest when he said afterwards that he had "a bittersweet feeling inside."
Peterson seemed genuinely thrilled to be part of a playoff team for the third time in his career. But ever since tearing two knee ligaments exactly 371 days ago, Peterson had envisioned his season ending with team
and
individual accolades. When reporters entered the Vikings' locker room some 20 minutes after the game, Peterson was still in full uniform, accepting well-wishes and hugs from teammates and Vikings staffers who all knew how close they came to history. Then Peterson spent a good portion of his interview session toggling between disappointment and pride.
"The first thing that came to my mind when I heard that was nine yards short was, 'It is what it is. It wasn't meant to happen,'" he said. "Not to say it doesn't hurt, because it does. But ultimately we came in here and accomplished the ultimate goal of getting a win and taking our team to the playoffs."
How close did Peterson come? His final run of the regular season was a 26-yard scamper that set up
Blair Walsh
's game-winning 29-yard field goal. Had he scored a touchdown on that run -- by perhaps breaking one more tackle and running another 11 yards -- he would have finished the season with a new record of 2,108 yards.
"I'm not going to think about it that much," he said. "I'll still think about it a little bit, but ultimately it is what it is."
Now comes a question we can't answer for another six weeks: Will 2,097 yards and a playoff berth be enough to make Peterson the NFL's MVP? We've spent a good portion of this season debating the value of running backs versus quarterbacks, and it's worth noting that for all of Peterson's yardage, the Vikings wouldn't have won Sunday were it not for a number of clutch throws from quarterback
Christian Ponder
. Those who favor quarterbacks for this award will no doubt lean toward the
Denver Broncos
'
Peyton Manning
.
Peterson didn't leave any doubt about his position, however.
"I can't say I don't want to [win it]," he said, "just like I wanted to break the record. Either way, in my heart, I'm the MVP, and that's all that matters."
He didn't break the record. He might not win MVP. But Peterson could say one thing for sure Sunday night: He is a playoff participant. And that's worth smiling about. Right?
December, 28, 2012
12/28/12
12:30
PM ET
ESPN personnel will be stationed at both NFC North locales for the final weekend of the 2012 regular season. Our friends at ESPNChicago.com will have the
Chicago Bears
blanketed at Ford Field, and I'll be at the Metrodome for the
Minnesota Vikings
' game against the
Green Bay Packers
.
If all goes well from a technical standpoint, I'll participate in our Countdown Live chat during the Vikings-Packers game. You'll see a chat module appear on the blog early Sunday afternoon. I'll also do my best to send fill our Instagram account (
kevinseifert_espn
) with some cool visuals of the game, and I'll expect you to tweet me your photos at
@espn_nfncblog
as well for a Monday slideshow.
By the end of Sunday, we will have hashed out the NFC North playoff picture and offered a quick glance at any wild-card playoff matchups we might have. We'll establish the final number that Lions receiver
Calvin Johnson
sets for the NFL receiving yards record, and we'll of course cover Vikings tailback
Adrian Peterson
extensively if he breaks
Eric Dickerson
's record for rushing yards in a season. Peterson needs 208 yards to do it, a figure he's topped four times in 88 career games.
A few bonus numbers for you to chew on for the time being: The Vikings are 6-1 at home this season, while the Packers have won nine consecutive regular-season finales, the longest active streak in the NFL, and 15 of their past 16 overall.
December, 23, 2012
12/23/12
9:00
AM ET
Here in the NFC North, we are half way to a feat that hasn't occurred in 80 years of football record-keeping.
Saturday night,
Detroit Lions
receiver
Calvin Johnson
broke the
NFL's single-season record for receiving yards
. Johnson has 1,892 receiving yards with one game left to play.
Sunday,
Minnesota Vikings
tailback
Adrian Peterson
will get the first of two opportunities to eclipse the league's single-season record for rushing yards. Peterson is 294 yards away from breaking
Eric Dickerson
's mark of 2,105 yards in a season.
According to the NFL, the only time the single-season rushing and receiving records were set simultaneously was 1932, which also happened to be the first year records were kept. (For those interested: Boston's Cliff Battles had 576 rushing yards and Green Bay's Johnny McNally rang up 326 receiving yards.)
So there's that.
As we did Saturday night, we'll monitor Sunday's action from NFC North blog headquarters and post to the blog accordingly throughout the afternoon and evening.
(Hat tip to Randall Liu of the NFL's communications office for the research.)
December, 21, 2012
12/21/12
10:30
AM ET
As
Minnesota Vikings
tailback
Adrian Peterson
and
Detroit Lions
receiver
Calvin Johnson
pursue single-season yardage records for their respective positions, one matter of historical importance hasn't gotten much attention: The NFL's shift to a 16-game season in 1978 gave players two extra games to set season records.
Peterson is 294 yards away from breaking
Eric Dickerson
's record of 2,105 rushing yards in a season. Johnson needs 182 receiving yards to eclipse
Jerry Rice
's record of 1,848 yards. Both Dickerson and Rice set their marks in 16-game seasons. So I thought it was worth looking at a rarely-used but perhaps more appropriate apples-to-apples comparison: average yards per game.
The bottom line: Peterson isn't likely to hit that NFL record, but Johnson has an intriguing chance to exceed it.
O.J. Simpson averaged 143.1 rushing yards per game during his 2,003-yard season in 1973. Peterson would need 478 yards in two games, leaving him with 2,290 rushing yards on the season, to break Simpson's record. (
Full list here
, courtesy of pro-football-reference.com.)
On the other hand, as the chart shows, Johnson is 329 receiving yards away from exceeding Charley Hennigan's record of 124.7 receiving yards per game, set in 1961.
My calculator tells me that 329 yards over two games is an average of 164.5 yards per game. That sounds like a lot, and it is. But it's worth noting that Johnson has seven career games of more than 160 receiving yards, including three this season.
We'll monitor both possibilities, but I'm most intrigued by Johnson's chances. And oh, you can see for yourself whether Johnson will have a chance by watching the Lions' Saturday night game against the
Atlanta Falcons
on ESPN (8:30 p.m. ET).
December, 16, 2012
12/16/12
6:15
PM ET
A few thoughts on
Sunday's events in St. Louis
:
What it means:
The
Minnesota Vikings
remain in the NFC playoff race with a takedown of the
St. Louis Rams
, just their second road victory in seven attempts this season. Almost as important: Tailback
Adrian Peterson
is now 188 yards away from a 2,000-yard season and 294 yards from breaking the NFL record for most rushing yards in a season.


Playoff implications:
At the moment, the Vikings have
the seventh seed in the NFC's six-team playoff format.
That could change later Sunday if the Dallas Cowboys beat the Pittsburgh Steelers. If that happens, the Vikings would move up to the No. 6 seed. But for the moment they lose the tiebreaker with the 8-6
New York Giants
, based on each team's conference record, but hold the edge over the 8-6
Chicago Bears
because of their superior division record. The Vikings would also lose the tiebreaker to the
Seattle Seahawks
, currently 8-5, if it comes to that, and the 8-6
Washington Redskins
. So Vikings fans should root for the Redskins to win the NFC East and for the Giants to keep losing. The Giants finish the season at the
Baltimore Ravens
and at home against the
Philadelphia Eagles
.
PetersonWatch:
Peterson started this game slowly, averaging a yard per carry in his first nine attempts before capitalizing on a Rams blitz for an 82-yard touchdown run that opened the floodgates in the second quarter. It was Peterson's second 82-yard run of the season, and he also added a 52-yard scamper to push his total to 212 yards on 24 attempts. Peterson's season total of 1,812 yards is already a career high and it puts every imaginable goal within reach. To break
Eric Dickerson
's record of 2,105 yards in a season, he'll need to average 147 yards over his last two games. He has six games this season of at least 150 yards.
PonderWatch:
Peterson will get most of the attention, but quarterback
Christian Ponder
did his part in building the early lead. He converted a fourth-and-1 on the Vikings' opening possession with a 3-yard run, and later he capped the drive with a 5-yard touchdown scramble. You saw Ponder at his mobile best on that play, pulling away from a free rusher -- Rams defensive lineman
Robert Quinn
-- and weaving his way into the end zone. Ponder finished with 131 passing yards, but this was not a negative game by any means -- a step forward from his recent outings.
Roster-wide contributions:
Vikings place-kicker
Blair Walsh
drilled five field goals, including three of at least 50 yards. He has now converted 29 of 32 attempts this season. Defensive end
Everson Griffen
, in coverage on a zone blitz, intercepted a Sam Bradford pass down the seam and returned it 29 yards for a touchdown. And the Vikings played an exceptionally clean game as a team, committing no turnovers and only three accepted penalties. That's the way this team has to win on the road.
What's next:
The Vikings will need to find a way to win at the 12-2
Houston Texans
in order to keep their playoff hopes alive.
December, 5, 2012
12/05/12
12:45
PM ET
We've posted quarterly Stock Watches in
October
and
November
, and now it's time for the third installment of a once-weekly feature.
FALLING
1. Christian Ponder, Minnesota Vikings quarterback:
Ponder has brought the franchise to a crossroads as it nears the end of his second season. The hope was that Ponder would demonstrate steady improvement and establish himself as a long-term starter by the end of the season. Instead, he is still turning in clunkers that are every bit as bad as his worst games as a rookie. Among many abominable numbers, here is perhaps the most eye-popping: Ponder has completed only four passes this season that traveled more than 20 yards in the air, according to ESPN Stats & Information. There are extenuating factors involved, including a weak group of wide receivers, but Ponder is also facing defenses that are aligned more often in run-stopping schemes than any quarterback in the NFL. In short, Ponder has offered no indication through 22 career starts that he can be a long-term starter. Barring an immediate turnaround, the Vikings will have a much tougher decision this offseason than they could have possibly hoped.
2. Detroit Lions drafting philosophy:
The apparent end of receiver
Titus Young
's short tenure has intensified scrutiny on the Lions' four drafts under general manager Martin Mayhew. Of the 29 players selected over that time, seven are currently starters and three more are valuable backups or special-teams players. That's not a horrendous ratio, but what stands out is that Mayhew has taken some risks that have not panned out. Young's character issues were well-known in college. The same goes for the concussion history of tailback
Jahvid Best
. Defensive tackle
Nick Fairley
is emerging as a playmaker, but not after experiencing some of the maturity issues he displayed in college. Injuries have stunted the growth of safety
Louis Delmas
, receiver
Ryan Broyles
and cornerback Dwight Bentley, and Mayhew can't be blamed for those. It should also be noted that 2012 first-round pick
Riley Reiff
appears ready to step in as a starter. But it's clear that after four years of drafting, Mayhew's roster still has some notable holes.
[+] Enlarge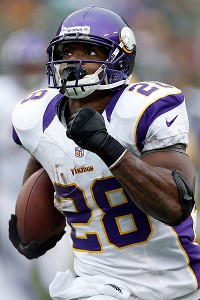 Wesley Hitt/Getty ImagesVikings running back Adrian Peterson is on pace for 1,928 yards this season.
3. Defensive nucleus, Chicago Bears:
The Bears laughed off preseason concerns that their best defensive players were too old in a collective sense, and during a 7-1 start, their defensive veterans -- most notably cornerback
Charles Tillman
and linebacker
Lance Briggs
-- were the talk of the league. The Bears were also emboldened by the emergence of two younger players, defensive tackle
Henry Melton
(six sacks) and cornerback
Tim Jennings
(eight interceptions). But their core has started to break down during a 1-3 stretch. Linebacker
Brian Urlacher
might miss the rest of the season because of a hamstring injury. Tillman has been dealing with a foot injury and has managed just one forced fumble, his specialty, in that stretch. Briggs has an ankle injury and hasn't caused a turnover in six weeks. Defensive end
Julius Peppers
, meanwhile, has two sacks in his past five games. The Bears will need to accelerate their restocking efforts this offseason.
RISING
1. Adrian Peterson, Vikings tailback:
Quite simply, Peterson is having the best season of his Hall of Fame career -- and he still hasn't reached the one-year anniversary of knee reconstruction surgery. He is on pace for 1,928 yards, a total that would put him among the
seven-best seasons for a running back in NFL history
. Given Peterson's competitiveness, you know he is gunning for a 2,000-yard season and hasn't ruled out the possibility that he could break
Eric Dickerson
's record of 2,105 yards in 16 games. To do so, he'll need to average 165 yards per game over the Vikings' final four. It sounds impossible, but what about this season has seemed probable for Peterson? He continues to run with power, averaging an NFL-high 3.2 yards per carry after first contact, which is twice the NFL average. Speed? Peterson has a league-leading 17 rushes of more than 20 yards. Only one other NFL player has double-digit runs of that length (
C.J. Spiller
of the
Buffalo Bills
).
2. Calvin Johnson, Lions receiver:
Somehow, Johnson is on pace to set an NFL record for receiving yards in a season despite playing on an offense where most of the other pass-catching threats have been injured -- and with a running game that hasn't made teams pay for ignoring it. The Lions lead the NFL with 547 passing attempts and rank No. 25 with 295 rushing attempts, and yet Johnson has caught 86 passes for 1,428 yards with four games left to play. It's true that some of those yards have come late in losses, most notably a 207-yard effort in Week 10 against the Vikings. He also has managed only five touchdowns after catching 28 in his previous two seasons combined. But for the most part, Johnson is one of the few Lions players who has maintained his performance level from last year's 10-6 team.
3. Clay Matthews, Green Bay Packers linebacker:
Yes, I know Matthews has missed the Packers' last three games because of a hamstring injury. But hopefully those three games have generated a better appreciation for his impact on the defense. The obvious concern was making up for his pass rush, but I think you've seen how important Matthews' tackling in the run game and overall playmaking is. At the time he was injured, opponents were converting 34.9 percent of third-down opportunities. Since then, they are 46.1 percent. It's also worth noting that the Packers have given up two of their three biggest games against the run with Matthews sidelined. Overall, opponents have racked up 457 rushing yards in those three games -- at 5.5 yards per rush. If you didn't know it before, you should agree that Matthews is more than a pass-rusher.