April, 19, 2012
4/19/12
2:02
PM ET
In the four days since the apparent collapse of the Minnesota Vikings stadium bill, the NFL and team officials have done a fine job of ratcheting up the pressure,
much as we suggested they should do
.
League executive vice president Eric Grubman confirmed there are
"plenty of willing buyers"
who want to purchase and presumably relocate the team. Vikings vice president Lester Bagley made the media rounds Thursday, saying the team has done all it can and urging state legislators to reconsider before the team considers other options. And NFL commissioner Roger Goodell
will be joined
in Minnesota on Friday by Pittsburgh Steelers president/co-owner Art Rooney, the chairman of the league's stadium committee, to explain the league's increasingly impatient stance.
None of this should be surprising to you. Nor should it change your thoughts on the issue, as long as you realized from the start that the league would not sit idly if the stadium bill faltered this year. My suggestion is to take a deep breath and understand we have entered an important and more pressurized phase of the process, but certainly not (yet) the endgame of this franchise in Minnesota.

The best way to understand what's happening at the moment is that the state has 12 days remaining of exclusivity with the franchise. That's how long the Minnesota state legislature is scheduled to remain in session. For now, the team and the league are squarely focused on reviving the issue in Minnesota. Importantly, however, the state is not 12 days away from losing the franchise -- not when NFL teams are ineligible to apply for relocation until Feb. 15, 2013.
Already, it appears that some state legislators are responding to the increased pressure. According to
WCCO political reporter Pat Kessler
, a state Senate committee will hold hearings on the stadium bill Friday. There have also been new pledges to push the bill through other committees.
If there is no resolution when the legislature adjourns, the realistic consequence will be a loss of that exclusivity. It's reasonable to think that owner Zygi Wilf will at least explore a firesale that would eventually lead to relocation, putting the state in competition for the franchise, but not necessarily on a path to losing it. The league's relocation deadline in essence would create a nine-month bidding window.
As we know from NFL free agency, there are no guarantees once a player hits the open market. A team can only ensure a player's return by re-signing him before he's eligible to move on. But there are many cases when a player re-signs after testing his value on the open market. There would be nothing to stop the state of Minnesota from continuing to work on the stadium issue even while Wilf explores other options, and the guess here is that Wilf and the NFL would even then prefer a Minnesota stadium agreement over a sale and/or relocation.
You should be aware that NFL teams have acted swifly in the past, relocating without giving a deadline or even an explicit warning. There would be nothing stopping Wilf from throwing his hands up, selling the team to a Los Angeles investor next month and being done with it. So I'm not questioning the gravity of the situation.
All I'm saying is you should understand where this issue is -- and more importantly where it hasn't gone yet -- and know that this is now a higher-stakes game, but one that remains eminently winnable for Minnesota.
April, 18, 2012
4/18/12
10:21
PM ET
In the immediate aftermath of the apparent defeat of the
Minnesota Vikings
' stadium bill, I suggested it was time for owner Zygi Wilf to
dial up the rhetoric
and at least begin discussing an endgame for the franchise in Minnesota. Wilf has remained silent, but on Wednesday night a top NFL executive filled that role.

Eric Grubman, the NFL's executive vice president, told the
Star Tribune's Mark Craig
the situation has gotten "very serious" and raised the possibility that Wilf will sell the team to someone who presumably would relocate after the 2012 season.
"This is getting ripe," Grubman said. "You have a very dejected ownership. They've run out of options. They feel like they've done everything they've been asked to do and they can't get a vote. No one will answer the question, 'What is it going to take?' The Vikings have said, 'Give us A, B and C, what would you like us to do?' They've been told A, B and C, and they've done that. And they still can't get through."
Grubman said he didn't think that Wilf is ready to sell yet but added: "There are plenty of willing buyers."
It is important to note that a lot of emotional and inflammatory statements are going to start getting thrown around this issue. We've reached that point. But the basics of what Grubman said are totally realistic.
As we've discussed many times, it's highly doubtful that either the Wilfs or the NFL will want to remain in Minnesota indefinitely without a new stadium. And as Grubman said, there is nothing in the Minnesota political muck to suggest that the stadium would have a better chance in a special legislative session this fall or even in 2013.
State leaders are probably going to need a full-blown crisis to feel the urgency of this issue, and we can see the parameters of that crisis forming already: The specter of Wilf putting the team up for sale. I don't think Wilf wants to do that, but I also don't think he wants to continue operating the franchise in the Metrodome.
Regardless, this moment was inevitable. It's interesting that the NFL, and not Wilf himself, is sending the message. But in the end, we knew it had to come to this before anyone got any real answers.
October, 25, 2011
10/25/11
2:01
PM ET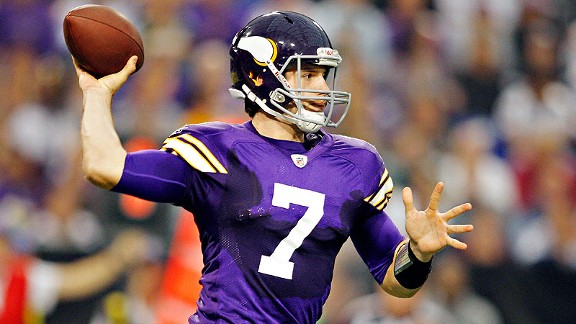 Bruce Kluckhohn/US PresswireChristian Ponder, the Vikings' 2011 first-round pick, made his first start this week.
Two ingredients are mandatory for the success of an NFL franchise.
You need a quarterback to win games and a modern stadium to make money.
And at this moment, it's uncertain whether the
Minnesota Vikings
have either.
So pardon the dramatics, if you will, but I truly believe the Vikings are entering the most critical time period in their 51-year existence.
During the month, they will find out whether the state of Minnesota will finance a new stadium or risk losing them to another market. And by the end of 2011, the Vikings should have a decent idea whether rookie
Christian Ponder
is a true franchise quarterback or just the next in a long line of short-term starters.
Check out the chart to your right. Since their inception in 1961, the Vikings have had only three quarterbacks I would consider long-term starters. Fran Tarkenton (13 seasons), Tommy Kramer (seven) and
Daunte Culpepper
(five) are the only quarterbacks to have been the Vikings' primary starter for more than three seasons.
The Vikings have filled the other 26 years with a mishmash of journeymen (Gary Cuozzo,
Wade Wilson
and
Rich Gannon
) and big-time veterans at the end of their careers (
Warren Moon
,
Brett Favre
,
Randall Cunningham
and
Jim McMahon
). Their hope is that Ponder, 23, will put an end to their annual search for a Band-Aid solution.
If first impressions mean anything, Sunday's debut performance against the
Green Bay Packers
was encouraging. Ponder threw aggressively downfield; seven of his 13 completions went for at least 15 yards. He was mobile, routinely buying extra time outside the pocket and gaining 31 yards on four scrambles. And he without question brought an energy and confidence to an offense that seemed to be treading water for the season's first six games.
"He took charge with confidence," tailback
Adrian Peterson
said. "He never seemed rattled. Just very comfortable, which is something I am very excited about. He bounced back from two interceptions and continued to go strong, which says a lot about him as a leader."
Peterson said the difference was "definitely very noticeable" and, as someone who just signed a seven-year contract extension, seemed optimistic about the franchise's future.
Smart Vikings observers know not to overreact to the emotional debut of a quarterback candidate, and there are plenty of unanswered questions about Ponder's long-term viability. After watching him float a few passes to the Packers' secondary, I would rank arm strength atop that list. But the next nine games should give us a good sense of where his career is headed.
If all goes well, Ponder will be the Vikings' quarterback when they open their next stadium. Where that facility will be located, of course, remains a topic of fierce debate both in Minnesota and in the NFL offices.
[+] Enlarge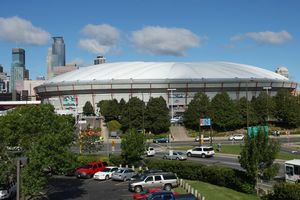 Doug Pensinger/Getty ImagesThe Vikings' lease at the Metrodome, their home since 1982, expires in less than four months.
The Vikings' lease at the Metrodome expires in less than four months -- on Feb. 1, 2012. A top league official has already acknowledged the Vikings would be free to pursue relocation options at that point, and owner Zygi Wilf has said he won't sign a short-term lease extension at the Metrodome without financing approval for a new stadium.
Without a deal in place by Feb. 1, the Vikings could technically move to Los Angeles or another market in time for the 2012 season, provided NFL owners grant approval. That timetable has finally moved a decade-long conundrum to the front burner of Minnesota politics, putting enormous pressure on a resolution -- one way or the other -- before Thanksgiving.
Gov. Mark Dayton has set a Nov. 7 deadline for settling on a project site and plan. Wilf prefers a suburban site for a project that would cost $1.1 billion, but powerful members of the business community are pushing for a site in Minneapolis. After making his recommendation, Dayton will oversee two weeks of debate and public hearings prior to a proposed Nov. 21 special session of the state legislature to vote on the final package.
Anything short of approval at that point almost certainly would push the next round of debate past the expiration of the Vikings' lease.
Would Wilf commence relocation efforts in February? Last week, NFL executive vice president Eric Grubman told
1500ESPN.com
: "[T]hey are free to explore their options and from all I know they already could be exploring their options. They do not need clearance from us."
It's more likely that Wilf would put the franchise up for sale under that scenario. Presumably, the new buyer would pursue relocation. In either event, we'll know in a matter of weeks whether that possibility will even exist. Barring an extension of Dayton's pre-holiday deadline, Judgment Day is coming for the Vikings -- both on and off the field.
October, 19, 2011
10/19/11
7:15
AM ET
We're Black and Blue All Over:
We had quite the busy Tuesday, from a
quarterback transition in Minnesota
to a
trade in Detroit
to
our SportsNation chat
to some
early work in the NFC North laundromat
. It all overshadowed a blunt message delivered by NFL officials following a stadium meeting with Minnesota Gov. Mark Dayton.

Here's what NFL executive vice president Eric Grubman told reporters about the current political climate: "We're worried about a stalemate. A stalemate means there's no lease or the lease is about to expire. There's no plan for a stadium, and there's an alternative plan in another city. That's a stalemate. And the alternative wouldn't include Minnesota. That is, in the way we look at it, a crisis."
(Coverage from
the Star Tribune
and
St. Paul Pioneer Press
.)
Vikings owner Zygi Wilf has never threatened to move the team if a stadium isn't approved, and the current thinking is that he would sell the team before it came to that. But Grubman's message should not be viewed as a mere threat. It stands to reason that eventually, and regardless of who owns the team, the NFL will move the franchise if a stadium isn't built.
There is much work to be done in Los Angeles before a team could move there, but the situation in Minnesota has obviously drawn the NFL's concern. The Vikings' lease at the Metrodome expires on Feb. 1, 2012. Dayton is hoping to call a special session of the state legislature to approve a plan for a new stadium, but to this point state legislators have yet to agree to the Vikings' proposal. Stay tuned.
Continued around the NFC North:
March, 24, 2009
3/24/09
12:00
PM ET
| | |
| --- | --- |
| | |
| | Scott Boehm/Getty Images |
| | Little progress has been made toward securing a new stadium for the Minnesota Vikings, and the team's current Metrodome lease expires in 2011. |
Posted by ESPN.com's Kevin Seifert
DANA POINT, Calif. -- There is an empty hill about 50 miles from here. A real estate magnate wants to dig into the side of it and build an NFL-sized stadium for the nation's second-largest city. He's got a Web site and preliminary local approval and everything else. All he needs is a team.
Conveniently, there is a team that plays in an outdated stadium halfway across the country. Its lease there expires in two years. Only incremental progress has been made toward a new facility, and it's now clear there won't be a new stadium to move into when the lease expires in 2011.
It's only natural to connect the dots between Ed Roski's Los Angeles Stadium project and the Minnesota Vikings, who have lobbied unsuccessfully for 10 years to secure approval for a new stadium. Isn't it possible the Vikings will go the way of the old Minneapolis Lakers and move west? Or, at the very least, couldn't that possibility provide ample leverage to motivate Minnesota politicians to action?
The answer, based on the current buzz here at the NFL owners' meeting, is no. The Los Angeles option is such a low priority for the league that it's not even on the formal agenda for this annual session, despite the geographic proximity to a possible solution. The league appears skeptical of Roski's project, which would not begin until a team formally committed to moving, and this week commissioner Roger Goodell downplayed its existence while emphasizing the necessity for Minnesotans to work it out among themselves.
"We've got a number of issues we're addressing this week," Goodell said in explaining why an NFL return to Los Angeles isn't one of them. "You know the climate we're operating under here. It's clearly a challenge. And I think as it relates to L.A., and I've said it before: Until there is a solution that works for the community and works for the NFL, we're obviously not going to pursue that."