NFC North:

Faces of lockout
June, 20, 2011
6/20/11
12:30
PM ET
The NFL lockout has put players and owners in limbo. The ripple effects also are felt by people whose lives or businesses touch their teams. Here are their stories:
You've heard of NHL players taking the Stanley Cup on tour? Last Friday,
Green Bay Packers
tight end
Tom Crabtree
took his Super Bowl ring on a tour through Green Bay. (Packers players received their rings during a Thursday night ceremony.)
[+] Enlarge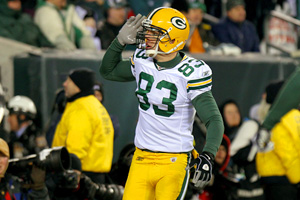 Nick Laham/Getty ImagesTight end Tom Crabtree said he felt his Super Bowl ring was "just as much [the fans'] ring as it is ours."
Crabtree announced via Twitter that he was heading to Bay Park Square Mall. "I'll be the tattooed freak with a Super Bowl ring on lol," Crabtree tweeted.
As
Michelle Tuckner of WBAY-Ch. 2 chronicled
, Crabtree doesn't have a lot of arm space left for new tattoos. But the lockout gave him plenty of time to roam the mall in a low-key and fun way. Crabtree mingled with fans, encouraged them to try on the ring and explained the significance of the design.
"I feel like it's just as much their ring as it is ours just because of the support they give us," Crabtree said, "and what they do for this team on Sundays when that stadium is packed. So it's important to give back to the fans."
I guess a cynic could find any number of alternative reasons for cruising the mall with your Super Bowl ring, but I prefer to consider this as a genuine gesture of egalitarianism that probably wouldn't happen in other NFL cities.
(Other cynics might ask, "Who is Tom Crabtree?" Short answer: He is a reserve tight end, originally signed to the Packers' practice squad in Dec. 2009, whose playing time escalated following
Jermichael Finley
's knee injury. He caught four passes in the regular season but scored a critical touchdown in the Packers' wild-card playoff victory over the
Philadelphia Eagles
.)
Earlier:
The lockout is a good thing
for semi-pro football players
. Packers quarterback
Aaron Rodgers
has
accelerated work on his music label
.
June, 1, 2011
6/01/11
11:01
AM ET
The NFL lockout has put players and owners in limbo. The ripple effects also are felt by people whose lives or businesses touch their teams. Here are their stories:
[+] Enlarge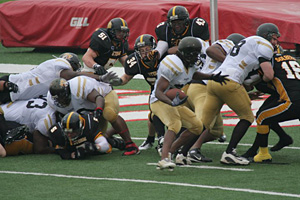 Courtesy of Hunter SvensonRunning back Riza Muhamid, 33, is the primary running back for the Minnesota Dragons of the Northern Elite Football League.
The lockout has spawned dread and disgust throughout most of this country's football landscape. Most. In some areas, it has sparked hope and forced us to remember why people play this game.
Brad Svenson, for one, has been planning to capitalize on the lockout for more than a year. Svenson, who owns the
semipro Minnesota Dragons
of the
Northern Elite Football League
, has tried to position his team as a source of replacement players should the NFL decide to play games without its unionized players.
Svenson secured the Metrodome as the Dragons' 2011 home field, a plan since scuttled by the building's roof collapse, and has built a relationship with the sizable stable of former
Minnesota Vikings
players who live in the Twin Cities. His coach is former Vikings cornerback Rufus Bess, who has led the Dragons to a 4-0 start this season. In previous years, former Vikings defensive end
Willie Howard
was in charge.
The NFL used replacement players for three games during a 1987 strike, but the chances of replacement games in 2011 appear remote. Commissioner Roger Goodell has consistently downplayed the idea. Even without replacement games, the lockout means potential opportunity for businessmen like Svenson and other owners in the 12-team NEFL.
"From a marketing standpoint, a lockout is great for me," Svenson said. "I tell people, 'This may be your only chance for football.'"
The NEFL has teams throughout Minnesota and Wisconsin for a 10-game schedule that ends in August. Crowds of up to 3,000 have shown up for games in western Wisconsin. Players pay an equipment fee of up to $300 and are subject to NCAA rules for amateurism because some players still have college eligibility. Indeed, the Dragons have players ranging in age from 18 to 40.
You could view the NEFL as an idealized form of what has very clearly become a business in the NFL.
I'm sure semipro players love the game; otherwise, they wouldn't subject themselves to twice-weekly practices and the punishment that goes with once-weekly games. And there is no doubt that some dream of an NFL scout wandering over to a game and discovering them.
[+] Enlarge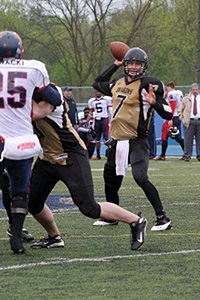 Courtesy of Hunter SvensonDragons quarterback Jason Johnson, 7, played high school football in the Twin Cities and then at Division II Charleston (W. Va.).
Many of them are like Dragons quarterback Jason Johnson, a former Twin Cities high school star who played at Division II Charleston (W.Va.). "We have players who are playing with no health insurance and part-time jobs," Johnson said, "just because they are chasing a dream or because they love playing the game for fun."
In the end, of course, semipro players are more likely to get a tryout with the United Football League than the NFL. That's happened about 10 times in the past two years, according to Svenson. More than pursuing dreams, Svenson said, semipro football is about "the same motivation that kids have when they play.
"In the end, people want to friggin' win. They want to be part of a group of guys that got together and beat everybody in their path. That's why these guys play. We're competitive. We love winning. You play as hard as you can because that's a good feeling. My guys don't look at football in a financial sense or as a way to financial gain.
"The whole lockout is a ridiculous thing to them. We can all say the numbers, but we can't even fathom them. Our guys, all they want is a chance to play in front of a crowd, and have that feeling that goes along with winning."
June, 1, 2011
6/01/11
10:59
AM ET
By
Michael Wright
| ESPN.com
The NFL lockout has put players and owners in limbo. The ripple effects are also felt by people whose lives or businesses touch their teams. Here are their stories:
Situated across Highway 45/52, and tucked conveniently next to the campus of Olivet Nazarene University -- host of
Chicago Bears
training camp since 2002 -- T.J. Donlins fills quicker than its bartenders can pour a pint once the sun goes down over Bourbonnais, a town of 19,119 located 50 miles south of Chicago.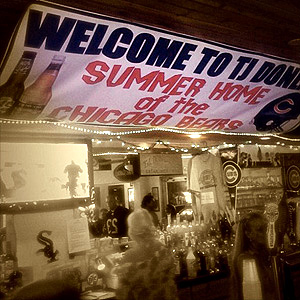 Courtesy of T.J. DonlinsBusiness typically more than doubles at T.J. Donlins during training camp.
The bar's co-owner, Tom Richmond, estimates that business picks up 2 1/2 times its normal pace in late July during training camp. But with no end in sight to this NFL lockout, camp is in serious jeopardy.
So is business at T.J. Donlins.
"Business is flat going into [training camp], but that's normal," Richmond said. "We do a nice bit during the three weeks they're here; we love them. Unfortunately, this will affect us directly. Camp is a nice spike that we have come to kind of depend on. Being a small business, it helps quite a bit. So everybody here has their fingers crossed. We hope it happens -- this lockout ends."
Football fans in the know smartly cram into T.J. Donlins during camp to cool off with beer specials, which begin at $1 and go up to the $2 Killian's pints on Tuesdays. More appealing than the cheap beer, though, is the sightseeing.
On any given night, a few coaches, players and scouts come in, graciously sign autographs, and mingle with patrons. Some hang out on the back patio deck to team up with locals for games of bag toss.
Richmond said the training camp traffic results in additional business during the season from travelers who had visited over the summer.
"The Bears have been so good to the fans. The first year or two, it was testy because they were such a novelty," Richmond said. "People bothered them to the point they couldn't even sit down. Over the last seven years, it's been good. They come out en masse sometimes. They're courteous and will give plenty of autographs."
Those good vibes could end soon, though. Richmond, who opened the bar in 1983, knows business will continue regardless of the lockout's outcome. Still, he's hoping to not have to find out what life sans training camp entails.
"Every bar in America has the NFL on their screen on Sundays. So I know there's a lot of stuff revolving around this for a lot of people, especially us," Richmond said. "I just hope they all come to a happy agreement."