August, 18, 2010
8/18/10
5:53
PM ET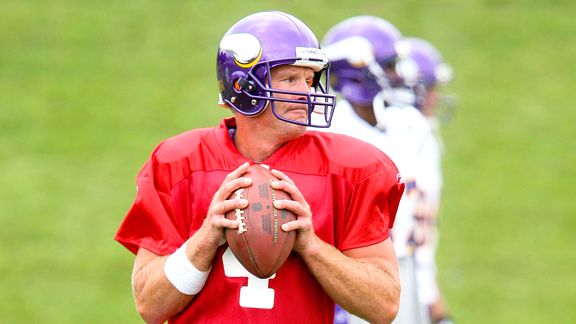 Brace Hemmelgarn/US PresswireBrett Favre doesn't feel like he has anything else to prove -- he returned to help his teammates.
EDEN PRAIRIE, Minn. -- The mission was clear,
Jared Allen
said of his trip to Mississippi this week with teammates
Steve Hutchinson
and
Ryan Longwell
.
"We needed a 'yes' or a 'no,'" Allen said. "One way or the other. We were starting to get along in this preseason and that was it."
The group carried a "message from the locker room," according to Hutchinson.
"It was clear-cut," Hutchinson said. "It was cut-and-dried: 'We're down here to find out what you want to do. The guys on this team want you here. Everybody wants you here.' Basically that's what we told him."
Ultimately, Longwell said, "we asked him to do it for the guys."
And here, based on what he said Wednesday, is what quarterback
Brett Favre
heard:
"[They] were like, 'Hey, if you could do us one favor. And that's a pretty big favor.'"
Awesome.
Brilliant.
Just beautiful, really.
I mean this in all sincerity, with no malice and (almost no) sarcasm: Only Favre could manipulate that recruiting mission into a no-lose situation for himself. That's essentially the message Favre conveyed Wednesday during his return-to-Minnesota news conference. He will play not because of his reported $16.5 million salary, not for a chance to enhance his NFL records or to prove he can play at age 41.
This season is a "favor" for the players with whom he spent five months of his 20-year NFL career, an attempt to give it "one more try" to help them win a Super Bowl. Favre, in fact, used the word "favor" six times in 33 minutes. And if it doesn't work out? It was just a favor, anyway.
"I'm not here to set any records," Favre said. "People say, 'You can do this. And you can do this.' I say, 'I've done it all. There's nothing left for me to prove.' I'm here to have fun and help these guys win."
How charitable. We all know Favre is a Super Bowl quarterback and a future Hall of Famer. Who knew he was a world-class philanthropist as well?
Kidding aside, I consider Favre's interpretation of his mission to be precious insight into his psyche and a fascinating explanation for why he returned. The player on whom the Vikings are resting their Super Bowl hopes needed to convince himself that no result to this season would be a personal failure.
If that wasn't obvious from his comments Wednesday, consider the way Longwell described the final 30 minutes of the Mississippi visit. Prior to that point, Longwell said, all three teammates thought Favre's final decision would be to retire.
"He had given us, speaking from the heart, kind of a legit, 'This is why I'm where I'm at,' and we all felt that it was sound reasoning," Longwell said. "Finally in that last half hour we all kind of spilled our guts about, 'It's not about the touchdown passes and the wins and losses and stuff but would you do it just for the guys?
"'It elevates the whole locker room, elevates the whole community, the whole state, just you being there. Not even throwing passes, not even getting under center, just you being there. Would you do it for the guys?' He had said over the night and the day that the one thing he missed was the guys. That was the one thing, the common theme through everything and so we spilled our guts, we were sitting there in his jeep and he said, 'All right let's go do this.'"
I don't doubt that Favre enjoyed his time with the Vikings last season, and you could do a lot worse than teaming up with men like Longwell, Hutchinson and Allen. But with all due respect to them, what finally swayed Favre was an appeal to help by simply showing up. Anything he accomplished beyond that would be gravy.
The reality, as we all know, is that Favre represents the difference between the Vikings contending for the playoffs and for the Super Bowl. But what Favre himself needed to hear is that he would be an accessory, not the foundation. I found it a fascinating combination of bravado and insecurity, all rolled into one. You wouldn't have Brett Favre without both.
August, 18, 2010
8/18/10
4:40
PM ET
EDEN PRAIRIE, Minn. -- I appreciated two comments Wednesday from
Minnesota Vikings
coach Brad Childress.
The first was his apology for having two assistant coaches
misrepresent
the absence of three key players from Tuesday's practice.
The second was a word of advice for the
New Orleans Saints
, words that will no doubt come in handy on this blog as we approach the teams' Sept. 9 season opener.
Asked whether he thought quarterback
Brett Favre
could absorb the kind of pounding he took from the Saints in the NFC Championship Game, Childress said: "He knows there somewhere he's going to get knocked on his keister. That's going to happen. As long as we're doing it in the spirit of the rules, he's all good with it and I'm all good with it. In terms of not doing it that way, hey, everybody talks about hitting the quarterback. Let's just hit him the right way."
Asked then if he thought the Saints unduly punished Favre in that game, Childress said: "In my opinion, yeah."
To be honest, there isn't much to argue here. The Saints were called twice for unsportsmanlike conduct on hits to Favre, and the
NFL later admitted
there should have been a third. On that play, defensive end
Bobby McCray
twisted Favre's ankle and pulled him down from behind.
I could be wrong, but I'm guessing Childress' complaint won't be enough to curb the Saints' aggression. We'll see soon enough. To be continued.
August, 18, 2010
8/18/10
4:02
PM ET
EDEN PRAIRIE, Minn. -- Hopefully you got a chance to follow the
Minnesota Vikings
' news conferences Wednesday via our new-fangled "
Brett Favre Live
." If not, here is a quick version of what jumped out to me:
Favre claimed this will be his last season, and coach Brad Childress said he believes it. I'm only rolling one eye at this point. Favre noted the pending 2011 lockout, and the possibility that the Vikings' aging roster could be "dismantled." Both reasons actually make sense. If it means no FavreWatch 2011, well....
Favre kept returning to the word "favor" to his teammates. "One more try," he said of winning the Super Bowl with this group. It was a brilliant tack and one I will explore more on the blog in a bit. It puts him in a no-lose situation this season. If it works, great. If not, all he was trying to do was a favor, anyway.
In all, Favre talked for a little more than 33 minutes but answered only eight questions. What a filibuster!
The three players who traveled to Hattiesburg, Miss., on Monday and Tuesday said their primary mission was to "get an answer." Quotes from guard Steve Hutchinson, defensive end Jared Allen and place-kicker Ryan Longwell were all pretty similar.
Childress apologized for putting offensive coordinator Darrell Bevell and special teams coordinator Brian Murphy in front of reporters Tuesday to misrepresent that trio's trip. "I shouldn't have done that," Childress said.
More to come.
August, 18, 2010
8/18/10
3:25
PM ET

Brett Favre talks about his decision to return to the Minnesota Vikings.
August, 18, 2010
8/18/10
1:25
PM ET
By
ESPN.com staff
| ESPN.com
Join us at 1:30 p.m. ET to chat live about the latest in the
Brett Favre
saga. Favre is scheduled to speak immediately following the
Minnesota Vikings
' afternoon practice, and we'll have all the latest updates live from NFC North blogger Kevin Seifert on the scene.
August, 18, 2010
8/18/10
1:00
PM ET
We're going to try something a little different Wednesday when
Minnesota Vikings
quarterback
Brett Favre
steps to the podium for an afternoon news conference.
A live chat module will appear on the blog at about 1:30 pm. ET, where we can all gather to discuss the events of the past 24 hours. The discussion will continue at least through Favre's news conference, which is estimated for 2:45 p.m. ET. I'll be jumping in as often as I can.
We're calling it "Brett Favre Live." See you there.
August, 18, 2010
8/18/10
6:53
AM ET
Good early morning to you and yours. Before we really get started Wednesday, let's address
one of the FavreWatch questions
we left unanswered Tuesday. The
Minnesota Vikings
are planning to give quarterback
Brett Favre
a substantial pay raise now that he has apparently returned for a second season.
According to
Judd Zulgad of the Star Tribune
, the Vikings plan to increase his base salary from $13 million to $16.5 million for 2010. He also will have the opportunity to earn another $3.5 million in incentives, meaning he has the chance to earn up to $20 million this season.
But it's
not about the money
, of course.
The contract has yet to be filed to the NFL, so nothing is official yet. But these numbers mesh with what I have heard as well. It's a relative drop in the bucket, but nevertheless notable on a team that has three starters entering the final years of their contracts: linebackers
Chad Greenway
and
Ben Leber
, along with defensive end
Ray Edwards
. No known discussions are under way with any of those players, nor do the Vikings appear close to deals with another trio of players who have made noise about a possible extension: running back
Adrian Peterson
, receiver
Sidney Rice
and tight end
Visanthe Shiancoe
.
Meanwhile, ESPN's Rachel Nichols provided an outline for the pitch Favre received from teammates
Steve Hutchinson
,
Jared Allen
and
Ryan Longwell
. According to Nichols, the trio grilled steaks with Favre at his home Monday night and ate a breakfast casserole provided by Deanna Favre on Tuesday morning.
Longwell said the group told Favre, "Let's do this one more year."