NFC North:

Favre retires 2010
August, 4, 2010
8/04/10
1:01
PM ET
Twenty-four hours later, we are back where we started. (Well, almost.
Brett Favre
is probably going to have
some extra coin
in his pocket when it's all said and done.)

Favre
Favre is going to be the
Minnesota Vikings
' quarterback this season
as long as his surgically repaired ankle feels up to it
. That's no different than anything we've discussed over the past few months. He'll get an update on his progress next week from orthopedic surgeon Dr. James Andrews, and a favorable evaluation would put him on track to report to Minnesota the following week -- which, coincidentally, is when the team will break training camp and return to its home practice facility in Eden Prairie, Minn.
Isn't that what we've always thought?
Look, I am very certain that Favre sent text messages to teammates earlier this week suggesting that his ankle wasn't at the point where he would feel comfortable playing. He did the same thing last summer as he recovered from arm surgery, and that's why I
cautioned everyone against drawing any final conclusions
from it. Newsflash: Favre's decision making process is unique and it changes minute-to-minute.
We had some fun in the interim. Obviously, there are no guarantees that Favre will play. If nothing else, this episode was a reminder of the tightrope the Vikings agreed to walk when they stood pat at quarterback this offseason. I think they made a pretty decent bet, but they had to go all in to do it.
They're squirming a bit,
as we suggested they might
. They haven't gotten an "absolutely, yes" and the start of the regular season is a month away. Now I think we can all agree that no matter what the Vikings might say publicly, they realize the fate of their 2010 season depends on Favre's health (and relatively timely) return.
That's why it took only 24 hours after the latest barrage of text messages for the Vikings to offer him a nearly 20 percent raise for 2010, with incentives that could make it a 35 percent raise. If they were as comfortable with
Tarvaris Jackson
as they claim to be, they wouldn't be so quick to open the vault.
You can believe what you want about the events of the past few days, but in the end this is all part of the deal you make when you decide you want Brett Favre, circa 2010, to be your starting quarterback. It all happened, and it all leads to the same conclusion: The odds remain strongly in favor of Favre returning to Minnesota for the 2010 season.
August, 4, 2010
8/04/10
11:58
AM ET
By
ESPN.com staff
| ESPN.com
Brett Favre
told ESPN's Ed Werder that he has not made any decision about returning for the 2010 season and
says he will play if healthy
.
Favre denied that he has sent text messages to any Vikings personnel saying he is retiring.
Asked if money was a factor, Favre said this is not about money.
August, 4, 2010
8/04/10
10:00
AM ET
We've tapped into a number of statistical services in recent years, and two of them are offering us interesting takes on the impact of quarterback
Brett Favre
's career decision on the
Minnesota Vikings
. I'm not coming off my take that Favre will eventually return to Minnesota, but these numbers help explain exactly why there was so much hubbub about his plans.
AccuScore, which uses digital profiles of players and coaches to run 10,000 simulated seasons at a time, gives the Vikings a 91 percent chance of making the playoffs if Favre is their quarterback in 2010. Without him, they put the Vikings' playoffs chances at 53 percent. See the chart below:
Just as interesting, especially from a fantasy standpoint, is AccuScore's projections for the Vikings' top three receivers if someone other than Favre is throwing to them this season. Below are their findings:
The biggest statistical reason for the slip is erstwhile starter
Tarvaris Jackson
's relatively low career completion percentage of 58.7 AccuScore projects Jackson's 16-game completion percentage in 2010 at 56.6.
Bill Barnwell of Football Outsiders
took on a similar task as part of an ESPN Insider column. You'll need a subscription to read all of what Barnwell wrote, but I can tell you he projects Jackson with a 60.9 completion percentage.
As always, I caution you to remember that these are statistical projections. At the same time, however, they are based on the totality of each player's career history. Players can always divert and/or improve from their past, but it would be just that: A change of course. So take it for what you will, and carry on.
August, 3, 2010
8/03/10
3:12
PM ET
Minnesota Vikings
coach Brad Childress held a longer-than-usual post-practice meeting Tuesday with players, and
Tom Pelissero of 1500ESPN.com
suggests that Childress instructed players on what to say -- and what not to say -- about
Brett Favre
's possible retirement.
Most players claimed to know nothing, so thank goodness for tight end
Visanthe Shiancoe
-- who offered a raw and honest assessment of the situation during an
appearance on ESPN Radio

.
First of all, Shiancoe said: "What I'm hearing is that it is true, that he did decide to retire. But until I hear it from his mouth, I'm going to leave it at that."
Shiancoe also made no attempt to carry the company line on how Favre's retirement might -- or might not -- impact the Vikings' season.
"It's something the team doesn't want to hear," Shiancoe said. "I'm going to be real with you. It would be a blow to the team. But at the same time, if this [is] his decision, it's something that we're going to accept and something that we're going to back him on it, because I'm sure there would be strong reasons."
Shiancoe admitted that all the clues "told me that it was going to be a repeat of last year when it came to the personnel. I thought he would come back."
Be sure to give the entire podcast a listen. Shiancoe also appeared on SportsCenter in the video below.
August, 3, 2010
8/03/10
2:51
PM ET
OK, the prevailing theory on this blog -- and, apparently, around the NFC North -- is that
Brett Favre
will put on a
Minnesota Vikings
jersey at some point this year. All of this is uncharted territory, of course. But as long as we're just talking among friends, let's address some of the early theories making the rounds:
[+] Enlarge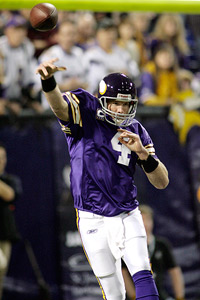 AP Photo/Andy KingHas Brett Favre really thrown his last NFL pass?
"It's always about money"
Comment:
That's what David Canter, a well-known player agent,
tweeted earlier today
. Canter added: "He knows that Vikes are desperate. No doubt they'll sweeten the pot and he'll break the bank. Uncapped year. 20mil." Indeed, the Vikings wouldn't be an encumbered by any salary cap if they want to give Favre more than the $13 million he is scheduled to receive. We don't have any reason to think Favre simply wants more money, but he has more leverage than any player in the NFL right now. He also has an owner who never shuts off the money spigot when it comes to player salaries. Why not take advantage?
Chances of reality: 50 percent.
The ankle is worse than he thought
Comment:
When is the last time a quarterback threw with his foot? I just don't buy that as a legitimate reason why Favre wouldn't play this season. It might well be the reason Favre isn't in training camp now, but I can't see it as more than a secondary issue.
Chances of reality: 30 percent
He's a drama queen
Comment:
It's an interesting thought, especially when you consider the possibility of Favre eventually riding back into town as the savior of a team that struggled through the preseason or started the regular season, say, 1-2. Remember, the Vikings' bye week comes in Week 4. Perfect.
Chances of reality: 60 percent.
Feel free to add your theory in the comments section below.
August, 3, 2010
8/03/10
2:20
PM ET
By
Scouts Inc.'s Matt Williamson
| ESPN.com
So it seems as though
Brett Favre
will not be quarterbacking the
Minnesota Vikings
this season. If Favre does indeed retire,
Tarvaris Jackson
will be behind center for Minnesota. If Jackson struggles -- which certainly is not farfetched -- the ever inconsistent
Sage Rosenfels
could make an appearance. But for the sake of this article, let's assume that Jackson will be the opening day quarterback. How would this change Minnesota's offense? The answer, in a nutshell, is drastically.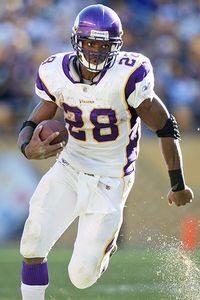 Jason Bridge/US PresswireIf Brett Favre retires, Adrian Peterson again becomes the focus of the Vikings' offense.
The first logical thought is that the onus of the offense will be placed on
Adrian Peterson
and, to a much lesser extent, rookie running back
Toby Gerhart
. When you have an amazing football player like Peterson, you use him. He is capable of putting any offense on his back, and on many occasions I have referred to him as the best running back in football. But his offensive line was among the worst run-blocking units in the league last season and the Vikings really haven't done much to upgrade that personnel up front.
Future Hall of Fame left guard
Steve Hutchinson
was not himself physically as he was battling an injury, but even at 100 percent Hutchinson is not nearly the player he was in his prime. But a healthy Hutchinson will help open holes for Peterson.
The rest of the line didn't get it done in 2009 and probably won't in 2010. Right tackle
Phil Loadholt
could take a step forward in this capacity in Year 2 of his development and maybe more of a fire will be lit under left tackle
Bryant McKinnie
, but that also might just be wishful thinking. And, of course, with Favre no longer behind center, every defensive coordinator in the league is going to dedicate his team's respective resources to shutting down Peterson.
But Peterson could play a little better, too. Of course, his fumbling is well-documented, but it could be corrected. He also didn't press the hole as he did earlier in his career. Peterson's role as a pass-catcher has been growing as he gains experience in this area of his game. It should take another major step forward as a dump-off receiver for Jackson, especially with pass-catching running back
Chester Taylor
now in Chicago.
Peterson is very special, and when on his game he will be able to run effectively against nearly any defensive front. But those around him are my concern.
And then there is the passing game. Jackson's lack of accuracy to all levels and poor feel for reading and manipulating coverages is a massive problem. It's also a problem that the Vikings did not have when Favre was taking the snaps. Jackson isn't really built to be a game manager, but that is exactly what he must become. More designed quarterback movement out of the pocket, quick, safe throws, play-action -- these are the things Jackson needs to improve upon (in addition to his overall accuracy and feel for coverages) to keep the chains moving for the Vikings.
Jackson will have weapons -- serious weapons, assuming that wide receiver Sidney Rice's hip is not a lingering problem. Sure, Favre enhanced what Rice and
Percy Harvin
bring to the table, but both players also have vast ability. Rice is comparable to
Larry Fitzgerald
in his ability to use his height and exceptional body control to go up and snatch the football at its highest point. That should make up for some of Jackson's shortcomings. And Rice can really get downfield. With teams stacking the box to stop Peterson, Rice should see favorable coverage in the intermediate and deep zones. But can Jackson deliver the football to him in these circumstances? I have my doubts.
Harvin is only at the tip of the iceberg in his development. Remember, Harvin was more running back than wide receiver at Florida and should only improve in every facet of playing wideout. His talent is off the charts. Not only is he extremely fast, quick and laterally explosive, but Harvin is well built, strong and runs like a running back with the ball in his hands. I think Harvin can revolutionize the slot position and take it even a level further than what
Wes Welker
has achieved in New England. But to operate efficiently from the slot, very quick decisions must be made on option routes by both Harvin and Jackson. I have little doubt that Harvin will succeed in this capacity, but again, I have my doubts about Jackson.
Scouts Inc. watches games, breaks down film and studies football from all angles for ESPN.com.
August, 3, 2010
8/03/10
1:33
PM ET
ALLEN PARK, Mich. -- Regular blog readers are no doubt loving the fact that a
Brett Favre
story has surfaced during my annual trip to
Detroit Lions
camp for the second consecutive year. But while ignoring my near-constantly ringing cell phone, I stole a few minutes Tuesday afternoon with Lions quarterback
Matthew Stafford
-- who had an interesting response to initial reports that Favre won't play for the Vikings this season.
"I grew up watching him," Stafford said. "He's unbelievable. I kind of want him to come back because I want to play against him again. He got me twice last year. I want to see if I can get him before he gets out of here."
Stafford, still a relative youngster in the NFL, offered a straight answer to the question. But early reaction around the NFC North has been filled with the same kind of skepticism that
we expressed earlier
. My ESPNChicago.com colleague Jeff Dickerson
checked in with this reaction
from Bears linebacker
Lance Briggs
and tight end
Desmond Clark
:
Briggs: "I won't believe it until I see Tarvaris Jackson starting against us. If he's starting, we'll go from there. Either way, we still got a job to do."

Clark: "Right now, I don't believe any news that comes out about Favre until it's made official. If he does retire, Minnesota is still a good team. Of course, they're better with Brett Favre, but you look at all the parts they have there, they could still be a championship team without Brett Favre. They have a great running game. Their receivers stepped up last year, especially Sidney Rice. You look at their defense, they still have all the parts. They still may be looked at as the favorites in the conference without Brett Favre. I don't think it drops them down the rung too much."
In Green Bay, linebacker
Nick Barnett
said: (via
Chris Jenkins of the Associated Press
: "It's like believing in Santa Claus. You get gifts, but you ain't seen Santa Claus. So we don't know."
Barnett added (via the
Milwaukee Journal Sentinel
): "We were going to do the same thing without him coming back or not. But do I believe it? I don't even know if I care enough to believe it or not to be honest. It's his career, he's got to do what he's got to do. But it doesn't change nothing for us. We're going to have the same goal whether it's Tarvaris, Jeffrey Dahmer or Norman Bates quarterbacking. We're still trying to do the same thing."
I can't imagine why he would think that.
August, 3, 2010
8/03/10
12:44
PM ET
Here is one thing I think we can conclude from Monday's reports that
Brett Favre
won't play in 2010: The
Minnesota Vikings
really did take a blind leap of faith by standing pat this offseason at the quarterback position. I always assumed they had some kind of handshake agreement to report sometime in mid-August, but it's now clear that the Vikings were just like the rest of us in assuming that Favre would eventually come around and play another season.
[+] Enlarge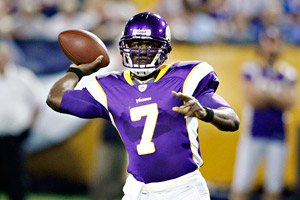 Bruce Kluckhohn/US PresswireIn line to take over for Brett Favre, Tarvaris Jackson attempted just 21 passes last season.
Vikings coach Brad Childress said Tuesday afternoon that Favre hadn't told him he planned to retire and called the decision "fluid." So all bets are off right now. It's clear the Vikings are going to fight until the end.
Why?
They have no choice.
As we
noted last month
, the Vikings put themselves in position to walk a dangerous tightrope with Favre, leaving their 2010 fortunes in the hands of a man who might not have been as predictable as they thought. They refused to enter the bidding for a very available
Donovan McNabb
, did not draft a quarterback who will be ready to play anytime soon and crafted a backup plan that called for them to start the quarterback whose slow development necessitated Favre's arrival in the first place.
As we
discussed a few minutes ago
, I consider the Vikings to be walking the tightrope in the present tense. It's silly to consider this story done.
Even if it is, I won't change my predicted order of finish in the NFC North:
1. Green Bay Packers
2. Minnesota Vikings
3. Chicago Bears
4. Detroit Lions
What I will say, however, is that if Favre does in fact retire, the Vikings will have been grossly negligent for placing so much of their faith in him without a better alternative. I think they will be the second-best team in the division with
Tarvaris Jackson
, but I wouldn't call them a lock for the playoffs. Don't forget that it was
Gus Frerotte
, not Jackson, who put the Vikings in playoff position two years ago by winning eight of his 11 starts.
Jackson reclaimed his starting job at the end of that season but
succumbed to the pressure
of a wild-card playoff game against the
Philadelphia Eagles
.
Even if he has matured and developed since then, nothing about Jackson's four-year career suggests he's ready to take over a playoff-caliber team and take it to the Super Bowl. And let's not even discuss
Sage Rosenfels
, who has had such a rough training camp that the Vikings might have had a hard time trading him if and when Favre returned.
So a Favre retirement would leave the Vikings right where they were two years ago, with a talented veteran team missing a quarterback that can take it to the Super Bowl. Actually, they would be worse off. All of the talented veteran players are two years older. And there hasn't been a Super Bowl yet.
Now you know why Childress considers the situation fluid. The alternative isn't pretty.
August, 3, 2010
8/03/10
11:42
AM ET
ALLEN PARK, Mich. -- You have my permission to be skeptical of
Brett Favre
's apparent
intention to retire
rather than play this season for the
Minnesota Vikings
. I know I am.

Favre
Favre deserves nothing but our skepticism, especially after announcing his retirement in March 2008. And July 2009. And, privately, several more times in between. Someday, it will be for real. But the only way we'll know that is if the season comes and goes without Favre in uniform. We're six months from that eventuality.
It's true, there might be more going on than we know. But this roller coaster is turning into a joke. I'm here at the
Detroit Lions
' training camp -- amazing, isn't it? -- and the first five Lions people I talked to all expressed the same reaction that you and I have.
As in, let's just wait a minute and see whether this really plays out the way it's being suggested it might.
Remember, Favre began texting Vikings players and coaches in July 2009 with the news that he would retire. He formally told coach Brad Childress the same thing on the eve of training camp, and within days he was texting Vikings players and asking them how camp was going.
By mid-August, he was on the practice field.
History can't always be our guide, and I'm sure some of you probably think I'm just in denial. Trust me, I'm not. You're not using your capacity as an intelligent human being if you don't have deep, deep reservations about the sincerity of Favre's mindset right now.
His status will be day-to-day until all 32 NFL teams don't want him to play for them. As long as there is one, just one, he remains a possibility to be in uniform.
Of course, we have to consider both sides of this. I'll be back shortly with some thoughts on where the Vikings, and the rest of the NFC North, will be if Favre indeed doesn't play this season. But, please, hold your breath on that one.
August, 3, 2010
8/03/10
11:28
AM ET
By
ESPN.com staff
| ESPN.com
Brett Favre
has informed the Vikings that
he will not return for another season in Minnesota
, the Star Tribune reported Tuesday.
Favre has sent text messages to teammates saying, "This is it," league sources told ESPN NFL Insider Adam Schefter.
Neither Favre nor the Vikings have confirmed the news but a press release is expected Tuesday, the sources said.
The Associated Press also reported that Favre is saying that he's not returning this season.
The Vikings' ownership is holding its annual meeting at training camp Tuesday morning.