October, 21, 2013
10/21/13
3:40
PM ET
LAKE FOREST, Ill. -- The
Chicago Bears
have released tight end
Steve Maneri
to make room on the 53-man roster for veteran quarterback
Jordan Palmer
, who is en route to Chicago to take a physical, Bears general manager Phil Emery told reporters at Halas Hall on Monday.
If Palmer passes the physical, as expected, he will sign a contract to serve as the Bears' No. 2 quarterback behind
Josh McCown
for as long as starting quarterback
Jay Cutler
is sidelined with a groin tear -- the team announced Cutler will be out a minimum of four weeks and will then be evaluated week-to-week. Palmer impressed the Bears during his stint with the club in the preseason but failed to make the final cut as the organization decided to carry just two quarterbacks on the active roster.
Palmer completed 11 of 17 passes for 111 yards and a touchdown in the Bears' preseason finale versus the
Cleveland Browns
.
Maneri signed a two-year contract with the Bears in March after starting eight games for the
Kansas City Chiefs
in 2012. Maneri began the year on the club's active game-day roster but had been inactive the past three weeks.
Maneri's departure leaves the Bears with only two tight ends currently on the roster --
Martellus Bennett
and
Dante Rosario
. However, the Bears could choose to elevate 6-foot-6 tight end
Fendi Onobun
from the practice squad if the team is concerned about depth at the position. That would require a corresponding roster move.
The Bears also terminated the practice squad contract of wide receiver
Ricardo Lockette
on Monday, according to Emery.
September, 1, 2013
9/01/13
4:00
PM ET
The
Chicago Bears
agreed to terms Sunday with seven practice-squad players, including former Texas A&M quarterback Jerrod Johnson, who worked out last week for the team at Halas Hall.

The club also claimed defensive end David Bass off waivers from the
Oakland Raiders
, sources confirmed.
The team released five of the seven players signed to the practice squad on Saturday, a group that includes linebacker
Jerry Franklin
, cornerback Demontre Hurst, tight end
Fendi Onobun
, fullback Harvey Unga and defensive end Aston Whiteside. Johnson and former Fort Valley State receiver
Ricardo Lockette
complete the group. But there's still one spot remaining on the practice squad.
The addition of Bass means the club needs to make room on the roster, which might jeopardize the status of reserve defensive ends
Cheta Ozougwu
and rookie sixth-round pick
Cornelius Washington
. There's a possibility the Bears could release Washington and later re-sign him to fill their final spot on the practice squad.
A rookie seventh-round pick of the Raiders, Bass (6-foot-5, 256 pounds) played collegiately at Missouri Western, where he racked up 11.5 sacks during his senior season. Bass also posted a sack in the preseason for the Raiders.
As for Johnson, the Bears added a developmental quarterback to groom behind
Jay Cutler
and
Josh McCown
. Johnson has spent time with multiple NFL teams (Philadelphia, Pittsburgh and Seattle), and has also played in the defunct UFL, where he was the No. 1 overall selection of the Hartford Colonials.
At Texas A&M, Johnson became the school's career leader in total offense (8,888 yards) and passing yards (8,011 yards), but came into the league in 2011 as an undrafted free agent with the Eagles.
August, 31, 2013
8/31/13
6:30
PM ET
Most significant move:
Despite
J'Marcus Webb
making 44 starts in 46 career games, including 32 consecutive starts at left tackle over the last two years, the Bears made the decision to part ways with him, even after reducing his salary to the league minimum for a veteran with three years of tenure.

Webb entered the offseason as the starter at right tackle, and stayed in that spot through the early part of training camp. Then, after the preseason opener at Carolina, the club demoted Webb to the second team behind rookie fifth-round pick
Jordan Mills
.
The demotion put Webb in competition for a backup role with veterans
Jonathan Scott
and
Eben Britton
. A five-year veteran, Britton has 30 games of starting experience on his résumé, but also possesses more versatility than Webb because of his ability to kick inside to guard and center. Scott hasn't played all preseason, and recently underwent a procedure on his knee. But the team is confident that even a dinged-up Scott is more reliable than a fully healthy Webb.
Webb possesses the physical skillset to be a starter in the NFL for several years, but lacks motivation and passion, which is a no-no for general manager Phil Emery and the new coaching regime. The new staff worked diligently to coax out the best in Webb, but couldn't do it consistently enough for the team to feel confident in the three-year veteran, even as a backup.
Good outing, bad result:
Quarterback
Jordan Palmer
performed well in the preseason finale against Cleveland despite little preparation after signing as an injury replacement for Matt Blanchard. But a 64.7 completion percent and a passer rating of 102.8 with a touchdown pass in his preseason debut wasn't good enough to keep the Bears from cutting Palmer.
A big part of that was the team's reported desire to sign a third quarterback with practice-squad eligibility. Palmer doesn't have any practice-squad eligibility remaining.
What's next:
With the 53-man roster finalized, the Bears will start to build their practice squad. If the club wants to bring back some of the players it cut, it will have to wait until they clear waivers. The Bears will likely be looking to add a few players cut from other teams to their practice squad, too.
Bears cuts:
QB:
Trent Edwards
,
Jordan Palmer
. RB:
Armando Allen
. OG: Dennis Temple,
Edwin Williams
. LB:
Jerry Franklin
,
J.T. Thomas
. WR: Brittan Golden,
Terrence Toliver
, Josh Lenz. OT:
J'Marcus Webb
,
Cory Brandon
. DT:
Corvey Irvin
, Christian Tupou. S:
Tom Nelson
,
Brandon Hardin
. LS: Brandon Hartson. CB: Demontre Hurst. TE:
Fendi Onobun
. FB: Harvey Unga. DE: Aston Whiteside,
Josh Williams
.
Note:
Brandon and Irvin received injury settlements. Hardin was waived/injured, which means if he clears waivers, he'll revert to Chicago's injured reserve.
August, 30, 2013
8/30/13
9:03
AM ET
CHICAGO -- The scene in the locker room minutes after the Bears concluded the preseason finale against Cleveland included several handshakes, pats on the back and man hugs saying goodbye.
Apparently the Bears don't plan to waste time in cutting the 22 players needed to get down to the mandatory 53-man roster limit before Saturday's 3 p.m. CST deadline.

"We'll be at it bright and early tomorrow," Bears coach Marc Trestman said. "(General manager) Phil (Emery) and I will sit down early in the morning, (and make decisions) based on the information we gathered from the tape and from the other coaches. It will be a collective process to make those decisions that work out to be the final 53."
Several players made strong cases during Thursday night's 18-16 loss to the
Cleveland Browns
. Others only reinforced decisions the club had already planned on making. Trestman mentioned that he didn't think "anyone played themselves out of the roster tonight," but the truth is quite a few didn't exactly play themselves onto it, either. Over the next several hours, there's a good chance the team will start bringing players into Halas Hall to begin cuts.
Here's a sampling of what some of the on-the-bubble players had to say in pleading their respective cases.
RB Armando Allen:
"To me, the reality is you don't have control over the decision being made. So for me, it's just I've just got to stay positive and keep my mind focused and in the right mindset for whatever comes next. Did I feel like I did enough? I'm probably one of my biggest critics. I feel like there's a lot of things that I could have done better. If I was pitching myself, for me, it's just simple. I come to work hard every day; great individual. I know the plays, (and) I'm a great special teams player. So, that's about all I can say. My work speaks for itself."
RB Michael Ford:
"You can't get into the coaches' head. You've got to let the coaches coach and do what they do. The only thing we can go out there and do is play and play hard. I gave it my all. I went into practice and gave it my all, and went into the games and gave it my all. I really can't worry about it. When you give it your all and did everything you could, you can't worry about it, because you know you gave 100 percent at what you did."
WR Joe Anderson:
"I've always felt confident. I believe in myself regardless of who else does. When you believe in yourself, you win. I believe in me. If you ask me, I believe I made this team. But you never know what someone else is thinking. So I just come to work every day and do my job. I control what I can control, (and) that's what I do on the field. So upstairs, that's their job. I'm gonna let them do their job, and I'll do my job."
OL Eben Britton:
"I feel good about it. I feel really good about it. Yeah, I feel like (I made this team). I'm not the type of guy to beat my chest too much, but I was really proud of myself just about how I approached the whole camp, and what I got out of it. I feel the best I've felt in years. It was a great training camp for me, and I feel really good about the future. Now, I feel like I do things without even thinking about it anymore. It's just starting to become natural because that's what (offensive coordinator Aaron) Kromer has taught us every day. Even since back in April, I just kept working on the techniques we were taught in the run game and the pass game, stayed focused, and I just feel really good about how far I've come since getting here."
August, 30, 2013
8/30/13
12:58
AM ET
CHICAGO –
Jordan Palmer
made a strong case to enter the regular season as the Chicago Bears' No. 3 quarterback with a smooth first-half performance Thursday against Cleveland when he completed 11-of-17 passes for 111 yards and one touchdown, for a passer rating of 102.8.
Palmer
In fact, Palmer deserved to finish with better numbers in a game the Bears lost
18-16
. Chicago receivers dropped at least three throws that would have otherwise resulted in completions.
Bears head coach Marc Trestman previously stated that his preference has always been to keep three quarterbacks on the 53-man roster, and if that philosophy holds true over the next two days, it would be hard to imagine the club cutting ties with Palmer after it finalized an injury settlement with Matt Blanchard on Tuesday.
Trestman sounded impressed that Palmer was able to learn the offense in such a short period of time. The former
Cincinnati Bengals
and
Jacksonville Jaguars
quarterback signed with the Bears on Aug. 17 and was pressed into action a mere six days later when he played the fourth quarter in the Bears' third preseason game in Oakland.
With more time to prepare for the preseason finale, Palmer had command of the offense, despite throwing the ball to receivers that are bound to get cut before Saturday's deadline to trim the roster to 53.
"It says a lot about his preparation," Trestman said of Palmer's effort Thursday night. "He came in here; he dug in; he has learned a lot of the offense and spent a lot of time, on his own, trying to assimilate all of it. I'm happy for him that he came out and played very efficiently for us."
Palmer's second-half replacement,
Trent Edwards
, passed for more yards (135) but had a more difficult time moving the offense down the field. Some of that, obviously, was due to the personnel on the field and substandard pass-protection. Edwards also had a ball go through the hands of tight end
Fendi Onobun
that resulted in an interception return for a touchdown. However, some of Edwards' throws didn't appear to be as sharp as Palmer's, but it is tough to be overly critical of a quarterback who's throwing to third-team wideouts and playing behind reserve offensive linemen.
But in the battle of backup quarterbacks Thursday, Palmer emerged as the winner. The next question is whether or not that earned him the opportunity to join
Jay Cutler
and
Josh McCown
on the Bears' Week 1 depth chart.
August, 29, 2013
8/29/13
11:30
PM ET
CHICAGO --
J'Marcus Webb
's fortunes seemingly turned as quickly as the defensive ends in recent years rounding the corner past him for sacks.
Having started 32 consecutive games at left tackle, Webb entered training camp as the first-team right tackle. In a matter of days, though, Webb could be among the team's cuts as it whittles down to 53 players.
After taking a demotion and a pay cut recently, Webb was among the bottom-of-the-roster types featured Thursday night in Chicago's
18-16 loss
to the Browns, struggling in a last gasp to make the team. With the starters sitting to prevent injury, Webb started at right tackle, and played every snap.
His performance seemed underwhelming. Officials called Webb for false start on third and 6 in the opening quarter. That moved the Bears from the Cleveland 33 to the 38, and after a failed third-down conversion,
Robbie Gould
kicked a 52-yard field goal.
Webb later gave up a pressure when he and right guard
Derek Dennis
were bull-rushed into
Jordan Palmer
.
The performance wasn't all bad, but it likely didn't convince the Bears to keep Webb.
Here's a look at a couple other performances by on-the-bubble players battling for some of the final roster spots:
TE Fendi Onobun:
After a training camp filled with drops and inconsistency, Onobun seemed poised for a rebound. Onobun caught the first pass thrown his way, but was later called for holding with eight minutes left in the second quarter. Onobun caught a 4-yarder the very next play. But in the second quarter, he dropped a slightly underthrown ball from Palmer. In the third quarter, a catchable
Trent Edwards
pass skipped off Onobun's hands, resulting in an interception by
James-Michael Johnson
. Onobun did pull in a 20-yard reception in the third quarter. But the negatives outweighed the positives. It would be a surprise if Onobun makes the roster.
Allen vs. Ford:
In this battle of the running backs,
Michael Ford
, an undrafted rookie out of LSU, seemed to emerge the victor. Ford ran for 48 yards on nine attempts, while
Armando Allen
, his main competition for the No. 3 running back job, gained 39 yards on 10 attempts. Allen was at a disadvantage coming into Thursday because he had missed time due to a hamstring injury.
S Brandon Hardin:
Perhaps the long layoff was too much to overcome. Going into last season, Hardin hadn't played in a football game since 2010. Then, last preseason, he suffered a neck injury on Aug. 26 that landed him on the injured reserve.
Hardin played the entire game Thursday, and didn't make enough plays to turn heads. Hardin also gave up a 14-yard touchdown in the fourth quarter.
August, 29, 2013
8/29/13
11:16
PM ET
CHICAGO -- Here are a few quick thoughts from the
Chicago Bears
'
18-16 loss
Thursday night to the
Cleveland Browns
in the exhibition finale:

What it means:
It's finally time for real football. The Bears showed gradual improvement over three games before sitting the starters for the finale. Now it's time to cut down to the final 53-man roster, a process that begins Friday morning.
Palmer shines:
Recently signed quarterback
Jordan Palmer
put together a sharp performance despite just one week of practice. Signed to replace Matt Blanchard, Palmer connected on 11 of 17 passes for 111 yards and a touchdown to finish with a passer rating of 102.8.
"It says a lot about his preparation," Bears coach Marc Trestman said. "He has learned a lot of offense and spent a lot of time on his own trying to assimilate all of it. I'm happy for him. He came out and played very efficiently."
If the Bears keep three quarterbacks, Palmer likely makes the team.
Rookie starters on right side?
Every uninjured starter suited up, but the distribution of repetitions may have told the story. Trestman refrained last week from naming rookies
Kyle Long
and
Jordan Mills
starters. But the fact they didn't play against the Browns means the Bears wanted to eliminate the prospect of injury, which likely means they're the starters for the Sept. 8 opener.
Long made his first preseason start on Aug. 15, as did Mills. The rookies started again in the third preseason game, which is typically the team's most important game in assessing personnel.
With Long and Mills and the other starters, the Bears likely will keep three reserve linemen for a total of eight. Perhaps it's telling that
James Brown
didn't play, nor did
Eben Britton
(until Corey Brandon was carted off with 2:13 left to play), while former starting right tackle
J'Marcus Webb
started.
Based on what took place, it's likely the Bears keep the starting five along with Brown, Britton and
Jonathan Scott
-- who missed the game recovering from a knee procedure -- as the three reserves.
Anderson reappears:
After catching two passes for 27 yards in the preseason opener against Carolina, receiver
Joe Anderson
disappeared, going without a catch in the next two games.
But against the Browns, Anderson caught four passes for 64 yards, in addition to hauling in a 5-yard touchdown from Palmer in the second quarter.
What's next:
The Bears need to cut to the final 53-man roster by 5 p.m. CT on Saturday, and any players they want to add to the practice squad will need to clear waivers. After taking off the weekend, the Bears will return to Halas Hall on Monday to prepare for the opener against Cincinnati.
August, 29, 2013
8/29/13
8:27
PM ET
August, 26, 2013
8/26/13
7:20
PM ET
LAKE FOREST, Ill. --
Martellus Bennett
picked up the phone shortly after the team's 6 a.m. arrival Saturday from the trip to Oakland, Calif., and called fellow tight end
Fendi Onobun
, who was feeling down after dropping what should have been a touchdown during Chicago's 34-26 win over the Raiders.
"I told him, 'Come by the crib,'" Bennett explained.
Onobun
Once Onobun arrived, he and Bennett sat on a couch for four hours engaged in what the veteran tight end described as a "heart-to-heart" conversation.
"I was just telling him that I think he just gets to the point where he just thinks football, football, football," Bennett said. "But you can lose yourself. Football is not who we are; it's what we do. Sometimes, when it becomes who you are, you kind of lose yourself. Every little thing that goes wrong with it, it affects you in a major way instead of (you) being able to deal with the adversity. Bad stuff happens in football. You're going to have the drops."
In Onobun's case, he suffered two against the Raiders, including a first-quarter drop from
Jay Cutler
that should have gone for a 26-yard touchdown.
"I don't want to say (he was) too rattled," Bennett said. "It's just one of those things like you go out there, you work so hard every single day. He stays after (practice) catching the ball. He wants to do so well. You want to do so well. (When) things don't go the way you want it to go, it affects him to another level than it does other guys."
Bennett should know a little more about Onobun than most. The two were basketball teammates at Alief Taylor High School in Houston. Onobun never played high school football, and spent four years at Arizona as a basketball player before transferring to Houston to play football for one season. At Houston, Onobun caught two passes. But the
St. Louis Rams
still used a sixth-round pick to select him in the 2010 draft. Since then, Onobun has spent time with a total of six NFL teams.
"Fendi Onobun has had a very good camp, and has been uncharacteristically inconsistent in the games," Bears coach Marc Trestman said. "We have seen in the games. For those of you that have been to practice, you've seen things in practice that we haven't seen in the games. Does that mean we've lost confidence? No. We've got to continue to have him work through it. This is really his first year of football and he's shown the ability to do it. He's just got to work through this phase when he gets under the lights (so) that he can continue to play as consistently, and I think he can do that down the road."
But why hasn't he?
"I can't speak for that," Trestman said. "I just think it's the next stage in his development. We're all pulling for him both in the locker room and on the field that he will continue to progress and get through this little batting slump he has been (going through) during the games that we really haven't seen during practice."
That's why Bennett sat down Onobun on "this nice black leather couch" the veteran described as "straight from Italy, not American made."
While it's possible Onobun might be overthinking the game, in part because of his background in basketball, Bennett downplayed that theory.
"We just sat down. We talked hours and hours, not just (about) football, but life in general," Bennett said. "I told him, 'Don't let people use (your basketball background) as an excuse for you. You've been bouncing around the league a couple of years now. You can't use that as a crutch. You're a smart guy, graduated college.' I didn't graduate college, but he's not smarter than me. He's a smart guy. He gets it. But just letting your body do the work and not your mind, that's what football is about."
August, 11, 2013
8/11/13
9:26
PM ET
BOURBONNAIS, Ill. -- Wide receiver
Marquess Wilson
's sole responsibility in three years at Washington State was to catch the football, a job the Chicago Bears' 2013 seventh-round draft choice excelled at.
[+] Enlarge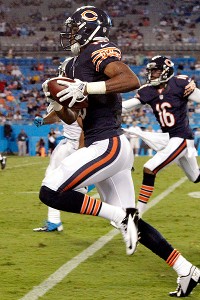 AP Photo/Bob LeveroneThe Bears' Marquess Wilson, center, runs for a long gain after a catch against the Panthers on Friday.
Wilson left school as the Cougars' all-time leader in receiving yards (3,207), while ranking second in school history in receptions (189) and touchdown catches (23). Those numbers look even more impressive when you factor in that Wilson played in only 33 career games with 27 starts before leaving the team last year after a fallout with WSU head coach Mike Leach.
Wilson flashed in the Bears' first preseason game with an impressive 58-yard catch in Carolina.
But one area Wilson did not contribute in college was on special teams, a phase of the game that almost every NFL reserve player must embrace in order to earn a spot in the 53-man roster. Wilson said the Bears are taking a look at him on the punt (gunner) and kickoff team.
"It was different coming from college where I never played special teams, Wilson said. "But (I'll do) anything to get on the field."
Bears head coach Marc Trestman stressed on Sunday the importance of Wilson making a mark on special teams. Otherwise, can the Bears afford to carry him on the 53-man roster?
"I think the truth of it is and the content of it is he's shown he can do it (special teams) and then he'll fall off and then we'll have to pick him up again," Trestman said. "He's got to understand it's so important for him to be a special teams player for us if he becomes a fourth or a fifth wide receiver and he is competing to be a fourth or a fifth wide receiver and you can see what
Joe Anderson
and
Eric Weems
do for us. That's part of the job for a receiver that is not one of the top three, he's got to be an active special teams player and give us the kind of play that Joe and Eric give us on special teams at this point.
"So, he's just starting to understand the importance. I have seen him out there and when he's active and when he's focused he shows that he has the ability to do it. He's a young player, he's probably never done it before but he's got to recognize how important it is because of where he would be on the roster presently to make special teams a priority as all the guys who are looking for roster spots who are not starters. We talk about that every day and I think it's become clearer to him now and I think we're going to see more because he's shown flashes of it in practice."
August, 9, 2013
8/09/13
11:18
PM ET
CHARLOTTE, N.C. -- Here are a few quick thoughts from Chicago's 24-17 loss to the
Carolina Panthers
on Friday in the preseason opener:
What it means:
There's still work to do on both sides of the ball. What's most important is the team came out of the game relatively injury free while still managing to get in some much-needed work.


On offense, the protection was somewhat inconsistent, which led to a sack of
Jay Cutler
, who also tossed an interception on the group's first play of the game.
"It was an unfortunate start," Cutler said. "I have to put the ball on Alshon's [Jeffery] other shoulder. We had some good stuff after that; we had some bad stuff. Typical preseason game. We just have to take a look at it and get better next week."
The first team managed to gain just three first downs in three series, but there's no denying that outside of the interception, Cutler was pretty much on target with his throws.
Cutler completed 6 of 8 passes for 56 yards and finished with a passer rating of 54.2.
"Well, other than the pick we had, we moved the ball a little bit," Bears coach Marc Trestman said. "We got a few throws in. Jay made some great throws. We caught some slants in contested throwing areas. We got a few runs in. Matt [Forte], got a couple of catches, moved the ball around. Certainly didn't do what we wanted or up to our expectations. But other than the first play and the one sack -- we've got work to do."
Defensively, the bad news was the group gave up one touchdown trying to defend a short field created by Cutler's interception, combined with a pass-interference penalty on
James Anderson
on the next play as he tried to cover former Bears tight end
Greg Olsen
. The Anderson penalty put the Panthers at the Chicago 4. Three plays later,
Cam Newton
hit
Brandon LaFell
for a 3-yard touchdown at the 10:14 mark to give the home team an early lead.
The good news is the defense put points on the board with
Jon Bostic
's 51-yard interception return at the 6:09 mark of the first quarter. Bostic filled in for injured starting middle linebacker
D.J. Williams
(calf) and while it's too soon to definitively gauge his performance (that comes after film study), the showing appeared promising.
"There were a lot of things we could do better," linebacker
Lance Briggs
said. "There were some things we did well. When we put on the tape, we'll all evaluate the things to improve on. All in all, when you are getting turnovers in the game that is very big."
Injury update:
Long-snapper Pat Mannelly suffered injured ribs when he was blindsided on a punt in the first half. The severity of that injury wasn't immediately known. Team officials took defensive tackle
Henry Melton
back into the locker room in the first quarter, where he was diagnosed with a concussion. He'll have to follow the NFL's new concussion protocol before he's allowed to practice again. It is possible Melton could be back on the field for Chicago's next practice at training camp, but unlikely given his importance to the defense. There's no need to rush him back into action.
Webb of inconsistency:
J'Marcus Webb
performed inconsistently in 2012 at left tackle, and his move to the right side for 2013 wasn't promising in the first preseason game.
During Chicago's third series of the night, Carolina defensive end
Charles Johnson
blew past Webb on the outside. In his attempt to recover, Webb overstepped outside, and Johnson cut back inside to sack Cutler along with
Kawann Short
.
Don't count out Webb just yet though. It's only the first preseason game.

Second-team sloppiness:
Josh McCown
zipped a near perfectly thrown ball to tight end
Fendi Onobun
in the end zone for what should have been a touchdown in the second quarter, but he dropped the pass. On the next play, running back
Armando Allen
fumbled after catching a pass from McCown, with
Anderson Russell
recovering for Carolina at the Panthers' 12.
Onobun has struggled to catch the ball throughout the preseason, but seemed to come on in recent practices after the team had brought in
Leonard Pope
to compete for the job. The Bears rave about his consistency, but the truth is Onobun needs to be more consistent at catching the ball if he expects to make the 53-man roster at the end of camp.
Lopsided time of possession:
Both teams played the majority of the first quarter with starters on the field on both sides of the ball, and the Panthers dominated time of possession. Carolina was 2-of-5 on third-down conversions, while the Bears finished 0-for-2 in that category. The Panthers held the ball for 9 minutes, 31 seconds in the first quarter, and the Bears held possession for 5 minutes, 29 seconds.
Bostic time?
Not yet, but the rookie definitely showed why the Bears made him their second-round pick in the draft. In addition to the 51-yard interception return for a touchdown, Bostic was credited for two tackles and a pass breakup. He's probably not ready to take over D.J. Williams' starting job in the middle, but his play should definitely raise the comfort level of the coaching staff if the rookie is forced to play in a pinch.
Bostic wasn't the only rookie to show promise. Fourth-round pick
Khaseem Greene
came into the game during the team's third defensive series and contributed two tackles, including one for lost yardage.
Frey maintains:
Second-year veteran
Isaiah Frey
maintained the momentum he's been riding throughout training camp practices with a solid outing in his first preseason game. Frey took over at the starting nickel corner when
Kelvin Hayden
suffered a season-ending hamstring injury. The youngster hasn't disappointed.
Virtually every day of practice at training camp, Frey has made a head-turning play, whether it's an interception or a pass breakup. Against the Panthers, Frey nearly picked off a
Derek Anderson
pass in the second quarter.
Briggs makes calls:
With
Brian Urlacher
now out of the picture, Briggs has taken on the responsibility of making the club's defensive calls. Briggs said it went well.
"It went smooth. I got the call, called it out to teammates, they heard it, they received it, and they played the play," Briggs said.
What's next:
The Bears receive a day off on Saturday, before hitting the practice fields at Olivet Nazarene University on Sunday for the final week of training camp. Chicago hosts the
San Diego Chargers
on Thursday night at Soldier Field for the second game of the preseason.
August, 7, 2013
8/07/13
8:00
PM ET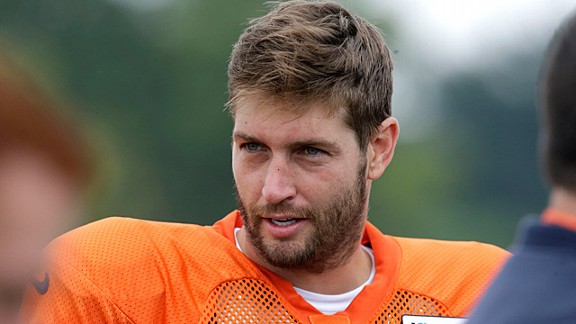 AP Photo/Nam Y. HuhJay Cutler will see minimal playing time in the preseason opener on Friday in Carolina.
BOURBONNAIS, Ill. -- Don't expect quarterback
Jay Cutler
to be on the field for more than a handful of plays Friday night when the
Chicago Bears
open their preseason schedule on the road against the
Carolina Panthers
.
Bears coach Marc Trestman's plan is to pull all of his starters out of the game sometime in the first quarter and then get an extended look at reserve players and those fighting for a spot on the final 53-man roster.
"Jay will play, but he'll play very, very limited (snaps)," Trestman said. "How limited? I don't know. It could be three plays, it could be one play, it could be eight plays. We'll just see how the flow of the game goes. If we go three-and-out, we'll decide if he goes back in for another three. He may not.
"The starters, including Jay, if they're going to play it will be minimally in this first game."
Wide receiver
Earl Bennett
(concussion) and linebacker
D.J. Williams
(calf) already have been ruled out for the Carolina game, while defensive end
Julius Peppers
(excused the last two days/hamstring) and offensive tackle
Jonathan Scott
also seem likely to miss the opening exhibition game.
Defensive tackle
Henry Melton
, safety
Chris Conte
and defensive end
Corey Wootton
all suffered minor injuries in practice on Wednesday and could be held out for precautionary reasons.
• Don't rule out the possibility of former
Jacksonville Jaguars
second-round draft choice
Eben Britton
eventually unseating
J'Marcus Webb
for the starting right tackle job. Britton, who started 30 games (23 at right tackle, seven at left guard) for the Jaguars from 2009-12, has come on strong after signing a one-year deal with the Bears on April 16.
While everything in the NFL is subject to change, Trestman said he envisions Britton as one of the active offensive linemen on game days in the regular season.
"I think Eben is in the mix of finding where our offensive line will be," Trestman said. "He's in the mix. He's had a very productive camp. He's versatile; he can play just about anywhere we put him, both on the left and right side. And at this point I can say he's definitely involved in being part of this roster -- on a week-to-week basis. The 46-(man active game day roster)."
• Less than 24 hours after Trestman and Bears offensive coordinator/offensive line coach Aaron Kromer told reporters that Bears' defensive linemen are told not to jump in the air and bat down balls thrown by Cutler, the quarterback opened the 11-on-11 portion of practice with, you guessed it, a tipped pass at the line of scrimmage that linebacker
James Anderson
intercepted.
• No. 2 quarterback
Josh McCown
continued to build on his strong camp when he zipped a ball in between two defenders in the end zone to tight end
Fendi Onobun
for a score.
• The next scheduled practice at Olivet Nazarene is Sunday at 3:15 p.m. The Bears' final summer workout on the ONU campus is Tuesday, Aug. 13. The remainder of training camp will then be held at the newly refurbished Halas Hall.
• Receiver
Earl Bennett
must now follow the NFL's concussion protocol to return to the field. There are four steps, including passing the concussion test, matching up with his baseline test, going through physical activities without symptoms, meeting with the doctors and being cleared by an independent neurologist. He was present on the practice field on Wednesday.