February, 14, 2011
2/14/11
11:03
AM ET
Anyone catch the "Sound FX" segment featuring Super Bowl XLV, currently airing on the NFL Network? Using microphones embedded around the field at Cowboys Stadium, the piece provided -- among other things -- some interesting insight into one of our pregame XLV posts.
As you might recall, we
discussed the possible mismatch
when the
Pittsburgh Steelers
ran behind right tackle
Flozell Adams
. From that post:
According to ESPN Stats & Information, the Steelers averaged 5.9 yards per carry during the regular season when they ran behind right tackle Flozell Adams, the second-highest total in the NFL. And for reasons that will be hard to pinpoint, the Packers' otherwise strong run defense allowed 5.2 yards per carry in that same direction during the season. That number placed them No. 26 overall among NFL teams in that category.
It wasn't entirely clear why the Packers' defense was weak in that direction, but "Sound FX" made clear the Steelers' assessment. At one point, running backs coach Kirby Wilson points to linebacker
Clay Matthews
' position on a grease board. Wilson tells backup running back
Isaac Redman
that the Steelers would target Matthews for the entire game.
[+] Enlarge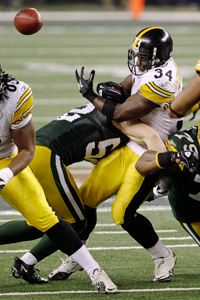 AP Photo/Kathy WillensRashard Mendenhall fumbled on his last carry of Super Bowl XLV.
"He doesn't want to take on the run," Wilson said. "He's a pass-rush specialist. He wants to pass rush Mike Vick. He wants to pass rush
Matthew Stafford
. ... We're going to keep pounding and make this guy quit."
We then see Matthews manning the right side of the Steelers offense, recognizing a formation that suggests the Steelers were planning to run in his direction.
"Watch the power! Watch the power!" Matthews says.
At the snap, Steelers guard
Chris Kemoeatu
pulls toward Matthews and flattens him. Running back
Rashard Mendenhall
scoots by on his way to a 19-yard run.
Next, Matthews is on the bench shaking his head about the play, noting that he recognized what was coming but lamenting that Kemoeatu is " just a big boy."
Kemoeatu is listed at 344 pounds, or 89 pounds more than Matthews.
Mendenhall finished the game with 14 carries. He gained 66 yards on runs that went to the right of center, based on a review of the official play-by-play. Mendenhall ran twice to the left, netting zero yards, and lost three yards on his only run up the middle.
It's not uncommon for power offenses to run toward elite pass-rushers, hoping either to guide them around the hole or capitalize on weight mismatches. Ultimately, the Packers minimized this mismatch in two ways.
First, their early 14-0 lead limited the Steelers' opportunities to run. Second, Matthews forced Mendenhall to fumble on the first play of the fourth quarter to end a Steelers' drive at the Packers' 33-yard line. Turnovers are the great equalizer, and this one recaptured momentum for the Packers. Instead of potentially giving up a 21-17 lead, their offense capitalized with an 8-yard touchdown pass to receiver
Greg Jennings
to give the Packers an 11-point lead.
The play was Mendenhall's last carry of the game.
February, 4, 2011
2/04/11
4:07
PM ET
FORT WORTH, Texas -- The most significant injury story of Super Bowl XLV has reached its expected conclusion: The
Pittsburgh Steelers
have ruled out
center
Maurkice Pouncey
from the game. Backup
Doug Legursky
will make his fifth NFL start -- but first at center -- on Sunday against the
Green Bay Packers
.

Pouncey
(
Peter King of Sports Illustrated
, the Pro Football Writers Association pool reporter this week for the Steelers, reports the Steelers have also ruled out defensive end
Aaron Smith
as well.)
There never seemed much doubt about Pouncey's status, but the Steelers delayed their final decision until Pouncey missed his third consecutive practice Friday. Legursky will be left to face Packers nose tackle
B.J. Raji
, a seeming mismatch, but our friends at Football Outsiders
wrote extensively this week
about other ways the Packers might attack the situation. Make special note of linebacker
Clay Matthews
' potential for a delayed blitz between the center and right guard.
"We're preparing for their offense," Packers coach Mike McCarthy said Friday. "I don't think their protection schemes or their run concepts are going to change very much based on who's playing center, because
Ben Roethlisberger
is going to make that offense go. It will not change our approach defensively based on who's playing center."
Earlier this week, we discussed the likelihood that the Pouncey-Legursky discussion
would overshadow another potential mismatch
that could prove more important to the outcome of the game. Feel free to revisit our discussion on the Steelers' effectiveness when they run behind right tackle
Flozell Adams
.
January, 31, 2011
1/31/11
11:00
AM ET
DALLAS -- As you probably know by now,
chances are slim
that
Pittsburgh Steelers
center
Maurkice Pouncey
(ankle) will play Sunday in Super Bowl XLV. Even if Pouncey pulls off a miracle return, he'll still be playing on a high ankle sprain and a fractured bone in his foot. Whether the Steelers start a highly limited Pouncey or backup
Doug Legursky
, it will be natural to assume a significant advantage will shift to the
Green Bay Packers
.
That might well be the case, and I'm sure the Packers are thrilled by the possibility of nose tackle
B.J. Raji
matching up against Legursky. But Pouncey's likely absence will have a less direct effect on what the numbers tell us is a bigger discrepancy -- one that favors the Steelers' running game.
[+] Enlarge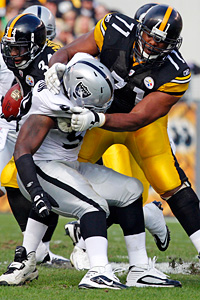 AP Photo/Gene J. PuskarPittsburgh has enjoyed success running behind Flozell Adams.
According to ESPN Stats & Information, the Steelers averaged 5.9 yards per carry during the regular season when they ran behind right tackle
Flozell Adams
, the second-highest total in the NFL. And for reasons that will be hard to pinpoint, the Packers' otherwise strong run defense allowed 5.2 yards per carry in that same direction during the season. That number placed them No. 26 overall among NFL teams in that category.
It's not uncommon for NFL teams to be "right-handed," meaning they run better or more frequently toward the right side. But the rankings of the Steelers and Packers in this particular slice of the game point to an important combination: something the Steelers do particularly well with an area the Packers have lagged on a relative scale. Surely the center has an important role on plays run off right tackle, but it's far enough from the point of attack to provide some protection for a backup who is facing a budding superstar.
The Steelers would have faced difficulty running the ball at Raji even if Pouncey were healthy and available. The Packers allowed only three touchdowns on middle runs this season, and opponents managed a first down on middle runs once every 6.4 plays -- the league's best ratio among defenses in the regular season.
Pouncey's status will be a hot topic this week, as it should, but I'm guessing it will overshadow this matchup on the right side. My
AFC North colleague James Walker
suggests Adams deserves plenty of credit for the Steelers' run success this season, especially after making the switch from left to right tackle following the loss of injured starter
Willie Colon
. But explaining the Packers' relative weakness from a defensive perspective is more difficult.
Technically, the Packers' starting left end (matching up against the opponent's right tackle) is
Ryan Pickett
, a 340-pound run-stopper. And if you go by their depth chart, their left outside linebacker is All-Pro
Clay Matthews
. But
as we've discussed before
, the Packers rarely play in their base 3-4 alignment. They used at least five defensive backs together on 75 percent of their defensive snaps, often cutting back to two defensive linemen. Matthews, meanwhile, lined up at multiple places on the field over the course of the season.
To borrow a phrase, sometimes a coordinator can "rob Peter to pay Paul." In other words, they sacrifice one area to fortify another based on matchups. Sometimes, a statistic can be skewed based on a couple of big plays. So I'm not ready to send out warning signals on the left side of the Packers' rush defense.
But I think we can agree on this much: If you're defensive coordinator Dom Capers and you're trying to anticipate where the Steelers might attack, you bypass all of the talk about Pouncey and presume a steady diet of runs behind Adams. If the regular-season statistics are simply a matter of personnel alignments, the adjustment should be easy.
April, 10, 2010
4/10/10
11:00
AM ET
Be it through the
mailbag
,
Facebook
,
Twitter
or
subliminal messages
, I'm always interested in your feedback. Believe it or not, I appreciate it when you spur more complete thoughts or point out a hole in my argument. That's where we'll start this weekend.
On with it....
Randal of Cambridge, Minn., writes:
Enjoyed your
QB story
but you are painting too broad of a brush. Who has Minnesota passed over in the draft that it should not have? Even with 20-20 hindsight, there has not been too many. What highly rated QB sat in the green room, while the Vikings drafted another position? Maybe
Aaron Rodgers
, but at that time Dante Culpepper looked pretty good. The issue is that they have rarely hit bottom. They have been too consistent. This is not the Rams or Lions who are in the top 10 most years.
Kevin Seifert:
You make a fair point, Randal, and it's something I wish I had looked at prior to posting. I'm not ready to concede my primary point, but let's first examine exactly what you're talking about.
The chart below shows every first-round quarterback selected after the Vikings' spot over the past 20 years.
The two best quarterbacks on this list are
Drew Brees
and Rodgers. At both points, there was no indication the Vikings needed a franchise quarterback. Culpepper made the Pro Bowl in 2000, and in 2004 he produced his best-ever season. I can't blame the Vikings for passing over Brees in 2001 and Rodgers in 2005.
And with hindsight, of course, it's hard to find fault with the decisions to draft
Adrian Peterson
over
Brady Quinn
in 2007 and
Kenechi Udeze
over J.P Losman in 2004.
But I think we should tread carefully when considering a linear analysis of the past. Washington, for example, couldn't establish
Jason Campbell
as its long-term answer at quarterback after selecting him in 2005. But how can we know for sure that Campbell's career would have progressed in the same direction if he were taken by another team?
What if the Vikings had drafted him, for example, and allowed him to spend the past four seasons working with the same offensive coaches rather than experiencing the yearly turnover he had with the Redskins? Perhaps his future would have followed a different path. I'm not saying it would have, but we shouldn't overvalue hindsight in these situations.
And yes, it's true the Vikings weren't always in position to draft an elite quarterback because of their relative success the previous season. But we shouldn't give them a full pass on that. After all, it's within NFL rules to trade up and grab a player you feel strongly about. Denver did that in 2006 and would up with
Jay Cutler
-- six spots ahead of the Vikings. He was in the Pro Bowl by his third season.
So I guess the crux of my argument remains unchanged. While it's hard to heavily criticize the Vikings for the quarterbacks they have passed over in recent years, they're not blameless. You have to swing the bat -- even if it means trading up or trusting your ability to develop a prospect -- to get a hit. At some point, they're going to have to take the bat off their shoulder.
---
Via Facebook, Andy passes along a link to former Green Bay receiver Javon Walker's latest trouble and writes:
Another move Ted Thompson doesn't get credit for.
Kevin Seifert:
Indeed. Walker missed 15 games in 2005 after tearing an anterior cruciate ligament, after which Thompson traded him to Denver for the No. 37 overall pick in the 2006 draft. (Thompson traded that pick away on draft day, but guard
Daryn Colledge
was the key player he selected with the resulting bundle.)
Although Walker had a 1,000-yard season with the Broncos in 2006, his career has since crashed. He's played in 19 games over the past three seasons and, at age 31, is out of the game. I'm not sure if Thompson foresaw any of Walker's ensuing troubles, but he certainly got a fair price for a player coming off a serious knee injury.
Andy's link gave rise to an interesting idea. Thompson has taken his lumps here and elsewhere, but what other moves should he be getting more credit for? I came up with a couple. Feel free to add or subtract in the comment section accompanying this post.
Trading defensive tackle Corey Williams in 2008 for the No. 56 overall pick in that draft. Although the payoff didn't occur -- quarterback Brian Brohm, taken in that spot, was a bust -- Thompson got pretty decent value for a player he essentially replaced a year later with B.J. Raji.
Hiring coach Mike McCarthy. There weren't many "hot lists" with McCarthy's name on it after the 2005 season. Thompson spent the time to find a coach who would mesh well with the draft-oriented philosophy he planned to use. In the big picture, McCarthy had made the playoffs twice in four seasons while coaching the league's youngest team. He's been a good fit where few would have predicted it prior to his arrival.
---
Ian of East Leroy, Mich., finds a logic hole in our discussion about a trade that would send Washington defensive tackle Albert Haynesworth to Detroit:
With the retirement of
Chris Samuels
and the acquisition of McNabb from Philadelphia, left tackle seems to be a priority for the Redskins. Acquiring Haynesworth would allow the Lions to draft Russell Okung instead of either Ndamukong Suh or Gerald McCoy. In effect the Redskins would also lose the top left tackle in the draft.
Kevin Seifert:
Ian has made a good point: The Redskins essentially could be trading Haynesworth and Okung for Suh or McCoy and (presumably) a later pick in the draft. (That's assuming they don't take the No. 2 pick in exchange for Haynesworth, of course.)
It all would come down to how desperate Shanahan is to get Haynesworth off his team. Does he need to get something in return? Otherwise, he could always release him after the draft.
I guess I wouldn't make Okung the key to a Haynesworth trade. If you can get something in return for him, and still be in position to take Suh or McCoy, I think it might be worth it. But the original point is valid: The deal is more complicated at second glance.
---
Brian of Chicago writes:
Seems the Bears' biggest remaining needs are a "quarterbacking" safety and help on the OL. Dallas just released
Ken Hamlin
and
Flozell Adams
. Now, I'm hesitant on Adams mostly because of last year's debacle with
Orlando Pace
, and Flozell is the same age as OP. But to me Ken Hamlin is a slam dunk. Thoughts?
Kevin Seifert:
Agreed on Adams. I'd stay away from him. Hamlin is a bit of a different story. He was a Pro Bowl player as recently as 2007, but since then he has one interception in his last 28 games.
I don't see him as anything more than a short-term answer at a position where the Bears really don't have many viable in-house candidates to start. He's better than what they have, and that's about the best thing I can say about him. It's possible the Bears could find an immediate starter in the draft, but they're not going to get two. I'd give him a hard look.
---
Ben of Lincoln, Neb., writes:
I want to know your feelings about the Lions picking
Matthew Stafford
last year. What I remember is everyone saying that the next year would have a better QB class, and that the Lions should pick a lineman. Now everyone this year is saying that this years QB class is not that great, and next years will be. Is the QB something that one has to evaluate for the current year, and not plan ahead, or do you still think the Lions should have waited?
Kevin Seifert:
No, I think you take too big of a risk trying to project a class from a year out. The Lions considered Stafford the best player in the draft last season. You can argue with their evaluation if you want, but the bottom line is they would have made a mistake to subordinate their own draft board based on a 12-month projection of the upcoming class.
I wonder if those projections were based on Washington's Jake Locker entering this draft. He decided to return to school; ESPN's Mel Kiper said this week that Locker is a near-guaranteed No. 1 overall pick next season. Will he feel that way 11 months from now? It's just an educated guess and nothing more.
---
Steve of Irvine writes:
Do you think Suh is athletic enough to play defensive end on 1st/2nd down...then move inside on 3rd? That's the way the Lions would have used
Anthony Hargrove
.
Kevin Seifert:
Yes, that was the plan for Hargrove had he joined the team via restricted free agency. I can't profess to be an expert on Suh's physical skills, but I've seen occasions where elite players become ordinary contributors when moved to a different position. I'm guessing Suh could play left end if he had to. But the best bet is he will be more dominant at tackle. You want your players in the position where they can maximize their skills and playmaking ability.
Minnesota did the same thing in 2003 with
Kevin Williams
, a player Suh has been compared to. Williams opened the season as the starting left end, where he was adequate. He moved inside full-time at about midseason and the difference was noticeable. The Vikings haven't tried that arrangement again.
January, 17, 2010
1/17/10
8:39
PM ET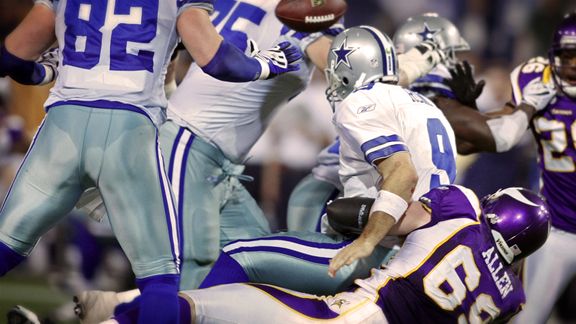 Bruce Kluckhohn/US PresswireJared Allen and the Vikings defensive line accounted for five of six sacks on Tony Romo.
MINNEAPOLIS -- I know, I know. We spent much of last week discussing Minnesota's
shaky pass protection
and its hit-or-miss
home-field advantage
. So let's be clear from the top:
Brett Favre
had enough time to throw four touchdown passes Sunday, and the Metrodome has never been louder.
From my vantage point, however, neither dynamic told the story of the Vikings'
34-3
victory. To me, it was this: Minnesota battered Cowboys quarterback
Tony Romo
, resurrecting its pass rush just in time to face the NFL's most explosive passing game for the right to play in Super Bowl XLIV.
The Vikings held Dallas' offense to a season-low in total yardage (248) and first downs (16), in the process sacking Romo six times and unofficially hitting him on 10 other occasions.
"He was wide-eyed a lot," defensive tackle
Kevin Williams
said. "We were getting after him from the start, and that's what it's going to take next week, too."
Indeed, the Vikings will take on New Orleans' top-ranked passing offense next Sunday at the Superdome. "If we do next week what we did today," said cornerback
Antoine Winfield
, "we'll be good."
And what exactly did the Vikings do Sunday?
They harassed Romo into three turnovers; on a fourth opportunity, he recovered his own fumble.
Left end
Ray Edwards
beat right tackle
Marc Colombo
for three sacks before leaving with a sprained knee.
Right end
Jared Allen
, capitalizing on an injury to Cowboys left tackle
Flozell Adams
, finished with a sack, a forced fumble and another tackle behind the line of scrimmage.
In all, the Vikings' defensive line totaled five of the Vikings' six sacks against a Cowboys group that seemed content to single block them for most of the game.
"They were trying to," nose tackle
Pat Williams
said. "But we've got the best defensive line in the league. Doesn't matter to us what anyone else says. We go into every game thinking that."
The Vikings led the NFL with 48 sacks this season, but like the entire team, their pass rush slipped over the final five games. During that stretch, they managed eight sacks.
Sunday, Allen traced that downturn in production to a significant adjustment from opposing offenses.
"I know everyone thinks you should get three sacks a game," he said. "but that's just not reality. … [In that stretch], we saw a lot of mass protection, a lot of three-step [drops]. You're getting chips from the tight end, chips from the back. When we're rushing four and they're blocking seven, you're just not going to get there."
The Cowboys, however, had different ideas. As he watched film during the Vikings' recent bye week, defensive coordinator Leslie Frazier noted how rarely the Cowboys kept tight end
Jason Witten
in the backfield to block. With Adams and two Pro Bowl players on their offensive line (center
Andre Gurode
and right guard
Leonard Davis
), the Cowboys didn't seem to be likely candidates for double-teaming the Vikings' defensive line.
"We liked our matchup from Day 1," Allen said. "We thought there were some things we could take advantage of and we knew that because they had so much confidence in their offensive line, that we were going to get some opportunities. That's exactly what happened."
And it was clearly a mistake. Anyone who watched Sunday's game can attest to how quickly Romo turned jittery. A quick recap:
Edwards ended the Cowboys' first drive with a strip sack of Romo.
On Dallas' second series, Romo recovered his own fumble on a 2nd-and-6 play, losing three yards. The Cowboys fell 1 yard short of converting the ensuing third down, and Shaun Suisham's 48-yard field goal was wide left.
Should I go on? Edwards sacked Romo on 2nd-and-goal from the Vikings' 8-yard line on the Cowboys' third series. Romo still looked stunned when he threw incomplete on 3rd-and-15.
On the second play of his fourth possession, Romo lost a fumble on Allen's sack.
"This game is not rocket science," Romo said. "If they have the ability to get pressure from the front four, it allows you to play a pretty sound game defensively."
How confident were the Vikings in their defense Sunday? Leading 17-3 at halftime, their offense went into a modified four-minute drill. In other words, they started trying to run out the clock. In their 13 third-quarter plays, Minnesota threw only four times.
Keep in mind, this was against a Cowboys offense that had scored 58 points in its past two games.
"They overlooked us," Pat Williams said, "and that's fine. Basically, that's how they ride down there. I don't blame them, I guess. They're young. They can be cocky. They've got a cocky owner, so that's how they ride. But they came into this dome, and it was hostile for them. "
They'll need a similar effort next Sunday in New Orleans, a topic I'm sure we'll revisit once or twice this week.
"We skidded a little bit toward the end of the season," Kevin Williams said. "And so all we heard last week was about Dallas. I'm sure all we'll hear about this week is New Orleans. All that matters to us is that we played the way we are capable of. We just need a chance to get after them."
That's the story -- and we're sticking to it.
January, 17, 2010
1/17/10
2:33
PM ET
MINNEAPOLIS -- Some halftime thoughts
from the Metrodome
, where my ears are ringing from the game-long din of the crowd:
[+] Enlarge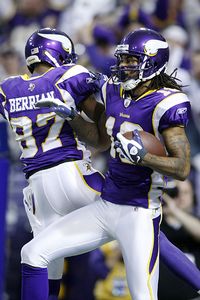 Bruce Kluckhohn/US PresswireSidney Rice (18) and Bernard Berrian (87) celebrate after Rice's first-quarter touchdown reception.
The amazing thing is that Dallas' offense was moving up and down the field in the first quarter and the start of the second. The Cowboys' plan to run directly at Vikings pass-rusher Jared Allen seemed smart, and they possessed the ball for 14:54 of the first 17:49 of the game. And yet they had only a 33-yard field goal to show for it. A missed 47-yard field goal and some well-timed pass rushes from the Vikings defense kept Minnesota in the game during that surge.

In his first career playoff appearance, Vikings defensive end Ray Edwards is having the game of his life. He has three sacks and three other hits of Cowboys quarterback Tony Romo. I'm wondering if the Cowboys would have replaced right tackle Marc Colombo -- if his likely replacement wasn't needed on the other side.

That's right. Cowboys offensive lineman Doug Free ended up replacing an injured Flozell Adams at left tackle in the second quarter. Almost immediately, Allen sprang to life. After Adams departed, Allen had three tackles and a strip-sack of Romo.

Vikings tailback Adrian Peterson has 25 yards on nine carries, but it should be noted that both of Brett Favre's touchdown passes to Sidney Rice came on play-action passes. Peterson also converted an important first down with a 19-yard reception.

The Frisbee dogs are performing at halftime, and they are awesome.

I was surprised the Vikings didn't look for Rice or tight end Visanthe Shiancoe on their second-to-last possession of the half. They ended up settling for a 23-yard field goal from Ryan Longwell.

Remember earlier this week, when we called the Vikings' home-field advantage a 50-50 proposition come playoff time? I think it's leaning toward the positive 50 percent to this point. I've never heard a Metrodome crowd sustain its energy through an entire half as it has Sunday. The Cowboys are trailing by only two scores and have a high-powered offense, but they seemed pretty demoralized walking off the field at halftime.
January, 12, 2010
1/12/10
2:45
PM ET
We're going on a myth-busting crusade this week. On Monday, we addressed the fallacy of
prioritizing run defense
over pass defense when approaching Minnesota's offense. Today, I want to take a look at the Vikings' purported home-field advantage at the Metrodome for Sunday's divisional playoff game against Dallas.
[+] Enlarge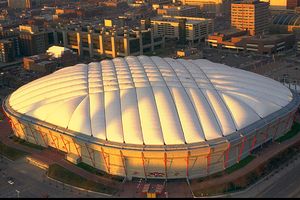 Judy Griesedieck//Time Life Pictures/Getty ImagesThe Vikings were 8-0 at home during the 2009 regular season.
Because it is small, enclosed and, shall we say,
wired for sound
, the Metrodome's reputation precedes itself. Some opponents walk into the building believing it will be loud and disruptive, a mental battle the Vikings win even before the opening kickoff.
The Vikings, for their part, were 8-0 at home this season and are 14-2 there in the past two seasons.
But some of us who sit in the Metrodome's open-air press box have noted long stretches of relative silence from the crowd, depending on the Vikings' most recent set of plays. It can also be jarring to hear the volume drop off when stadium operators turn off the sound effects. (NFL rules prohibit artificial noise after the play clock starts.) Finally, the Vikings, without question, squandered some of their pregame hysteria when they stopped introducing players individually to the crowd.
So how big of a hurdle will the Cowboys face Sunday? With the help of my friends throughout the statistical world, I poked through the numbers Tuesday. Here's what we found: Since the Metrodome opened in 1982, the Vikings have the NFL's third-best home record during the regular season. In the playoffs, however, it's been about a 50-50 proposition.
In the chart below, supplied by Vikings public relations guru Jeff Anderson, you see the Vikings have won about two-thirds of the 221 regular-season games at the Metrodome.
Most teams play better at home than on the road, but the Vikings have one of the more lopsided ratios in this regard over the past two decades. I reached out to NFC North friend Bill Barnwell of
Football Outsiders
on this issue.
Bill looked at the 15-season period between 1994-2008 and determined the Vikings had an average point differential of 8.45 between home games and those on the road. In the Vikings' case, they averaged 5.29 points more than their opponents during home games over that period. They had a losing record on the road over the same stretch, scoring an average of 3.16 points less per game than opponents.
According to Football Outsiders, the differential ranked No. 3 in the NFL:
St. Louis:
8.66
Kansas City:
8.49
Minnesota:
8.45
Arizona:
8.24
Denver:
8.19
Not unexpectedly, the postseason is a different story. Opponents are more skilled and battle-tested. The Cowboys, for example, advanced to the playoffs in part because they soundly defeated New Orleans at the Superdome last month.
The Vikings have lost four of their past seven home playoff games, dating back to 1992. Overall, their playoff record is 6-5 at the Metrodome. In other words, they're about a .500 team since the stadium opened 27 years ago.
So what does all this mean? As usual, it puts us somewhere in the middle. We can't minimize the impact of playing in the Metrodome over an extended period of time. And we can note that the Cowboys have two players -- offensive tackle
Flozell Adams
and tight end
Jason Witten
-- who have combined for 12 false start penalties this season. That would make them exceptionally susceptible to crowd noise.
But I also think we should be careful not to overestimate the value of this dynamic, especially in the postseason. Opponents are usually better equipped to handle such obstacles if they advance to the second round of the playoffs. This game will be won on the field, not in the stands.